TORONTO INTERNATIONAL FILM FESTIVAL (2017) (Film Reviews) Written by Gilbert Seah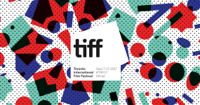 Of the 77 festival films seen this year, I have selected my 10 best - the best of the best.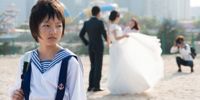 These are listed in alphabetical order:
ANGELS WEAR WHITE (China/France) (see image)
BPM (France)
BRAWL IN CELL BLOCK 99 (USA)
CUSTODY (JUSTQ'A LA GUARDE) (France)
L'INSULTE (THE INSULT) (France)
LES GARDIENNES (THE GUARDIAN) (France)
LOVELESS (Russia)
THE SQUARE (Sweden)
SWEET COUNTRY (Australia)
VISAGES VILLAGES (France)
FILM REVIEWS:
1% (Australia 2017) ***
Directed by Stephen McCallum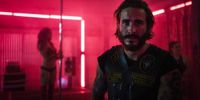 The film feels Shakespearean for the theme of control over a bike game being similar to fighting for the throne of a Kingdom. While Knuck (Nable) has been in prison, his surrogate son, Mark, nicknamed "Paddo" (Ryan Corr of Hacksaw Ridge) has minded the store. Paddo has modernized the activities of the club, expanded their enterprise, and brought in new members — all endeavours that threaten Knuck's position on his return. Both men are supported and influenced by their equally strong wives, each woman as ambitious for her husband as for herself. Tensions mount when Paddo's brother, Skink (Josh McConville), creates trouble with drugs. The film examines the issue of brother or blood vs. identity. The climax is a shoot out but when you think that there can never be a happy ending - there is one with the villain finally to pay his due. A bit difficult at time to follow because of the Aussie accent and the bike lingo, but the visuals are enough to tell the story. A bit violent but the film need to be.
Trailer: http://deadline.com/2017/09/1-percent-teaser-trailer-tiff-toronto-international-film-festival-stephen-mccallum-matt-nable-motorcycle-gang-1202160199/
ALIAS GRACE (Canada 2017) ***
Directed by Mary Harron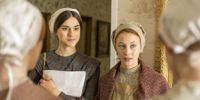 ALIAS ALICE is a layered historical drama based on of Margaret Atwood's Giller Prize–winning novel about a poor Irish servant accused and convicted of murder, from Canadians screenwriter Sarah Polley and director Mary Harron (AMERICAN PSYCHO). This is a woman's film all the way, and the female presence is felt - and in a good way. The story concerns the incident of Marks allegedly killing her wealthy employer, Thomas Kinnear, and his stern housekeeper, Nancy Montgomery, in Upper Canada in 1843. Years later, as the adult Grace relates her story (as the film begins) to an increasingly appalled and distracted doctor brought in to assess her sanity, it becomes clear there's far more at work here than widely assumed. The ALIAS PROJECT is filmed as a TV miniseries. The film shown at TIFF, well shot, well acted, written and directed and even more impressive being for TV, is comprised of the first two episodes. The film ends with the audience wanting for more.
Trailer: https://www.youtube.com/watch?v=50AnQuyUafE
ANGELS WEAR WHITE (China/France 2017) ***** Top 10
Directed by Vivian Qu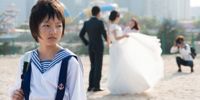 A brilliantly told tale full of emotional angst that also reflects China's unknown beach culture. The huge statue of Marilyn Monroe at the beach which is finally taken down for repair serves as a metaphor of the film's broken characters in need for a better life. It all begins when a seedy hotel worker witnesses on closed circuit camera a man trying to force himself into the room rented by schoolgirls. An assault occurs and the cops are trying to pin the crime on Commissioner Lu. Lu is rich and has connections with money and the local mob. Writer/director Qu weaves an engrossing tale involves multiple layers, all of whom have something to hide. The truth of Chinese culture where what appears on the surface is always unclear is clearly reflected by the goings-on. Broken marriages, hotel fronts, the under-aged sex trade and illegal employment are just a few issues on display here. The actress playing the attorney, the super-efficient, caring and brilliant mind steals the show. Top marks credited to all departments in this excellent and powerful debut by Vivian Qu, a film force now to be reckoned with.
Trailer: (unavailable)
APOSTASY (UK 2017) ***
Directed by Dan Kokotajlo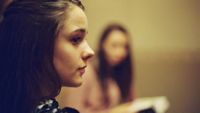 APOSTASY is a term for the formal abandonment of ones faith, regardless of what the faith might be. In this minimalist family drama set in Manchester, England, the faith of a family is put to the test. The family concerned is the mother, Ivanna (Sobhan Finneran) and her two daughters, 20-year old Louisa (Sacha Parkinson) and 18-year-old Alex (Molly Wright). They are Jehovah Witnesses, who are rigorously devoted to their religion. They also take their religious mission door to door amongst a large Pakistani community in Oldham of Greater Manchester.
Alex has already received a blood transfusion at an early age, dictated by the hospital to save her life but a definite no-no in the belief of the faith. When Louisa gets impregnated by a non-believer, she is dis-fellowshipped by the Elders of the church. Not only that, but her mother and sister are disassociated and not allowed to see her. All three main actresses are nothing short of superb. Director Kikotajlo is fond of using close ups to show the emotions of his characters' faces. APOSTASY is a small budget film that dramatically achieves its aim of revealing the truth and hardships of a religious belief.
Trailer: (non available at time of writing)
APRIL'S DAUGHTER (LAS HIJAS DE ABRIL)(Mexico 2017) ***
Directed by Michel Franco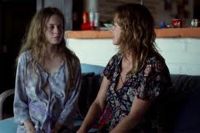 Emma Suarez (Almodovar's JULIETA) plays a crazy mother, one that appears warm and caring at first glance but turns out to be calculating and ruthless. April, mother of a pregnant teen re-enters her daughter's, Valeria (Ana Valeria Becerril) life, her energetic, take-charge attitude taking on considerably more disturbing hues once the child is born. She eventually kidnaps the baby and horrors, as if that is not enough, sleeps with Valeria's boyfriend, the child's father, Mateo (Enrique Arrizon). Mateo is good-looking enough to temp both mother and daughter but is a character with no backbone. Director Franco shows what happens when maternal instincts are taken to the extreme - and it is not nice! The rest go the film follows Valeria as she searches for her kidnapped daughter. One wishes for a more upbeat ending given the film's theme as the ending is a bit of a letdown. Excellent performance by Emma Suarez! A good female film from a male director.
Trailer: https://www.youtube.com/watch?v=OEVp4rvpD7I
BATTLE OF THE SEXES (USA 2017)**
Directed by Valerie Farris and Jonathan Dayton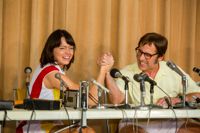 BATTLE OF THE SEXES begins with Billie Jean King (Emma Stone) just winning the women's singles tennis championship making her number one female player in the world. King is outraged with the inequality of pay by the National Tennis League, especially with Jack, the chairman (Bill Pullman), who is shown to be the real villain of the story. Bobby Riggs (Steve Carell), arranges the battle of the sexes match, using his loud mouth and publicity to earn himself some cash to aid his failing marriage. To King, winning this match is more symbolic. It is a milestone for women's rights for equal pay, a point that is mentioned at the film's end credits but not made clear throughout the film. The lazy script by Simon Beaufoy (SLUMDOG MILLIONAIRE) never bothers with important details of the story. The film overdramatizes to the point of laughter. One scene has Billie's lover in her hair salon shop hearing the news of Billie, realizing that she is needed and dramatically drops everything to leave the salon. The wardrobe of the 70's has never looked so awful in any other film.The script contains lots of inane dialogue and unfunny jokes. One line has Larry asking his wife if she was getting a blow dry, with full sexual innuendo. The film sheds no real light on the female rights movement, except what we already know.
Trailer: https://www.youtube.com/watch?v=o5ykcuAS1F4
APRIL'S DAUGHTER (LAS HIJAS DE ABRIL)(Mexico 2017) ***
Directed by Michel Franco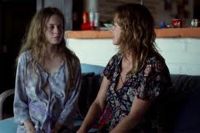 Emma Suarez (Almodovar's JULIETA) plays a crazy mother, one that appears warm and caring at first glance but turns out to be calculating and ruthless. April, mother of a pregnant teen re-enters her daughter's, Valeria (Ana Valeria Becerril) life, her energetic, take-charge attitude taking on considerably more disturbing hues once the child is born. She eventually kidnaps the baby and horrors, as if that is not enough, sleeps with Valeria's boyfriend, the child's father, Mateo (Enrique Arrizon). Mateo is good-looking enough to temp both mother and daughter but is a character with no backbone. Director Franco shows what happens when maternal instincts are taken to the extreme - and it is not nice! The rest go the film follows Valeria as she searches for her kidnapped daughter. One wishes for a more upbeat ending given the film's theme as the ending is a bit of a letdown. Excellent performance by Emma Suarez! A good female film from a male director.
Trailer: https://www.youtube.com/watch?v=OEVp4rvpD7I
BLACK KITE (Canada/Afghanistan 2017) **
Directed by Tarique Qayumi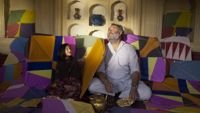 When Taique Oayunmi's film, BLACK KITE opens, the audience witnesses a a political judgment/verdict of the violent chopping off of his hands of Arian (Haji Gul) which is then expanded to an execution the next morning. In the prison that night, Arian almost dies of thirst but offers to tell his story in exchange for a drink of water from his fellow inmate. But the story that unfolds is a different one. The next scene is one with a little boy fascinating with kite flying. The boy is Arian who learns both how to make and fly kites from his uneducated father. It is never clear exactly the reason Arian is to be executed in the morning. The only hint is that the enemy suspects him of sending messages to the resistance by his kites, but then why offer him pardon at the end of the film instead of execution. The film incorporates some animation that appear at various points throughout the film for no apparent reason. As a result the animation appears out of place and totally unnecessary. It also tends to become a distraction of the events that are taking place. Instead of a political tale, Qayumi's film ends up trivializing the events to the story of a man in love of the flying of kites.
Clip: https://www.youtube.com/watch?v=A8odaf9TqC8
BORG/McENROE (Sweden/Denmark/Finland 2017) ***
Directed by Janus Getz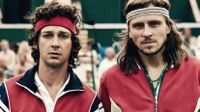 Chosen as the Opening film of the 2017 Toronto International Film Festival, BORG/McENROE is one of two tennis films playing, the other one being BATTLE OF THE SEXES.
The two films by inevitable comparison show vast differences in approach. BORG/McENROE takes its subject of tennis very seriously while the other doesn't relying on comedy to stir its audience. The results of the tennis matches are crucial for both films. In BORG/McENROE, they are exciting and competently shot while the other one is laughable and boring. The actors also here sport tennis bodies while Emma Stone is too skinny and Carell too bloated.
Borg/McEnroe tells the story of the epic rivalry between Swedish tennis legend Björn Borg (Sverrir Gudnason) and his greatest adversary, the brash American John McEnroe (Shia LaBeouf), which came to a head during the 1980 Wimbledon Championships. Gudnason and LaBeouf deliver believable performances of the tennis stars. LaBeouf probably played himself, an angry controversial person himself in real life. BORG/McENROE is what a tennis film should be. It celebrates the game of tennis, delivers exciting matches and teaches the audience a thing or two about the game while offering some insight of what tennis professionals go through.
Trailer: https://www.youtube.com/watch?v=IgfFdEOGUqE
BODIED (USA 2017) ***1/2
Directed by Joseph Kahn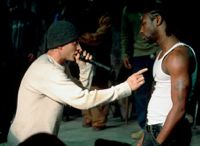 A film about battle rap, I almost walked out within the first 10 minutes not being a fan of this brutal sport. But music video director Kahn's film increases in intensity while drawing the audience into the world of battle rapping. By the end of the film, one would not only have a more insightful view of the sport but be entertained as well. The film begins with a battle with explanations of certain terms used by a white couple attending - Adam and his girlfriend. The film assumes the perspective of Adam (Calum Worthy), a white, purportedly progressive graduate student who infiltrates a community of diverse battle rappers for the sake of an edgy thesis. Before long he develops his own predilection for skilfully slinging rhymed insults and epithets as a competitive poet. Adam is finally forced to choose between his love and his unforgiving girlfriend. Can Adam have the best of both worlds? The film contains some really awesome rap battles. BODIED is produced by Eminem.
Trailer: https://www.youtube.com/watch?v=jEfbPQVV7wg
BPM (120 BATTEMENTS PAR MINUTE) (France 2017) ****
Directed by Robin Campillo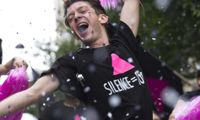 BPM, 120 battements par minute (beats per minute) centres on the French chapter of the protest organization ACT UP, and the dynamics, personal and public, amongst this disparate group of men and women affected by AIDS. The film begins with one of its protests followed by a meeting that analyzes its effectiveness. In it, Campillo introduces his characters, its two leaders before concentrating on HIV positive Sean (Nahuel Pérez Biscayart). Sean is a charismatic and very oratorical young militant who wades fearlessly into action, bolstered by the courage of his convictions. To make his film more personal as well as effective, Campillo puts faces into the organization of ACT UP. Sean meets (at a rally) Nathan and has sex, beginning a relationship. The film also documents different reactions to the ACT UP activities. BPM, one of the best films of TIFF is definitely also its most powerful one. Those who are HIV positive have the members of ACT UP and other activist groups to thank for the progress made as of today. For a film that deals with the topic of death, BPM is full of life. A film that deserves to be angry for the fact that the privilege of living for many has almost been taken completely away.
Trailer: https://www.youtube.com/watch?v=2fhO2A4SL24
BRAWL IN CELL BLOCK 99 (USA 2017) ****
Directed by S. Criag Zahler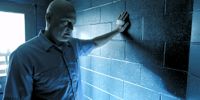 Those that remember the gnarly horror western Bone Tomahawk by writer-director S. Craig Zahler can expect more of the same but in a different setting. The audience is first introduced to Bradley (a lean Vince Vaughn) as he is laid off from his tow trunk driving job. He is shown as a no-nonsense wise cracking (no need to take me to an office to fire me!) patriot who has the American flag hung outside his home. When he returns home to find his wife unfaithful, he wrecks a car with his bare hands, after which he calmly discusses a solution, which is acceptable to both parties. This is a strange person, and a strange staging of events, but nevertheless cleverly and meticulously plotted. When Bradley runs drugs to keep the family afloat, something goes wrong and he is imprisoned. His pregnant wife is kidnapped and Bradley is forced to kill a certain prisoner in Cell Block 99 to keep her alive. The way Bradley violently gets himself set up to be sent to the maximum security block of the maximum security prison Red Leaf is nothing short of violence to the core. Lots of broken arms and smashed heads on the floor. If you can stomach the violence - after all it is just a movie - this is quite the movie to see! This is my bet for the BEST Midnight Madness Film. This is one rare supreme violent film that has lots of plotting details.
Trailer: https://www.youtube.com/watch?v=-FfSt2dEHkc
CANIBA (France 2017) ***
Directed by Véréna Paravel and Lucien Castaing-Taylor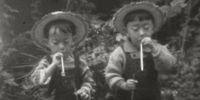 Directed by duo Véréna Paravel and Lucien Castaing-Taylor (LEVIATHON), who are also anthropologists, CANIBA is about Issei Sagawa, the notorious Japanese cannibal now living a reclusive life as a paralytic and seeking atonement for his gruesome crimes. The film begins with his confession, his face in extreme closeup so, that one can also see all the defects in his face, with him talking about his crime and the reason for it. Issei was deported from Paris in 1981 after being held in prison for two years for murdering and cannibalizing Dutch student Renée Hartevelt (as told in voiceover). The film is extremely slow and the action or non action is unveiled grainy, cinema-verite style. The brother now takes care of Issei and now semi-paralyzed, housebound on the outskirts of Tokyo, and seeking atonement. The link between sexual fantasies and cannibalism is also examined in the film. Not for everyone! The film ends, appropriately, with a karaoke song about madness!
Trailer: (Unavailable)
CATCH THE WIND (PRENDRE LE LARGE) (France 2017) ***1/2
Directed by Gael Morel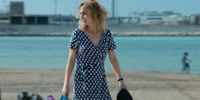 CATCH THE WIND is a personal look at what happens when companies second source to a cheaper country. The story concerns Edith (Sandrine Bonnaire) informed that the job she's held for her entire adult life is being relocated to Morocco. She refuses to accept a healthy severance package. Against the advice of her colleagues, her self-absorbed son, and even the consultant hired to fire her, Edith instead opts to follow her job to Tangier. Arriving with the naïve energy of a teenager on their first overseas trip, Edith realizes before long what she's up against: the expected subpar working conditions and subpar pay, but also an adjustment to new social and cultural realities — nuances that her failure to grasp would mean her job and, more importantly, her dignity. The film works for two factors. One is the detailed account by director Morel on what living is like in Tangier - the factory corruption, the poverty, the strife to support families and the danger on the streets. The second is Bonnaire's calculated and worthy performance. Brutal yet sensitive, PRENDE LE LARGE finally gets Morel's characters a happy ending but not without sheer determination and strong will.
Trailer: https://www.youtube.com/watch?v=LsfAPoCk5AA
C'EST LA VIE (LE SENS DE LA FETE) (France 2017) ***
Directed by Olivier Nakache and Eric Toledano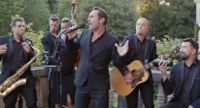 Directors Olivier Nakache and Eric Toledano can best be remembered for their bubbly comedy LES UNTOUCHABLES. The target this time is an extravagant wedding at a chateau where all the servers have (and forced to wear) valet costumes including white wigs. The story is told from the point of view of the the wedding caterer manager, Max (Jean Pierre Bacri) a battle-weary veteran of the wedding-planning racket. This gig turns out to be a hell of a fête, involving stuffy period costumes for the caterers, a vain, hyper- sensitive singer who thinks he's a Gallic James Brown, and a morose, micromanaging groom determined to make Max's night as miserable as possible. His personal life also comes into chaos as Joisette (Xavier Dolan regular Suzanne Clément), seems to have written him off, coolly going about her professional duties while openly flirting with a much younger server. This is an ensemble work, like Robert Altman's THE WEDDING, but more commercial, more French but less of a biting satire. The comedic set-ups are funny enough, most of them working and keeping the audience happy with laugh-out loud humour.
Trailer: https://www.youtube.com/watch?v=e3Kzarm0hRM
CHAPPAQUIDDICK (USA 2017) ***
Directed by John Curran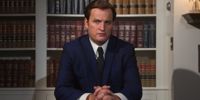 CHAPPAQUIDDICK is a story not many non-Americans are familiar with. If this is not a story that needs be told, and if it is not an interesting one, it is one that questions the right thing that human being should do. Presidents of the United States have always lied when confronted with catastrophe, Nixon and Clinton being the best examples. This film questions the integrity of Ted Kennedy, which is correctly chosen to be the subject oft the film rather than the incidents that occur. This suspenseful historical drama examines the infamous 1969 incident when Senator Ted Kennedy (Jason Clarke) accidentally drove off a bridge, resulting in the death of campaign worker Mary Jo Kopechne (Kate Mara). This become known as the Chappaquiddick Incident. Kopechne was trapped in a car that Senator Ted Kennedy drove off a bridge on Chappaquiddick Island, Massachusetts, following a night of festivities. Kennedy patriarch Joe (Bruce Dern), however, always considered his youngest son a ne'er-do-well — and he never let Ted forget it. The party on Chappaquiddick reunited the "Boiler Room Girls" who had served on Robert Kennedy's 1968 presidential campaign, among them Mary Jo (Kate Mara). Ted whisks Mary Jo away for a reckless moonlight drive that ends in tragedy. But the more profound malfeasance begins after the drowning — itself dramatized here in harrowing detail — when a battalion of spin doctors gets to work on covering up the incident, using the Apollo 11 moon landing as a distraction.
Trailer: (unavailable)
THE CHILDREN ACT (UK 2017) ****
Directed by Richard Eyre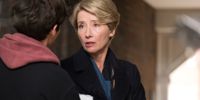 THE CHILDREN ACT, based on the Booker prize winning novel by Ian McEwan and adapted by him, is a part courtroom drama part marriage crisis involving a London high court Judge, a super-efficient no-nonsense Fiona Maye (Twice Oscar Winner Emma Thompson). As her marriage founders, she is taking on the ruling of a case involving a Jehovah Witness boy, Adam Henry (Fionn Whitehead). He is in hospital, and in need of a blood transfusion, which he refuses on religious grounds. His parents (Ben Chaplin and Eileen Walsh) feel the same. Her ruling of the case will not be revealed in this review (for the sake of spoiling a key plot point) but it is safe to say that Maye makes an exception to the rule by making a personal visit to the hospital to speak to Adam before ruling on the case. THE CHILDREN ACT questions the audience's stand on the morality issue, but not so much as the drama of the film. The film also ends, quite brilliantly with an open instead of a closed ending as in the book Regardless, THE CHILDREN ACT is a meticulously crafted film, extreme well acted and written.
Trailer: (unavailable at time of writing)
THE CHINA HUSTLE (USA 2017) ***1/2
Directed by Jed Rothstein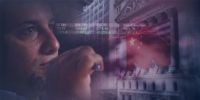 Produced by Alex Gibney who directed ENRON: THE SMARTEST GUYS IN THE ROOM about the last 2008 stock market crash, THE CHINA HUSTLE could be considered a sequel as well as warning to all stock traders. As in his previous film, THE CHINA HUSTLE is an unsettling and eye-opening Wall Street horror story, though this time the target being the Chinese companies listed on the American stock market. The film opens with the main subject, whistleblower Dan David confessing: "There are no good guys in this story, including me." After the 2008 stock market crash, David — like almost everyone else in finance — was looking for ways to make big gains quickly. China became an appealing target. Hundreds of Chinese companies entered the US stock market through reverse takeovers with American companies. They boasted tremendous growth, had little oversight, and created a stock-market feeding frenzy. It seemed too good to be true and it was. The film follows the same pattern as EVRON, interviewing the whistleblowers, with the subject of fraudulence revealed and angering the audience to boiling point. Again, he has on camera, the poor unsuspecting investors, usually the retirees who have lost all if not a fair portion of their hard earned savings. The film is not as tight or strong as ENRON, bout it is till an engaging informative documentary. All investors should put this doc down as a must-see!
Trailer: (unavailable)
COCAINE PRISON (Bolivia/Australia/France 2017) ***
Directed by Violeta Ayala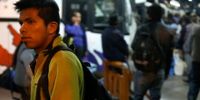 Shot in Bolivia — including inside the notorious San Sebastian prison — over five years, Violeta Ayala's COCAINE PRISON takes a close look at two subjects - the cocaine trade and the conditions of the prison. What the audience sees is definitely shocking in this engaging film. The film follows Hernan and his sister Deisy, two Bolivian teenagers going to high school in Cochabamba with dreams of starting a band. Hernan gets caught and put to jail after attempting to carry two kilograms of cocaine across the border to Argentina. He is sent to San Sebastian prison, a scarcely staffed open-air facility where the prisoners make most of the rules. Prisons in Canada, in comparison look like a summer relax camp. In San Sebastian, inmates have to cough up US$2000 to buy a cell in the prison grounds or sleep outside with the risk off getting mugged. Director Ayala also follows the drug trade emphasizing the workers harvesting the leaves to the mules like Hernan who get imprisoned while the real drug dealers go free. There is a sort of happy ending for Hernan as he gets pardoned but things on the whole do not look good for anyone else, including Hernan after he is released. Director Ayala taught English in the prison, which gave her access to filming inside it.
Trailer: https://www.youtube.com/watch?time_continue=14&v=WgZJWuFgMew
THE CRESCENT (Canada 2017) **1/2
Directed by Seth A Smith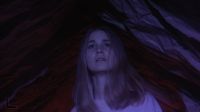 This horror film from Nova Scotia, Canada has an excellent though slow beginning. Weird colourful patterns are formed and changed, which seems to flow naturally. The film, after the opening credits and patterns turns to a funeral service where the preacher talks about suffering and pain before coming to a final rest. The film then focuses on the single mother (Danika Vandersteen) and young son (Woodrow Graves), and advised by her mother than in order to survive: "You have to keep a level head." Smith plays around with sounds effectively as he uses different sizes images to frame his film. The frame sizes change when showing an image as seen from a window or from Beth's paintings. Smith also uses tilted and upside down images, the latter as seen from the reflection of the sea water at low tide as Beth and Lowen walk along the beach. The intermittent blaring sound is used at many points in the film. Smith's film might be a bit too slow paced for a Midnight Madness selection. Normal horror fans will also not be too happy at this too arty piece of work that looks too smug for its own good.
Trailer: https://www.youtube.com/watch?v=Bji7jatpHqA
CUSTODY (JUSQU'A LA GARDE) (France 2017) ***** Top 10
Directed by Xavier Legrand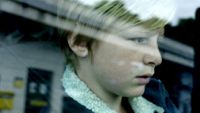 CUSTODY draws from three films - KRAMER VS. KRAMER, NIGHT OF THE HUNTER and THE SHINING. The film begins with the custody session with two attorneys, the councillor and husband and wife present. It is a one act 20-minute session that introduces the audience to the situation at hand. Miriam and Antoine Besson have just divorced. Their young son, Julien, sits in family court reading out a letter denouncing his father. His sister, Josephine, having recently reached the age of majority, is not part of the dispute. Antoine is described as a violent monster, yet in court appears to be a model of calm reserve. Despite Miriam's appeals for sole custody — also Julien's preference — the judge (after asking both parents who is the better liar) gives her decision of the parents shared custody. But Antoine is not a two-dimensional beast. He tries to re-establish a relationship with a son who feels paralyzed by the competing emotional demands of his father and his mother, who will stop at nothing to remove both Julien and herself from her ex-husband's life. Legrand researched through interviews with councillors an abused victims to come up with material for this film, making what occurs on screen real and scary but relevant. CUSTODY tells a story of divorce and abuse that needs be told. A stunning tribute by a director whose own personal style and imprint is one to be reckoned with.
Trailer: https://www.youtube.com/watch?v=5DXV-bGvF7s
DARK RIVER (UK 2017) ***1/2
Directed by Clio Banrard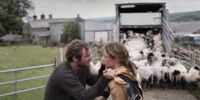 Director of one of the best films five years ago, THE SELFISH GIANT, DARK RIVER is another drama set in the poor north of England. The setting here is a sheep farm in Yorkshire.
Slice (Ruth Wilson) returns to the farm after a 15 year absence. She left as she was abused by her father, as shown in flashback throughout the film. Her bother, as the neighbour says, is an idiot, and not only does he no listen to reason or Alice's advice to improve the farm, which we assume does, he is abusive and at one point attacks her while drunk. Things get worse when he wins tenancy of the land and orders Alice out. It is a tough life for anyone working a farm, made worse with rising working tensions. Barnard's DARK RIVER shows the emotional anguish Alice goes through. DARK RIVER is not as satisfying as THE SELFISH GIANT, as it has less story, but the film is no less dramatic. Ruth Wilson is really good as Alice and deserves the BFTA Award for Best Actress.
Clip from the sets: https://teaser-trailer.com/dark-river-movie/
THE DAY AFTER (South Korea 2017) ***
Directed by Hong Sangsoo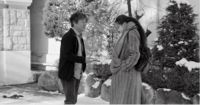 Hong Sangsoo is a Korean director that makes small films on a little budget. Films like his, will never get seen aside outside festivals. Like HILL OF FREEDOM that was also screened a few years back at TIFF, Hong's THE DAY AFTER is a comedy of errors with lots of dialogue, confused identities and missed meetings. The protagonist of the story is Kim Bongwan (Kwon Haehyo), the manager of a small, independent publishing company, recovering from his recent affair with Lee Changsook (Kim Saebyuk), his young, attractive, and now former, employee. All the said information is revealed over conversations of the characters. Song Areum (Kim Minhee) takes over Changsook's position, unaware of what has transpired and unprepared for the misguided wrath of Bongwan's furious wife (Cho Yunhee) who suddenly appears at her husband's office and accuses her of being his lover. While Kim is initially on display as a deceiver with no redeeming qualities, director Hong reverses that notion by the end of the film. Hong also composed the original music for his film - a quiet entertaining piece.
Trailer: https://www.youtube.com/watch?v=jv0QPchaINk
DISAPPEARANCE (Netherlands/Norway 2017) ***
Directed by Boudewijn Koole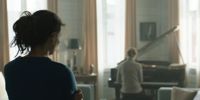 A silent reconciliation or attempt at that anyway, between daughter and concert pianist mother will immediately draw comparison with Ingmar Bergman's classic AUTUMN SONATA. In DISAPPEARANCE, Norwegian photojournalist Roos (Rifka Lodeizen) makes her annual visit home. In the film, she stops her car in the middle of a snow field to smoke a fag. While reaching the home, loud barking dogs greet her. These are signs that things are going to be rough with mother. Such is the enjoyment of DISAPPEARANCE, a slow moving but pensive tale where the mother, Louise (Elsie de Brauw), a celebrated former concert pianist, remains as cold and remote as the wintry alpine landscape she inhabits, while Roos' precocious 13-year-old half-brother, Bengt (Marcus Hanssen), continues to conduct his experiments with sound recording and mixing. The audience witnesses a dramatic transformation has transpired in Roos as she reconciles with Louise, in this stunningly photographed film.
Trailer: https://www.youtube.com/watch?v=ToARBtyKts4
THE DISASTER ARTIST (USA 2017) **
Directed by James Franco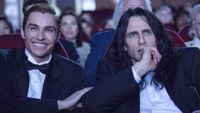 James Franco and friends appear in this uneven tribute to eccentric filmmaker Tommy Wiseau (played by James) and his friend, actor Greg Sestero (played by brother Dave), whose notoriously awful film The Room has become one of the most beloved cult classics of all time. (I have never heard of it though.) Since its release in 2003, The Room has captivated cult audiences on the midnight movie circuit with its discombobulated plot, discordant performances, and inexplicable dialogue. Drawing on the memoir of the same name, Franco chronicles the making of The Room as recalled by Greg. The incredulous script supervisor is played by friend Seth Roger. Other celebrity friends of the Franco's like Zac Ephron also appear. The Franco/ Rogen/Goldberg troupe has an uncanny sense of humour, and the humour and timing works magnificently at times. The film ends with a split screen of the shots of the actual ROOM side-by-side of this movie. A so-so movie but with a few good laughs!
Trailer: https://www.youtube.com/watch?v=4qab3TMg42k
DON'T TALK TO IRENE (Canada 2017) ***
Directed by Pat Mills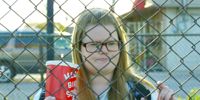 Irene Willis (Michelle McLeod) lives in a town of a small fictional town of Parc supposed to be just north of Toronto. It is described in the film as the worst of small towns, where Irene goes to the worst of high schools. Her cycle of life is predictable and bland. Fuelled by the dream of becoming a cheerleader, but constantly told by both her overprotective mother (Anastasia Philips) and classmates that she does not fit the role of a cheerleader. But Geena Davis, speaking to Irene via the A League of Their Own poster on her bedroom wall tells her "Never quit!" She rounds up her new-found circle of elderly friends in a senior home into an unlikely dance troupe. The film has the age old story which audiences have seen time and again.
Despite the story's limitations, the film benefits for the sly humour of its writer/director Pat Mills. McLeod is a rare find and is able to carry the film well. The film contains a nice surprise with the actual appearance of Geena Davis. Everyone loves a feel-good movie. Undemanding viewers should lap this tale up, with no problem at all. Critics can only wince at the goings-on of this girl that finally makes good.
Trailer: (unavailable)
DOWNSIZING (USA 2017) ****
Directed by Alexander Payne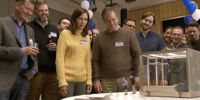 DOWNSIZING, a film combining several genres offers the solution to the world's problem of overpopulation. If people can be reduced in size to a thousandth of their original, many of the world problems could be solved. People will only eat, use and dispose much, much less product. When science finally achieved the success of downsizing, many colonies were begun. So, Matt Damon and wife opt to be reduced and live in their new reduced size colony for monetary benefit. Things never go as expected, as in a similar film long time back in Michael Crichton's sci-fi WESTWORLD. DOWNSIZING contains a script written by Payne and Jim Taylor that is occasionally brilliant with lots of attention to details. The film does not go into thriller territory but into more ambitious aims. Payne's social satire does not fully work and ends up too ambitious for its own good. Still, the film is engaging from start to finish to a large part to Damon's performance with help from a host of impressive stars (Kristen Wiig, Christoph Waltz, Hong Chau, Laura Dern, Jason Sudeikis, Alec Baldwin, and Neil Patrick Harris). Better a film that with high aims that falters that a minimalist film with no faults. The special effects and cinematography are also amazing. Shot in Toronto and around the fiords of Norway.
Trailer: https://www.youtube.com/watch?v=QKEPCcPVrx0
EUPHORIA (Sweden/Germany 2017) **
Directed by Lisa Langseth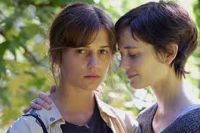 When sisters Ines (Alicia Vikander) and Emile (Eva Green) are greeted at an institution (for the dying) with the standing figure of Charlotte Rampling wearing an overall, one can immediately tell what will happen is not going to be good. Ines is about to die of cancer and she wants to find closure with her sister as to the past. EUPHORIA marks the English-language debut of Sweden's Lisa Langseth and it is simply terrible. This is new age stuff that many will just gawk at. The written dialogue is also plain awful. The kind of words Emile uses, the swearing and all is also used by Ines' character. The words or ideas of different characters should be distinct. The film could do with a bit of humour - as dealing with death is a topic ripe for some black humour. Whenever Ines coerces Emile to talk about an incident in the past, she will later use that against her and lose it. If Emile could not see this coming, the audience certainly can, for the script is too predictably cliched. Charles Dance puts a bit of life into the film as a dying man who organizes his own farewell party. The film turns out to be a muddled look on death mortality.
Trailer: https://www.youtube.com/watch?v=TMX3Dw-GjIA
GAGA: FIVE FOOT TWO (USA 2017) **
Directed by Chris Moukarbel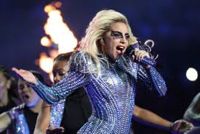 GAGA: FIVE FOOT TWO is director Chris Moukarbel's attempt at a revealing documentary of the inside workings of Lady Gaga. This is a Netflix Original Documentary. The film shows the star at her home, during rehearsals, and a few performances, the highlight being performance for the Superbowl 51 half time show. Stefani Joanne Germanotta as she is known offstage, basically does her thing, and the audience sees a normal human being at work, though she does live the good life with prized canines and a beautiful house. Unfortunately, the film offers little insight on the artist that the audience does not already already know. In fact, the film is quite boring for a doc on such a lively person. Lady Gaga takes a cheap shot at Madonna at the beginning of her movie. In her defence (as she said in the press conference), she claims that she was unaware that her Madonna comment was inserted in the doc. Lady Gaga makes a strong point on the power of music at the Press Conference.
Trailer: https://www.youtube.com/watch?v=a5JyeRdXQ-0
LES GARDIENNES (THE GUARDIANS) (France/Switzerland 2017) ****
Directed by Xavier Beauvois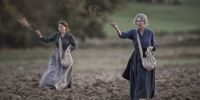 LES GUARDIENNES (THE GUARDIANS) is director Xavier Beauvois' (LE PETIT LIEUTENANT) handsomely mounted period piece of World War II told during the period of 4 years from 1916, the start to end. It is a story that needs to be told - of what effects the war as well as modernization had on a typical farm family in France. The women of the Pardier farm, under the deft hand of the family's matriarch (Nathalie Baye in arguably her best role), must grapple with the workload while the men, including two sons, are off at the front. Her husband, daughter and , grand-daughter remain with her. She seeks the aid of an outsider, a strong 25-year old orphan, Francine (Laura Smet) who turns out to be an excellent worker. When Francine and on of the sons fall in love, the trouble starts. Beauvois' film is almost perfect in he creation of the war atmosphere and of rural France. The harvesting and planting seasons are beautifully captured on film. The film also does not gear towards the typical Hollywood ending but a realistic credible one instead.
Trailer: (unavailable)
LE GRAND MECHANT RENARD ET AUTRES CONTES (THE BIG BAD FOX AND OTHER TALES) (France 2017) ***1/2
Directed by Benjamin Renner et Patrick Imbert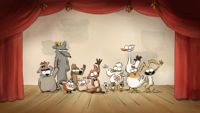 French dessin anime at its best! Filmmaker, animator and cartoonist Benjamin Renner (ERNEST & CELESTINE) adapts his own comic strips for this trio of laugh-out-loud farm animal adventures. The film opens with the cartoon characters opening a 3-act stage play. The players are not ready as they cannot find the baby and the tree prop appears in front of the opening curtain. Very funny and inventive and primes the audience for more of the best to come. There are a total of three animated stories. In "A Baby to Deliver," Rabbit, Duck, and their wise but easily annoyed friend Pig are tasked by Stork with returning a human baby to its parents in Avignon. In "The Big Bad Fox," a fox lacking the smarts to catch a hen is persuaded by a wolf to steal her eggs, hoping to eat them when they hatch. In the final act "The Perfect Christmas," In the final act, Rabbit and Duck are playing in the snow in the lead-up to the holiday season when they believe they accidentally killed Santa Claus. To fix their mistake, they decide to take his place, delivering presents to everyone with very funny consequences. All three are entertaining, even for adults with my favourite being the first for its goofiness and introduction to Renner's characters.
Trailer: https://www.youtube.com/watch?v=x3QkSzpNGW8
GUTLAND (Luxembourg/Germany/Belgium) ***
Directed by Govinda Van Maele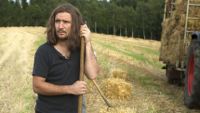 A very surreal thriller noir set in a farming Luxembourg community, a rarity that makes GUTLAND a very intriguing film. It begins with the arrival of an outsider in the agricultural community of Schandelsmillen. Harvest season is already well underway, but Jens (Frederick Lau), a German drifter, is looking for work. He is taken on as a farmhand — and also to bed by Lucy (Vicky Krieps), a single mother who picks him up at the village beer hall. He is visited by the town mayor who warns him never to sleep with the folk's married women. It turns out that Jens is not an innocent outsider but a robber with a past to hide. But the townsfolk are not that innocent either. The mayor's band with Jens as a new recruit makes good irony. The film is quite confusing and I had to sit back and ponder the plot and put the pieces after the closing credits. But that is not necessarily a bad thing.
Trailer: https://www.youtube.com/watch?v=Sif439KtxWM
HAPPY END (France/Germany/Austria 2017) ****
Directed by Michael Haneke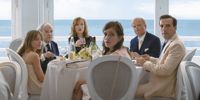 HAPPY END can be seen as a film that infuses many of the traits of Haneke's previous films. When the film opens, the audience sees what is happening though the recording on a cell phone, the routine of a 12-year old (Fantine Harduin) similar to the video surveillance in Haneke's film CACHE (HIDDEN). This 12-year old is not one to be tampered with. She has a mean streak, spying on her father's (Matthieu Kassovitz) computer and discovering his affair. This is reminiscent of the power of children in Haneke's THE WHITE RIBBON. The family is held together by Anne Laurent (Isabelle Huppert), the father's sister. But suicide is in the mind of Anne's father, Georges (Jean-Louis Trintignant). In Hanake's first film, THE SEVENTH CONTINENT, the whole family committed mass suicide after a banquet meal. The dysfunctional family is all reminiscent of FUNNY GAMES in which a family is disrupted by a home invasion. All the events are seen from the point of view of the 12-year old, which brings the film to a good focus. The ending is just as funny and shows that life goes on, happy or not. What constitutes a HAPPY END, is the question Haneke poses.
Trailer (en Francais): https://www.youtube.com/watch?v=W0hv8I9YbDk
HIGH FANTASY (SOUTH AFRICA 2017) **
Directed by Jenna Bass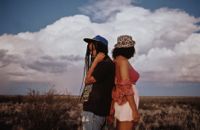 Four friends (1 male 3 females, two black and one white) on a camping trip at an isolated farm around Capetown, South Africa wake up to discover they've all swapped bodies. Four of the actors Qondiswa James, Liza Scholtz, Nala Khumalo, and Francesca Michel all wrote the script together. A mix of comedy and drama, the campers argue on issues like race, gender, inequality while spouting out foul language to no end. Shot on an iPhone, the film obviously has the feel of THE BLAIR WITCH PROJECT and TANGERINE. This is a personal film, as can be clearly observed, and therefore not for everyone. The filmmakers do not care for anything and just do their thing. Though occasionally funny, the whole exercise is a wast of time and talent (or rather, effort). The film only serves to prove that one should pick ones friends while going camping.
Trailer: https://www.youtube.com/watch?v=S0d_NwEmZ0s
THE HUNGRY (UK/India 2017) ***
Directed by Bornila Chatterjee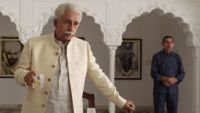 Writer/director Bornila Chatterjee relocates Shakespeare's bloody tragedy Titus Andronicus to modern-day India, where corruption, greed, and revenge run rampant at an extravagant wedding. She incorporates a man eating feast so well remembered from Peter Greenaway's The Cook, the Thief, His Wife & Her Lover. Her film is quite difficult to follow as she unveils her story in non-chronological order. I am not the only one a bit confused as the lady next to me had to have the story explained to her too at the end of the film. For the befit of readers, the story follows Tulsi (Tisca Chopra), who is set to wed Sunny (Arjun Gupta), the son of a ruthless corporate tycoon named Tathagat Ahuja (brilliantly played by legendary Indian actor Naseeruddin Shah). At a New Year's Eve party he is hosting, Ahuja recruits Tulsi's promising younger son, Ankur, to participate in a business deal. During the meeting Ankur makes a grave mistake, the deal is spoiled, and he is killed. This event sets off a flurry of violence and murder, much of it initiated by Tulsi, seeking revenge for the brutal murder of her son. Chatterjee infuses a lot of blood and gore in the film, which is what one can be expected from a Shakespearean tragedy. Not a bad modern day Indian adaptation after all.
Trailer: https://www.youtube.com/watch?v=Gfg8gGR-3oA
IF YOU SAW HIS HEART (Si tu voyais son coeur) (France 2017) **
Directed by Joan Chemla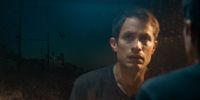 The film begins with a lively wedding celebration where the audience is introduced to Daniel (Gael Garcia Bernal), a man reeling from grief from the death of his closest friend (shown multiple times in flashback, as if we need reminding) in an accident for which he feels partly responsible. He has been cast out of his insular traveller community. Living in a rundown rooming house and always behind on rent, Daniel gets by through scams and minor burglaries. His building is populated by colourful misfits and losers, all living on the edge like him.When davidnmeets an equally damaged and fragile young woman, Francine (Vacth), life is then something to hope for. If You Saw His Heart is based on Cuban author Guillermo Rosales' 1987 novel Boarding Home (a.k.a. The Halfway House). Director Chemia creates the moody atmosphere of the living conditions that reflect Daniel's feelings well, but the film suffers from continuity. Her fond use of flashbacks and revealing the story in non-chronological order is not only confusing but breaks a mood or effect that has been created thus far.
Trailer: https://www.youtube.com/watch?v=S_1kv27NBa0
L'INSULTE (THE INSULT) (France 2017) ****
Directed by Ziad Doueiri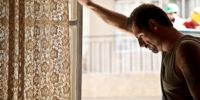 The film is financed from France and has a French tile but the film is shot in Arabic. Set in Beirut with references to Darfour, the story all started with an insult. One afternoon in the dog days of a Beirut summer, Tony gets into an altercation with Yasser, a foreman in construction over a broken drainpipe. Tony is a car mechanic and a Christian. Yasser is a construction foreman and a Palestinian. When Tony, hard-nosed and hot-headed, refuses to accept Yasser's half-hearted apology, two bruised male egos begin to swell. Tony utters an unforgivable insult to Yasser. With a speed neither man could foresee, their personal argument escalates through the neighbourhood and the city to the national stage. The dispute comes to encapsulate the lasting legacy of the Lebanese Civil War — and becomes a lightning rod for people with more power than either man to pursue their own agendas. The film contains lots of courtroom scenes with great arguments that provoke the audience to think about other important issues. The plot is not without its twists like the attorneys of the defendant and plaintiff being father and daughter. THE INSULT ends up as an often brilliant peace that in the end, shows more about tolerance and forgiveness.
Trailer: https://www.youtube.com/watch?v=lwVCaD971Eo
THE HOUSE BY THE SEA (LA VILLA) (France 2017) **
Directed by Robert Guédiguian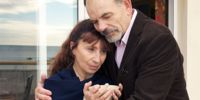 Robert Guédiguian's films always make it to TIFF but never get shown otherwise. Those familiar with him can expect more of the same though his latest is a bit of a disappointment not for want of trying. Three grown children gathered at the picturesque villa of their dying father in Marseille (where most of his films are set) reflect on where they are, who they have become, and what they have inherited. His political stand as a committed leftist and former Communist can be observed clearly in many scenes where his characters verbally express their dissatisfaction on certain issues like the military and the refugee situation. His wife Ariane Ascaride and Jean-Pierre Darroussin are two of the elderly characters who manage to attract younger suiters. The film does not successfully combine the dysfunctional family, love relationships and refugee statements.
Clip: https://www.youtube.com/watch?v=vt3wVETIfWs
JOURNEY'S END (UK 2017) ****
Directed by Saul Dibb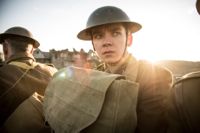 JOURNEY'S END about soldiers (Officers and enlisted men) during an offensive in the trenches during the First World War is a story that is already too familiar to us. Still, it is a story that needs repeating, to remind the world of the futility of war and that orders coming down from the top brass would ultimately be executed often to the death by the men of lower ranks, who has loved ones and families back home. JOURNEY'S END is based on the 1928 play and filmed two years later by James Whale which starred Sir Lawrence Olivier as Cpt. Stanhope now played brilliantly convincingly by Sam Catlin. Things get real only when the audience can put a face to the goings-on. The face in this case belongs to green 2LT Laleigh (Asa Butterfeld) who wishes to join the battalion of his old school mate Cpt Stanhope who used to be his house monitor and good friend of him and his sister. The narrow trenches emphasizes the claustrophobia of the location complete with mud rats though only one is shown) and worms oozing out from the mud during a meal. To Dibb's and the production designer's credit, the film never feels like a play. The message is clear that that human beings are the ones fighting the war, and there are casualties on both sides as the end credits remind both sides of the millions that have dies in WWI.
Trailer: (unavailable)
THE LEISURE SEEKER (USA 2017) **
Directed by Paolo Virzi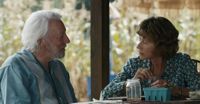 Oscar winner Helen Mirren (THE QUEEN) and Donald Sutherland star as an elderly couple looking for adventure on one (romantic?) final road trip. Ella (Mirren) is dying of cancer. Her husband, John (Sutherland) is suffering from Alzheimer's disease. As the film opens, their son and daughter discover that their parents have taken off with THE LEISURE SEEKER (the name of their camper), on a last road trip. Ella nor John is interested in quietly fading away surrounded by nurses and machines just to needlessly prolong a winnowing life. They travel from Boston to Florida (some nice scenery on display) with John behind the wheel. The film is based on the novel by Michael Zadoorian with Italian director Virzi at the helm. But as a film, there is too many issues tackled. Everything that one can think about growing old is in the film and covered unfortunately in a cliched manner. Director Virzi acts like a traffic cop ushering these issues in an out. The incidents like the traffic comes and goes, none too memorable, and quite boring too, just as the job of directing traffic. The result is another old farts fantasy film about old people reminiscing or trying to be young again.
Clip: https://www.youtube.com/watch?v=gd5LWTvMy4U
LAISSEZ BRONZER LES CADAVRES (Let the Corpses Tan)
(Belgium/France 2017) **
Directed by Hélène Cattet, Bruno Forzani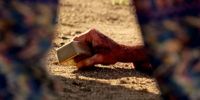 The film credit sequence begins with the title splattered on the screen one word at a time sets up the stage for what audiences are to expect in the upcoming 92 minutes gore fest. An extreme close up of events and we are talking seeing a screen of a close up of a close up like a the teeth in a mouth. This effect can be terribly annoying if one is sitting up close to the screen, so best be at least in the middle to thee back of the theatre when viewing this one. The story is simple enough. A gang of thieves absconding with 250kg of stolen gold arrives at the abode of a listless artist caught in a bohemian love triangle. The scenario quickly escalates into a desperate day-long firefight between cops and robbers throughout the remote ruins of a Mediterranean hamlet — and genre and art-house tropes collide in a relentless reverie of action spectacle. It should be noted that as bloody as this film is, it is not as bloody as the other Midnight Madness, nor is it as inventive. Hélène Cattet and Bruno Forzani are also fond of using colour saturated silhouettes as in the spaghetti westerns.
Trailer: https://www.youtube.com/watch?v=8Cx48AN5_y8
LOVELESS (Russia/France/Germany/Belgium 2017) ****
Directed by Andrey Zvyagintsev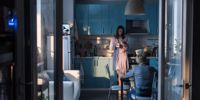 Russian director Andrey Zvyagintsev's latest film of a boy gone missing, is one that appears simple on the surface but is in reality an extremely powerful film on the tragedy that emerges from the result of a lovelessness. When the film begins, Boris and Zhenya are in the midst of a nasty divorce. They still live together which makes matters worse. In one of their fights, they argue that their 12-year old boy, Alyosh was a mistake. Neither one wants custody of the boy and the father remarks that he best be sent to boarding school, in preparation for the army afterwards. She says she never wanted him in the first place. The boy, meanwhile, in the film's most moving scene is shown crying his eyes out, after hearing what has been said by his parents. He is clearly, in his opinion unloved. He disappears. Boris and Zhenya are forced to come together to search for their missing son. One can only wonder where their love (if ever they had any) had gone. Zvyagintsev explains in one scene that this love never existed in the first place. Meanwhile Zhenya has another man while Boris another woman. They do not find the boy but life must go on. LOVELESS is a powerful film that instead of showing the power of love, shows the opposite, how life cannot survive with love. A terrific movie that won the Jury Prize at Cannes!
Trailer: https://www.youtube.com/watch?v=mLegoO4NdD8
LUK'LUK'I (Canada 2017) **
Directed by Wayne Wapeemukwa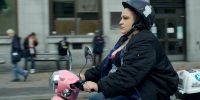 Wayne Wapeemukwa's first feature and it feels like one, sees five characters in a dodgy area in Vancouver. One is a middle-aged prostitute, Angel (Angel Bell). She does not have a heart of gold but has instead a beautiful offspring and a dog. Then there is the transgendered roller bladder who ends up insulting too many people. A father with cancer tries to reconcile with his son while his buddy hallucinates on flying saucers. The most interesting is the paraplegic, who is revealed to be gay as he fantasizes with a man he meets at a bar bingo game. All the 5 stories are intercut with a few musical interludes (Angel taking a shower to a dance tune in slow motion). The film, with its edgy feel, is just fairly interesting. Director Wapeemukwa makes no attempt to link the stories together, which is what most directors of films with multiple stories do.
Trailer: https://www.youtube.com/watch?v=jV1734KZvIA
MARLINA: THE MURDERER IN FOUR ACTS (Indonesia/Malaysia/Thailand/France 2017) ***1/2
Directed by Mouly Surya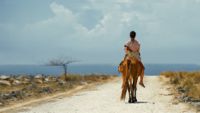 Marlina (Marsha Timothy), recently widowed is unable to pay her husband's funeral services. A troupe of ugly and unforgiving men use this excuse to take her livestock and have their way with her. But they are not prepared for the fury of this woman, in this revenge fantasy where women are warriors and will take no shit. Marlina poisons them with a soto ayam (local chicken soup dish) dinner and beheads Markus, the head of the gang, as she is riding him.
Marlina the Murderer in Four Acts (Marlina si Pembunuh dalam Empat Babak), titled THE Robbery, The Journey, The Killing and The Birth is a slow moving, arty though no less engaging piece of storytelling that will grab one from start to end. Humour is deadpan and always present
as Marlina takes a bus with the head of Markus to make a report at the nearest police station. She meets a pregnant neighbour who also has man trouble. A stylish but violent film proving Surya as a fantastic storyteller. The film is set on an island in East Indonesia shot in Malay.
Trailer: https://www.youtube.com/watch?v=Ikgy2Xukwng
MEDITATION PARK (Canada 2017) ***1/2
Directed by Mina Shun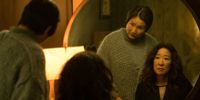 Hong Kong martial-arts superstar Cheng Pei Pei, now in her ageing years stars as Maria, a devoted wife and mother who is forced to reassess her reverence for her husband after she finds another woman's thong in his laundry. She discovers that her supposedly devout husband, Bing (Tzi Ma) is not the perfect husband she thought him to be. They are visited by their daughter (Sandra Oh) who wishes her mother attend the brother's wedding. The brother has been disowned by Bing. Maria starts tailing her husband to find out more of his affair. At the same time, Maria opens up her life and finds companionship through her assortment of friends as well as though a neighbour (Don McKellar). She finds that life has more to offer than just tending to her husband, and to one who has been unfaithful at that. There are some magnificent performances on display here, Cheng Pei Pei's being the most obvious. Sandra Oh, who has been in Shun's films in the past is always good and a pleasure to watch. Shun does not compromise her film for the typical Hollywood ending. MEDITATION PARK should be seen for it being Shun's best work and for Cheng Pei Pei's controlled yet powerful performance.
Trailer: https://www.youtube.com/watch?v=tMo7DdGdaq8
MIRACLE (Lithuania/Bulgaria/Poland 2017) ****
Directed by Egle Vertelyte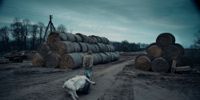 Edgy, strange and completely engaging, MIRACLE is the kind of small film from a small place like Lithuania (the country's first film at TIFF in 15 years) that never gets distribution and should be a pick at TIFF. The story centres on the owner of a struggling post-Soviet pig farm, Irena whose husband is always drunk and is sort of a pig himself. The farm is failing and Irena's workers make fun of her behind her back. It is all dark and gloomy till an American suddenly appears and brings the so-called MIRACLE into place. There is another MIRACLE (a plot twist) at the end of the film as well. But not without a price. The American, Bernardas buys and takes over the farm and gives the workers and Irena money for their shares. Irena ends up sleeping with him too. Vertelyte's film, especially its dead-pan humour immediately reminds one of the films of Aki Kaurismaki just like the actress who plays Irena looks remarkably alike Kati Outinen, Kaurismaki's regular actress. The only problem of the film is a satisfactory ending. But the weird one is good enough for me.
Trailer: https://vimeo.com/231418027
MOTORRAD (Brazil 2017) ***
Directed by Vicente Amorim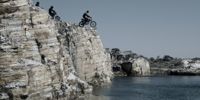 MOTORRAD begins with Hugo (Guilherme Prates) breaking into a junkyard to steal a bike motor. The old man in charge of the yard catches him but Hugo is saved by a beautiful girl from being shot. The film changes course with Hugo going on a ride across an isolated region of Brazil with his brother's bike friends. Hugo meets the girl who takes them on an isolated path. The film changes course once ore at the film's half hour mark turning it into a chainsaw massacre like film when they find themselves being hunted by a machete-wielding band of motorcyclists intent on killing them all. Though the film sounds silly, it is well shot, especially the underwater sequence with excellent sound and stereo effects. Director Amorim does well in combing fun and terror in this otherwise weird and enjoyable romp of male chauvinism.
Trailer: https://www.youtube.com/watch?v=atOaoJtNfyY
NUMERO UNE (NUMBER ONE) (France 2017) ***
Directed by Tonie Marshall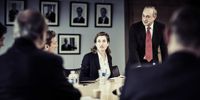 Tonie Marshall's corporate drama NUMERO UNE has high hopes for women, the director herself being one of the top French directors today. The story charts the climb to first place of a female business executive, Emmanuelle (Emmanuelle Devos) to head a top CAC 40 (French Stock Market) company. She is very good at her current job, as seen in many sequences, even speaking and singing Chinese songs with Chinese executives in her environmental friendly wind turbine company. She is wooed by a feminist group to head Athena, though this comes at a cost of her husband (John Lynch) losing his job and other nasties. The film itself has high hopes but gets bogged down by having one too many subplots which include, Emmanuelle's sick father (veteran actor Sami Frey), her marriage problems, blackmail and other assortment of problems. Still Devos (READ MY LIPS, KINGS AND QUEENS, UN PROPHET), as always is a pleasure to watch, and so is the film, despite its flaws.
Trailer: http://www.dailymotion.com/video/x5zu63n
THE OTHER SIDE OF HOPE (Finland 2017) ****
Directed by Aki Kuarismaki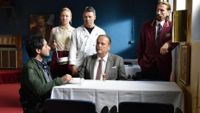 The latest film by Master of deadpan comedy Aki Kuarismaki tackles the issue of the refugee crisis in Europe. As the film opens, the audience sees a Syrian refugee, Haji pull himself out of a coal dumpster in ship docked at a port in Finland. Khaled (Sherwan Haji) seeks refugee status but is ironically refused on the basis of peace in his region, just as news on the TV report multiple bombings in his town with dozens of casualties. At the same time, a Finnish middle-aged man is seeking a new life for himself as he leaves his wife, wins money at poker and buys a restaurant business. The two meet after a fight and Haji is aided by the restaurant owner. This is Kaurismaki's most serious film to date and it sends an urgent message of the refugee status. Kaurismaki has still not lost his sense of humour as illustrated in an important scene in the film when Khaled says: "I love Finland like nothing you can imagine, but please get me out of here!" For those familiar with Kaurismaki, there are familiar segments in this film that are found in his other films like the gambling, starting up a new restaurant business, the cute pet dog and the folk music.
Trailer: https://www.youtube.com/watch?v=qtiFG6utst8
PLONGER (France 2017) ***
Directed by Melanie Laurent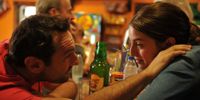 PLONGER refers to scuba diving, the sport featured in the film and in the relationship between Paz (María Valverde) is a Spanish photographer seeking adventure and César (Gilles Lellouche), a French war correspondent, but he is now looking for a quieter life. The two are very different people. They fall in love. Wen Paz is pregnant, their reactions are different. PLONGER looks at birth from a whole different perspective as well as the relationship of the couple. Though the film centres on Paz, the story is related from the man Cesar's point of view, which is interesting as this is a female director's film. Pensive and full of insight despite, PLONGER is well worth a look. The film is an adaptation of Christophe Ono-dit Biot's novel of the same name. The film also contains stunning underwater photography.
Trailer: (unavailable at time of writing)
PORCUPINE LAKE (Canada 2017) ***1/2
Directed by Ingrid Veninger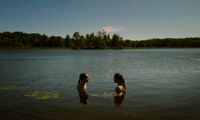 Canada's darling Ingrid Veninger has always been a director of films with strong female content. Who then best to write and direct PORCUPINE LAKE, a story of bravery and the secret life of girls set in Georgian Bay, Northern Ontario during a hot and hazy summertime when adulthood has not yet arrived, but childhood is quickly vanishing? Ally (Delphine Roussel) arrives with 13-year old daughter, Bea (Charlotte Salisbury) in tow from Toronto to meet up with her husband, Scotty (Christopher Bolton). Bea learns through a local, Kate (Australian Lucinda Armstrong Hall) independence, as well as the facts of life about boys and growing up. Kate is the companionship Bea's mother is unable to offer, and the two bond a strong friendship. PORCUPINE LAKE is the most ambitious and strongest of Veninger's films (also beautifully shot by Benjamin Lichty), her popular film ONLY being screened at a local cinema that Bea and Kate attend at one point in the film. Veninger proves once again, she is always in control of her material and meticulously drives her film to its emotional climax and coming-of-age mesage.
Trailer: https://www.youtube.com/watch?v=S0Lm-EC3e5s
MOTORRAD (Brazil 2017) ***
Directed by Vicente Amorim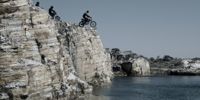 MOTORRAD begins with Hugo (Guilherme Prates) breaking into a junkyard to steal a bike motor. The old man in charge of the yard catches him but Hugo is saved by a beautiful girl from being shot. The film changes course with Hugo going on a ride across an isolated region of Brazil with his brother's bike friends. Hugo meets the girl who takes them on an isolated path. The film changes course once ore at the film's half hour mark turning it into a chainsaw massacre like film when they find themselves being hunted by a machete-wielding band of motorcyclists intent on killing them all. Though the film sounds silly, it is well shot, especially the underwater sequence with excellent sound and stereo effects. Director Amorim does well in combing fun and terror in this otherwise weird and enjoyable romp of male chauvinism.
Trailer: https://www.youtube.com/watch?v=atOaoJtNfyY
PYEWACKET (Canada 2017) ***
Directed by Adam MacDonald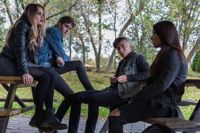 Leah (Nicole Monoz) is the typical teenager in high school, as the film reveals at the start. She is happy, nuanced and has issues with her parents, in this case her mother after her father's death. The mother (Laurie Holden) is falling apart, in depression and boozing. She conjures the demon PYEWACKET to do away with her mother. This is a case of paranoia versus actual demonic horror. Are there really footsteps in the night and monsters or are they all part of Leah's imagination? This is where MacDonald's film works best. There is nothing supernatural that occurs in the first half of the film. When a monster is shown in the second half, the audience is still unsure whether the creature is real or Leah's imagination. The film makes good use of sound (example the crescendo of traffic noise) for scare effects. The cinematography (the woods with no leaves) by Christian Bielz also adds an eerie creepiness.
PYEWACKET ends up a solid scare flick but it could do with more gore and violence.
Trailer: http://www.tiff.net/tiff/pyewacket/?v=pyewacket
REVENGE (France 2017) ***1/2
Directed by Coralie Fargeat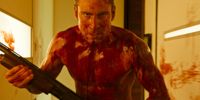 REVENGE borrows from many classic films like MAD MAX, THE HUNTING PARTY and female stalker movies to provide another gore fest in which victim becomes hunter with a few more tricks on display. This is Carolie Fargeat's debut feature and an impressive one at that. A rich businessman, Steve takes his mistress )Italian model Matilda Lutz) on a getaway in a gorgeous mansion by a desert. His two hunting friends show up and abuse her while he goes off for two hours. Instead of being on her side, Steve takes his friends side. When she threatens to tell his wife, Steve's pushes her off a cliff. She survives. They hunt her down while she, turns the table on them. The film is the real BATTLE OF THE SEXES, not the one with the same title centred on tennis, also at this year's TIFF. A few gory set-ups include one where a man extracts chards of glass from the base of his foot and another with her tending to her wounds with the metal of a red hot beer can. The climatic scene is full of inventive cat-and house chasing complete with Steve applying Saran wrap around his wounds. REVENGE is perfect Midnight Madness fare and had the theatre howling during the screening.
Trailer: (unavailable)
THE RIDER (USA 2017) ***1/2
Directed by Chloe Zhao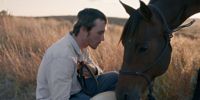 The film centres on a rodeo hopeful's life after his dreams are dashed following a serious rodeo accident. The audience sees the pain right at the very start when Brady Blackburn, a South Dakota cowboy (Brady Jandreau) manually takes off the medical staples from his wounds. Zhao emphasizes the claustrophobic life of Brady, despite having the open ranges. He lives with his often drunk and gambling father and mentally challenged sister, Lilly (Lilly Jandreau). His few friends provide him a drinking outlet but it is the rodeo that makes Brady, the man. If a cowboy cannot ride, then what good is he? These be Brady's own words. With his injury his brain is sensitive and riding rodeo might be the end of him. Zhao builds good characterizations. The father is not a one sided cardboard has been. Despite his constant arguments with his son, it is shown at the end that he understands Brady and his decisions. Brady's anguish, anger and decisions are also well displayed. The horse training and rodeo segments are effectively shot and exciting enough. Joshua James Richards captures the landscape of the open areas of the west, where horses run free. Simple storytelling, a good human story and one dealing with nature always make a good film.
Cannes Clip: https://www.youtube.com/watch?v=DbhO6MkO78U
THE RITUAL (UK 2017) ***
Directed by David Bruckner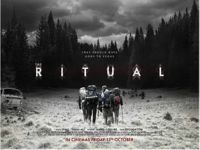 THE RITUAL is supposed to be a psychological thriller. Brucker who directed the film from a script co-written by him and by Joe Barton based on the novel by Adam Nevill knows how to bring on the scares and audience anticipation. It all begins with a group of friends planning a holiday as a reunion get-together. Hence no wives or girlfriend and no romantic distractions. Lots of male talk, and fortunately no sexist jokes are included. Vegas? They eventually settle on hiking in the North of Sweden. Why? It is hard to rationalize what men do.
THE RITUAL actually works quite well during the first half. Director Bruckner puts good use of the forest to invoke the biggest scares. It is the fear of the unknown that terrifies. And there are a lot of unknowns in the film. It is only when the film starts explaining why each incident has occurred that the film begins getting into trouble. Lots of gore, coming when least expected, good genuine scares (what THE BLAIR WITCH PROJECT could have been), good monster special effects and excellent use of location (the Swede woods). Forget about the logic of the plot and Midnight madness fans should be satisfied! But I would doubt if the fairer sex would like this film.
Trailer: https://www.youtube.com/watch?v=3G3N0-6-YpA
SAMMY DAVIS, JR.: I'VE GOT TO BE ME (USA 2017) ****
Directed by Sam Pollard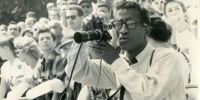 As in the words of Sammy Davis, Jr. himself, "I am coloured, Jewish and Puerto Rican. When I move into a neighbourhood, I wipe it out." The same might be said for this exhaustive documentary, courtesy of director Sam Pollard, notable for having worked with Spike Lee. Davis' talent and gift are so immense, that his presence takes over the entire movie. The doc does not contain a whole list of interviewees but just the most important ones - all being comedians including the recently deceased Jerry Lewis, Whoopi Goldberg and Billy Crystal. All pay tribute to the legendary, multi-talented song-and-dance man, in this exhilarating documentary which is part of the American Masters series. Davis is shown here as dancer, singer (including a full rendering of the songs 'I've Got to be Me' and 'Mr. Bojangles'), impressionist, and actor of unparalleled charisma. He broke racial barriers (including marrying a white wife) but paid a heavy price for it. Pollard's documentary of the legend ends up both an insightful and entertaining piece. I am sure many like me, could watch Sammy Davis, Jr. for hours.
Trailer: https://www.youtube.com/watch?v=qu8AV81ANTw
SHEIKH JACKSON (Egypt 2017) **
Directed by Amr Salama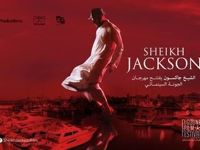 Sheikh Jackson is the nickname given to Sheikh as a kid for loving the pop idol Michael Jackson. The film concentrates on Sheikh as a grown man, now a devout imam (Ahmad Alfishawy) who tends to be praying all the time and demanding devout behaviour of his children, just as his father (Maged El Kedwany), shown in flashback demanded of him. Didn't Sheikh learn from his father's mistakes? Sheikh is also upset that he cannot cry while praying and sees a female psychologist, the sex of which he objects to. Salama's film is all over the place, with no observable goal. He has put on centre a subject which western audiences are unfamiliar with and makes no attempt to make him likeable or connected to the audience. The influence of Jackson over Sheikh is also vague at best. A few comical moments like watching the father pump weights in the gym like a world class bodybuilder helps elevate this otherwise sordid affair.
Trailer: https://www.youtube.com/watch?v=qsijix35ORE
SHUTTLE LIFE (Malaysia 2017) ***1/2
Directed by Tan Seng Kiat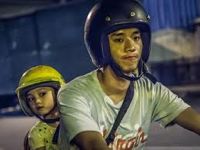 Shot around Kuala Lumpur, the capital of West Malaysia in Mandarin, English, Malay and a bit of Cantonese, all these languages of which are spoken by the people there, SHUTTLE LIFE is family drama. Teenage son, Zi (Jack Tan) is living in a small flat with his mentally ill mother (Taiwanese actress Sylvia Chang in a very unglamorous and admirable role) and younger sister. He has low education, not completed his high school 'A' Levels nor a proper job. He hangs out with friends that drink and break into cars for odd change. He shuttles around on his bike trying to make ends meet for is mother and little sitter. But a bike accident on his sister's birthday causing her death with him unable to retrieve her body leads him to his limit. SHUTTLE LIFE is a film with no happy ending but one that offers audiences on the lives of many who are stuck with poverty and unhappiness. Tan's uncompromising film is scary, well-shot and unfortunately very real.
Trailer: https://www.youtube.com/watch?v=QYYzxBhn-OE
THE SQUARE (Sweden 2017) ***** Top 10
Directed by Ruben Östlund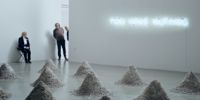 In director Östlund's (FORCE MAJEURE) film, the square is a place of trust and caring where everyone shares equality and obligations. It is also the name of the newest project of curator Christian (Claes Bang) which he hopes will bring in money for the cutting edge art museum in Sweden he represents. Christian hires two young TV publicists to spread the word on social media. The film is made of a number of cinematic set-pieces. Though these set-pieces appear unconnected on the surface, they upon close examination all tie into the great scheme of Östlund's universe. The film is also not without arresting images, courtesy of cinematographer Fredrik Wenzel. The two most striking ones include the shot of Christian building with escalators and star is rising above him like a maze (see trailer in link below) and the other with Christian in a heap of garbage as he searches for the piece of paper containing an important address. The film deservedly won this year's Palme d'or Prize. The film is as wicked a wicked satire can be as well as sexy, brilliant, complex and bitingly hilarious. It is a cruel, absurd and unforgiving world we live in and Östlund has captured it masterfully in his minor-masterpiece. Clearly the best film I have seen this year - hands down.
Trailer: https://www.youtube.com/watch?v=u77vsmBya2w
STRONGER (USA 2016) **
Directed by David Gordon Green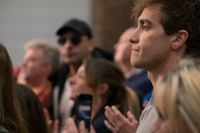 STRONGER looks at the Boston marathon from the point of view of a victim. And a really bad victim at that - one that has lost both his legs in the middle of the bomb explosion. To the film's credit, the film is an adaptation of the memoir by Jeff Bauman, recounting his struggles to adjust after losing his legs in the Boston Marathon bombing. So, it is a true story, rather than one base on true events. But unfortunately the film wallows in self pity. The film tells the true story of tragedy and rebirth. Runner Erin Hurley (Tatiana Maslany) was still a mile away from the finish line when the bombs went off. Her boyfriend, Jeff Bauman (Jake Gyllenhaal), however, was right there. He is rushed into surgery, but his legs must be amputated. The bombing's immediate aftermath provides Jeff with an unexpected sense of purpose as he had seen one of the terrorists responsible for the blasts. Jake Gyllenhaal, Tatiana Malsany and Miranda Richardson (as Jeff;s mother) deliver excellent performances despite the film's flaws. If the film turned out better, they night have been up for acting Oscars. One can only wish the film would have been a better one instead of one wallowing is self pity.
Trailer: https://www.youtube.com/watch?v=I6MN0QfQx7I
SWEET COUNTRY (Australia 2017) ****
Directed by Warwick Thornton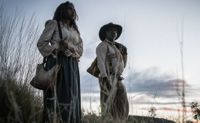 An Australian outback western and a very good one at that. Based on true events that occurred in 1929, SWEET COUNTRY tracks the killing, search and trial of Aboriginal Sam Kelly (Hamilton Morris). Aboriginal stockman Sam works the land of a kind preacher, Fred Smith (Sam Neill), living and labouring in a respectful, if diffident, harmony. But when a bitter and often-drunk war veteran named Harry March (Ewen Leslie) returns to town, trouble escalates and Sam is forced to kill in self-defence. Shocked, afraid, and with a deep distrust in the impartiality of settler authority, Sam and his wife, Lizzie (Natassia Gorey-Furber), go on the run. They are immediately pursued by a posse led by Sergeant Fletcher (Bryan Brown) and Aboriginal tracker Archie (Gibson John), expert bushman Sam must ultimately decide which of several looming unknowns to face. The whites are shown as racist pigs while the abused Aborigines are not that angelic either. If there is any redemption for the white man, there is the good Fred Smith and more important and the change of heart of Fletcher (subtly shown). A very absorbing film with almost perfect storyboarded set-ups from atmosphere to performances.
Trailer: https://www.youtube.com/watch?v=sYKBG1znk4A
THE SWAN (SVANURRIN) (ICELAND 2017) ***
Directed by Ása Helga Hjörleifsdóttir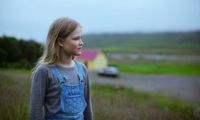 Poor nine-year old Sól (Grima Valsdóttir). She is not having it too good. Sol is sent to live with her aunt in rural Iceland as a punishment for shoplifting and her parents are splitting. She does not like it at the farm, as in her own words, the place is old and smells weird. Adapted from Guðbergur Bergsson's celebrated novel, Ása Helga Hjörleifsdóttir's film is told from Sol's point of view. She is also told by the aunt's daughter, Asta that there is a swan by the lake in the mountains that will lead people to drown. She also meets a local farmhand. THE SWAN is a coming-of-age stry of Sol who discovers the more complicated life of adults. A slow moving film that allows the audience to feel with young Sol and to experience the slow but no less dramatic lifestyle at the farm. THE SWAN is a portion of Sol's coming-of-age, reflected in the maturity of Iceland.
Trailer: https://www.youtube.com/watch?v=uL3FzFMbdE8
TA PEAU SI LISSE (A SKIN SO SOFT) (Canada/Switzerland 2017) ***
Directed by Denis Cote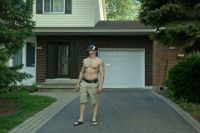 Director Cote follows his most known BESTIEIRE, a film about zoo animals in rural Quebec with another study of beasts, the beasts this time around being over dedicated and often over-obsessed body-builders. The film follows 5 of these super bodies as they train, pose and go about their daily routines. The film can bet be described as an observational documentary, as there are no messages or narrative in the doc. The film provides an insight on the training each man goes through. The film culminates with the five entering a competition at the end, but to each, every man is a winner in his own right. Cote's A SKIN SO SOFT is as his other films, always fascinating and accessible, while being incredibly sensitive and occasionally humorous. A different kind of documentary, which is the reason the film is in the Wavelengths section.
Trailer: https://www.youtube.com/watch?v=0V3ktCx63Kw
THE THIRD MURDER (Japan 2017) ****
Directed by Hirokazu Kore-eda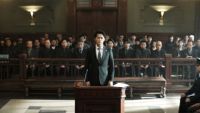 THE THIRD MURDER is director Hirokazu Kore-eda's (AFTER LIFE, AFTER THE STORM LIKE FATEHR LIKE SON) first murder mystery/courtroom drama and one that encompasses deep thoughts on morality. From the first scene, Misumi (Kôji Yakusho) robs and kills an industrialist. Misumi freely confesses to the cops, claiming he was desperate to settle a gambling debt. But defence attorney Shigemori (Masaharu Fukuyama) isn't entirely satisfied with his mild-mannered client's testimony. As Shigemori and his team go about their research, secret histories are brought to light, inconsistencies surface and unlikely alliances point to a more complicated set of circumstances. One flaw of the film is the point is that it is brought up later Misumi might not have killed the industrialist and someone else could have done it. But showing the killing at the start of the film, dismisses the fact that someone else could have done it. It is the film's classic case where a director should never lie in a flashback scene. (Hitchcock did it once in STAGE FRIGHT and was never forgiven for it.) Kore-eda's shot of Misumi's reflection in the glass in the film's final scene when he finally concludes his case with his attorney demands mention. The image in the reflection is different from his actual face reflecting the two sides of the man. Brilliantly thought of and executed THE THIRD MURDER marks Kore-eda as his continuous best.
Trailer: https://www.youtube.com/watch?v=Plr3V4TYBQE
UNDER THE TREE (Iceland/Denmark/Poland/Germany 2017) ***1/2
Directed by Hafsteinn Gunnar Sigurdsson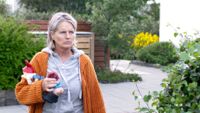 This is dark comedy am its blackest. A simple story that unfolds in all its unpredictability and horror. It is trouble for two neighbours, something that many can relate to. The shade from a front yard tree brings tensions to a boil for two families in an Icelandic suburb. The husbands have a small argument over trimming the big tree as one of the wives likes to lie in the sun and does not want the shade from the tree. But the wives argue. The tires of a car are slashed followed by rude gnomes ornaments placed in the front of the house. Then when the cat goes missing, all hell breaks lose. Amidst the arguing, there is a subplot of the son losing custody of his daughter after cheating on his wife. Sigurdsson keeps his film engaging from start to end by making his characters real, reacting and doing things that normal people all over the world might end up doing, when pushed to the limit. The ending comes with a good twist that leaves audiences satisfied that they have seen a really black comedy/drama.
Trailer: https://www.youtube.com/watch?v=tU7KeDwJCAc
UNDER PRESSURE (Brazil 2017) **
Directed by Jorge Furtado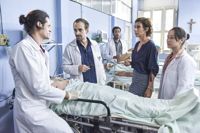 UNDER PRESSURE is not really a film but two episodes of the series out of a total of 9. From the 2 episodes, UNDER PRESSURE looks like a soap opera happening in the hospital where the staff all interact with each other in one way or other, including romance and conflict. The main character is the overworked Dr. Evandro who is the chief surgeon and goes above and beyond his means to save patients in the overcrowded hospital in Rio de Janeiro. He has an affair with Dr. Carolina (Marjorie Estiano) while stealing medication to satisfy his drug habit. In the midst of all this, the ambulance would pull in at regular intervals with an assortment of emergencies that includes a girl who has popped in too many pills or a kid that choked on candy. As expected, there is more to it. The girl is being abused by the dad and the candy is in fact wrapped up blow. While all the actors do their best to demonstrate chaos in the hospital, the film looks too set-up with the drama too sentimental. After watching Dr. Evandro tend to an assortment of emergencies, the drama wears down just like an anaesthetic.
Trailer: https://www.youtube.com/watch?v=Gbcm_vZHf6s
VAMPIRE CLAY (Japan 2017) ***
Directed by Soichi Umezawa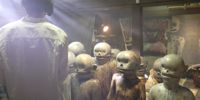 Director/writer/editor Soichi Umezawa knows the effects of clay. Besides the use of it being able to be moulded onto gruesome creatures, the look of fit in close-up, squishy, black and oozing out liquid when wet makes it an excellent horror source. The only thing missing is perhaps is a scene with worms oozing from the moist clay. Blood from a murdered sculpture is dumped into lay and buried. When dug up and used as material, the sculptured creature comes to life. The subjects are an art school in the Japanese countryside. Umezawa is 25-year old veteran special-effects makeup artist with over 70 credits. He realizes both the comedic and horror potentials of clay and mixes these elements well in horror comedy that reminds one of the horror B-movies of the sixties - but in a better way!
Trailer: https://www.youtube.com/watch?v=tUYxBrFM94k
VICTORIA AND ABDUL (UK 2017) ***
Directed by Stephen Frears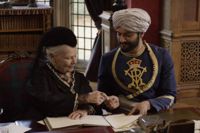 VICTORIA AND ABDUL chronicles with humour and insight the friendship between Queen Victoria (Oscar Winner Judi Dench) and a decades-younger Indian clerk named Abdul Karim. Karim has been summoned because of his height to present a ceremonial coin on behalf of British India to the Queen as a part of her Golden Jubilee in 1887. Abdul has done what is forbidden during the ceremony. He makes eye contact with the Queen who finds him handsome. In no time he is cooking her curries, talking to her about his culture, and being elevated to the post of official clerk, or Munshi, becoming an indispensable part of the household — and state.
Frears' assessment of Britain and royalty remain respectful. Queen Victoria is revealed in the film with all her grandeur (her royal attire and servants) but also with all her faults and her ageing process. She also claims herself to be and shown as well as cankerous, ill-tempered, fat but also one that has held five generations of household and mother of many children and grandchildren. VICTORIA AND ABDUL is Frears' mediocre film which is tolerant of everything and offends no one. These kind of films are often humorous, handsomely mounted, well acted but unfortunately forgetful.
Trailer: https://www.youtube.com/watch?v=BT2Ph_9bGPs
VISAGES, VILLAGES (Faces Places)(France 2017) ***** Top 10
Directed by Agnes Varda and JR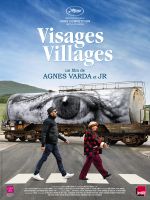 Faces Places have received high critical praise from critics at Cannes, many calling it a masterpiece. That might be too big a term to use for this little personal film but VISAGES VILLAGES is simply the most delightful and personal film at the festival. Director Agnes Varda (wife of the late Jacques Demy), now 89 is famous for her films, photographs, and art installations that focus on documentary realism, feminist issues, and social commentary with a distinct experimental style. In this latest and perhaps her last doc (she is losing her vision), she and fellow friend and artist known as JR travel around France, particularly the North in their photo camion to take pictures of the people they visit. At Le Havre, for example they photograph the images of three wives of the dockworker and paste them on stacked containers. In a deserted mining town, they paste the photograph of the last woman (wife of a miner) still staying in the old house district. When asked the reason she does this, she replies it is too demonstrate the power of imagination. No doubt about that, this film is personal, inspiring, powerful, sad and happy and perhaps 'masterpiece' might be really an accurate term to describe this film.
Trailer: https://www.youtube.com/watch?v=dmHG5HXYc9w
WHAT WILL PEOPLE SAY (Norway/Germany Sweden 2017) ***1/2
Directed by Iram Haq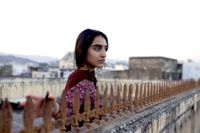 When Nisha (Maria Mozhdah) is caught with a boy in her bedroom, though nothing really happened between them, her concerned parents kidnap her and send her to Pakistan. The film traces Nisha's kidnap to her abode in Pakistan where she lives with her cruel aunt and uncle. Things get even worse, after a failed escape attempt and her being caught by the police smooching with her cousin. They call Nisha's dad (Adil Hussain) to take her back to Oslo. The father is madder than ever and at one point forces her to commit suicide, which she doesn't. Director Haq has the audience clearly on Nisha's side. Firstly, she is largely innocent, only guilty of wanting to have some fun any normal teenager seeks. When she suffers, she is also shown to earnestly want to turn over a new leaf. The film benefits from superior performances from both Mozhdah as Nisha and Hussain as Nisha's dad. It also helps that Haq has developed real characters, not just one dimensional cardboard ones. The film is not devoid of humour (like the egg lady on the bus in Pakistan). Haq also shows the different culture and lifestyle in Pakistan compared to Norway. WHAT WILL PEOPLE SAY is an engaging film that makes its point, while sending a message at the same time.
Trailer: https://www.youtube.com/watch?v=b8_dBOzufWQ
WINTER BROTHERS (VINTERBRODEN) (Denmark/Iceland 2017) ***
Directed by Hlynur Pálmason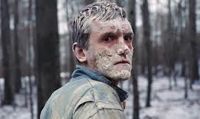 The WINTER BROTHERS of the title are Johan and his younger brother Emil, two miners whose routines, habits, and rituals are ruptured by a violent feud with a neighbouring family. Emil (Elliott Crosset Hove) is an odd character who when not whipping out his dick for no reason, would charm the local girl in the area. But more important than the action of the film are the lives of the miners on display. Amidst the bleak, white and barren landscape of the mines and worse the black of the inside of the mines, the miners try to etch up a decent living. Director Pálmason contrasts both the bright light of the snow and deep darkness of the mines. The film is really slow but what is on display here is the reality of the setting. Even the fight over a girl between two men was shot in all its ferocity (with one of the men in the total nude).
Trailer: https://www.youtube.com/watch?v=qkHG7cXVJoU
A WORTHY COMPANION (Canada 2017) ***
Directed by Carlos and Jason Sanchez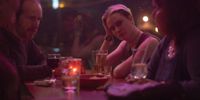 Montreal-based fine arts photographers Carlos and Jason Sanchez's debut feature is a hard psychological thriller which centres on a 30-year-old woman (Evan Rachel Wood) embarking on an intimate yet ultimately manipulative relationship with a 16-year-old runaway (Julia Sarah Stone). But the woman, Laura begins getting really obsessive and prevents Eva from leaving the house. The relationship turns out to be something like the Stockholm Syndrome. Apparently, though no details are given, Laura has had the same type of 'stalking' problems before, as her dad, who employs her mentions in the film. The film is both disturbing and engaging though one can hardly look forward to a satisfactory or happy ending. Both actresses Wood and Stone bring compassion to their roles and show their need for normalcy. Unfortunately, as can be seen in the film, this normalcy is not easily to come about and the state of affairs come about from their own personal behavioural flaws. The film suffers from an open ended ending, which for a film like this, one expects some satisfactory closure.
Trailer: https://www.youtube.com/watch?v=pI1bAF6tOdE