15
Sep
2017
Details

Category: Movie Reviews
Written by Gilbert Seah
Quiet week for new openings. IT will be still #1 at the box-office.
FILM REVIEWS:
HUNTING PIGNUT (Canada 2016) **
Directed by Martine Blue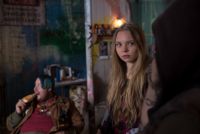 HUNTING PIGNUT can be considered a true female project (from Newfoundland, Canada) with a female writer and director Martine Blue and two strong female protagonists. It is also Blue's first feature and an autobiographical one at that. It is therefore not surprising that the film won Best First Feature at the Arizona International Film Festival and Best Canadian Feature at the Female Eye Film Festival.
The story centres on 15-year-old Bernice Kilfoy (rising star Taylor Hickson, fresh from her debut DEADPOOL). She hates her life in tiny, isolated Black Gut, Newfoundland. She believes that she will never live down a traumatic childhood that left her body and psyche deeply scarred. Bean (Amelia Manuel), her mother, tries to be a friend but is too busy struggling to get ahead. Self-centred, lonely, starved for attention and shunned by her peers, Bernice, who is bullied and constantly being beaten up, makes up stories about hanging out with her dad, of whom she hasn't seen in 10 years. Her dejected spirit takes a strange turn when her dad dies of a heroin overdose and Pignut (Joel Thomas Hynes), a nihilistic gutter punk, shows up for his wake.
The death and funeral service occurs at the start of the film. The service is crashed by Pignuts punk friends who are thrown out of the funeral hall. It is discovered that they have stolen the father's ashes.
Bernice stumbles upon Pignut's writing journal and becomes obsessed with discovering more about her father, his mysterious facial tattoo, his best friend Pignut and their clan of nomadic gutter punks. Bernice embarks on an odyssey to hunt down her father's ashes and to discover her place in his heart and in the world.
The best thing of the film is the depiction of the punk gutter scene. Director Blue drew on her previous experiences when she herself was in this scene. These people, squatted, panhandled and ate food from garbage dumpsters.
Bernice is shown in the film as a rebel who dives into the group, which initially rejects her due to her age.
The trouble with the film is that the story is not credible and filled with too may coincidences. The mother, Bean is genuinely trying to make an effort to connect with her daughter and it is hard to believe that Bernice still shuns her. When Bean travels to the city to find Bernice, she finds her out of the blue in a building doing drugs. The chances of this happening is close to negligible. In another scene after Bernice is beaten up by a punk ember, the cops happen to be right there.
At least Hickson and Manuel deliver winning performances as daughter and mother. Comedienne Mary Walsh, who happens to be appearing in anything Newfoundland has a cameo in the film.
Despite the film's well intentions, like attempting to show love within the punk group, the film fails from its careless writing. The film benefits from a strong female presence but HUNTING PIGNUT deserves much better.
Trailer: https://www.youtube.com/watch?v=XKSGAmuBTN8
IT STAINS THE SANDS RED (USA 2017) **
Directed by Colin Minihand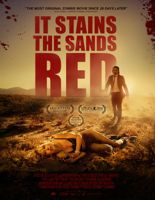 The zombie film genre is never short of new entries. The new zombie films have to have fresh ideas or original scare set-ups to entertain audiences, many of whom have been saturated already.
IT STAINS THE SANDS RED begins with a couple, an African American and his sexy girlfriend, Molly (Britanny Allen) stranded in the desert fete the car goes into the ditch after a silly argument.
Mollyis a troubled woman from Las Vegas with a dark past. She finds herself stranded in the desert. This means one of two things - either zombies or a TEXAS CHAINSAW MASSACRE tip family. It is the former with a lone ravenous Zombie (Juan Riedinger) on her tail. At first, she's easily able to outpace her un-dead pursuer, but things quickly become a nightmare when she realizes the zombie doesn't need to ever stop and rest. Running low on supplies and beat down by the harsh environment, Molly will have to summon the strength she never knew she had to ultimately face the zombie, and the demons that have chased her all her life.
Molly spends half the movie escaping from the one zombie. At least Director Minihand knows zombies are slower. So, she just needs t walk away faster than the zombie - giving more opportunity for ehr to talk to herself (and hence to the caera) for more nonsense sayings.
Expected stuff in the film includes no signal on the cell phone; the sexy girl surviving and obviously the other one done for; sexy girl victim eventually running off in skimpy outfit (Molly runs around half the time with sexy leather bikini outfit under expensive furs) and more. Would an audience watcher or the big ugly guy? Answer is obvious. Inventive stuff (or slightly inventive for that matter) includes an attack in the night with things that can only be seen with a flashlight; zombie hanging on a ledge; combining her own inner demons and the zombie demons; Molly doing coke while being pursued and stranded in the desert. The metaphor of the inner and inner demons is too obvious and not really needed in a horror flick.
The film is unshamefully politically incorrect with dialogue like, :Bitch!' and "I am going to cut you rip real deep like a n******* in the sun." An attempted rape scene is also present for the pleasure of the males.
Film costs are obviously a minimum with just one victim and one zombie. This limits what can be seen in the movie. Molly has to talk to herself aloud. to keep the film's dialogue going. Minihand makes use of the setting like a sandstorm to add more dimension to the movie.
Humour is silly at most: "Can you ever keep your mouth shut." "You smell like shit." "Like every man in a bar, you can never know when to say no." "And worst of all, "You got a small dick!"
IT STAINS THE SANDS RED ends up a mediocre horror zombie film with just a few but insufficient new tricks.
Trailer: https://www.youtube.com/watch?v=5eyzX2xc2ns&utm_source=TARO+PR&utm_campaign=5b800f8a47-EMAIL_CAMPAIGN_2017_08_22&utm_medium=email&utm_term=0_ece0125d2f-5b800f8a47-450249261