21
Sep
2017
Details

Category: Movie Reviews
Written by Gilbert Seah
Toronto International Film Festival is over. Opening are KINGSMEN 2, STRONGER, VICTORIA AND ABDUL among others.
This reviewer is curently in Iceland and then the U.K. for a short break.
FILM REVIEWS:
BATTLE OF THE SEXES (USA 2017)**
Directed by Valerie Farris and Jonathan Dayton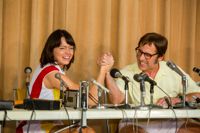 BATTLE OF THE SEXES begins with Billie Jean King (Emma Stone) just winning the women's singles tennis championship making her number one female player in the world. King is outraged with the inequality of pay by the National Tennis League, especially with Jack, the chairman (Bill Pullman), who is shown to be the real villain of the story.
Bobby Riggs (Steve Carell), arranges the battle of the sexes match, using his loud mouth and publicity to earn himself some cash to aid his failing marriage. To King, winning this match is more symbolic. It is a milestone for women's rights for equal pay, a point that is mentioned at the film's end credits but not made clear throughout the film.
The lazy script by Simon Beaufoy (SLUMDOG MILLIONAIRE) never bothers with important details of the story. How, for example did King's husband Larry, learn of his wife's sexuality. In the film, King tells her hairdresser lover that this is her first time with women, but apparently the husband knows King has has same sex relationships before.
The film overdramatizes to the point of laughter. One scene has Billie's lover in her hair salon shop hearing the news of Billie, realizing that she is needed and dramatically drops everything to leave the salon.
The wardrobe of the 70's has never looked so awful in any other film. Did we, in the 70's really look that bad thinking we were looking so cool? Billie's husband, Larry 's clothes are the worst. Perhaps that might be one reason she later left him. The hair of everyone is just as bad, including Billie's even after a hairdo from her girlfriend.
The script contains lots of inane dialogue and unfunny jokes. One line has Larry asking his wife if she was getting a blow dry, with full sexual innuendo. The film sheds no real light on the female rights movement, except what we already know. The dialogue contains lot of cheap jokes on women like Riggs saying that he believes women should be on the tennis court, but for picking up balls. These jokes are predictable, told many times before and if they meant to offend women, they still might. Two anti-female remarks are also voiced by two stars Llyod Bridges and Ricardo Montalban shown on old TV footage,
The crucial tennis match between King and Riggs can hardly be called exciting. For one, history already dictates who had won and the audience is in for no surprise. The camera is also placed mainly in one spot, showing the overhead shot of the players. The directors appear more concerned to show the match in long takes than any thing else.
Oscar Winner Emma Stone is too skinny to look like a tennis player. Carell looks remarkably like Bobby Fisher as they are right around the same age in the story. The nude picture of Carell resembles the one taken by Riggs. The rest of the cast of Sarah Silverman, Elisabeth Shue are largely wasted by the script that are unbothered with these characters.
BATTLE OF THE SEXES ends up a boring film on an exciting sport.
Trailer: https://www.youtube.com/watch?v=o5ykcuAS1F4
BEACH RATS (USA 2017) ***
Directed by Eliza Hittman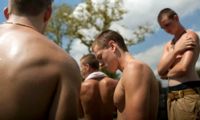 BEACH RATS tells the story of a teenager, still living with his mother and younger sister, searching for his sexual identity. It is directed and written by film professor Eliza Hittman.
Frankie (Harris Dickinson), an aimless teenager on the outer edges of Brooklyn, is having a miserable summer with his father dying and his dominating mother, Donna (Kate Hodge) wanting him to find a girlfriend. Frankie escapes by causing trouble with his delinquent friends (the BEACH RATS of the title) and flirting with older men online. As his chatting and webcamming intensify, Frankie simultaneously enters into a cautious relationship with a young woman, Simone (Madeline Weinstein).
BEACH RATS offers nothing new in the typical coming-out story of a male teen just figuring out that he is gay. Frankie is a good looking young blonde hunk. He flirts with a girl unable to satisfy her sexually. His preference is obviously the older male but he wants to keep the fact from his homophobic nasty friends. That is about it for the film.
Director Hittman, however manages to keep her film intriguing despite the well worn narrative. Her film consists of moody separate set pieces, a few of which involve erotic male sex. Hittman kept the action dramatic and real, with the frequent use of close-ups, quite a few concentrating on Frankie's hard muscular body. Every act is well shot and set up, and the audience can feel Frankie's angst. She keeps the tension high with it escalating towards the film's climax that involves Frankie's meeting with a younger man, Jeremy (Harrison Sheehan). Hs BEACH RATS friends tag along, hoping to score the weed that Frankie promises him that he would get from the meet-up. Jeremy is cautious but the friends eventually pounce on him in the tense suspenseful finale.
BEACH RATS at points shows a female imprint of the gay make subject. Simone remarks to Franke in the film: "When two women do it, it is sexy. When two males go at it, it is just gay."
British actor Harris Dickinson does admirable work as the character of Frankie, able to win the audience over despite his unlikeable character. His younger sister also calls him an asshole. Kate Hodge as his mother makes her mark showing a character whose son wants his own way yet respects her for what she is.
The action of BEACH RATS takes place both at night and in the day, with equal screen time devoted to both. This gives the audience a good balance of variety. There is also limited drug use (pill taking and coke snorting) in the film.
BEACH RATS shows write/director Hittman capable to creating an intense and fresh look from a familiar story. It also demonstrates a female director able to do a good job on a subject (male gay) that she is not directly involved in.
Trailer: https://www.youtube.com/watch?v=df0TQJBkPP4
STRONGER (USA 2016) **
Directed by David Gordon Green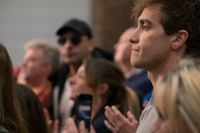 The Boston marathon. PATRIOT'S DAY saw Mark Wahlberg star in the film that hunted down the terrorists responsible for the bombings. STRONGER, on the other hand, looks at the Boston marathon from the point of view of a victim. And a really bad victim at that - one that has lost both his legs in the middle of the bomb explosion.
To the film's credit, the film is an adaptation of the memoir by Jeff Bauman, recounting his struggles to adjust after losing his legs in the Boston Marathon bombing. So, it is a true story, rather than one based on true events. But unfortunately the film wallows in self pity.
The film tells the story of Jeff's tragedy and rebirth.
Runner Erin Hurley (Tatiana Maslany) was still a mile away from the finish line when the bombs went off. Her boyfriend, Jeff (Jake Gyllenhaal), however, was right there. He is rushed into surgery, but his legs must be amputated. The bombing's immediate aftermath provides Jeff with an unexpected sense of purpose as he had seen one of the terrorists responsible for the blasts. He gives information to the FBI that proves instrumental in their investigation. But this is not seen in detail in the film. So one wonders, whether Jeff really saw the bomber or imagined it. Once that very public drama quietened down, Jeff's personal drama, a challenge as much for his morale as his body, is begins. With Erin by his side, Jeff slowly recovers, one arduous step at a time.
Green's film centres on the travails and sufferings of Jeff. But it opts out for cheap shots - like showing the parts where Jeff has trouble in the toilet trying to shit or urinate.
Jeff is shown in the film on the road of self destruction. Erin scarifies her all for him. But he is shown as unrepentant, unhealed by his mother who want him to get all the glory and money for his mishap.
The film shows Jeff's change in outlook. Unfortunately, this change is shown coming from just one event instead of a gradual progression - the meeting of the Mexican who attended to him during the bombing. Though this might be true, this one event that apparently changed Jeff's outlook on life seems quite incredible.
Jake Gyllenhaal, Tatiana Malsany and Miranda Richardson (as Jeff's mother) deliver excellent performances despite the film's flaws. If the film turned out better, they might be up for acting Oscars.
The film ends, expectedly during the closing credits with shots of the real Jeff and Erin. It is revealed that that the film is based on the book written by Jeff which is not mentioned at all in the film.
One can only wish the film would have been a better one that would show more of the triumph of the human spirit instead of one that showed a man wallowing is self pity.
Trailer: https://www.youtube.com/watch?v=I6MN0QfQx7I
THE TIME OF THEIR LIVES (UK 2017) **
Directed by Roger Goldby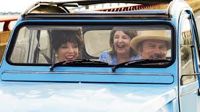 THE TIME OF THEIR LIVES is a road trip comedy starring Golden Globe-winner Joan Collins, Academy Award-nominee Pauline Collins and Italian film star Franco Nero. Cineastes should be pleased to see there stars of the 70's and 80's now in their golden years.
Joan Collins plays a character reminiscent of one of her better known films THE BITCH while Pauline Collins one reminiscent of SHIRLEY VALENTINE.
This is a film about escaping and breaking free – and how it's never too late to have another chance at life. Determined to gatecrash her ex-lover's funeral on the glamorous French hideaway of Île de Ré, former Hollywood siren Helen (Joan Collins) escapes her London retirement home with the help of Priscilla (Pauline Collins), a repressed English housewife stuck in a dwindling marriage. Helen is not shy to remind everyone she encounters that she used to be a famous star. And she is bitchy at that and especially even more bitchy that no one remembers who she is. Priscilla, like her SHIRLEY VALENTINE (she was in both the one-woman Scottish play at London's west-end and in the film - both of which I and seen) character is one who has spent her entire life as a housewife looking after her husband, She finally decides enough is enough and she has to take sometime for herself. The plot of that film is incorporated in Goldby's script.
In THE TIME OF THEIR LIVES Helen and Priscilla pool their limited resources, they hit the road like a senior THELMA AND LOUISE in a race to get to Île de Ré, becoming entangled in a love triangle with a reclusive Italian millionaire, Alberto (the still dashing Franco Nero, real life husband of Vanessa Redgrave) along the way. On this journey, they find true friendship in one another – and of course, have the time of their lives.
If all this sounds exciting, the film is not. It is ridden and bogged down by cliches of similar countless films centred on old people. While it is tedious to watch a re-hash of the Shirley Valentine, Pauline Collins almost pulls it off. She is one of my and many others' favourite actresses and she still manages to elicit sympathy, respect and admiration for a familiar character. On the other hand, Joan Collins' Helen character is annoying and as said, bitchy.
Goldby's script includes two subplots - one involving Helen seeking her daughter and the other Priscilla's drowned son that gets too sentimental. The Hollywood ending is too far-fetched for credibility.
Writer/director Goldby falls into all the traps of films about senior where they think too much of their glorious past youth and think that they are always pretty enough. Worst still, these films always bring the embarrassing topic of sex into the equation. Helen and Priscilla act like teenagers most of the time, creating mischief. Both women want Antonio, just as teens want the handsome young hunk.
THE TIME OF THEIR LIVES despite having three famous older stars ends up as another old farts movie.
Trailer: https://www.theguardian.com/film/video/2017/jan/27/joan-collins-the-time-of-their-lives-trailer-video
VICTORIA AND ABDUL (UK 2017) ***
Directed by Stephen Frears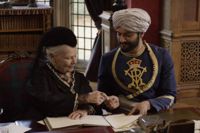 Director Stephen Frears has made great controversial films like SAMMY AND ROSIE GET LAID, THE SNAPPER and MY BEAUTIFUL LAUNDRETTE. He has also made films about royalty before, like THE QUEEN and also sentimental slush like PHILOMENA, with Judi Dench. VICTORIA AND ABDUL a film about Queen Victoria (Oscar Winner Judi Dench) and her Indian servant Abdul Karim (Ali Fazal) contains a cocktail of all the elements of the films mentioned above. The result, as expected as a mediocre Jack of all Trades Master of None film, which shines but only occasionally.
The film chronicles with humour and insight the friendship between Queen Victoria and a decades-younger Indian clerk named Abdul Karim. Karim has been summoned because of his height to present in England all the way from Agar, India the colonized homeland, a present. The present is satirically, a ceremonial coin on behalf of British India to the Queen as a part of her Golden Jubilee in 1887, Abdul with another travel for the intimidating task.
Abdul has done what is forbidden during the ceremony. He makes eye contact with the Queen who finds him handsome. In no time he is cooking her curries, talking to her about his culture, and being elevated to the post of official clerk, or Munshi, becoming an indispensable part of the household — and state.
This is where trouble boils. The Queen's son, Bertie and the household take offence that this 'coloured' lowly servant is treated royally. The ultimatum comes when the Queen decides to knight Abdul in order to have her household respect him. The opposite occur. The household threaten to resign if Karim is knighted. This is where the Queen uses her brain and oratory to win the day. Frears uses the incident to make a statement about the refugee crisis and racial prejudice. The film's best segment occurs here when the Queen chides her entire household with a speech that put them to shame. This is a Dench's award winning performance.
Frears' assessment of Britain and royalty remains respectful. The Queen at one point remarks: "A lot of people around the world hate me." Abdul says of the British as uncivilized on the ship en-route to England for the first time: "They put it's blood in their sausages and eat sheep's brains." The first words heard by Abdul on landing: "Welcome to Civilization!"
Queen Victoria is revealed in the film with all her grandeur (her robe and servants) but also with all her faults and her ageing process. When she is first seen in the film, her face is not shown, but her body covered in white (like a shroud) in bed with snoring heard. She also claims herself to be and shown as well as cankerous, ill-tempered, fat but also one that has held five generations of household and mother of many children and grandchildren. "I am the Queen of England and the Emperor of India," she claims proudly.
VICTORIA AND ABDUL is Frears' mediocre film which is tolerant of everything and offends no one. These kind of films are often humorous, handsomely mounted, well acted but unfortunately forgetful.
Trailer: https://www.youtube.com/watch?v=BT2Ph_9bGPs