28
Sep
2017
Details

Category: Movie Reviews
Written by Gilbert Seah
For reviews of other films, please type the title of he film in the search button box on the left of the front page.
All reviews written by: Gilbert Seah
FILM REVIEWS:
DO DONKEYS ACT? (Canada/Ireland/UK/USA 2017) ***
Directed by David Redmon, Ashley Sabin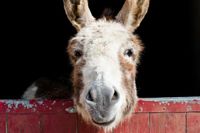 It has to happen eventually – a documentary on donkeys from the donkey's point of view.
One might complain as the poetic prose narrative voiced by actor Willem Dafoe. It might seem really silly, but after a while, one might accept the directors' decision and play along with this somewhat funny poetic play. Sample proses: "These donkeys have a wind of curiosity on their side." "When donkeys walk to a dead end… They have several ways in but no way out." Dafoe is the ideal choice as the narrator of such sayings/
The film begins with words on the screen saying how other animals communicate without words but with song or rhythm. It then goes to say that still others communicate by gestures in the shadows - whatever that means. So, DO DONKEYS ACT? invites the audience to "step into their shade and to listen closely" as the audience attune to a series of dramatic performances in which one can eavesdrop on donkeys speaking amongst themselves.
The film elicits the audience's pity of donkeys. The film is quick to point out that these donkeys are often abused and neglected. One was stabbed many times be teens playing stab the donkey with a knife while another is blind. One was shown in neglect with long curved nails ingrown due to its hoofs. The nails are removed by cutting using clippers. Still, the directors show that these are still beautiful creatures with their thick manes and loud and distinct braying. Hee-haw, hee-haw!!!
Among the film's highlights are:
the donkey at the dentist (a live dental experience like an alien encounter;)
a beautiful and moving sight of donkeys freely running around in the open after a long winter confinement
the birth of a new foal
the feeding of a foal
Directors David Redmon and Ashley Sabin have worked before on films like GIRL MODEL and KINGDOM OF ANIMALS as well as several other documentaries. DO DONKEYS ACT? clearly shows assured work, quirky though it may seem, but still thoroughly entertaining.
Though it might seem trivial to learn more about donkeys, curiosity eventually has its day in this occasionally fascinating portrayal of the neglected animal who is still part of God's animal Kingdom. Everything you wanted to know that happens inside a donkey sanctuary. The film was shot in several docket sanctuaries in the U.K., U.S., Ireland and Canada including the one in Guelph, Ontario.
The film played to rave reviews at the Hit Docs Festival this year in Toronto.
Trailer: https://vimeo.com/200043031
DON'T TALK TO IRENE (Canada 2017) ***
Directed by Pat Mills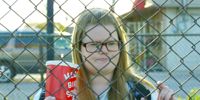 DON'T TALK TO IRENE takes its cue from Woody Allen's PLAY IT AGAIN SAM the Herbert Ross film where the Allen character takes advice from Humphrey Bogart with regards to getting a girl. In DON'T TALK TO IRENE, the protagonist, an overweight teenage girl takes advice from Geena Davis as she follows a different goal, in this case of pursuing her passion for cheerleading. She signs up for a talent-search reality show in order to prove that "physical perfection" isn't everything.
Irene Willis (Michelle McLeod) lives in a town of a small fictional town of Parc supposed to be just north of Toronto. The film was shot in Hamilton, Ontario. It is described in the film as the worst of small towns, where Irene goes to the worst of high schools. Her cycle of life is predictable and bland. Fuelled by the dream of becoming a cheerleader, but constantly told by both her overprotective mother (Anastasia Philips) and classmates that she does not fit the mild of a cheerleader. But Geena Davis, speaking to Irene via the A League of Their Own poster on her bedroom wall tells her "Never quit!"
When Irene gets suspended and is forced to do community service at a retirement home — run by Barrett (Kids in the Hall's Scott Thompson) — alongside her bullies and her new friend, Tesh (a gender non-conforming, glitzy dreamer), an opportunity arises. She rounds up her new-found circle of elderly friends into an unlikely dance troupe.
The film has the story of a socially unaccepted underdog doing it successfully at the end. It is an age old story which audiences have seen time and again. In fact this is not the first film in which seniors enter a dance competition.
But it is often the story that does not make a good film. Despite the story's limitations, the film benefits for the sly humour of its writer/director Pat Mills. Mills gives himself a cameo as a drunken teacher in a few segments in the movie. Mills, in his 2014 film, GUIDANCE, made an imprint with his dark and really funny comedy. DON'T TALK TO IRENE is not as good as GUIDANCE but it has its moments.
The character of transgendered, smart-talking Tesh is not that funny and appears in the film to set a politically correct statement. The mother and daughter relationship is also nothing new and the mother's final acceptance of her daughter's goals is predictable, if not tiresome. The film also aims to be too smug with strong language added to create a more edgy film. The seniors, again all try their best to show that they still have it, in terms of ingenuity, sex drive or dance skills.
McLeod is a rare find and is able to carry the film well. The film contains a nice surprise with the actual appearance of Geena Davis.
Still everyone loves a feel-good movie. Undemanding viewers should lap this tale up, with no problem at all. Critics can only wince at the goings-on of this girl that finally makes good.
Trailer: https://youtu.be/56xfd8POz4c
SAGE FEMME (THE MIDWIFE) (France 2017) ***
Directed by Martin Provost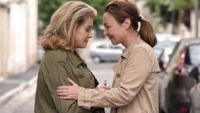 A film with babies being brought into the world? One cannot imagine a more euphoric subject.
Martin Provost is a French film director not that well known in North America as his films, as is the case of many French films, do not get distribution. It is a sad thing as his film SERAPHINE that won the Cesar for Best Film and for him sharing the Best Screenplay never got here either. I was fortunate to catch it at the Toronto International Film Festival and it is good to see a film of his SAGE FEMME finally released.
It is nothing more than spectacular to see two of my favourite French actress together in the same film. Both Catherine Frot and Catherine Deneuve (the great Catherines) - and I can watch them forever. Frot (the younger one), allows Deneuve to take the spotlight whenever they appear on screen together as obvious in the restaurant scene where Deneuve freaks out while Frot remains composed.
Claire (Frot) is a midwife at a Paris hospital. In her 40's, her life has become monotonous and routine even though she has the exciting task of delivering babies. Into her life suddenly arrives Beartrice (Deneuve) who is diagnosed with terminal cancer. Though dying, she wants to live. The two are complete opposites. While Claire is a vegetarian and no-drinker, Beartrice downs bottles of wine while indulging in red meat. Beatrice is the woman Claire's father left her mother for. Beatrice wants closure - to make things right. Claire initially wants noting to do with her but eventually succumbs. Frot and Deneuve exhibit good chemistry playing contrasting confrontational personalities. It is this chemistry that makes the film work, despite the simple plot covered by lame subplots like Claire's son (dropping out of school; his pregnant girlfriend), Beatrice's gambling and other bad habits and the hospital affairs.
As the subject is the midwife who delvers babies at a hospital, the film necessarily shows several of the deliveries of the just born. It is very obvious that director Provost always hides the side of the bay and mother so that the umbilical cord cannot be seen, or that would mean the delivery of a real baby.
Though Deneuve is in her senior years, Provost does not even for once fall into the trap of cliched films about old farts. Deneuve's old character is portrayed as a mother dying of a brain tumour. There is no scene of her reliving her young days, or trying to have sex or fall in love again.
Provost succeeds in the balancing comedy and drama. Deneuve provides most of the comedy and Frot the drama.
The film suffers from a predictable plot. It does not take a genius to guess that Beartrice will teach Claire how to live life and that Claire will eventually succumb to the charms of her suitor (Olivier Gourmet).
SAGE FEMME is a pleasant enough melodrama that will not win any awards but still should be seen for its two stars Denueve and Frot.
Trailer: https://www.youtube.com/watch?v=S_FLOFTvqdQ
VICTORIA AND ABDUL (UK 2017) ***
Directed by Stephen Frears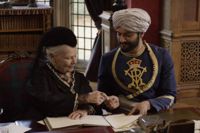 Director Stephen Frears has made great controversial films like SAMMY AND ROSIE GET LAID, THE SNAPPER and MY BEAUTIFUL LAUNDRETTE. He has also made films about royalty before, like THE QUEEN and also sentimental slush like PHILOMENA, with Judi Dench. VICTORIA AND ABDUL a film about Queen Victoria (Oscar Winner Judi Dench) and her Indian servant Abdul Karim (Ali Fazal) contains a cocktail of all the elements of the films mentioned above. The result, as expected as a mediocre Jack of all Trades Master of None film, which shines but only occasionally.
The film chronicles with humour and insight the friendship between Queen Victoria and a decades-younger Indian clerk named Abdul Karim. Karim has been summoned because of his height to present in England all the way from Agar, India the colonized homeland, a present. The present is satirically, a ceremonial coin on behalf of British India to the Queen as a part of her Golden Jubilee in 1887, Abdul with another travel for the intimidating task.
Abdul has done what is forbidden during the ceremony. He makes eye contact with the Queen who finds him handsome. In no time he is cooking her curries, talking to her about his culture, and being elevated to the post of official clerk, or Munshi, becoming an indispensable part of the household — and state.
This is where trouble boils. The Queen's son, Bertie and the household take offence that this 'coloured' lowly servant is treated royally. The ultimatum comes when the Queen decides to knight Abdul in order to have her household respect him. The opposite occur. The household threaten to resign if Karim is knighted. This is where the Queen uses her brain and oratory to win the day. Frears uses the incident to make a statement about the refugee crisis and racial prejudice. The film's best segment occurs here when the Queen chides her entire household with a speech that put them to shame. This is a Dench's award winning performance.
Frears' assessment of Britain and royalty remains respectful. The Queen at one point remarks: "A lot of people around the world hate me." Abdul says of the British as uncivilized on the ship en-route to England for the first time: "They put it's blood in their sausages and eat sheep's brains." The first words heard by Abdul on landing: "Welcome to Civilization!"
Queen Victoria is revealed in the film with all her grandeur (her robe and servants) but also with all her faults and her ageing process. When she is first seen in the film, her face is not shown, but her body covered in white (like a shroud) in bed with snoring heard. She also claims herself to be and shown as well as cankerous, ill-tempered, fat but also one that has held five generations of household and mother of many children and grandchildren. "I am the Queen of England and the Emperor of India," she claims proudly.
VICTORIA AND ABDUL is Frears' mediocre film which is tolerant of everything and offends no one. These kind of films are often humorous, handsomely mounted, well acted but unfortunately forgetful.
Trailer: https://www.youtube.com/watch?v=BT2Ph_9bGPs
WHITE NIGHT (Nuit Blanche) (Canada 2017) ***
Directed by Dan Slater, Sonny Atkins, P.H. Bergeron, Brian Hamilton, and Matt Purdy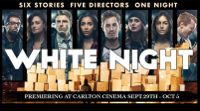 NUIT BLANCHE (Translated: White Night; originating from Paris and Nantes - an all night arts festival), the film traces a night in Toronto in fall beginning at sunset and going on till the early hours of dawn the next morning, where attendees can see, free of charge, art installations of various forms around the city centre. A guide is available for choice picking. Or one can do the random thing. The art on display includes everything from film (like old films with piano accompaniment or French serial comedies) to paintings to music. One can attend en seul or in a group. In my experience it is best to decide what to visit before venturing out. WHITE NIGHT the movie is based on this Toronto event. The film opens with a song with lyrics asking what the special night means to anyone. It also comes with a forewarning of the unexpected and to expect the unexpected.
Set in the sleepless night of Nuit Blanche, White Night follows six different stories of people in transition. As they weave their way through various art installations they are forced to tackle the issues of, love, loss, aging, and the ever important question; is it art?
Emily is an artist. She has an installation. But does she have anything to say? She is shown at the start of the film lugging her boxes, assuming containing her installation, to the right while the camera pans to the left. Frank, a lawyer (with an uncanny resemblance to Ben Affleck) who initially is working late on unit blanche, he just fired. So he decides to take up a career in crime fighting. Violet and Sully are long time friends. Once young punk rockers fighting to take down the man they now face the idea of growing up. Melanie needed change. So she uprooted her life in Quebec to start anew in Toronto. The language barrier is proving to be more difficult than she imagined. Stacey likes to help people. While everybody else is transfixed by art she is out to find people in need. Riley lives to capture life on his camera. He hides behind what he sees in everyone else. The film intercuts the multiple stories in chronological order of the night as it transgresses, rather than playing them one after another. It is not a new cinema concept but it is a suitable one for the subject.
Riley especially when on mushrooms is the funniest character. Violet and Sully are the most boring, pretentious representing the worst of the art exhibits that are often on display. No one wants to watch prissy, self-centred, unfunny, pretentious, people who do nothing that talk about themselves. Characters also meet - like Riley and Emily.
The best thing about the film is the varied soundtrack from Stephen Joffe, Birds of Bellwoods and Beams also consisting of live performances.
The film has a one week (right after the 2017 Toronto event on September 30) limited engagement at the Carlton Cinemas, Toronto. With a look!
Trailer: https://www.youtube.com/watch?v=RjKEA4751iQ&utm_source=WHITE+NIGHT&utm_campaign=357e40b8fd-EMAIL_CAMPAIGN_2017_08_22&utm_medium=email&utm_term=0_d4877cdab0-357e40b8fd-450246757