08
Oct
2017
Details

Category: Movie Reviews
Written by Gilbert Seah
CINEFRANCO 2017 (from October 6th)
Now in its 20th year, Cinefranco is one of the longest running film festivals in Toronto. One must give praise and credit to the ever cheerful and tireless directrice of the festival, Marcelle Lean who is always present to say 'bonjour' to Cinefranco fans. It is hard to survive in this festival eats festival world, but Cinefranco has got a loyal base of sponsors that come back year after year not to mention a good selection of films from France, Quebec, Belgium and Africa.
Last Year's Cinefranco was in a bit of trouble because of lack of sponsorship. Things appear improved and the fete du film has now been pushed to the late part of the year/
The films are screened at the smaller Carlton Cinemas but the good news is that it is in a very central location, right in the City Centre. The other difference is that 'comedy' is the subject for the year, so expect plenty of light entertainment.
For complete program information, ticket pricing and bookings, please check the Cinefranco website at:
http://2017.cinefranco.com/en/
This site is grateful to Cinefranco and Virginia Kelly Publicity for providing screeners for the capsule reviews below:-
And don't forget to say 'Bonjour' to Marcelle.
Bon Cinema!
CAPSULE REVIEWS:
(Trailer links provided at the end of each review)
BIENVENUE AU GONDWANA (WELCOME TO GONDWANA) (France 2016) ***
Directed by Mamane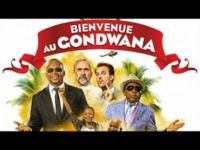 A comedy of manic proportions set in the fictitious African country of very, very democratic Gondwana. Manic because it contains too many characters who all are half crazy most of the time. There is the young French idealist plunged into African reality which are the controversial presidential elections, a dictator determined to remain in power by cheating, two sidekicks adept at geopolitics, a French congressman determined to sell asparagus to Africans and a young and pretty revolutionary. The purpose of the landing of all these characters in Gondwana is to oversee the elections to make sure that they are unit rigged. The film works well in the first third with superior laugh-out loud jokes but when it tries to get serious with a few messages and romance, the comedic momentum is lost. One might quiver at the way black African governments are stereotyped and the way Africans act and dance (as in the Gondwana welcome ceremonies) but these jokes still pack quite the punch.
Trailer: https://www.youtube.com/watch?v=jjSDwiv9JuY
MARIE-FRANCINE (France/Belgium 2017) ***
Directed by Valérie Lemercier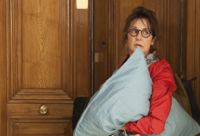 Valérie Lemercier pens the scripts and directs herself as MARIE-FRANCINE in this romantic comedy of manners. At the film's start Marie-Francine is dumped by her husband and moved out of her job. As a result, Marie-Francine has to live with her parents... at the age of 50! They treat her like a child, but it is in the small e-cigarette shop they open for her that she finds love with Miguel, a chef who doesn't admit to her that he is in the same situation. Though there is nothing really nouvelle in this exercise of romance, one cannot help but feel for the couple as director Lemercier makes her characters so endearing. She updates the story to reflect the norms of the 21st century - Miguel's wife leaves him for another woman; they meet a couple at a restaurant who wants a foursome; Marie Francine's parents both have affairs; her ex-husband surprises her in drag so as not to be recognized. But it is the romance that is the heart of the story and the chemistry between the two leads is magnificent. Lemercier uses Michel Legrand's theme "I will Wait for You" from Jacques Demy's LES PARAPLUIES DE CHERBOURG to add to the romantic atmosphere.
Trailer: http://www.allocine.fr/video/player_gen_cmedia=19569698&cfilm=247484.html
RAID DINGUE (France 2016) ****
Directed by Nicolas Benamou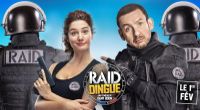 After the Boston marathon bombing, the U.S. made PATRIOT DAY about the hunting down of the bombers and STRONGER about the survival of a victim who lost his leg. It takes the French to make a comedy after their terrorist attacks. RAID DINGUE is an action comedy featuring two very funny actors. Alice Pol and Dany Boon (WELCOME TO THE STICKS). The excuse to bring them together? Johanna Pasquali (Pol) is a female cop unlike any other. Distracted, dreamy, and clumsy, from a purely policewoman point of view she is awfully nice but totally useless. Although endowed with real skills (shooting, hand-to-hand combat, police intuition, etc.), her clumsiness makes her a danger for criminals, the greater public, and her colleagues. Her father (Michel Blanc) wants her to be accepted for RAID training but kicked out. So, she finds herself in the hands of officer Eugène Froissard (Boon), the most misogynist and vulgar of all the RAID officers. Together they go after the Leopards. The film is current with the recent terrorist attacks and also deals with issues like women in a male dominated work force. Director Benamou and his two leads have perfect comedic timing. Laugh-out loud humour all the way. The impressive cast includes veteran actors like Michel Blanc, Sabine Azeman and Yvan Attal.
Trailer: https://www.youtube.com/watch?v=05qHBDBuxrY
UN PETIT BOULOT (France/Belgium 2016) ***
Directed by Pascal Chaumeil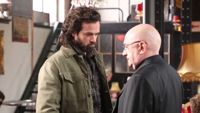 Another comedy but a darker (and serious) one at that. The setting is a small French town where jobs are slowly lost and the inhabitants get poorer. The protagonist is Jacques (Romain Duris sporting a beard but still recognizable). Dead broke with gambling debts, he reluctantly takes a job from a local gangster, Gardot (Michel Blanc) to kill his wife. One killing is easy enough for Jacques and that leads him to do more. Blanc wrote the dialogue and script for the film. Gardot arranges for Jacques to do more killings for a 70-30 split. One of these takes place in Brussels as the film is a Belge French co-production. The awkward romance pops up with no warning at the 40 minute mark with Jacques suddenly meeting a girl he had not see for a while. An all right comedy aided by the performances of its to lead veteran an actors Duris and Blanc.
Trailer: https://www.youtube.com/watch?v=Z_W4PPldtkw