TIFF Cinematheque Presents - The Films of Andrei Tarkovsky
Andrei Arsenyevich Tarkovsky (4 April 1932 – 29 December 1986) was a Soviet filmmaker, writer, film editor, film theorist, theatre and opera director. He is considered to be one of the greatest filmmakers of all time and much respected by other respected filmmakers notably Ingmar Bergman.
Tarkovsky's films include Ivan's Childhood (1962), Andrei Rublev (1966), Solaris (1972), Mirror (1975), and Stalker (1979). He directed the first five of his seven feature films in the Soviet Union; his last two films, Nostalghia (1983) and The Sacrifice (1986), were produced in Italy and Sweden, respectively. His work is characterized by long takes, unconventional dramatic structure, distinctly authored use of cinematography, and spiritual and metaphysical themes.
TIFF Cinematheque presents for the first time a good retrospective of Tarkovsky films with weeklong engagement of both STALKER and SOLARIS (both films capsule reviewed below).
My favourite Tarkovsky film is SACRIFICE (OFRET) with the single long tie at the film's end of a burning house with its inhabitants running around outside it.
Full fill program and schedule of screenings, please check the Cinematheque website at:
CAPSULE REVIEWS OF Selected Tarkovsky Films:
SOLARIS (USSR 1972) ****
Directed bh Andrei Tarkovsky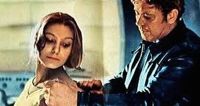 SOLARIS is Soviet science fiction art film adaptation of Polish author Stanisław Lem's novel Solaris (1961). Co-written and directed by Andrei Tarkovsky, SOLARIS moves at the low moving pace one has associated Tarkovsky's films with. This one runs 2 hours and 42 minutes, so be prepared for a long haul. A meditative psychological drama occurring mostly aboard a space station orbiting the fictional planet Solaris, the story involves a stalled scientific mission because the skeleton crew of three scientists have fallen into separate emotional crises. The terror in space is not physical but mental and emotional. Psychologist Kris Kelvin (Donata VBanionis) travels to the Solaris space station to evaluate the situation only to encounter the same mysterious phenomena as the others. He meets who could be or could not be his wife, Hari (Natalya Bondarchuk) as she had previously died 10 years back. He sends her off in a rocket getting himself burnt, but she re-appears. Great ideas but the please in this film has to be earned. SOLARIS won the Grand Prix Spécial du Jury, the FIPRESCI prize and was nominated for the Palme d'Or and was remade by Steven Soderbergh in a film with the same title.
Trailer: https://www.youtube.com/watch?v=1Tob56MebI8
STALKER (USSR 1979) ****
Directed by Andrei Tarkovsky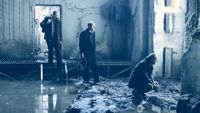 STALKER refers to the guide to a special place called The Zone in Tarkovski's boring mini-masterpiece of the same title. In it three men, THE STALKER, the guide, and two others referred to as the professor and the writer (it be best to remember who is who) enter a place called The Zone. The Zone is apparently inhabited by aliens and contains the Room, where in it is believed wishes are granted. The government has declared The Zone a no-go area and have sealed off the area with barbed wire and border guards. However, this has not stopped people from attempting to enter the Zone. The writer wants to use the experience as inspiration for his writing and the professor, who wants to research the Zone for scientific purposes. Things do not turn out as expected. Neither does this sci-fi film, so beware! One scene has the trio roaming in a long pipe (tunnel) before one says: "There is a door." They argue not only who should go in first but why bring and point a gun through the door. "No one waits at the door," one answer when questioned whether to enter. This scene is typical of what happens throughout their trip into The Zone. Nothing happens but a lot of arguments. The sets like the tunnel dripping with water from the ceiling are stunningly bleak and typical of a dystopian society. Running at over two and a half hours with nothing much happening for a sci-fi film, STALKER is undeniably boring. Very, very boring! But crazy as it might sound, it is still a captivating film that should be seen by all cinephiles.