21ST TORONTO REEL ASIAN INTERNATIONAL FILM FESTIVAL 2017
The (21st) ReelAsian International Film Festival runs from November the 9th to the 18th, 2017 in downtown Toronto and North York.
Capsule reviews of selected films (as recommended by the ReelAsian publicist) follows below this article.
For more information and a full schedule of screenings, please check its website at:
http://www.reelasian.com/festival/
Capsule Reviews of Selected Films
BAD GENIUS (Thailand 2017) ****
Directed by Nattawut Poonpiriya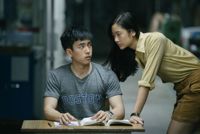 BAD GENIUS belongs to the category of good movies with poor titles like the recent BABY DRIVER. From Thailand, BAD GENIUS is a feel good teen B-movie from B-country Thailand, but from the first few segments, one is immediately impressed by director's ingenuity and ability to entertain. Lynne helps her friend Grace to cheat during an exam in a scene that is both comical and suspenseful. Also when Grace remarks that she needs a 3.25 GPA to be in school play, Lynn replies that it is harder to act in a play than to study. Lynn is a genius high school student who makes money by cheating tests, receives a new task that leads her to set foot on Sydney, Australia. In order to complete the millions-Baht task, Lynn and her classmates have to finish the international STIC (known as SAT internationally) exam and deliver the answers back to her friends in Thailand before the exam takes place once again in her home country. Director Poonpiriya nows how to make a feel good movie by making all the characters likeable (and performed by good looking actors), ending every scene on a high note and having a pompous wealthy school and strict (and corrupt) authoritarians as the common enemy. The film also covers relevant Asian issues like being filial, the attraction of studying abroad and international exams. A discrete message tied in too about life not being fair, so that one has to help oneself. Totally enjoyable from start to finish, with the time flying fast (as in not having enough time to complete an examination) despite its bad title.
Trailer: http://www.imdb.com/title/tt6788942/videoplayer/vi970373401?ref_=tt_pv_vi_aiv_1
BROTHERHOOD OF BLADES II: THE INFERNAL BATTLEFIELD (China 2017) ***
Directed by Lu Yang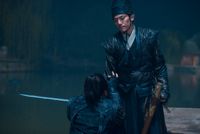 The sequel to the original BROTHERHOOD OF BLADES, number II, the sequel has already done much better at the box-office as of date, than the first film owing to better marketing. Lu Yang returns in the director's chair with a solid sword fighting saga like the better ones Shaw Brothers used to make in the good old days. Set in Northeast China, AD 1619, during the late Ming dynasty, the film centres on a captain of the Imeprial Guard, Shen Lian (Zhang Zhen) who when the film begins rescues a couple of Ming soldiers from certain death, including Lu Wenzhao (Zhang Yi), who is eternally grateful. The film moves forward 8 years later, in the summer of AD 1627, encounters intrigue and corruption in the higher ranks. There is a bit too much plot to follow that audiences might to be used to for films in this genre. The battle scenes are well done with good martial-arts choreography and fights on horses with the climatic battle taking place at a gorge for additional excitement.
Trailer: https://www.youtube.com/watch?v=JB7Q290d8ck
DEAR ETRANGER (Japan 2017) ***
Directed by Yukiko Mishima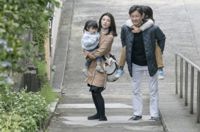 The etranger (French of stranger) here, is Makoto Tanaka (Tadanobu Asano), divorced from his first wife, Yuka (Shinobu Terajima), four years ago and now married the younger Nanae (Rena Tanaka), who herself is divorced). Nanae left her husband, the alcoholic, dissolute Sawada (Kankuro Kudo), because he beat her and her young daughter. Makoto and Yuka split when they couldn't agree on a second child: He wanted one, she didn't. Makoto continues to see his daughter, Saori (Raiju Kamata), who lives with her mother and new stepfather, while he tries to be a good parent to Nanae's two daughters, Eriko (Miu Arai) and sullen sixth-grader Kaoru (Sara Minami). Kaoru says her stepfather Makoto is a stranger and insists on meeting her real father. The film is real family drama, one that affects the modern family whee separation and divorce are common. Real tensions are on display without the characteristic Hollywood melodrama or cheap theatrics. Running a bit long at 2 hours, DEAR ETRANGER is an emotional ride, nevertheless.
Trailer: https://www.youtube.com/watch?v=F-FPd35FqAY
STAND UP MAN (Canada 2017) ***
Directed by Aram Collier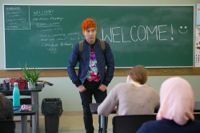 STAND UP MAN opens with the only Korean in the town of Windsor performing a hard to get comedy gig in Toronto. Moses Kim (Daniel Jun) does well, getting the laughs he deserves besides dishing out rather bad dick jokes. At this time, he is happily just married to Yoojin (Rosalina Lee) and landed with a Korean restaurant from his missionary parents who have left for Mali. There are lots of fun poked at the Korean community and the Canadian town of Windsor and actor Daniel Jun is appropriately lively as the lead character. The plot takes a turn with the arrival of Kim's younger cousin Joon-Ho (Daegun Daniel Lee) form Korea who he has to babysit. The film is sufficiently entertaining with a message of a different kind. It is not one of 'chasing ones dreams' like Kim being a successful standup that is important, but something else (not revealed in this review).
Trailer: https://www.youtube.com/watch?v=LGZpZBChrdU
TEIICHI: BATTLE OF THE SUPREME HGH (Japan 2017) Top 10 ****
Directed by Akira Nagai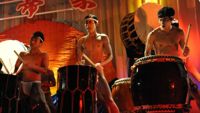 Based on the manga 'Teiichi no Kuni' by Usamaru Furuya that ran from 2010 to 2016, the film is a brilliant satire on Japanese politics. The film is filled with surprises, irony, messages, comedy, suspense, romance and ultimately drama. The young actors, over-acting half the time are nevertheless fantastic in their roles. The subject is Teiichi who dreams one day being the Prime Minister of Japan. His father urges him to succeed politically at all costs. But Teiichi have to take things one step a time, which he finds really tough, especially having a girlfriend who has no interest in politics but gives him good advice, nevertheless. Teiichi has to make sure he supports his candidate for class president at his elite high school wins the election. Teiichi's right hand man is a tech whiz who has the hots for him. Lots of homo-eroticism in the film that includes a drum performance by the athletic club members wearing lion-cloth (see photo inset). Still, a hoot of a film from start to finish and clearly the film that wins my vote for best film at Reel Asian this year.