13
Dec
2017
Details

Category: Movie Reviews
Written by Gilbert Seah
The 2017 TFCA (Toronto Film Critics Association Awards)
Every December, the Toronto Film Critics Association (TFCA) like the critics in many large cities in North America sit down to award the best of the best in terms of Best Picture, Actor, Actress and other categories in film.
This is how the top winner is selected.
Each critic submits his or her choice for each category numbered 1 to 5. The first pick gets 5 points, second 4 points etc. All the points are totalled and the nominees reduced to three in each category. On a Sunday, all the members show up for a live-got to select one of the three, often after much debate.
This year, the main prize of Best Picture goes to Simon Baker's THE FLORIDA PROJECT, a low budget film about poor people living in the fringes of the huge wealthy Disney amusement park. The Best Actor and Best Actress honours went to Daniel Day-Lewis for PHANTOM THREAD and Frances McDormand, both already Oscar winners.
Unanimous in the categories for Best Foreign Film was the brilliant art satire THE SQUARE and for Best Documentary, the beloved French feature VISAGES, VILLAGES (FACES, PLACES) by Agnes Varda and JR.
But somehow neglected are two of my personal BEST films, Christopher Nolan's excellent DUNKIRK and Alexander Payne's adult fantasy DOWNSIZING.
The full list of nominees and winners are outlined following, with the winner indicated with two asterisks (**).
The winners will be celebrated during the TFCA Annual Gala on January the 9th Tuesday, at the Carlu. The BEST CANADIAN FILM will be announced then.
Best Picture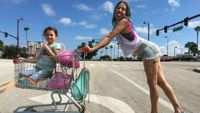 The Florida Project **
Phantom Thread
Three Billboards Outside Ebbing, MO
Best Actor
Timothee Chalamet, Call Me By Your Name
Daniel Day-Lewis, Phantom Thread **
Gary Oldman, Darkest Hour
Best Actress
Sally Hawkins, The Shape of Water
Frances McDormand, Three Billboards Outside Ebbing, MO **
Saoirse Ronan, Lady Bird
Best Supporting Actor
Willem Dafoe, The Florida Project **
Sam Rockwell, Three Billboards Outside Ebbing, MO
Michael Stuhlbarg, Call Me By Your Name
Best Supporting Actress
Allison Janney, I, Tonya
Lesley Manville, Phantom Thread
Laurie Metcalf, Lady Bird **
Best Director
Paul Thomas Anderson, Phantom Thread
Greta Gerwig, Lady Bird **
Jordan Peele, Get Out
Best Screenplay
Get Out **
Lady Bird
Three Billboards Outside Ebbing, MO
Best First Feature
Get Out **
Lady Macbeth
Werewolf
Best Animated Feature
The Breadwinner **
Coco
Window Horses
Best Foreign Film
Faces, Places
Loveless
The Square **
Best Documentary Feature
Faces, Places **
Jane
Keri