13
Dec
2017
Details

Category: Movie Reviews
Written by Gilbert Seah
STAR WARS: THE LAST JEDI opens this week and the force will tke the box-office by storm.
BEST FILMS PLAYING:
COCO
THE SQUARE
THE KILLING OF A SACRED DEER
GOD'S OWN COUNTRY
THE OTHER SIDE OF HOPE
PARADISE
ROMAN J. ISRAEL, ESQ.
THELMA
THREE BILLBOARDS OUTSIDE EBBING, MISSOURI
FILM REVIEWS:
Feature Review:
STAR WARS: THE LAST JEDI (USA 2017) ***1/2
Directed by Rian Johnson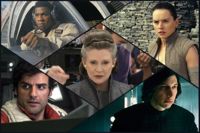 When the film begins, the titles are clear to remind the audience that it is Episode VIII that they are watching. It is also the second in the Star Wars sequel trilogy after THE FORCE AWAKENS. Long time again a galaxy far away….. read the lines in normal word setting from right to left, then humorously followed by an introduction to the story in the normal STAR WARS type set from bottom to top of the screen.
At the press screening, the Disney representative begged those attending not to reveal any plot points or twists so as not to spoil the entertainment of those yet to see the film. That, of course, will be respected in this review, but it is safe to say that there are quite a few of these twists to keep audiences on their toes. But the main story is very simple and basically told in words at the film's start.
The First Order reigns. The rebels are planning their escape. Princess Leia (Carrie Fisher) is evacuating the rebel base while they are under attack. It appears wherever the rebels go, they can be tracked. So the aim is to board the Order ship that contains the tracker and destroy it. Rey (Daisy Ridley) is recruited to get Luke Skywalker (Mark Hamill) out of his self-imposed exile on the planet Ahch-To (which looks a lot like Ireland because it was shot there) to help. That is all one needs to know about the plot. Of course, there are the villains, pretty good ones who can come across as quite funny or nasty as in the case of Ben Solo (Adam Driver). And not to forget, there is the Supreme Leader (Andy Serkis), whose title seems to invoke laughter, just from the name of how it sounds.
All of what is expected in a Star Wars epic is there. Fans should not be disappointed. Original characters like Luke Skywalker and Princess Leia are there as are the old characters like Rey, Ben Solo, General Hux (Domhnall Gleeson), the Supreme Leader, Finn (John Boyega) , Poe (Oscar Isaac) together with c3p0, Chewbacca and r2d2. The are lots of well executed fight scenes with exploding star ships and bases, light sabre fighting, pyro-technics and CGI. Fond sayings like "May the Force be with You," or "May the Force be with Us" and a few new ones are there to prod the audience on the good fight alongside the Rebellion. A few new creatures are added like the puffin-looking birds and icy type canines. The film also has an eclectic cast which shows that all races work well in the Rebellion for a good Galaxy of beings.
THE LAST JEDI is marked with humour with some very funny lines. This is what distinguishes this episode from the rest - it is the funniest. The humour works as the film knows how to keep it both funny and smart with the film still serious in the fight against the First Order.
The film's best line appears at the end credits. The film is dedicated to our Princess Carrie Fisher. THE LAST JEDI is a worthy tribute to the princess, for sure, being her final film before she passed away in 2016.
Trailer: https://www.youtube.com/watch?v=TYRy5bCsWF8
CALL ME BY YOUR NAME (France/Italy 2017) ***
Directed by Luca Guadagnino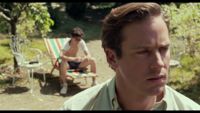 Luca Guadagnino's (I AM LOVE, A BIGGER SPLASH) CALL ME BY YOUR NAME arrives with all the accolades after playing major festivals around the world after premiering at Sundance and Cannes. I did not think too much of it when I first saw it at the Toronto International Film Festival, so I had to view it a second time to see what I could have missed. The second viewing proved no different in the way I felt about the film, so I had to analyze the reason so many fellow critics loved this film while I just barely enjoyed it.
It should be noted firstly, that 2017 saw the release of three excellent but different gay films. BPM from France, is a documentary felt drama dealing with AIDS activists that is both moving, real and riveting. Britain's GOD'S OWN COUNTRY showed that gay life is as tough as fucking against a wall, as experienced by the gay farmhand who finally gains acceptance of his lifestyle and finds love. CALL ME BY YOUR NAME, however is fantasy gay life as if bathed in sunlight and swimming in clear waters in the country and eating peaches. It is the gay kind of movie that straight people want to see - all pretty and non-troubling with no rough sex in the toilet.
The two lead stars are straight. Armie Hammer (THE SOCIAL NETWORK, THE LONE RANGER) plays Oliver, a summer guest at Professor Perlman's (Michael Stuhlbarg) summer house in Italy. Every year, the professor invites a student to assist in his research, which incidentally is hardly shown in the film. The other straight lead is Timothée Chalamet who plays the 17-year old Elio Perlman, the professor's son, who falls for Oliver. Both are American actors though Chalamet practised his Italian prior to acting in the movie. His father is French and mother Jewish which is suitable for his role as an Italian Jew in the movie. You call me by your name, and I yours. It all sounds so romantic. The gay couple hardly encounter any obstacles, except a few minor ones. Elio's father (Michael Stuhlbarg) opens his heart out to his son in one of the film's best segments, but that is about all the obstacles so far in this gay fantasy.
Guadagnino's film is undoubtedly stunning, with sunlight lighting up many scenes. The luscious eating of a peach and the sexual seduction (who seduces whom in the film?) is very erotic.
CALL ME BY YOUR NAME is adapted into the script by James Ivory from André Aciman's coming-out and coming-of-age novel. Still, together with films such as PHILADELPHIA, CALL ME BY YOUR NAME even made by a gay director (Guadagnino is openly gay) is a worthwhile straight gay film to watch it, but don't expect life to unfold the way life does in this film. Disgustingly beautiful - the film is all good-looking on the outside and feeling like a fairy tale, neglecting the downers of coming-out gay. Things never turn out this perfect in any gay coming-out story. The film feels even more awkward as Elio looks way under below the age of 17.
Trailer: https://www.youtube.com/watch?v=3AMgliTBFKU
FERDINAND (USA 2017) ***1/2
Directed by Carlos Saldanha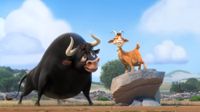 FERDINAND, the bull charges into theatres just a few weeks after Pixar's COCO. FERDINAND is no COCO but it makes its mark, based on the ever poplar book with more humour and laughs than COCO.
FERDINAND is a CGI animated feature based on the classic 1936 Munro Leaf and Robert Lawson book. The Lawson drawings have been translated to more than 60 languages including the 1938 Disney featurette. Ferdinand loves flowers not fighting but finds himself in a bull training camp, the Casa del Toros where he escapes to a farm and is brought up by little Nina (Lily Day) who loves her little bull. The little bull is not little forever, and grow into a huge monster of an animal, now also possessing the voice of towering John Cena.
The trouble (or fun, depending how one wants to look at it) starts when Ferdnand is prevented from going to the Festival of Flowers, which the flower loving bull cannot resists. Nina is forced to tell him to stay home though Ferdinand thinks she still wants him to go. Ferdinand ends up convincing himself (in many funny ways) that to go is the right thing to do. He gets stung a bee, roars in pain and scare the townsfolk leading to his capture. He is forced to go into fighting again, this tie against the famous bullfighter El Primero (Miguel Angel Silvestre).
Ferdinand plans his escape. His sidekick and assistant is a buck-tooth hyper talking goat called Lupe (Kate KcKinnon) together with three comical hedgehogs, appropriately named Uno, Dos and Cuartro (Gina Rodriguez, Daveed Diggs ad Gabriel Iglesias).
The filmmakers cannot resist (I doubt no one can) but put Ferdinand the bull in a chain shop. Yes, an accident waiting to happen. In that scene, Ferdinand is hiding from his pursuers. To make it even funnier, there is an old woman with a feather duster dusting the china. And a bull with huge nostrils? Another accident to happen, for sure!
Blue Sky Company who makes FERDINAND all made the ICE AGE movies that are too cute for my liking and RIO. Th squirrel antics of ICE AGE looks similar to the cute bunny sequence in FERDINAND.
The film has many prized comedic set ups among them being the dance off,
(choreography by Carlos Saldanha) with the three horses (Robert L. Baird, Tim Federle and Brad Copeland). If not prancing around, they are out-talking everyone else with their Swedish accent right out of an IKEA commercial.
The film contains three original songs but nothing hispanic.
FERDINAND might face stiffer competition with the animated THE STAR, also about goofy animals with the birth of Christ than with COCO. FERDINAND does come up on top in terms of laughs.
Trailer: https://video.search.yahoo.com/yhs/search?fr=yhs-adk-adk_sbnt&hsimp=yhs-adk_sbnt&hspart=adk&p=ferdinand+trailer#id=1&vid=b6f1c0de7b88754d0d9158fd19b83482&action=view