11
Jan
2018
Details

Category: Movie Reviews
Written by Gilbert Seah
Lots of new movies open this week. Lots to choose from if one includes the Christmas films still playing.
BEST FILMS PLAYING:
ALL THE MONEY IN THE WORLD
COCO
THE COMMUTER
DOWNSIZING
PADDINGTON 2
PHANTOM THREAD
THE SHAPE OF WATER
THE SQUARE
THREE BILLBOARDS OUTSIDE EBBING, MISSOURI
FILM REVIEWS:
ADVENTURES IN PUBLIC SCHOOL (Canada 2017) ***
Directed by Kyle Rideout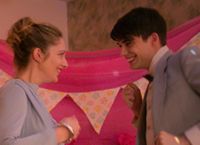 The film delivers exactly what the title says - it is a boy's adventures in public school.
But it should be noted that this boy is different. And he is only in public school for 3 months as he is home schooled by his possessive but loving mother.
Educated by his fiercely enthusiastic mother, Claire (Judy Greer), teenage Liam (Daniel Doheny) is the quintessential über-nerd, a wannabe physicist who is about to take his equivalency exam and head off to Cambridge, England - with his mother in tow. At the exam he spots Anastasia (Siobhan Williams), an enigmatic beauty who lost a leg to cancer. Instantly smitten, he changes his answers, hoping to flunk and have to redo his final semester in public school. Liam is given a crash course in high-school dynamics, ranging from bullying to hallway flirting, as he timidly pursues Anastasia. Mamma is livid!
The film gives home schooling credit with Liam learning everything and becoming a genius in all his subjects. This would imply the mother to be a genius as well. The film also acknowledges the shortcomings of home schooling, but only one of them - the social aspect. Home schoolers are socially impaired as they miss out one of the best things in school - playing with other kids and getting into trouble and having a greater perspective look on life. Other problems of home schooling are largely ignored such as how the home school teachers are only the mother and father and they can be fucked up. Whatever happens if their break up? The father figure of Liam is completely ignored in the film.
The film's saving grace are its two lead actors who not only are credible in their characterizations but ease into their roles really well. Greer managers to be winning while possessive while Doheny captures nerdy and smart at the same time. One hope to see more of this rising star in the future. The confrontation scene between mother and son (inevitable, obviously, given the film's theme) is kept smart and funny.
Rideout uses up beat music with dance beats to liven up his movie. The sequence with mother and son dancing together also reveals the bond both have for teach other despite their problems.
The film ends with a segment in a classroom in Cambridge, England. There is one exterior shot of the university and it is not a very convincing shot, myself having visited the University in Cambridge twice.
The question ultimately arises on whether one would believe home schooling works. Rideout's film cleverly never takes any clear side.
ADVENTURES IN PUBLIC SCHOOL is a simple yet funny and interesting film that thankfully avoids all the toilet jokes normally found in films of this genre. Recommended!!
Adventures in Public School screens publicly on Friday, January 12 at 8:30pm and on Saturday, January 13 at 12:00pm at the TIFF Bell Lightbox as part of Canada's Top Ten Film Festival, running January 12 to 21.
Trailer: https://www.youtube.com/watch?v=PCq7HlhybOg
AIDA'S SECRETS (Israel/Germany/Canada/USA 2016) ***
Directed by Alon Schwarz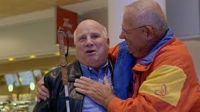 AIDA'S SECRETS is a heartfelt documentary about secrets that could very well have been a fiction suspensor.
Though the film has Aida in the title, the woman Aida does not appear until half way into the picture. She is first seen in a senior's home in Quebec visited by her two sons.
AIDA'S SECRETS begins with the character of Izak. Izak is clearly Jewish, getting up there in age and is first shown in a torn T-shirt sitting in a yard living in Israel. Izak, as a child was brought up by a loving family in Israel who never told him the truth of his origin. As a boy, his friends teased him that his parents were not his real parents. He finally finds out that he was an adopted child and that his birth mother is living in Canada. To his greeter surprise or rather shock, Izak finds that he has a brother, who is blind also living in Canada all through a family tree agency, the agent who seems as talented as a Sherlock Holmes.
Director Schwarz builds up his first third of his documentary with great finesse, piquing the audience curiosity as much as he can. The audience is as curious as Izak as to why his foster parents never told Izak the truth and why his mother kept he secret of his brother from him, after the two of them have met. As he title implies, there are more secrets to come - not to be revealed in this review to prevent spoilers.
Schwarz's film takes a noticeable turn after the firs third when he finally meets his blind brother Shep for the first time in Canada. Suspense is unfortunately, turned into melodrama. Izak quips and hugs his brother Shep too many times: "You are my little brother. I love you. My little brother! My family!"
Aida has passed away since the film was completed leaving many questions the two sons unanswered. But some answers were provided by DNA tests as suggested by the agent of the family tree company. To his credit, many discoveries were made.
It is also fortunate that Izak's father was a photographic specialist. There were lots and lots of old photographs that were studied with many conclusions drawn.
One touching scene is the first meeting of Izak and Shep at a Canadian airport. It is doubtful that the cameraman followed Izak on the plane or waited at the airport to capture the prized moment. It is more likely the reconciliation was an re-enactment. But the scene is still a powerful one.
The film also educates on what happened to the Jews after they were freed from the Nazi concentration camps. They were placed in displacement camps, like Izak's father.
Ultimately AIDA'S SECRETS is about survival during the war. And the consequences, some uncontrollable that affect the lives of ordinary people. That is the reason the film is able to hold interest from start to end.
Trailer: https://vimeo.com/183442600
THE COMMUTER (USA 2017) ****
Directed by Jaume Collet-Serra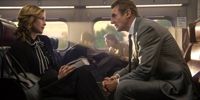 When THE COMMUTER opens, the audience is introduced to the protagonist, Michael McCauley (Liam Neeson) as a family man with wife, Karen (Elizabeth McGovern) and teen son, Danny (Dean-Charles Chapman). With cinematic wit, Spanish director Jaume Collet-Serra reveals Michael to be a dedicated husband and father, though not the perfect model. Michael has serious arguments with his wife and has financial difficulty supporting Danny through college. Michael is also shown to be a sincere and honest insurance agent, but loses his job due to uncontrollable circumstances. The introduction is crucial or the audience to identify with a likeable hardworking and decent human being.
The opening 10 minutes of the action thriller THE COMMUTER is so layered and informative that one knows right after that, that what comes after must be a fantastically good movie or something that can never match the impressive introduction. Thankfully, it is the former.
Then the best thing about the film happens Michael does the most boring minutes of his everyday routine (his daily commute home on the train) - which the film turns into 90 minutes of audience excitement.
On the train, a mysterious stranger (Vera Farmiga) contacts him and offers him $100,000 if he identifies a hidden passenger on his train before the last stop. He is supposed to place a tag on her bag. If he declines the offer, his wife and son will be killed. As he works against the clock to solve the puzzle, he realizes he is caught in the midst of a deadly criminal conspiracy and that his life and the lives of his fellow passengers are at risk. Nasty Big Brother is watching Michael's every move.
THE COMMUTER is the fourth collaboration between director Collet-Serra and Neeson and the second between the director and Farminga. The comfort working level shows and has improved. For a silly implausible plot, Collet Serra keeps the film not only highly credible but draws the audience into Michael's anxiety. The audience also does not want to see the family hurt or Michael losing the money, which ironical he does. Like the best Hitchcock films like NORTH BY NORTHWEST, what conspiracy the whistleblower is uncovering is never revealed in the film nor is it any important. The same can be said for McGuffin in NORTH BY NORTHWEST. The bad guys are after Richard Thornhill (Cary Grant) from start to finish but the reason is unimportant and not revealed either.
The action sequences like the train fight (that looks like it was done in one take) are impressive. Though set in the New York subway, the film was actually shot at the railway station in Surrey, England and at Pinewood Studios.
THE COMMUTER is a smart and best film so far of the year. It also spreads into other genres like romance, family drama, espionage, action and thriller. Never a dull moment from start to finish, with a plot containing many twists and unexpected turns, while keeping it simple to understand, THE COMMUTER, is what exciting entertainment should be.
Trailer: https://www.youtube.com/watch?v=WWexI9YiLSc
HAPPY END (France/Germany/Austria 2017) ****
Directed by Michael Haneke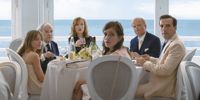 Austrian director Michael Haneke, whose last film in 2012 AMOUR won both the Best Foreign Film Oscar and Cannes Palme d'Or returns with a sequel that continues the exploits of the Laurent family. Though critics at Cannes were generally unimpressed with HAPPY END, the film is still not without its artistic pleasures. For one, Haneke still shocks with this film, though on a lighter scale.
HAPPY END can be seen as a film that infuses many of the traits of Haneke's previous films. When the film opens, the audience sees what is happening though the recording on a cell phone, the routine of a 12-year old (Fantine Harduin) similar to the video surveillance in Haneke's film CACHE (HIDDEN). This 12-year old is not one to be tampered with. She has a mean streak, spying on her father's (Matthieu Kassovitz) computer and discovering his affair and poisoning a girl she dislikes at camp and her pet hamster. This is reminiscent of the power of children in Haneke's THE WHITE RIBBON. The bourgeois French family is held together by Anne Laurent (Isabelle Huppert), the father's sister. But suicide is in the mind of Anne's father, Georges (Jean-Louis Trintignant). In Hanake's first film, THE SEVENTH CONTINENT, the whole family committed mass suicide after a banquet meal. The dysfunctional family is all reminiscent of FUNNY GAMES in which a family is disrupted by a home invasion.
HAPPY END follows AMOUR where Anne has taken over the family business from Georges. The business has also just suffered a mishap in which several employees were killed. The CEO of the company is Anne's deadbeat son (Franz Rogowski) who is hot-tempered and mentally unstable. At the same time, Anne is being engaged to be married to her tolerant fiancé (Toby Jones). All the events are seen from the point of view of the 12-year old, which brings the film to a good focus.
HAPPY END is a film that looks at the entire Laurent family rather than one or two characters as in Haneke's other films. It is also lighter and funnier with death often just brushed off. In the scene when the servants' daughter is bitten by a dog, Anne arrives with a box of chocolates.
But HAPPY END is serious in its consideration of suicide. Georges, in a comical scene, asks his tailor of 20 years to help him with getting him a gun or poison to end his life. Georges has already made one attempt on his own life by driving his car into a tree, but the family and cops have suspicions as the car left no tire brake marks.
The film ends with the wedding celebration of Anne rudely interrupted by her unstable son, Pierre with refugees from a nearby camp in Calais.. Hanake cleverly places the European migrant crisis into the the film's plot in the film's climatic wedding scene . But Anne is able to deal with him, in a comical, unexpected way. (She breaks his finger.) The ending is just as funny and shows that life goes on, happy or not. What constitutes a HAPPY END, is the question Haneke poses.
HAPPY END flows so smoothly that it demands a second viewing to examine what one might have missed. The film is shot in French.
Trailer (en Francais): https://www.youtube.com/watch?v=W0hv8I9YbDk
MOUNTAIN (Australia 2017) ***
Directed by Jennifer Peedom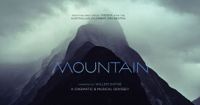 We're feared them, revered them, and even had the hubris to say we've "conquered" them. So goes the narration of the stunning documentary on the giants of the world entitled MOUNTAIN.
If the voice sounds familiar, it belongs to actor Willem Defoe who is no stranger to providing the sarcastic, ironic, poetic and informative dialogue in a documentary. For example, he narrates the message: you are never so alive as when you are close to death. Defoe also narrated the excellent DO DONKEYS ACT?, his voice playing a big part to the success of that and also this movie. The existential commentary is written by best-selling author Robert Macfarlane and director Jennifer Peedom (SHERPA). Robert wrote the book "Mountains of the Mind".
The film begins with grand shots of mountains, often covered in ice and snow. Humans then come into the picture, followed by the relationship between man and mountain. The film has a loose narrative - the film best enjoyed by sitting back and relaxing, to enjoy the stunning cinematography and beauty of the mountains.
The film demonstrates what mountains have meant to humans from past to present. The have been the ethereal homes of gods and demons, and places no sane person would have thought of ascending until a few hundred years ago. Today, they represent a pilgrimage of a sort for millions of people worldwide. Peedom shows scenes of travellers (including amateurs) ascending Everest by the hundreds, ski down from vertiginous mountain tops, para-ski, fly from peaks using wing suits, rock-climb and ice-climb. What ticks Peedom off is shown in two shots. One is a helicopter with a huge banner of "Red Bull" followed by narration saying that mountains have been commercialized. The other one, has a long queue perhaps of a hundred or so climbers, each attached to each other by rope with the narration saying that mountain climbing has turned to crowd control.
.There are excellent shots of solo mountain climbers hanging on to peaks, some falling and getting injured, skiing and mountain animals. Besides showing the awe and beauty of the mountains, Peedon does it shy way from including scene that show blood from climbers that have fallen or skiers that have tumbled down their mountain runs.
If one wonders how the footage was shot, much of them were accomplished using drones and using everything from GoPros to the best cameras. No stranger to elevation, director Peedom began her career as a climbing camera operator on Mount Everest. Adding music to the visuals, the soundtrack is backed by a majestic score of old-and-new classical works by Richard Tognetti.
Though there are countless stunning shots of high mountains, one wishes these sights would be identified as to where they were filmed. The only time a mountain is identified is Everest. One has to wait till the closing credits to learn that he incredible footage was shot in 20 countries plus Antarctica, shows us high-elevation defiance of death in scenes of both incredible grace and beauty, and tragedy, injury and death.
Trailer: https://www.youtube.com/watch?time_continue=1&v=rOBB_VOFQHI
PADDINGTON 2 (UK/France/USA 2017) ****
Directed by Paul King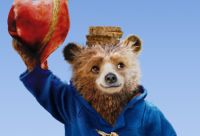 PADDINGTON the livable British bear that wears a trench coat, Wellington boots and red hat, returns with another big adventure. The first (2014) PADDINGTON film was wonderful and made a whole lot of money. PADDINGTON 2 also directed by Paul King has already been released worldwide grossing $134 million and nominated for Best British film for the this year's new BAFTA (British Academy Film and Television Awards) to be hosted by Joanna Lumley, who also has a cameo in PADDINGTON 2.
PADDINGTON 2 is live-action/CGI animated comedy film directed by Paul King and written by King and Simon Farnaby, based on the stories of the character Paddington Bear created by Michael Bond. The film is dedicated to Bond. Ben Whishaw provides the voice of Paddington, with Imelda Staunton the voice of Aunt Lucy.
The story involves Paddington, who is now settled with the Brown family in Windsor Gardens. Paddington has become popular in his community, offering people emotional support in various ways. In order to purchase a unique pop-up book of London in Mr. Gruber's antique shop for Aunt Lucy's 100th birthday, Paddington performs several odd jobs and saves his wages, but the book is stolen, and the culprit escapes, resulting in Paddington being accused of the crime and arrested. Although Mr. Gruber (Jim Broadbent) does not believe that Paddington stole the book, with no evidence that the thief existed, Paddington is wrongfully convicted and jailed.
Besides the known Paddington characters , the script includes two lively new ones. One is the villain of the piece, Phoenix Buchanan ( a price performance by Hugh Grant), a faded and narcissistic theatre actor now doing doggie food commercials looking for a comeback. He steals an antique pop-up book that Paddington wants to buy as a birthday present for her Aunt Lucy while framing Paddington in the process. His performance is camp, funny and totally winning. Make sure you sit for the entire closing credits as Grant performs his musical number in prison after he credits roll. As Buchanan sys, "This is a success because of the captive audience." Grant won a BAFTA nomination here for Best Supporting Actor.
The second lively character is Nuckles with a capital N. It is in prison that Paddington befriends many of the inmates, including the short-tempered chef Nuckles, who hires Paddington, impressed by his marmalade sandwich recipe. Paddington is at first warned by all the inmates about Nuckles but Paddington insists that there is some good in everyone, as Aunt Lucy says. The inmates respond that it is obvious Aunt Lucy has never met Nuckles. Irish actor Brendan Gleeson who has proven himself apt at both drama and comedy is perfect as Nuckles, who proves himself finally a worthy friend to the bear.
PADDINGTON has all the ingredients of a solid family film with good values, humour, with and excitement. The climatic train segment with a chase on top of the train is both fun, clever and exciting. Everyone proves his worth, including Paddington's adopted father, Harry Brown (Hugh Bonneville). It is also great to see Sally Hawkins as Mary Brown. Hawkins is always goodie anything and her expressive words and smile brings additional charm to the film.
PADDINGTON 2 is a total delight from start to end.
Trailer: https://www.youtube.com/watch?v=52x5HJ9H8DM
THE POST (USA 2017) ****
Directed by Steven Spielberg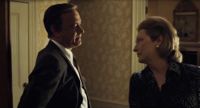 An ideal time for a picture such as THE POST to be released is this day and time when the majority of Americans are dissatisfied with the Trump Presidency. No matter how much President Trump tries to make it right or criticize media, he is still made fun of every night on the talk shows, and especially on SNL by Alec Baldwin.
The timing is also relevant for two reasons. The film is Meryl Streep's comeback at Trump after he made the remark of her being the most over-rated actress. he demonstrates her acting prowess at taking down the Nixon Presidency or any other Presidency for that matter. The second is the banding of critics and other publications to take down Disney when the studio decided to ban the L.A. Times in retaliation for a scathing article written against them.
Spielberg, director of 50 or so films as of date, goes for theatrics, clearly from the start of the film to the end. Meryl Streep is given the grand theatrical entrance in the bedroom scene where she coughs and papers get thrown on the floor. The camera concentrates on the performances on both Hanks and Streep, as if it were begging them to be noticed for Oscar nods. The actual crime, the incidents of the coverups of the four governments are only briefly mentioned, with hardly any details. The opening sequence of one failure attack in Vietnam is supposed to do the trick.
THE POST is the drama about the unlikely partnership between The Washington Post's Katharine Graham (Streep), the first female publisher of a major American newspaper, and editor Ben Bradlee (Hanks), as they race to catch up with The New York Times to expose a massive cover-up of government secrets that spanned three decades and four U.S. Presidents.
The script goes on to push all the right buttons to give the audience a feel-good feeling of elation. "The Government has lied about the Vietnam War for 30 years. The way they lied has tone brought out into the open." says Bradley. The government is then pursuing the security breach. The announcement of the result of the court as to whether the Washington Post would be acquitted is grandly staged. Even the words of the judge are quoted as coming from there American fore-fathers.
It is interesting to compare Spielberg's other political entry on American Presidents - LINCOLN. In that film, President Abraham Lincoln was treated with respect and grandeur while in THE POST Nixon is considered nothing more than two-faced rat. Nixon invites no Washington Post press for his daughter's wedding as a result apart incident and later bans the Post from the White House showing him not only guilty of being a sore-loser but one craving for revenge. His revenge is shown at the closing of the film as he Watergate scandal begins, as everyone knows. But the scene is still a satisfying one.
THE POST and the upcoming THE GREATEST SHOWMAN are 20th Century Fox's Oscar hopefuls, both opening at Christmas. Both are crowd pleasers and it will be interesting to see what happens.
Trailer: https://www.youtube.com/watch?v=nrXlY6gzTTM