30
Jan
2018
Details

Category: Movie Reviews
Written by Gilbert Seah
Quietest week of the year so far. Only two films opening WINCHESTER (no screening given) and FAKE BLOOD. SEBASTIAN opens on VOD.
BEST FILMS PLAYING:
ALL THE MONEY IN THE WORLD
COCO
THE COMMUTER
DOWNSIZING
PHANTOM THREAD
THE SHAPE OF WATER
THE SQUARE
THREE BILLBOARDS OUTSIDE EBBING, MISSOURI
FILM REVIEWS:
AVA (Iran/Canada/Qatar 2017) ***
Directed by Sadaf Foroughi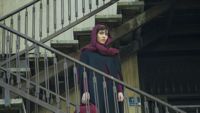 AVA is not to be confused with the other film AVA, the French film directed Lea Mysius that won a prestigious Cannes prize about a 13-year old discovering sex before going blind. Both films coincidentally have young female protagonists.
What is a Persian high school female teen to do? Everything she does is criticized and looked own upon. Her mother (Bahar Noohian) is constantly on her case as are her teachers at school and even her friends when she goes on about dating boys. Ava (Mahour Jabbari) would be considered a normal girl in the western world with her behaviour that would not be tolerated in the Persian world.
AVA is a critically acclaimed Canadian co-production shot in Iran that screened in the Discovery section at the 42nd Toronto International Film Festival, where it won the FIPRESCI Discovery Prize and received an Honourable Mention for Best Canadian First Feature Film.
Writer/director Sadaf Foroughi ups the angst when Ava discovers that her parents were not so innocent either. When Ava learns that her parents were once flagrant rule breakers themselves, she begins to rebel against the very foundations of her society.
Surprisingly, Ava's father (Vahid Aghapoor) is more tolerant and director Forough shows that Ava's problems comes mainly from the females and not the males. It is a cycle in society that has been so established that change is almost impossible.
The film slags a bit in the middle with what seems to be a shortage of material. The film's segments are the ones where mother and daughter argue it out, no holds barred. They use every means possible to win their arguments including personal hidden secrets. Director Foroughi clearly wishes the audience take the daughter's side but actress Baba Noohian is so good as the mother, that her argumentative points gets the audience's sympathy. Father is always only in the background until the film's climax.
AVA also reveals what an all girls school system is like (assuming what is shown is authentic). As expected the headmistress is an anal retentive authoritarian (or bitch to be more direct) who has no sympathy for Ava and no clue on the restlessness of the youth under her care.
AVA masterfully demonstrates how a culture of authority can force denial and detachment, particularly among young women during their formative yet vulnerable high school years. A small but important yet impressive first feature! The film builds to an exciting and effective climax.
AVA is the film that sparked a bit of controversy at the 2017 Toronto International Film Festival when its Iranian actors were denied entry to Canada for the purpose of promoting the film. Immigration Canada responded to say that the would-be visitors failed to meet the requirement standards.
AVA is currently playing at the TIFF Bell Lightbox for a week, limited engagement as part of Canada's Top 10 Films of the year. Worth a visit for sure!
https://www.youtube.com/watch?v=rF9pDPmF3is
FAKE BLOOD (Canada 2017) *
Directed by Rob Grant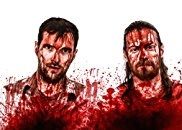 What if a filmmaker made a few films no one really wanted to see then made a documentary about those films no one wanted to see? This is exactly the case of Rob Grant's FAKE BLOOD. After making the little seen low budget horror flicks, YESTERDAY and MON AMI, writer/director Rob Grant and his actor buddy, Mike Kovac receive a disturbing fan video inspired by their previous horror movie Mon Ami, motivating them to make a documentary investigating the responsibility of filmmakers in portraying violence in movies. In their so-called pursuit of the truth they are unwittingly introduced to the real world of violent criminals and their victims.
The question is whether the duo provides any insight on the portrayal of violence in movies. The answer is a clear no. This can be observed by the unchallenging and made-up-interview-questions-as-they-go-along during the interviews. Grant and Kovac spend half the time explaining the pathetic reason for making the doc to the interviewees who end up in all cases milking the duo for some money to speak on camera.
The question on the filmmakers responsibility on violence is already answered by Grant early into the movie. His answer is that the filmmakers job is to entertain. No one really bothers, or cares, whether the violence or a killing is accurate. In many cases, they go an extreme lengths to seek out individuals who have seen violence or real fights. I do not see the difficulty here, as I have seen real fights and violence (though not a killing) first hand. And the interviewed do not provide any fresh information either.
A point to note is that the film makes no disclaimer that it is bot based on any true or real characters. This, implies of course, that what is seen on the screen is real, but there is no real proof, just supposition. There is no film governing board that checks this.
Another glaring problem of FAKE BLOOD is whether what is documented is true or false. The killer interviewed on film is played by an actor and what he says could have been real or made up, no one knows. The film plays with a bit of comedy, but the apparent seriousness of the matter excludes it from being classified a mockumentary, which means that the film could be entire fiction, but just made documentary style for it to classify a documentary. An example is the 2005 British film BROTHERS OF THE HEAD by directors Keith Fulton, Louis Pepe that plays like a real serious documentary only that the Siamese twins never existed in real life.
But ultimately, what transpired on screen in uninteresting and boring. Grant tackles a minor subject that really dos not impact anybody. Does anyone really imitate the violence on screen? Even if they do, it is hard to prove (interviewing a few killers will never prove anything conclusive) and violence in real life will always be there, regardless.
Trailer: https://www.youtube.com/watch?v=aTit5tJ5XYM
SEBASTIAN (Canada 2017) ***
Directed by James Fanizza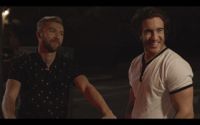 SEBASTIAN is the new gay romance film written and directed by James Fanizza, an expansion of his short film in 2014 which he wrote but did not direct. The film had its premiere at last year's INSIDE OUT LGBT Film Festival and finally gets a commercial release. The film is not to be confused with Derek Jarman's 1976 SEBASTIANE or the Dirk Bogarde 1968 film romance SEBASTIAN.
When the film begins, Alex (James Fanizza) is introduced to his boyfriend, Nelson's (Guifré Bantjes-Rafols) cousin, SEBASTIAN (Alex House) from Buenos Aires, Argentina. From the way Alex and Sebastian eye each other, one knows it is just a matter of time when they get into bed together. Which they do.
The question is then: "Is it ok for one to sleep with ones boyfriend's cousin?" Or rather: "Is it ok to sleep with your cousin's boyfriend?" Either way, it does not look like a good idea. Especially in the Latino culture, as Sebastian says at one point in the film only to be corrected by Alex: "…. or in any other culture." So, Fanizza puts in the excuse that the relationship between Alex and Nelson is not going on too well.
Fanizza's gay romance goes through all the motions of a gay romantic comedy. Do not expect any new revelations or insight. The two leads are attractive hunky and the sex scenes are executed tastefully with no nastiness.
One can tell that the original short film has been padded to make a feature length film. There is dialogue taking time where the two discuss their favourite food or favourite colour. Their family background is also brought in, with Sebastian haven gay coming-out problems with his mother in Argentina. The aunt he is staying with is accepting and pleasant enough. Other time-wasters: Sebastian buys Alex a record. No time to hear it that night? Hear it the night after. The two attend a show put on my a friend of Alex.
It turns out the padded show is quite so entertaining. The drag show is performed by a campy Xenia (Katya Zamolodchikova). The dance beats at the club are catchy and other drag performers (from RuPaul's Drag Race) are also a pleasure to watch. Queer culture has seldom been represented to be so much fun! Katya steals every scene he/she is in whether in drag or in man's attire. Fanizza also gives Xenia the best lines: "Alex has a problem. He is a pussy."
Fanizza is a graduate from York University, Toronto and an actor. He is immediately recognizable from a commercial (I cannot remember which one) which is currently playing on TV. Alex House looks like a young Roy Depuis and is good enough in his undemanding role.
SEBASTIAN is an ok gay movie that is entertaining enough. Just sit back and relax to the light gay romantic comedy. It would be interesting to see the short version of SEBASTIAN as well.
Trailer: https://www.youtube.com/watch?v=iQqJVy-Urmg