Two action flicks RED SPARROW and the remake DEATH WISH open this week. One is high camp, while the other rooted in real-life violence. Two excellent Canadian features, BOOST and NEVER STEADY. NEVER STILL make their debut.
BEST FILMS PLAYING:
Best Animation:
PADDINGTON 2
Best Action:
THE COMMUTER
Best Foreign: LOVELESS
Best Period:
PHANTOM THREAD
Best Sci-fi
THE SHAPE OF WATER
Best Drama:
THREE BILLBOARDS OUTSIDE EBBING, MISSOURI
FILM REVIEWS:
BOOST (Canada 2016) ****
Directed by Darren Curtis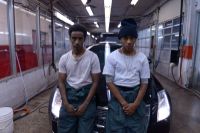 Out of the blue comes this African Canadian film no one has heard of that is quite certainly, the best Canadian film of the year. It is one of the best I have seen, an excellent blend of drama and thrills with current issues also on display. BOOST is set in the parc-extension of East Montreal and shot in both French and English, though no knowledge of French need be known to completely follow the film.
Hakeem (Nabil Rajo) and Anthony/"A-Mac" (Jahmil French), teenagers in the Parc-Extension neighbourhood of Montreal work at Hakeem's uncle's car wash while simultaneously maintaining a sideline pursuit of passing on tips about valuable cars to the neighbourhood's gang of car thieves. One day, after being expelled for 3 days from school for being rude to their teacher (Fanny Mallette), they decide to try their hands at undertaking an auto theft themselves. Hakkem's mother (Oluniké Adeliyi) who wants the best for her two sons, goes ballistic when she finds out what her son is up to. Hakeem is the calm one but it is A-Mac that gets the two in trouble.
BOOST is a film that works on many levels while catering to different audiences. As a genre movie, it can be considered a car heist film with many suspenseful set-ups especially the main one stealing a posh car while in the garage of the owner's residence. The car thieves are black youth, going to school, broke, suspended trying to make an extra buck for their families, maturing while making mistakes in life. It is a coming-of-age story of the two youths. At the same time, the film looks at the minority immigrant problem of Montreal.
"Don't think for a moment that I don't know when you fuck up," advises the uncle to Akeem in a dead serious voice. There is a keen mix of care, caution and abandon in these words of advice, which is reflected in the craft of Curtis' film.
A-Mac, Hakeem's best friend is a friend for hell. Hanging out with him means an accident waiting to happen. In audience's terms, it means edge of the seat suspense. Will Hakeem get in deep trouble? For example, when driving a stolen car, A-Mac defies to race another car and after, pick up a girl, Maxim for a ride.
This is writer/director Curtis's directorial debut after winning a Telefilm Canadian writing grant. The two main characters in the script were originally South Asian but changed to African Canadians after hiring the actors. Director Curtis elicits superb performances, especially from his young actors, Rajo from Africa and French who plays his trouble seeking buddy from Scarborough. Adeliyi who play the mother is from Toronto while Mwine whom plays the uncle is from Uganda. Thee are Canadian actors too. Theodore Pellerin, a white Canadian in the supporting role of the car wash floor assistant manager who also plays the lead role in another Canadian film, NEVER STAEDY, NEVER STILL which coincidentally also opens the same day as his film. Pellerin is an actor to watch!
Many fresh talent in BOOST to watch out for, particularly its writer/director Curtis, who is actually white. The most impressive debut direction this year!
Trailer: https://www.youtube.com/watch?v=44_fuSQNmCY
DEATH WISH (USA 2018) ***
Directed by Eli Roth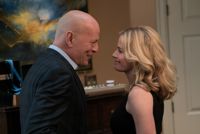 DEATH WISH 2018 opening March 2nd is the remake of the famous 1974 Charles Bronson film (directed by Michael Winner) that spurned two sequels. A vigilante action film, loosely based on the 1972 novel of the same title by Brian Garfield, the film followed Paul Kersey, a man who becomes a vigilante after his wife is murdered and his daughter sexually assaulted during a home invasion.
In the new Eli Roth version, Paul Kersey is now a doctor, a surgeon who has access to drugs and information that enables him to torture the crooks he is after, only because Roth loves this kind of violence, being the director of the two HOSTEL horror films. Dr. Kersey (Bruce Willis) becomes vigilante after being beaten up by two thugs right after his wife his killed and daughter out into a coma after a home invasion. Dr. Kersey hunts down those responsible, brutally torturing and killing them.
DEATH WISH 2018 delivers exactly what is expected - from Willis and director Roth - a no-nonsense vigilante revenge action thriller with predictably all the ends nicely tied together so that Dr. Kersey cannot be held responsible for all the previous vigilant killings.
The script by Joe Carnahan has updated the film with characters using iPads and cell phones that never existed back in 1974. Kersey's daughter, Jordan (the very pretty Camila Morrone) goes upstairs to get her mother's iPad before getting attacked by the home invaders. Dr. Kersey calls Knox (Beau Knapp), the main villain of the story on his cell phone to lure him out in the open in a night club. But the script while being manipulative, carefully devotes time to introduce the main characters (so that the audience can identify wi them) before starting on the action.
At the time of release of the original 1974 DEATH WISH, the film was attacked by many film critics due to its support of vigilantism and advocating unlimited punishment of criminals. But the novel denounced vigilantism, whereas the film embraced the notion, same as this 2018 version. The 1974 film was a commercial success and resonated with the public in the United States, which was facing increasing crime rates during the 1970s. But the 2018 version has more obstacles to face with the current events of school shooting, the NRA boycott and anti-gun protests around the United States. Worst still, the 2018 version is totally pro-gun which will make the film an even harder sell. It is not surprising that none of those involved in the making of the film, noticeably Bruce Willis have been absent in any publicity prior to the film's release. It is also a point to note that Sylvester Stallone wanted to star in this new version as a anti-weapon police officer Kersey, but this never came to fruition. (Another point for discontent between Willis and Stallone after Stallone criticized Willis for wanting too much money to star in his last EXPENDABLES movie.)
Trailer: https://www.youtube.com/watch?v=9r2vsi3ah2w
NEVER STEADY, NEVER STILL (Canada 2017) ***1/2
Directed by Kathleen Hepburn
NEVER STEADY, NEVER STILL are the words that often describe the film's protagonist's debilitating disease, a sort of advanced stage of Parkinson's. She, Judy has a loving but discontent son - each alienated from their world and struggling to manage in the face of grief, guilt and chronic disease. At one point in the film Judy (Shirley Henderson) is admired by a friend who describes the situation as 'How can you be so strong to put up with all this shit?"
NEVER STEADY, NEVER STILL is a family drama following a wife/mother, Judy, her loving husband (Nicholas Campbell) and son, Jamie. Jamie gets a job reluctantly, in the oil fields, but is made fun off because of his scrawny figure. Judy has to take her medication to keep her Parkinson's under control, and even when she does, shakes uncontrollably. Still, she is persistent, does her own shopping and dangerously drives her car. The husband is not super healthy either and suffers a heart attack a third through the film.
Director Hepburn's film is heartfelt. It is really difficult to watch Judy suffer and the boy bullied. One really feels for them and it will not be surprising that many of the suffering scenes will bring tears to many an audience's eyes.
Hepburn is fond of keeping the audience on their toes with false alarms. One scene has the son Jamie (Theodore Pellerin) doing cocaine in his room only to have a knocking at the door from his boss. Jamie is just delivered a pay cheque. More tense is the camera showing the car swerving side to side when Judy while driving, is suffering a Parkinson's episode. A cop stops her but sends her away with a caution. And there are other false alarms.
Hepburn is also fond of using hand held camera instead of a mounting her camera on a tripod. This can be seen in a few scenes that appear with a slightly moving frame.
The film has certain key incidents that affect the lives of both mother an son. These appear at regular intervals and turns the film in another direction. The result is good pacing and non-predictability of the story.
The film is also brilliantly shot, courtesy of D.P. Norm Li. The water of the lake, the snow and ice and the flames of the oil fires all add to the excellent cinematography.
Hepburn also ensures her audience can effectively follow the story. She gives a summary of the film at mid-point when Jamie explains over the telephone what has happened and how he feels at work, at home and with his mother.
The film is an expansion of Hepburn's earlier short film of the same title, which had different actors.
NEVER STEADY NEVER STILL shows Hepburn an assured and apt writer and director. At the 2017 Vancouver International Film Festival, the film won three juried awards. Currently the film has received eight Canadian Screen Award nominations at the 6th Canadian Screen Awards including Best Picture, Best Actress (Henderson), Best Screenplay (Hepburn), Best Cinematography (Norm Li), Best Art Direction/Production Design (Sophie Jarvis and Elizabeth Cairns), Best Sound (Matt Drake, Nate Evans and Christopher O'Brien), Best Editing (Simone Smith) and Best Original Score (Ben Fox).
(Interviews with director and editor are available online.)
Trailer: https://www.youtube.com/watch?v=LP-Kfh6S4c4
NOSTALGIA (USA 2017) **
Directed by Mark Pellington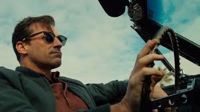 This is a film that the filmmakers would like audiences to cry about - not cry as shout about but literally bawl about. Written by Alex Ross Perry and directed by Mark Pellington (two mediocre movies, ARLINGTON ROAD and THE MOTHMAN PROPHECIES), NOSTALGIA follows the lives of people connected through loss and analyzes the way people find love and solace in memories and objects they share with one another.
The film opens in a diner setting where the audience is introduced to an insurance agent, Daniel (John Ortiz), who is obviously a very nice guy from his conversation with the expecting waitress serving him. The next scene sees his visit to an elderly Ronald (Bruce Dern) who he convinces that his collection of 'nostalgia' might contain great monetary value. As if the audience is not already reminded of Daniel's abnormal good nature, Mr. Ortiz is given a third chance to show himself in the home of another family where he insists that every story he hears is a new one. This is one of the main flaws of the film that already runs too long at two hours based on already on a sombre subject. Repetition. The camera also lingers on the detailed movements of the characters, as they walk to the car, as their faces twitch or their lips breaking into a smile. The film can easily be reduced by 30 minutes.
The story contains many characters that are worthy of tearing at the audience's heartstrings. Besides Daniel, there is Helen, who has lost 30 years of nostalgia in a fire. Her story is connected through Daniel, who is also her insurance appraiser. Another sob story and the main one that brings the film to its teary climax is that of Will's family. Will is Donna's (Catherine Keener) brother. Donna's daughter (Annalise Basso) is killed in a car accident. If one does not weep during one story, one can anticipate that there is another sob story around the corner that will try harder.
All of these make Pellington's film annoying and a total bore. One wonders at his intentions at making a film like this. Worst still, Pellington delves into pretentious territory. A number of segments are linked by flashes of light like the opening and closing of a camera shutter, if that is to mean anything. If being preachy is not enough, the audiences is also given a dose of an essay on love and its power to heal. Another flaw of the film is Pellington's fondness of going into lengthy verbal monologues which again end up too preachy and artificial.
One segment has a character ranting about nostalgic artifacts compared to social media. The character complains that in the past memories could be obtained from written notebooks or diaries but now in the age of electronic social media, all is lost when someone goes. This is not true, as more can be stored on devices like icloud (an unlimited number of photographs and documents). All one needs to do is to pass down the password, or if not, a tech savvy expert could likely unlock the nostalgia there.
NOSTALGIA ironically will end up a forgettable film, unless a memorable one for all the wrong reasons.
Trailer: https://www.youtube.com/watch?v=DRKEHT263gI
THE PARTY (UK 2017) ***1/2
Directed by Sally Potter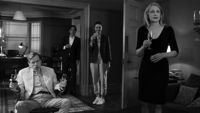 Writer/director Sally Potter stunned audiences with her debut feature ORLANDO, a hit with art-house audiences. THE PARTY can be described as less art-house but Potter's mark is still clearly noticeable.
Her characters in this farce all have strong political leaning, engage in same or opposite sex relationships and have deep personal conflicts.
The film opens with a door opening and Janet holding a gun nervously pointed at the visitor. It is a black and white scene and the film returns to this scene at the end of the film. This creates some anticipation for the audience. The audience would se how Janet came to obtain the gun and also the reason she is pointing it at a guest.
The film shifts to the present where each character is introduced. The lead character is Janet (Kristin Scott Thomas), a politician for the opposition party, who has just been appointed a minister. She is having a small celebration party at her house for her hard work done, supported by her husband, Bill (Timothy Spall). Invited are her friends April (Patricia Clarkson), with her estranged German partner Gottfried (Bruno Ganz), a life coach and self-proclaimed spiritual healer, Women's studies professor Martha (Cherry Jones), with her partner Jinny (Emily Mortimer), a cook, and Janet's colleague and subordinate Marianne with husband Tom (Cillian Murphy), a banker.
As the guests arrive, Janet's husband Bill sits in his chair, listening to music, staring vacantly, and drinking wine. All invited guests arrive one by one except Marianne, who Tom says will arrive later. (The audience can guess that the guess the gun pointed to at the start of the film is Marianne.)
Janet has thrown a soiree from hell. Bile and bitterness have never been portrayed in a film to be so endearing. Instead of celebrating her success, she ends up as a magnet opening skeletons in the closet. Director Potter keeps the black humour coming in terms of both dialogue and action set pieces (Tom running up a cold sweat ding cocaine; Bill being punched up a couple of times.)
Potter writes sharp and occasionally witty dialogue (Martha described for example by her daughter as a first class lesbian and a second class mother) though some of the lines, particularly those on politics and feminism sound pretentious. Example: Janet described as "looking like a girl, thinking like a man… ministerial, in a 21st-century postmodern, post feminist sort of way". Potter has assembled an excellent cast, the best performance coming from German actor Bruno Ganz matched by Patricia Clarkson playing his girlfriend who constantly puts him down. Spall plays the serious role while Scott anchors down the story. It is the performances that make the movie.
THE PARTY suffers from not bringing the proceedings to a closure. But for an art-house audience open ended stories with no conclusions are accepted. THE PARTY also moves at a hectic pace so that it all comes to an end too quickly. This is a party the characters want to end quickly but the audience wishes to stretch on.
Trailer: https://www.youtube.com/watch?v=Y-FuSuWienM
RED SPARROW (USA 2018) ***
Directed by Francis Lawrence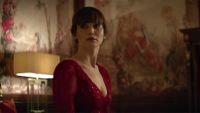 RED SPARROW re-unites Academy Award Winner Jennifer Lawrence with her HUNGER GAMES director Francis Lawrence. The film is an espionage spy film written by Justin Haythe, based on the 2013 novel of the same name by Jason Matthews. The novel won many literary awards including the Best First Novel prize for its author, Matthews. The film? If you remember the HUNGER GAMES franchise, then you would know what to expect for RED SPARROW, the movie.
The film begins impressively enough with the intercutting of a Bolshoi ballet performance by star Dominika Egorova (Lawrence) and an incident in Gorky Park where Nate (Joel Edgerton), a CIA internal-ops officer who recruits and handles intelligence assets for the agency is arrested. Dominika is injured during her performance (shot in an extremely gruesome 'accident' scene). In order to support her ailing mother (Joely Richardson) and maintain her apartment, she is forced by her uncle Ivan Dimitrevich (Matthias Schoenaerts) to undergo training at the Sparrow School, where she and other men and women were trained in how to seduce the enemy. In the words of the film's best line, uttered by the uncle: "There are no accidents. We create our own fates."
Matthews' novel was praised for its insight into the mundane aspects of the intelligence field, various techniques and its "high drama". The same cannot be said for Lawrence's film. At best, it glamourizes the violence and techniques used by both the Russian and American sides. The best instance can be observed in the almost unwatchable torture scene when Nate has the outer skin of his back pealed off by a skin grafting device. Lawrence need not show the actual action but the audience gets the message from the Nate's screaming and the scene's set-up. Another more graphic torture scene is Dominika's torture with her constantly hit with a melt rod..
The sex scene between Lawrence and Edgerton could have been shot with more credibility. It is laughable to see a riding scene in which the lovers perform their act fully clothed.
Unlike spy films such as TORN CURTAIN and TOPAZ directed by Alfred Hitchcock, RED SPARROW is noticeable devoid of suspense. Plot twists replace suspense in this spy thriller. Critics attending the promo screening were requested not to real any plot points in their reviews. But running at 2 hours and 20 minutes (Lawrence's HUNGER GAMES films were also unnecessarily lengthy), plot twists can also turn ordinary unlike suspense set-ups.
The best thing about RED SPARROW is Belgian actor Matthias Schoenaerts. With make up to look like Vladimir Putin, he is the most fun to watch. The second prized performance comes from Charlotte Rampling playing the school headmistress with totally cool lesbian charm.
RED SPARROW the film is more outrageously camp in its violence and portrayal of real world espionage. If one can take and believe Jennifer Lawrence playing a Russian ballerina and emotionless spy, then this film is for you. RED SPARROW is entertaining camp, but for those who expect a serious spy experience it would be wiser to read the book.
Trailer: https://www.youtube.com/watch?v=PmUL6wMpMWw
THE WASTING (UK/Canada 2017) ***
Directed by Carolyn Saunders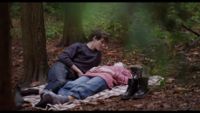 Wasting, also known as wasting syndrome, refers to the process by which a debilitating disease causes muscle and fat tissue to "waste" away. The main character in the story is Sophie (Lauren McQueen) who suffers from an eating disorder. According to Wikipedia an eating disorders are excluded from causes of wasting. So, the film is inaccurate in its title.
When the film opens, the title - 'inspired by true events' is splashed on the screen. But how true the events depicted in the film can be another thing.
The story is set in a small English town. The film has 4 main teen characters so one can assume that teens are the film's target audience. The four youths, two girls and two boys have similar looks. So, it takes a while before one can distinguish one from another. Best to remember their names and associate the face to the name, or the film can get confusing.
Sophie is an anorexic teen struggling to come of age, braving sexual awakening and fighting her controlling father, Ilyas (Gary O'Brien) by refusing to eat...until a nightmarish ghost appears that may be real, or may be a deadly creation of her starving body. As Sophie battles for truth, sanity and survival, a dark family secret surfaces that will either save her or destroy her. The secret surfaces only during the last half hour of the story.
Sophie is visited in England by her best friend Grace (Alexz Johnson), her boyfriend Kai (Brendan Flynn) and Sophie's boyfriend, Liam (Sean Saunders Stevenson) from Toronto, Canada. Sophie's father is reluctant to have Sophie hang around her friends and goes ballistic when he finds that Sophie has a boyfriend. While all this is going on, Sophie starts having nightmares and seeing apparitions as result of her not eating. Her father blames her friends and her friends blame the father. Liam claims he loves her but she sees a ghost in Liam which draws them apart.
The story is layered with many stories overlapping. The main story is Sophie dealing with her eating disorder. Another is her romance and yet another is the ghost story. There are also a few relationships on display. There is the ones with Sophie and her father, Sophie and her dead mother, and the ones with Liam the boyfriend and then with her other two friends. The various stories and relationships are effortlessly blended well, smoothly flowing into each other. Saunders film is well paced. All the relationships are equally interesting. The best scene is the confrontation between Liam and Sophie's father,
The conclusion would be the outcome whether Sophie will be able to untangle her relationship with her mother's ghost, going back to leading a normal life or be forever drawn into her madness. The film still works regardless of the result as director Saunders has confidently and effortlessly drawn her audience into her characters' world.
The film is a Canadian/U.K.co-production premiering first in Toronto.