07
Apr
2018
Details

Category: Movie Reviews
Written by Gilbert Seah
THE 15TH HUMAN RIGHTS WATCH FILM FESTIVAL 2018
The 15th annual Human Rights Watch Film Festival, co-presented by TIFF and Human Rights Watch, features a diverse lineup celebrating the power individuals can hold in complex social and political situations.
A total of 7 films will be screened. Capsule reviews of 3 films are provided below.
The festival is an opportunity for both organizations to come together to recognize the essential role that compelling storytelling plays in helping shine a light on important issues, from citizen journalism in West Africa to the difference spoken-word can make in the Arab world. Of the seven exceptional features that make up this year's edition, five were directed by women.
Most screenings will be accompanied by exciting discussions with filmmakers, Human Rights Watch researchers, or subject-matter experts to spark conversations around the challenging issues featured in the films.
For more festive information, please check the fsetival website at:
https://www.tiff.net/human-rights-watch/
The festival runs from April 18th - 25th. Tickets are NOW on sale.
OPENING NIGHT FILM:
ON MY WAY OUT: THE SECRET LIFE OF NANI AND POPI (USA/Canada 2017)
Directed by Brandon Gross and Skyler Gross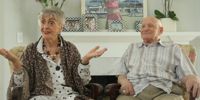 The film opens with seniors Roman (Popi) and Ruth (Nani) in a senior home kissing each other affectionately. The two have been married for 65 years. Popi says: "If you have problems, you work it out! These days people use divorce as a way out." But at age 95, Roman reveals a secret that tests their seemingly invincible union, in Brandon and Skyler Gross' touching portrait of their grandparents. Nani and Popi have gone through a lot, as Holocaust survivors who tragically lost family members, their lives have been filled with darkness. But somehow, their remarkable spirits allowed them to persevere and "succeed" in America. The film also shows a candid heated argument between the two showing that their long term marriage is not always smooth sailing. The film is essentially a home movie, but extremely well presented. The very moving film will definitely bring tears to the eyes of the audience which is likely the reason this doc had been selected as the opening night film.
Trailer: https://www.youtube.com/watch?v=YGQmL3o__w4
THE OTHER SIDE OF EVERYTHING (Serbia/France/Qatar, 2017) ***
Directed by Mila Turajlic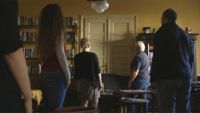 The film begins with a locked door inside a Belgrade apartment that has kept one family separated from their past for over 70 years. As director Mila Turajlic begins an intimate conversation with her mother, the political fault line running through their home reveals a house and a country haunted by history. The chronicle of a family in Serbia turns into a searing portrait of an activist in times of great turmoil, questioning the responsibility of each generation to fight for their future. The main character on display is the mother, who has received an award in University for being the professor most involved in protests. Lots of old newsreel footage and archive home videos authenticate the proceedings. The film unfolds like a history lesson (there is little spicing up of the details) and those who are aware or involved with the old Serbia and Yugoslavia might be in for a trip down nostalgic (though not always pleasant) lane.
Trailer: https://www.youtube.com/watch?v=OJvB6VgVlY4
WHAT WILL PEOPLE SAY (Norway/Germany Sweden 2017) ***1/2
Directed by Iram Haq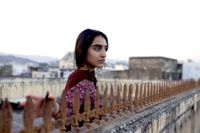 When Nisha (Maria Mozhdah) is caught with a boy in her bedroom, though nothing really happened between them, her concerned parents kidnap her and send her to Pakistan. The film traces Nisha's kidnap to her abode in Pakistan where she lives with her cruel aunt and uncle. Things get even worse, after a failed escape attempt and her being caught by the police smooching with her cousin. They call Nisha's dad (Adil Hussain) to take her back to Oslo. The father is madder than ever and at one point forces her to commit suicide, which she doesn't. Director Haq has the audience clearly on Nisha's side. Firstly, she is largely innocent, only guilty of wanting to have some fun any normal teenager seeks. When she suffers, she is also shown to earnestly want to turn over a new leaf. The film benefits from superior performances from both Mozhdah as Nisha and Hussain as Nisha's dad. It also helps that Haq has developed real characters, not just one dimensional cardboard ones. The film is not devoid of humour (like the egg lady on the bus in Pakistan). Haq also shows the different culture and lifestyle in Pakistan compared to Norway. WHAT WILL PEOPLE SAY is an engaging film that makes its point, while sending a message at the same time.
Trailer: https://www.youtube.com/watch?v=b8_dBOzufWQ