This week sees the opening of two highly recommended action thrillers BREAKING IN and REVENGE. See both!!
BEST FILMS PLAYING:
Best Animation:
ISLE OF DOGS
Best Action:
AVENGERS INFINITY WAR
Best Documentary:
KUSAMA INFINITY
Best Foreign:
C'EST LA VIE (LE SENS de la FETE)
Best Horror:
REVENGE
Best Drama:
YOU WERE NEVER REALLY HERE
FILM REVIEWS:
BREAKING IN (USA 2018) ***1/2
Directed by James McTeigue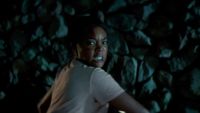 BREAKING IN is a confidently executed action thriller written by Ryan Engle and directed by Australian James McTeague, best remembered for his action flick V FOR VENDETTA. The film centres on a mother who uses her wits to outsmart the home invaders and save her kids, the film arriving appropriately timed for Mother's Day.
The film opens with an older black jogger taking to the streets for his local exercise. It is quite clear from the way the camera works that something nasty is going to happen, which predictably would be him being hit by a car. When this occurs, the shock and rise in volume of the soundtrack is enough to jolt even the least suspecting from their seats, this followed by a gruesome crunch by a foot of the man's face lying on the road. The first thing that comes to mind is whether all this violence is necessary.
Necessary or not, the next scene shows the jogger's daughter, Shaun (Gabrielle Union) taking her two children to the dad's mansion out in the country in preparation for the house's sale. But burglars creep in, looking to robe the safe for a ton load of cash (the American dream, in the words of one of the burglars). They have no qualms of murdering the children and the mother who must protect them, which makes good thriller fodder of fans of this genre.
Despite the simple story, the film turns out pretty well with nail biting suspense from start to finish with hardly a dull moment. The script which contains minimal dialogue is smart enough when it wants to. The mother who does not know how large an acre is (when questioned by her son) turns out pretty smart when she has to protect her kids. "I am your mother, it is my job to worry about you!", "You broke into the wrong house!" are examples of simple yet effective no-nonsense dialogue. The only thing unexplained in the film is how mommy knows all those martial-arts moves. (The promo screening was preceded by a martial-arts demonstration by a local martial-arts club.) The script also capitalizes on the current female/male issue of equality rights and harassment. "There is nothing you can do, you are a woman," yells one of the burglars, Eddie (Billy Burke) to Shaun. Shaun later demonstrates that he is as then a man at the mercy to a woman, to the cheers, even by the men in the promo screening. It is also good to see coloured good guys and the whites as the villains.
The cinematography by Toby Oliver is impressive especially the exterior shots in the night when Shaun is outside the mansion. Lighting is often just sufficient to see the figures moving about, The mansion interiors are also well-shot revealing the vastness of the modern design. The soundtrack contains a neat, pulsing beat to the action and includes a catchy tune when the drones are activated by the son, Glover.
The choice of having the hispanic looking psycho as the last surviving killer is a good one. Richard Cabral (playing Duncan) is perfect as the psycho villain with his huge eyes. lean totally tattooed body and weird accent. Duncan clearly derives more pleasure in slaughtering the children then getting the cash.
BREAKING IN proves that a simple premise can still turn out to be fantastic entertainment. The Super Mom in this movie is just as exciting as any Marvel super action hero. The film also has an important message: "Don't mess with Mom!"
Trailer: https://www.youtube.com/watch?v=DsDVOt3M7OM
LE REDOUBTABLE (GODARD MON AMOUR) (France 2017) ***
Directed by Michel Hazanavicius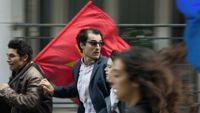 The film GODARD MON AMOUR (American title) /LE REDOUBTABLE (French title) that premiered in Cannes last year, a loose chapter in the biography of Nouvelle Vague director Jean-Luc Godard and directed by Michel Hazanavicius who made THE ARTIST is one anticipated by many especially cineastes.
During the making of one of his films, French film director Jean-Luc Godard (Louis GarreL) falls in love with 17-year old actress Anne Wiazemsky (Stacy Martin) and later marries her.
The film is shot in the style of many Godard films - the way and mannerisms the characters speak, the large word title, the colourful huge lettering, clothes and so on.
In the film Godard is shown to be quite the oddball occasional jerk when he is on his politics activist side. Anne, in one scene claims she married Godard the film director not the activist. It is clear what Anne thinks, as the film is adapted from her novel "Un an après". Anne dislikes any political activism. This is emphasized in a street demonstration scene when a activist/marcher Jean-Jock laughs at a film critic/director that his film is to be played at Cannes. "With what is going on, who is going to Cannes?", he remarks and laughs controllably. Not much else needs to be said as it is clear that Jean-Jock is the total idiot. Films, as everybody knows can influence what people think, hence any political activity can be affected by film.
Though the film might look trivial on the surface, there is much going on that can be read between the lines. This is a chapter of the life of Godard as seen from Anne's point of view, not a biography of Godard. Nothing is mentioned of his early life, background or life. But the film does illustrate Godard's need to be politically involved, perhaps he has the need to feel important that he can make a difference. The Godard character does not like films, thinking that they are trivial. Even when activists criticize him and his movies, Godard takes their side. Godard has to decide to be a filmmaker or a revolutionist. He tries both and fails.
Hazanavicius film on Godard will obviously be frustrating as it is unclear his aim of making it. Hazanavicius shoots with the occasional humour of his OSS 117 and THE ARTIST though the humour is much less.
Louis Garrel (THE DREAMERS) does an almost perfect Godard, capturing all his mannerisms and quirkiness. Hazanavicius's wife Bérénice Bejo has a supporting role as Godard's friend. It is simply hilarious Godard moves throughout the film annoyed, bewildered and manipulated by the activists. He is also shown as an insensitive and rude person while always being an oddball. One feels the urge to punch Godard right in the face at any time.
The film did not earn a high approval rating, likely because of high expectations, but the film may turn out to be an entertaining, light and trivial tribute to an arguably great director of the Nouvelle Vague. On the other hand, one might end up hating this film thinking that Hazanavicius could have done a more serious piece with more insight on Godard. It would be interesting to hear what Godard himself thinks of this film.
Trailer: https://www.youtube.com/watch?v=Nh2zKF6Ucv8
KUSAMA INFINITY (USA 2018) ***
Directed by Heather Lenz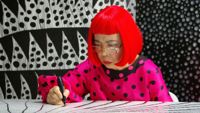 When I was a kid reading conic books, one of my favourites was a character from the Harvey Comics Richie Rich Group called Little Dot. Little Dot was a little girl completely obsessed with dots. Not only was her name dot, but she always wears a polka dot dress and goes around doing everything related to dots. Who would think that there is actually such a real life character in the world. And in the art world, too. This dot obsessed person is dot artist Yayoi Kusama. In her own words in this eye-opening film: "My life is a dot among millions of dots in the Universe." Kusama is also revealed to be a bit dotty, spending a fair portion of her life in a mental institution in Japan.
A rival of Warhol in the '60s, Kusama battled sexism and racism in America while her hallucinations of polka dots eventually led her to the Tokyo mental institution.
Yayoi Kusama is a Japanese born painter who made it big and famous in America. Her work is characterized by thousands of dots in an infinity of nets, thus requiring a tremendous amount of work. One of her most influential painting is called "Pacific Ocean" where the ocean waves are looked upon an as unending pattern of nets.
Like many documentaries on artists, director Lenz devotes screen time showing the artist at work as well as her displayed work (including the best ones like "Green Death" and "PaciFic Ocean") exhibited at the galleries. Compared to other artist documentaries especially LEANING INTO THE WIND which was released also the same time as KUSAMA, more time is devoted to the artist's life. Lenz follows Kusama from her childhood (not a pleasant one with a domineering mother prohibiting her to paint and her womanizing father) to the present. Kusama is still alive (now in her 80's) and speaks to the camera about her work and aspirations. The film also contains photos of her during her younger days, when she was protesting the Vietnam War with the hippies in America. Her nakedness caught on and news of her bashfulness reached Japan, causing quite the stir and her rejection by the Japanese people.
If there is anything to learn about Kusama, it is her determination that led to her success in the art world. She made her way to America on the heels of WWII. There, without connections and speaking only broken English, she devoted herself to her one true love, making art. On her first day in New York, Kusama has stated that she climbed to the top of the Empire State Building, looked down upon the city below, and made a decision to stand out from everyone she saw below and become a star. She shows that despite all odds, she finally climbed fame and respect. Another message that could be learnt is that all the fame and money cannot replace loneliness and happiness. She has spent 30 year living in a mental institution in Japan.
Despite the grim nature of the artist, Lenz's documentary is bright and upbeat with music and colours flowing freely through her doc. KUSAMA INFINITY turns out to be as fierce a film as Kusama's fierce determination to become a world-renowned artist.
Trailer: https://www.youtube.com/watch?v=85-_M_BJH1U
LEANING INTO THE WIND (UK/Germany 2016) ***
Directed by Thomas Riedelsheimer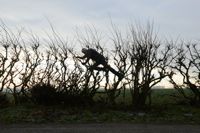 Note: The Film Review reveals the film's last scene, which could be considered a spoiler even though the film is a documentary. Skip the last paragraph (in bold italics) of the review if you do not wish to read it.
Leaning into the Wind follows artist Andy Goldsworthy on his exploration of the layers of his world and the impact of the years on himself and his art. This is director Riedelsheimer's second film on Goldsworthy, his first called RIVERS AND TDES, made 16 years prior. As Goldsworthy introduces his own body into the work it, becomes at the same time even more fragile and personal and also sterner and tougher, incorporating massive machinery and crews on his bigger projects.
Before watching this doc or reading the review, a few things need be known about the artist Andy Goldsworthy. Information following in this paragraph is taken from Wikipedia. Goldsworthy is a British sculptor, photographer and environmentalist producing site-specific sculpture and land art situated in natural and urban settings. He lives and works in Scotland.
Goldsworthy produced a commissioned work for the entry courtyard of San Francisco's De Young Museum called "Drawn Stone", which echoes San Francisco's frequent earthquakes and their effects. His installation included a giant crack in the pavement that broke off into smaller cracks, and broken limestone, which could be used for benches. The smaller cracks were made with a hammer adding unpredictability to the work as he created it. Goldsworthy is represented by Galerie Lelong, New York and Paris. The materials used in Andy Goldsworthy's art often include brightly coloured flowers, icicles, leaves, mud, pinecones, snow, stone, twigs, and thorns. Goldsworthy is generally considered the founder of modern rock balancing. For his ephemeral works, Goldsworthy often uses only his bare hands, teeth, and found tools to prepare and arrange the materials; however, for his permanent sculptures he has also employed the use of machine tools.
One assumes Riedelsheimer has introduced his subject in his first doc and that audiences might be familiar with as there is not much in this doc that goes into the background and history of Godsworthy the man. His influences on being a farmer is never mentioned, neither on how his art is financed or how his art came to be famous. But his fascination with working in the fields and rocks are acknowledged in the sculptor's own words. The film also takes the audience through different countries like the U.S, Scotland and Franc to show him his work. It is fortunate that a doc is made when the artist is still alive as in this film, as much more insight can be obtained from the artist himself interviewed, that Riedelsheimner utilities a great deal than from words from the relatives and friends.
The doc also shows Goldsworthy as an eccentric. Any artist that fills his mouth with coloured petals only to spew them out and photograph it art would be described as a little different.
The film shows in some detail the creation of one of his works entitled "Roof", working.with his assistant and five British dry-stone wallers, who were used to make sure the structure could withstand time and nature.
The film ends appropriately in the climax where Goldsworthy lets himself lean into the wind as he lets the wind support him on a mountain slope. It is a comical image with him trying not to fall. To him, that is the perfect emotion - LEANING INTO THE WIND and suspended in a beautiful moment.
Trailer: https://vimeo.com/194334804
REVENGE (France 2017) ****
Directed by Coralie Fargeat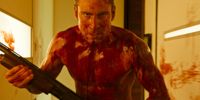 REVENGE borrows from many classic films like MAD MAX, THE HUNTING PARTY and female stalker movies to provide another gore fest in which victim becomes hunter with a few more tricks on display. This is French director Carolie Fargeat's debut feature shot in both French and English and an impressive one at that. She presented her film at the 2017 Toronto International Film Festival, proving that she talent as well as beauty.
A rich businessman, Richard (Kevin Janssens) takes his mistress, Jen (Italian model Matilda Lutz) on a getaway in a gorgeous mansion by a desert. His two hunting friends, Stanley (Vincent Colombe) and Dimitri (Guillaume Bouchède )show up and abuse her while he goes off on a chore for two hours. Instead of being on her side, Richard takes his friends side. When she threatens to tell his wife, Richard pushes her off a cliff. She survives. They hunt her down while she, turns the table on them.
The film is the real BATTLE OF THE SEXES and one that is relevant considering how women have ben abused by celebrities like Harvey Weinstein and Bill Crosby. Fargeat's strong feminist imprint is present in her frill from start to finish. She shows that the female is not a plaything and if treated as one with disrespect, will come fighting back for REVENGE.
Fargeat's film is gorgeous to look at in all respects from the exterior landscape to the interior sets. The stunning desert landscape that includes one pool of water, as well as the cliffs are well photographed. The mansion in the middle of the reset with its swimming pool is a marvel in modern architecture. Around 20% of the film is set in the darkness in the dead of night. The cinematography by Robrecht Heyvaert is nothing short of magnificent with just enough light to see what is happening in the dead of the desert night.
This French horror slasher can be seen to be quite different from the American counterparts. REVENGE is ultra violent, flashy with less distracting humour and hardly any false alarms (excepting the nightmare sequences) and cheap tricks to jolt the audience. Fargeat's attention to detail like the blood dripping on the ant in the desert and the one hunting friend chewing a crunchy chocolate bar while a rep is going on is particularly menacing.
A few gory set-ups include one where a man extracts chards of glass from the base of his foot and another with Jen tending to her wounds with the aluminium of a red hot beer can. The latter segment lasts a full 10 minutes and almost too gruesome to watch, while Jen takes peyote so that she will be unable to feel the pain while tending the wounds.
The climatic scene is full of inventive cat-and house chasing complete with Richard applying Saran wrap around his wounds.
It will be a very eager wait for Fargeat's next film.
Trailer: https://www.youtube.com/watch?v=YTJrztVvmx0
THE SEAGULL (USA 2018) ***1/2
Directed by Michael Mayer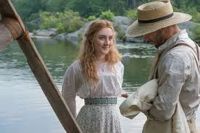 THE SEAGULL, Russian dramatist Anton Chekhov's first of 4 plays became one of the greatest plays in the history of Russian Theatre when Konstantin Stanislavsky directed it in 1898 for his Moscow Art Theatre. I have never read or seen Chekhov's THE SEAGULL even though there are previous film adaptations of the play including one directed by Sidney Lumet. So, watching the film unfold, flaws and all, is still an unforgettable experience given the strength of its source material.
The story features four main characters, Irina, her son Konstantin, her lover, Boris and the son's love, Nina - all torn between love and art.
An aging actress named Irina Arkadina (Annette Bening) pays summer visits to her brother Pjotr Nikolayevich Sorin (Brian Dennehy) and her son Konstantin (Billy Howle) on a country estate. On one occasion, she brings Boris Trigorin (Corely Stoll) a successful novelist and her lover. Nina (Saoirse Ronan), a free and innocent girl from a neighbouring estate who is in a relationship with Konstantin, falls in love with Boris.
The film begins with the climax of the play and returns to it after the main story folds in flashback, a tactic used by director Mayer for the film. This is a common tactic in films to grab the audience's attention at the start while bringing them back to the same state at a later part of the film. The tactic often works and works in this film as well. The brother Sorin is ill and dying while Irina visits and engages the guests in a game of 'lotto' a kind of bingo while something drastic takes place with her son in a back room that climaxes the story and ends the film. But quite the drama has occurred prior to this set of affairs with lives and loves being interchanged as well as unrequited love torn away from a poor woman's heart. This is the stuff Chekov's play is born of. Included in the story is the scene where Konstantine shoot and kills an innocent seagull (the story's metaphor) which is placed at the feet of his true love, Nina.
There are lots of unrequited love in the story, that of Irina, her son and mostly Marsha's (Elisabeth Moss). Irina brings to the estate the successful playwright, Boris Trigorin who falls for actress wannabe, Nina who falls for him. It is a question of he not able to get what he wants and she not able to get what she wants while each having the quality the oner desires. There is more irony in the artistic play that Konstantin writes that his mother makes fun of. Besides all this fantastic Chekov writing that is incredibly brilliant the way he brings it all together, director Mayer occasionally eclipses the brilliance with his touches. This includes, for example the scene where Konstantin makes silly 'tweetie-bird' faces in the mirror while his mother is desperately claiming possession in the next room, or when Kosntatntin plays the piano, the music complementing the activities going on again, in the next room.
The film, which looks fantastic (cinematography by Matthew J. Lloyd) was shot on
location at a New York State manor, using almost all natural light. In the nighttime scenes, 95 % of what you see is actually from candle light.
THE SEAGULL benefits greatly again from its actors, particularly its 3 main actresses Benign, Moss and Ronan. Relative newcomer British Billy Howle proves his acting chops as well in quite the major role. There are many reasons to see THE SEAGULL - the performances, the currently relevant tale of art and romance but especially if you are unfamiliar with this Chekhov play.
Director Mayer, who is a Tony Award Winning theatre director (SPRING AWAKENING) should do Chekhov proud with this film adaptation of THE SEAGULL.