Action super action hero film DEADPOOL 2 makes its debit this week. No more 20th Century Fox against Disney since Disney boguht over Fox. So, Disney now rules!
BEST FILMS PLAYING:
Best Animation:
ISLE OF DOGS
Best Action:
DEADPOOL 2
Best Documentary:
RBG
Best Foreign:
C'EST LA VIE (LE SENS de la FETE)
Best Horror:
REVENGE
Best Drama:
YOU WERE NEVER REALLY HERE
FILM REVIEWS:
ANOTHER KIND OF WEDDING (Canada 2016) **
(formerly entitled SOMEONE ELSE'S WEDDING)
Directed by Pat Kiely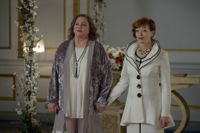 Close on the heels of the French WEDDING comedy C'EST LA VIE (LE SENS DE LA FETE) arrives another, thankfully with a slightly different take on weddings. ANOTHER KIND OF WEDDING (formerly entitled SOMEONE ELSE'S WEDDING) combines the wedding romantic comedy with the dysfunctional comedy/drama genres with an all-star ensemble cast headed by Kathleen Turner, who in her glory days captured the hearts of moviegoers with her best films like PEGGY SUE GOT MARRIED, BODY HEAT and WAR OF THE ROSES. Pat Kiely directs from his own script. Here, she is still her fiery self, spouting strong language. Her date at the wedding is played by Wallace Shawn (THE PRINCESS BRIDE, MY DINNER WITH ANDRE) who looks better with age.
ANOTHER KIND OF WEDDING follows a fractured family as they are forced to confront what tore them apart at the eldest son's wedding. Matthew (Jacob Tierney) and Louisa (Jessica Parker Kennedy) are about to celebrate the biggest day of their lives, but fate has something else in store – the perfect venue in Montreal to hash out all family conflicts. Matthew's good looking, sleeping around stepbrother Kurt (Kevin Zegers) has gone to bed with a lot of ladies including the bride. Trouble follows and stays! As the film progresses, more skeletons come out of the closet. Then, there is also enmity between the two mothers of the groom and bride.
It is good that Kiely's script celebrates Canada in this Canadian film as opposed to many other Canadian films that pretend that it is set in the States for a larger target audience. The wedding is held in Montreal and there are lot of Montreal streets and shops on show. (The film is shot largely in Montreal.) The script also pokes fun of the lesser known cities ("Who would want to spend a whole week in Kingston?) while praising others like those around the Georgian Lake area.
The film unfolds backwards occasionally to explain a set of circumstances. Whether this tactic works depends on the individual.
The film's comedy is not all that funny. Quite a lot of the humour is laid on the Kathleen Turner character, with her rebuttals supposed to be biting, sarcastic and clever. These do not always work. The romantic comedy element does not work either, coming across as predictable as a Harlequin novel. Of course, all works out at the end with the wedding as its climax.
The cast is diversified enough with Kathleen Turner getting top billing. But she is reprising what she is famous in, from her past films, and she is clearly past her prime. Kevin Zegers does a good though predictable turn as the wedding party's main ass-hole, the one who has had a relationship, unknown to his brother with his bride earlier.
ANOTHER KIND OF WEDDING fails to be either a drama on the dysfunctional family or a romantic wedding comedy. The film lingers in between both resulting in a mediocre forgettable film.
Trailer: https://www.youtube.com/watch?v=sc2RHludA6c
BOOK CLUB (USA 2018) **
Directed by Lee Holderman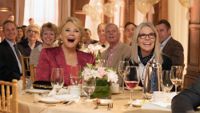 The BOOK CLUB is made up of Diane, Vivian, Sharon and Carol played by veteran stars Diane Keaton, Jane Fonda and Mary Steenburgen respectively, and listed in order of both their popularity and importance of their roles in the film. All four have had their hey day, Fonda with her Oscar Winning KLUTE, breaking into fame with CAT BALLOU (I have seen this film 7 times), Keaton with ANNIE HALL, REDS, Bergen with 11 HARROW HOUSE, THE HUNTING PARTY and SOLDIER BLUE and Steenburgen with CROSS CREEK and DEAD OF WINTER. Watching them on screen is the best thing about the film. Unfortunately, they are unable to save this sorry feminine old farts comedy.
The film's premise is simple enough with the script stretching it into a tired full length feature. Four older women spend their lives attending a book club where they bond over the typical suggested literature. Each member takes her turn to suggest a book. One day, they end up reading Fifty Shades of Grey (with Christian Grey and his sexual frolics) and are turned on by the content. Viewing it as a wake up call, they decide to expand their lives and chase pleasures that have eluded them.
With four and not one character, the audiences has to sit through all four and not only one story as they sort out their lives.
When the club first meets, it is a long drawn out affair of introductions. One by one, they appear, each apparently trying to outdo each other in wardrobe and appearance. The dialogue is obviously written by a team of comedy writers (though only mildly funny). One liners and punch liners come out of the members' mouths instead of authentic everyday dialogue.
Later on in the film, the audience sees Keaton wearing all her ANNIE HALL outfits from male jacket, to loose tie to beret. It is clear that the film pays more attention to wardrobe, the mansions with their interior design and stuff that make the elders look good that more urgent matters like script and direction. Choice of popular songs at appropriate parts of the film is 'cute' at best.
As the film progresses, it appears that this is a film that shows only one side of the American life - that of the wealthy. All the characters are white and wealthy, with for example, Diane's boyfriend, Mitchell the pilot (Andy Garcia) owning a mansion with his own private plane or Vivian's Arthur (Don Johnson) rich enough to miss airline flights at a whim. Even the supposedly middle class couple Carol (Steenburgen) and Bruce (POLTERGEIST's Craig T. Nelson) has a house to die for. An Asian is shown at one point in the film, but she is only the server of ice-cream sodas.
Of all the 4 stars, the most watchable and most amusing is Bergen playing the judge Sharon, prim and proper but trying to get a date on her dating site. She is best known to the younger generation for her TV role in MURPHY BROWN though this one, in my opinion was the true beauty in her younger days. Her match with Richard Dreyfuss (JAWS, THE APPRENTICESHIP OF DUDDY KRAVITZ, AMERICAN GRAFFITI) is the one that brought the most laughs in the audience in the promo screening I attended. Her other match up with Wallace Shawn falls flat. The audience seems to love (though this has been done before) the segment with Bruce with a uncontrollable hard-on, the result of his wife spiking his beer with a Viagara.
The script underwrites certain characters, which is understandable as there are too many characters in the film. Alicia Silverstone (CLUELESS) is largely wasted as Jill, one of Diane's daughters who is not given much to do.
BOOK CLUB is merely an excuse to watch 4 stars come together. If watching them is all that matters, the this film might be for you. BOOK CLUB aims low as a glossy, standard senior product with nothing fresh to offer. The film achieves its aim.
Trailer: https://www.youtube.com/watch?v=LDxgPIsv6sY
BOOM FOR REAL: THE LATE TEENAGE YEARS OF JEAN-MICHEL BASQUIAT
(USA 2017) *** Directed by Sara Driver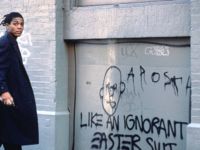 Sara Driver's doc of THE LATE TEENAGE YEARS OF JEAN-MICHEL BASQUIAT is just that. It is the story of the NYC Graffiti artist pre-fame. None of his most famous paintings are shown on the screen till the end of the film.
The doc begins with a lengthy History of New York City - when it was run down, ugly and poor with a high occupancy rate. As the voiceover informs, landlords were aware that they were not going to rent out their places any time soon, so they were burning them to claim the insurance money. Then-President Gerald Ford announces that he will never ok a bill that will bail out the city by default. It is almost a full 15 minutes in this hour and 15 minute film that Basquiat is first introduced into the picture.
Director Driver's aim for her film is twofold - firstly to create the atmosphere and period of the times where street artists of that era touted their wares among the elite art groups. The second is to reveal Basqiuat's talent in these difficult and challenging times.
This she accomplishes using never-before-seen works, writings and photographs. Driver herself was part of the New York arts scene, so she knows her stuff and it shows. She had worked closely and collaboratively with friends and other artists who emerged from that period.
Among them are film director Jim Jarmusch, James Nares, Fab Five Freddy, Glenn O'Brien, Kenny Scharf, Lee Quinones, Patricia Field, Luc Sante and many others. Jarmusch and Sante are given the most screen time, having the most to say. Those interviewed draw upon their memories and anecdotes. The film also uses period film footage, music and images to visually re-recreate the era, drawing a portrait of Jean- Michel and Downtown New York City -pre AIDS, President Reagan, the real estate and art booms – before anyone was motivated by money and ambition.
Besides Basqiuat's talent, he is also revealed to be penniless and occasionally homeless, crashing at friends' apartments and even allowing himself to become a rent-boy for a roof over his head for the night. A lady's man who would steal anyone's pretty girlfriend. According to Jarmusch, he would disappear around the block to steal a flower to present to his friend's lady. Basqiuat also indulged with the drugs of the time, like LSD, which explains many of his psychedelic pieces.
An interviewee claimed that Basqiaut would eventually become as famous as Andy Warhol, who everyone respected at the time. Indeed Basqiaut did. His famous and most recognized works are shown at the end of the film. These are the 7 or so years before Basqiaut achieved that status. An eye-opening film on Basqiaut's late teenage years. If he was still alive today, he would be of the age of many of those interviewed, and would provide priceless insight of himself when interviewed.
Trailer: https://www.youtube.com/watch?v=PUsy5RObL2U
THE CHILD REMAINS (Canada 2017) **
Directed by Michael Melski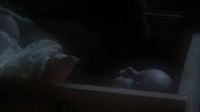 The words 'Inspired by True Events' splashes on the screen at the film's start. This of course, can mean very little these days but here this means something as the film's plot is actually based inspired by the early 20th century "Butterbox Babies".
The story centres on a couple, Rae (Suzanne Clément) and Liam (Allan Hqwko). Hawko is a music songwriter trying to make it in the music business while Rae is an expecting journalist suffering from Post Stress Traumatic Disorder (disorder that develops after exposure to a traumatic event or experience with symptoms that may include flashbacks, nightmares and intense feelings of fear or horror). Their intimate weekend turns to terror as they discover their secluded country inn is a haunted maternity home where infants and mothers were murdered.
The film has a slow and moody first half. Not much happens and what transpires on screen is predictable. All that happens is the discovery of the Inn being the former Mercy home by the pregnant guest where babies are taken away unknowingly from unexacting unwed pregnant mothers. Director Melski uses the screen time to create a menacing atmosphere for the visiting couple. The woman is a journalist (how appropriate as this allows her to have an investigative nature as well access to archive news) who suffers from PSTD (how appropriate as this allows her to have hallucinations)
Shelley Thompson from 'The Trailer Park Boys" deserves credit for her role as the inn's manager, Monica. She is always cheery, appearing at times when least expected or when most inconvenient to her guests. There is always something creepy about a person who always has a wide smile on her face, and Thompson nails this creepiness 100%. Multiple Award winner Quebec actress Suzanne Clément, best known for her roles in Xavier Dolan's films is also a pleasure to watch as the tortured character.
The film contains an unexcited twist in the plot at the end (when the audience realizes what the title of the film refers to - quite clever). Trouble is that it is quite unbelievable for the reason that for it to happen, it will be too much of a coincidence. The film, besides being a psychological thriller is also a ghost story so one also has to believe that ghosts not only exist but come out of the woodwork to harm the characters.
Despite all that is going for Melski's film, THE CHILD REMAINS fails to engage the audience in its tale for a number of reasons. The first is credibility. The two items of supernaturally and true events do not go together. The other is Melski's display of his protagonist, Jen's character. In one scene, she is shown handing over the ointments in her room because they are chemical, which is a rude gesture. She could have just left the ointments in the room. In another, shed closes her lap top when Shelly is looking at the image of her baby in her womb, which is another rude gesture. She also snaps he boyfriend and nags once too often, which makes one wonder the reason he is still putting up with her, and especially when she has PSTD. If Melski wants the audience to route for his heroine, he should have her display a more likeable personality. When all the plot points are finally revealed, Melski unfortunately turns his film into a horror slasher flick.
The film sends a a new meaning to the words "Inspired by True Events". The story may be inspired by true events but it may be totally hokum!
Trailer: https://www.youtube.com/watch?v=cqtjq51pLzw
DEADPOOL 2 (USA 2018) ****
Directed by David Leithch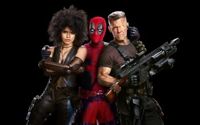 DEADPOOL 2 arrives 2 years after the first DEADPOOL, the 11th film in the X-Men film series. The important question on everyone's lips is how this film fares with regards to the first DEADPOOL and the recent Marvel films like BLACK PANTHER and AVENGERS INFINITIY WAR. Well, it is different and notably raucously hilarious. Co-written by star Ryan Reynolds himself who did a bit on his own character's dialogue, there are lots of swearing, so be prepared to be hearing lots of vulgarities like "fuckshit".
DEADPOOL (Reynolds reprising his original role) is the wisecracking Marvel Comics mercenary with accelerated healing but severe scarring over his body after undergoing an experimental regenerative mutation. He forms the X-Force, a team of mutants, most of which hilariously die while unsuccessfully parachute landing in an attempt on the job to rescue Russell (Julian Dennison), a boy Deadpool befriended while in prison. Foremost in the story is the character of Cable (Josh Brolin) a time travelling cybernetic mutant soldier who wishes to kill Russell. It should be noted that DEADPOOL 2's humour is in the extreme, from fake opening credits to ridiculous subplots to senseless dialogue. To the credit of everyone making this movie, it actually works. It took me a while to get into the film's groove, admittedly a full 15 minutes or so (I initially hated it, thinking it all too silly, but the tactic grows into you quickly and the effort is soon appreciated and thoroughly enjoyed.) The laugh-out loud jokes are too many to innumerate but there are prize one like the inside joke on Disney's Frozen (since Disney has recently bought over Fox) and a running joke that makes no sense on the progress of dubstep. The soundtrack that includes two new songs: "Ashes" by Céline Dion and "Welcome to the Party" by Diplo, French Montana and Lil Pump are especially inventive. Those who have seen/heard "Ashes", released as the lead single on May 3, 2018, along with a music video of the vocalist singing the song will still be laughing.
Star Ryan Reynolds is perfect as the hilarious Deadpool. He makes the character including the dialogue he wrote. He was given large creative control over this film after the success of the first one that resulted in the leaving of the original's director Tim Miller due to artistic differences. Josh Brolin plays Cable marvellously, as Brolin does in all his roles. Brolin was also in the last recent Marvel film AVENGERS INFINITY WAR playing the main villain Thanos. Fortunately, the makeup of Thanos results in Brolin hardly recognizable or that would have been a problem with Brolin being in two Marvel stories. Familiar characters from the first DEADPOOL like Morena Baccarin as Vanessa, Karan Soni as Dopinder, the taxi driver, Leslie Uggams as Blind Al (the fake opening credits has her listed as the film's cinematographer) and T.J. Miller as Weasel, Daedpool's best buddy bartender who has absolutely no loyalties are in the sequel. Miller is good in this movie but was almost removed from the film due to alleged sexual misconduct and calling in a fake bomb threat during the movie filming.
DEADPOOL 2's looks very expensive with great CGI and special effects. The fight scenes are particularly stunning with humour always present. Action and hilarity mix well in the funniest of the Marvel franchise.
Make sure to stay for the closing credits as they include a few extra scenes including surprises such as who is listed playing "Vanishing Man." The film also sets up for the next continuing film X-FORCE which may or may not be a direct sequel to DEADPOOL 2.
Trailer: https://www.youtube.com/watch?v=D86RtevtfrA
DISOBEDIENCE (UK/Ireland/USA 2017) ***1/2
Directed by Sebastian Leilo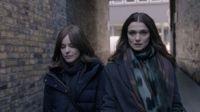 Three big reasons stand out for one to see DISOBEDIENCE. The first is its director, Chilean Sebastian Leilo who won the Best Foreign Language Film Oscar for A FANTASTIC WOMAN this year. The second is the script, based on Naomi Alderman's 2006 acclaimed novel, co-written by Rebecca Lenkiewicz who wrote the Best Foreign Film Oscar Winner IDA, a few years back. The third is the cast of Rachel Weisz and Rachel McAdams who go all out to do a same-sex love story compete with a no-holds barred erotic sex scene.
The film begins with a scene of a dissatisfied New York photographer, Ronit (Weisz), a single woman in the city, shown never smiling and having casual sex while receiving news of her father's passing in London. She travels to London only to be met with a surprise welcome by the Orthodox Jews that she ran away from. Her father was a strong pillar, a Rabbi of the Jewish Orthodox Community and she is deemed an outcast. This is material that moviegoers would shy less run away from. The film takes a while to gets its footing, and if one is patient enough not to give up on the uncommercial storyline, the reward is a well told powerful tale of freedom, especially from the feminine point of view that is so relevant in today's times.
So, with her edgy clothing and tousled hair, Ronit looks out of place among the Orthodox women in their plain black garments and synthetic wigs. She is also in for some unsetting surprises, including the contents of her father's obituary and will. She is further shocked to find that her two childhood friends – Esti (McAdams) and rabbi-to-be Dovid (Novice) – are now married. When Dovid invites Ronit to stay with them, Esti and Ronit rekindle their secret passion for each other. The film's second half focuses on the love affair and Esti's demand to be freed from her marriage form Dovid.
The Jewish rituals are respectfully created with perfect voices singing of the hymns. But the film clearly has a prejudiced view of the Orthodox Jewish ways. It looks down at the practices from the very first scene with the over-stern sermon on devils and angels given by the Rabbi before suffering the heart attack that initiates the story's chain of events.
The sexual scenes are very graphic and erotic especially in the sharing of saliva during a sex scene, reminiscent of Stephen Frears' sex scene in MY BEAUTIFUL LAUNDRETTE.
The one reason the film about freedom is so powerful is that director Leilo switches the points of view from Ronit to Esti to Dovid. The audience sees and sympathizes with each, not only seeing each person in the love triangle's point of view but knowing that each are trapped by the past and present emotions.
But the film is not without flaws. The past relationship between Ronit and Esti that caused problems in the past when they were younger is never explained. One assumes Dovid is aware of it. Why then would he invite Ronit to stay in his house? One assumes that the script stays faithful to the material in the book, warts and all.
It does not matter how the story ends. The film is about emotions and the right to choose, rather than the event driven. Leilo's message comes across loud and clear in his well-executed drama.
Trailer: https://www.youtube.com/watch?v=HEVonh8bjC0
POPE FRANCIS: A MAN OF HIS WORD (Germany and other Countries 2018) ***
Directed by Wim Wenders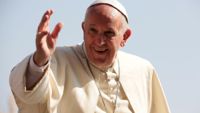 Right hot from the Cannes 2018 premiere, Wim Wenders' POPE FRANCIS: A MAN OF HIS WORD arrives in Toronto. Watching the film in the comfort of Toronto without the hassle of going to a too-busy film festival at Cannes is my personal preference.
German director of fictional films and documentaries, Wenders has made docs like THE BUENA VISTA SOCIAL CLUB, PINA and SALT OF THE EARTH that are most remembered. As in all his films, Wenders films are beautifully shot.
It should be noted that POPE FRANCIS: A MAN OF HIS WORD is not a biography of Pope Francis. Nothing is mentioned of his background (except that he came from South America), his education, learning, childhood or family. Instead, as Wenders must have been given Carte Blanche access to the pontiff's interviews and journeys, the audience is given the freedom and opportunity to make up their minds for themselves with regards to his aspirations from the footage seen on screen. At times, Wenders allows Pope Francis to deliver almost an entire sermon on film, thus forcing the audience to feel exactly how his Catholic congregation would have felt in a church. The camera also lingers on the congregation from the little poor people to the congressmen - and how they are mightily moved by his sincere words. The Pope is shown not to be a great orator, but one who carefully chooses his words. His sincerity and speech content make the difference.
Unlike other Popes in the past who are almost too frail to make an appearance or travel around the world to inspire, Pope Francis is clearly aware of the current world affairs. His commitment to saving the Planet Earth is observed in many instances. He travels to the Earth Conferences around the world and speaks some powerful words. "The poorest of the poorest is Mother Earth," he preaches in one of the film's most moving segments. "She has been plundered. She has been abused." On other matters such as homosexuality, he is unfortunately, less firm. He gives an ambiguous reply saying that: "if a gay man does no wrong, who is he to judge?"
Among the Pope's trips, the audience gets to see a Pope's eye view of a Brazilian street mass, a Central African Republic children's hospital, a Philadelphia prison, a Greek migrant camp, the UN, a joint session of Congress and a Jerusalem Holocaust remembrance ceremony. The most moving of these is the segment of the Greek migrant camp, whee he goes about kissing individuals as they reach out to touch him in response.
Wenders' doc POPE FRANCIS proves that more can be learnt about the Pope by following the person during his meetings, speeches and journeys than from his background or interviews of his friends and family. In this doc, one cannot help but admire Pope Francis not only as a Pope who has inspirational ideas but one that is intent to make a difference in the world from his holy position.
Trailer: https://www.youtube.com/watch?v=MOmY8i-uBcY
RBG (USA 2018) ***1/2
Directed by Betsy West and Julie Cohen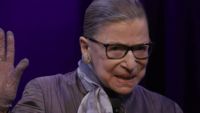 Often the first 10 minutes of film sets the tone and mood for the rest of the movie. As far as this doc called RBG (standing for Ruth Bader Ginsburg, but using the initials of the famous rapper) goes, it is the most spirited first 10 minutes of introduction to any film beginning with the uplifting music I have witnessed in a film this year. What an into and what anticipation the directors have created for their audience who are then introduced to this 'witch', 'American' 'shit-disturber' who have changed countless lives. In her very won words: "Everyone wants to take a picture with this 80-year old lady."
The film delivers a message in the form of Ruth's mother's advice to Ruth: "Be a Lady. Be independent!" Ruth or RBG explains that being a lady means controlling girly emotions like anger. The way to win an argument is not to yell. Being independent means being able to take care of oneself." These simple words also apply to males as well with "Be a Gentleman."
You could do something to make the world better! Ruth decided to become a lawyer. If not her husband can support her, Ruth's parents muse.
The film benefits from the availability of archive footage. There are marvellous grainy black and white footage with voiceover provided by Ruth.
The most amazing thing about Ruth, as the movie emphasizes to great effect, is that she did not get life handed to her on a silver platter. She burnt the candle at both ends by looking after her daughter and ill husband (with cancer) while she was third year at Law School. The hard work work paid off for Ruth. Her children also speak to the camera, praising their mother.
The most important issue tackled by the doc is however, the injustices against women. Law firms did not hire women - it was just the way it was. Ruth fought for women's rights. Ruth Ginsburg used her legal education to make the difference, dealing with sex discrimination cases thus making a difference in the women's rights movement. She would take cases that made good law. The film gets more personal with a specific case - Frontiero vs. Richardson. The film is fortunate to have the real Sharron Frontiero interview and speak her case. She was denied a housing allowance in the Air Force. "You are lucky to be in the Air Force at all, she was told. Sharron filed a lawsuit, under taken by RGB.
RBG is an inspiring doc that would make even men cheer that women have attained their deserved rights through the notorious Ruth Bader Ginsburg,
The film also shows her personal side. They are shots of Ruth attending her favourite pastime - opera She appreciates the sound of the human voice (she likens it to an electric current), the drama and the music. Justice and mercy are all in the opera,
Ruth knew exactly what needs to be said and it was a very shrewd strategy. Ruth wins many cases carefully outlining the words to emphasize the cause.
RBG premiered in Toronto at the Jewish Film Festival a few weeks back. But he doc and its content has universal appeal. The directors have created as inspirit a doc as its subject - the Notorious RBG.
Trailer: https://www.youtube.com/watch?v=biIRlcQqmOc
SHOW DOGS (USA 2018) *
Directed by Raja Gosnell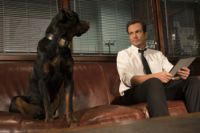 Watching the first 15 minutes of a film's opening can usually determine what can expected from the rest of the film. At the start of SHOW DOGS, Max (Ludacris ), a talking Rottweiler that works as a police dog mistakenly takes down an undercover cop while three talking pigeons explain what is gong on to each other and the audience as if the scene needs to be explained. The baddies have a British accent, of course and the camera tilts sideways for no apparent reason. The antics include the dog unimpressively tumbling around and dodging vehicles. Max bites the cop in the butt. This is a sequence that is neither funny or exciting or worthy of mention.
So, in this world where humans and sentient dogs co-exist, the macho but lonely Rottweiler police dog named Max has bungled his duty to save a kidnapped baby panda. Max promises the panda that he will return to save her. Max is eventually ordered to go undercover as a primped show dog at a prestigious dog show with his human partner Frank (Will Arnett), the one he bit on the butt earlier in the film.
An impressive cast of celebrities voice the canine characters. RuPaul voices Persephone,
Gabriel Iglesias, Sprinkles, a Pug, Shaquille O'Neal, Karma, Stanley Tucci, Philippe and Alan Cumming, Dante. One wonders the decision for Tucci doing a French accent, thus making his voice hardly recognizable for the Belgium dog, Philippe.
There are no shortage of jokes in the film. The trouble is that they are only mildly funny at best. The best example is the fast sloth joke, humorous a little, but laugh-out loud, it is not. To illustrate how good the jokes are, I did not laugh once during the entire comedy! The film is also not short of ass-hole and gross jokes. It is easy to calculate the jokes hit/miss ratio for this film. Zero!
The film contains many show dogs that are perfectly groomed that are great to look at. Still, this is insufficient to lift the film out of the doldrums. Max, the Rottweiler looks sloppy compared to all the other dogs, kind of dirty looking an always drooling. It does not help that the script insists on having a romantic angle between Max and Daisy (Jordin Sparks), a Border Collie. To make matters worse, there is also a hint of romance between Frank and another dog handler, Mattie (Natasha Lyonne).
The script by Max Botkin and Marc Hyman, at best makes reference to better dog films like TURNER AND HOOCH. At one point, Max calls his partner, Hooch. Again, a little humorous at best!
2018 has so far seen the best and worst dog films of the decade. Wes Andersons' ISLE OF DOGS is so far the best dog film this year. SHOW DOGS, lands on the other end of the spectrum.
Trailer: https://www.youtube.com/watch?v=6z8s36yLaLQ
VENUS (Canada 2017) ***1/2
Directed by Eisha Marjara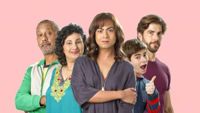 Transgender subjects are getting more popular in LGBT features now that gay characters have been more and more normalized in mainstream movies. They have even invaded the gay documentary genre as seen in the recent film TRANSFORMER about a transgendered weight lifter. Last year's Best Foreign Film Oscar Winner, A FANTASTIC WOMAN centred on a transgendered widow or widower.
VENUS tells the tale of Sid (Debargo Sanyal), a South Asian (Punjabi origin) transitioning woman whose life is turned upside down when Ralph (Jamie Mayers), the "white" 14 year-old biological son she never knew she had, shows up unexpectedly at her door. And repeatedly at the door daily. "Wreck-It-Ralph" is about to create havoc in Sid's life. Shot in Montreal, the upbeat film also deals with the hardship of transition and how it affects family and friends.
Sid is under pressure to marry a nice Indian girl and raise a family. His East Indian mother (Vancouver's Zeena Daruwalla) yearns to have grandchildren. Her dreams are about to come true, but not in the way she ever imagined. When Sid comes out as a woman, a 14 year old boy named Ralph shows up at her door announcing that Sid is his parent. Although surprised to discover that his biological dad is now a woman, Ralph thinks having a transgender parent is pretty cool (a way director Eisha Marjara is also saying her film is as cool as her subject). But Ralph has not told his mother and stepfather that he had tracked down his biological father.
Another problem is Sid's boyfriend Daniel (Pierre-Yves Cardinal), who has yet to tell his family of his relationship with Sid. Daniel is nowhere near ready to accept Ralph as a stepson and complicate his life further. Sid's coming out creates a snowball effect that forces everyone out of the closet.
With so many stories, director Marjara surprisingly balances the importance of each effectively culminating the film in a credible yet dramatic climax.
Director Marjara's spirit and confidence in her subject and movie are catching. These are evident in a scene in the film's middle when Sid and Ralph take a walk in a park. They come across a group dancing in the park. Ralph joins in as Sid tries to pull him back while feeling uncomfortable. Sid eventually dances with the group. The scene shifts into slow motion and the catchy tune and fancy dance moves take the audience up a higher level in entertainment. The film's overall soundtrack is pretty good as well. There is even a song called "Sisters in the Struggle" by a group called Lesbians in Ecstasy.
Sid's parents provide quite a few of the laugh-of loud moments. But Sid's facial expressions are also funny enough to evoke much laughter.
Besides the comedy, the film gets quite serious too, at the end. Credit to the script (also written by Marjara) for the non-Hollywood ending.
VENUS has won numerous awards on the international film circuit, including most recently two awards at the 2018 Kiel Transgender Film Festival in Germany for Best Trans Performance (Debargo Sanyal) and Best Actor non-trans role (Jamie Mayers), as well as Best Narrative Feature at the 2018 Cinequest Film Festival in San Jose. The film is an uplifting crowd pleaser.
Trailer: https://vimeo.com/225779362