SOLO: A STAR WARS STORY continues this week with less than stellar box-office returns. The INSIDE OUT 2018 LGBT Film Festival ends. Check out that article for more information.
BEST FILMS PLAYING:
Best Animation:
ISLE OF DOGS
Best Action:
SOLO: A STAR WARS STORY
Best Documentary:
RBG
Best Foreign:
C'EST LA VIE (LE SENS de la FETE)
Best Horror:
REVENGE
Best Drama:
YOU WERE NEVER REALLY HERE
FILM REVIEWS:
ADRIFT (USA 2017) **
Directed by Baltasar Kormákur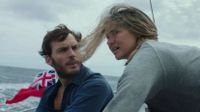 ADRIFT is a sea survival romance drama based on the true story of a couple caught in a devastating storm while sailing. With minimum food and water and relying on each other's love to survive, ADRIFT is the story, told from Tami (Shailene Woodley), the girl's point of view. Woodley shot to fame playing the daughter in Alexander Payne's THE DESCENDANTS with George Clooney. Besides having the female lead role, Woodley also has credit as a producer.
An American and Englishman with his boat sailing around the world meet in Tahiti. Love at first sight, it appears to be after a date night. The two take on a task of delivering a yacht to San Diego.
The next scene is the disaster scene where Tami is below a flooded boat screaming and looking for Richard. It is evident that they have survived a storm that had devastated their boat and Richard must be somewhere overboard. She finds him and pulls him on board. But he has a big gaping leg wound and broken ribs. They spend 40 odd days ADRIFT. She learns a bit about sailing and the film stresses that it is her love for Richard that saves the two.
At the start of the movie, it is stressed that the film is based on a true story. This does not mean that what transpires on screen following is all true. What really happened is revealed at the end during the closing credits. As this is the major surprise of the film (though it can not be officially considered a plot twist), the fact will not be revealed in the review. But stay for the closing credits if you watch the film.
ADRIFT is a romance set in a disaster setting not a disaster movie in a romantic setting. This results in an awfully saccharine sweet setting, all too good to be believable less true. For a couple surviving for more than month with hardly any food and water, they only argue once. Thy are still lovey-dubbey all the way, she clinging on to him half the time despite his broken ribs. Cans of food and even alcohol pop up from hidden areas below the deck at regular intervals for the couple to survive. There is even enough beer for the couple, in Tami's own words "to party." Fortunately, the audience is spared from watching any drunken frolicking. There are no scenes involving both of them having to urinate or taking a number 2. At least the audience is spared from Woodley having perfect hair and make-up during the storm, as in the awful recent film KAYAK TO KLEMTU, where the lead always shows up with perfect make-up despite its wilderness setting.
The storm scenes with Tami and Richard scrambling around the boat look authentic enough. CGI effects are so advanced these days it is hard to tell when CGI effects are used or the real thing with real water and a blowing fan.
The couple's chemistry helps the film's story. Both are young, attractive and share the same goal - wanting independence.
One might hate ADRIFT for the Hollywood style romantic storytelling, but for those romantics who love this kind of thing ADRIFT will not disappoint.
Trailer: https://www.youtube.com/watch?v=HdMP4sWc71M
BLACK COP (Canada 2018) ***
Directed by Cory Bowles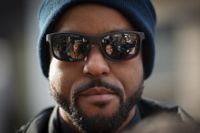 BLACK COP is a satire/drama about a black cop (no name given to him or to any of other characters in the film).
In the film, some people think BLACK COP has lost touch with his blackness, but BLACK COP thinks not. Most of the time, people tell him how to do his job. "Assholes think they know too much." is what the cop's response is. The humour is quite black (pardon the pun!) but it works marvellously. And bitingly funny.
It is thus not easy being a black cop as the film clearly demonstrates. The community (including the black portion) does not trust him, his colleagues are wary of him and he is being patronized by the people he is supposed to protect. And when the world is on edge waiting for a grand jury verdict on a high-profile police case involving unarmed youth, all eyes are on him
Though the film is set in the U.S., the theme reflects the famous Toronto case in which an officer shot an armed youth on a streetcar.
For this officer already struggling between duty and moral obligation, things take a drastic turn when he is profiled by his colleagues off-duty (10 minutes into the movie), pushing him over the edge. Armed with the power of his badge, an antagonizing radio show for company, and some good old-fashioned rage, the stage is set for a whirlwind day filled with vendetta and just desserts, as Black Cop targets the community he is sworn to protect.
The film's premise is simple. After the cop experiences abuse, he loses it an takes revenge by abusing the community under his beat. The abuse takes the form of him arresting, threatening and beating up an assortment of people. The abuse scenes unfold like watching a Youtube video shot by a camcorder placed at the cop's eye-level. The film has an edgy feel from the way other segments are shot, with a combination of jump cuts, slow and fast motion. But the film does not go anywhere except as to what transpires from that simple premise, which is a bit of a disappointment.
There are lots of anger in BLACK COP. And this is what makes it compelling to watch!
Actor Ronnie Rowe Jr. (looking a bit like Ice Cube) portrays him almost perfectly, combining drama and humour as he tackles the issues of race, class and power. The film is directed by Cory Bowles (who did episodes of the Trailer Park Boys). Bowles comes from a black father and a white mother.
The film unveils in chapters with odd titles. The first chapter is titled "Brother..Brother…Brother." The second is called "Just a Friendly game of Baseball." and the third "Zombie no go stop." - not that all this makes sense, but it adds to the edginess. BLACK COP opens across Canada in major cities on June 1 as a Cineplex Special Event then June 5 an exclusive iTunes run, with a wide VOD release on June 19.
Trailer: https://www.youtube.com/watch?v=4RiOirLKtQM
BLACK KITE (Canada/Afghanistan 2017) **
Directed by Tarique Qayumi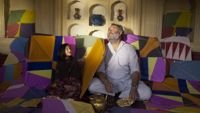 When Taique Oayunmi's film, BLACK KITE opens, the audience witnesses a a political judgment/verdict of the violent chopping off of his hands of Arian (Haji Gul) which is then expanded to an execution the next morning. In the prison that night, Arian almost dies of thirst but offers to tell his story in exchange for a drink of water from his fellow inmate.
But the story that unfolds is a different one. The next scene is one with a little boy fascinating with kite flying. The boy is Arian who learns both how to make and fly kites from his uneducated father. The vast difference in tone could mean one of two things - a spectacular film that blends terror to innocence or a really mismatched film. Unfortunately, Qayumi's film is not only mismatched, but a complete mess, all over the place despite some good intentions. Many of the incidents do not make much sense. He introduces new characters at any point and then removes them (Arian's wife for example) and his messages on life (example the boy's honesty) send mix messages.
The worst thing of all in the film is that it is never clear exactly the reason Arian is to be executed in the morning. The only hint is that the enemy suspects him of sending messages to the resistance by his kites, but then why offer him pardon at the end of the film instead of execution.
There is a very odd point in the first half of the film when Arian as a boy attends school. He tells his father a bold faced lie that he obtained a diploma where he had failed his schooling. He is happy and dandy with no guilt. His father praises the boy and later tells the boy that honesty is all that counts. This mix message causes the boy to confess the truth but the father unfortunately dies before the confession during some insurgence. The point here Qayumi wants to bring across is indeed puzzling, unless he wishes to satirize the point, which even makes less sense given the film's context.
The one plus of the film is the assembled archival footage detailing the King, Zahir Shah's attempts to modernize the country, including mandating public education for children. This is a fact, I am many do not know. But whatever happened to the king's good intentions? The film also touches on woman's right issues, but again the line is blurred. Women are not allowed to fly kites, so Arian allows the doughtier to fly kites when there is no moon and darkness so no one finds out. This is hardly a point made for the good of female rights.
The film incorporates some animation that appear at various points throughout the film for no apparent reason. As a result the animation appears out of place and totally unnecessary. It also tends to become a distraction of the events that are taking place.
Instead of a political tale, Qayumi's film ends up trivializing the events to the story of a man in love of the flying of kites. For a film that has a running time of 90 minutes, BLACK KITE seems to be flying on forever.
Trailer: https://www.youtube.com/watch?v=A8odaf9TqC8
FIRST REFORMED (USA 2017) ***
Directed by Paul Schrader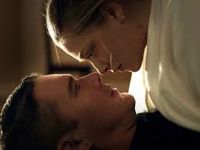 FIRST REFORMED is the name of an old church built in 1767 that is still standing in the film of the same name. The film's subject is Reverend Toller (Ethan Hawke), a good-hearted God-fearing man but one who questions his faith after the death of his son, that also resulted in his marriage break-up. Toller is lonely. Toller is also ill with a cancerous tumour.
The film is directed by Paul Schrader, known for his serious films. His best movies include BLUE COLLAR, CAT PEOPLE and AFFLICTION, the latter film winning James Coburn the Best Supporting Actor Oscar. FIRST REFORMED shares a bit of the scarce but biting humour in AFFLICTION, in the form of Cedric the Entertainer playing the supporting role of Pastor Jeffers. But Schrader is dead set on the subject at hand - the relevance of religion in today's world. Jeffers offers advice to Toller in a sit-down session in his office: "You are always in the garden. Jesus was never always in the garden. He was sometimes at the market place or on the mountain. He was never in the garden on his knees spitting blood." This is the film's laugh-out loud yet serious segment. Unlike the recent film DISOBEDIENCE with an Orthodox Jews setting, this film is respectful of its religious setting.
The story unfolds from the appearance of Mary (Amanda Seyfried). She wants the reverend to speak to her husband, Michael (Philip Ettinger) who wants to destroy the child that Mary is now bearing. This is when Toller reveals (to the husband and the audience) that he is a man with baggage himself. His family have all been in the military. By tradition, his son follows by enlisting, against the wishes of his mother. The son is killed 6 months later in Iraq. Toller's wife and him are now separated with Toller now serving in the church. In mid-film, a tragedy occurs that Toller blames himself for, wondering what he could have done different.
Toller keeps a journal, writing by hand his thoughts and deeds every 24 hours. The words serve two purposes. Besides recounting the events that have occurred stressing the importance of each, they also reflect the intimate thoughts of the writer, how he feels as he goes on, not only with the events but the daily routines. Toller intends the diary be destroyed after a year of writing, done as an experiment, which makes the exercise all the more curious.
The Reverend Toller (age 46) is revealed to be a meticulous man from the very first scene. He insists on fixing the leaking faucet in the men's toilet on his own, without having to spend unnecessary money. He can be an angry man an a timid one intimidated by those above him.
Toller is a character waiting to explode, just as the Coburn character exploded in Schrader's best film since AFFLICTION. Hawke delivers a dead serious performance, one of the best of his career. These are just two reasons making FIRST REFORMED a worthwhile film to watch.
Trailer: https://www.youtube.com/watch?v=hCF5Y8dQpR4
GRACE JONES: BLOODLIGHT AND BAMI (UK/Ireland 2017) ***
Directed by Sophie Fiennes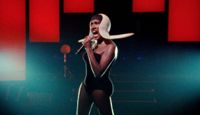 Directed by Sophie Fiennes (sister of Ralph and Joseph Fiennes) who made THE PERVERT'S GUIDE TO IDEOLOGY, this doc on Grace Jones is not the typical biographical doc.
The doc shares Fiennes' sense of humour, evident in the aforesaid mentioned film about ideology seen from the point of view of Slovene philosopher and psychoanalyst Slavoj Žižek. In the case of GRACE JONES: BLOODLIGHT AND BAMI, the doc follows the model, actress and drama queen as she travels to world, particularly to her home country of Jamaica where the audience sees her at home with family. In short, the doc plays like a Grace Jones reality show.
Many first heard of Grace Jones in the role of bad woman MAY DAY in the James Bond flick A VIEW TO A KILL with 007 Bond Roger Moore. Of all the Bond secondary villains, only two have survived the test of time - Jaws and May Day. From then on, Jones has become larger than life, wild, scary and androgynous. She is now a pop culture icon at the ripe age of almost 70, but still blessed with the good looks of a woman under 40.
Director Fiennes reveals Jones also as a lover, daughter, mother, sister, and even grandmother. Filmed over the course of a decade, Grace Jones has become an electrifying journey through the performance, private and public worlds of the Jamaican-born singer.
Fiennes intersperses the doc with various spritely musical numbers that lifts her film to ecstatic nights as Grace know how to captivate her audience. Her performances are colourful from the lighting of the shows to her elaborate costumes that include the most outrageous hats.
The film running quite long at almost 2 hours, could have been trimmed. The best thing about this doc is watching these performances including the song numbers "Slave to the Rhythm" and "Hurricane". Still, what is missing that should be included is a clip of Jones fighting James Bond in A VIEW TO A KILL. (I had to Youtube the film trailer to catch a glimpse of Jones when writing this review.)
Jones is also shown as a tough cookie. She only performs when paid in advance. Once she refuses to perform around surrounding females (in Paris) as she claims she looks like a Madame in a female brothel. She wants the female dancers replaced by males. Jones can also speak English with a French accent (she does speak French too) and also with a British and Jamaican accent.
The prize segment of the doc is Grace chatting with her grandmother. Her grandmother is beyond shy, with her breasts (despite her age) being the best in show. Her words to Grace are all hilarious.
The film premiered last year at the Toronto International Film Festival with Grace present as one knows this woman just loves the spotlight.
Trailer: https://www.youtube.com/watch?v=Vyo55F44bU4
HOOKED (USA 2017) **
Directed by Max Emerson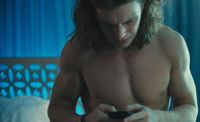 In the United States, 40% of homeless youth identify as LGBTQ. (In Toronto, the estimate is anywhere from 20 to 40 percent.)
Max Emerson's crowd funded film HOOKED as in Hookers) aim at two goals. The first is to make a relevant film on the subject and the second to reach out to people for funds to help the LGBT homeless.
His film has the subject of an 18-year old hustler called Jack. Jack and his boyfriend Tom are an item, close and very much in love with each other. Otherwise, Jack is impulsive and explosive with few redeeming qualities.
A married man, Matt who has not come out of the closet takes Jack from NYC to Miami with the intention of helping him. The trouble with this well intentioned but terrible film is that it is laden with cliches such as Matt's unforgiving wife to his unfunny priest offering ridiculous advice.
At worst, Emerson's film is preachy to the point of annoying with the the story leading to a predictable climax when the film ends asking unashamedly for donations. Every male in the film appears to have hard and beautiful bodies, a fact so terribly false, in the real world.
Trailer: https://www.youtube.com/watch?v=mfLodk5fH7w
LET THE SUNSHINE IN (Un beau soleil intérieur)(France 2017) ***
Directed by Claire Denis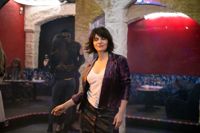 LET THE SUNSHINE IN has been touted by critics as Claire Denis in lighter form. From the film's opening scene with Juliette Binoche having sex with an older man taking too long to reach orgasm, lighter form might still be very serious to the average moviegoer. Denis' films as the director herself, is not always say to take, the director recently giving her interviewer for THE GUARDIAN a hard time at all the questions asked, but her films are often more rewarding and a challenge than the typical Hollywood kitsch. LET THE SUNSHINE IN is not a comedy but a drama. It follows its heroine, Isabelle (Juliette Binoche), a middle aged divorced painter living in Paris, as she looks for love.
Isabelle's love encounters each last a few months or so. The first is the banker (Xavier Beauvois), next, a good-looking actor (Nicolas Duvauchelle), then, a fellow artist (Alex Descas) and lastly her ex (Laurent Grevill). The film can be divided into 4 separate segments bound by one theme followed by a conclusion.
For each of the segments and lovers, Isabelle exhibits the same personality - that of a head strong, intelligent woman wanting to find true love and a relationship but just meeting the wrong men. The common trait is her frustration often leading to anger when she is unable to get what she wants. She ends up ditching the lover and moving on to the next one. It is interesting to note that she always starts off on a wrong footing. The first one, she tries is a married man, another she picks up at a club, and another one her ex, whom she had, had before.
Denis allows her audience to see what is wrong with each man and emphasizes their faults. The banker is seen to be the worst, abusing a waiter at the bar where they have a drink. "Put the water there," he insists to the waiter. "I need hot water." He also has the gall to tell Isabelle that his wife is extraordinary but she only charming. It takes great pleasure later to see Isabelle tell him off and slam the door in his face.
The film has a unexpected ending in the form of a segment involving Isabelle and a fortune teller played by no less than Gerard Depardieu. Depardieu delivers a speech on Isabelle's love lives even going down to specifics on whether a particular lover might or might not work out. This ending looks like a cop-out with a too all written out conclusion dished out to the audience, which goes against the flow of the rest of the film.
Denis' film is a very intriguing watch as Denis makes very emotional wrenching films often dealing with characters unable to get out of the rut their themselves have gotten themselves in as in CHOCOLAT, her first and one of there best films. LET THE SUNSHINE IN is aided by an extraordinary and charming performance by her star Juliette Binoche.
Trailer: https://www.youtube.com/watch?v=ps_Sau7xqQY