10
Jun
2018
Details

Category: Movie Reviews
Written by Gilbert Seah
The sleeper supernatural horror film HEREDITARY opens this week. This film comes with mu highest recommendations, one of the top 10 this year and Best Horror Film this year.
BEST FILMS PLAYING:
Best Animation:
ISLE OF DOGS
Best Action:
SOLO: A STAR WARS STORY
Best Documentary:
The Quest of Alain Ducasse
Best Foreign:
C'EST LA VIE (LE SENS de la FETE)
Best Horror:
HEREDITARY
Best Drama:
YOU WERE NEVER REALLY HERE
FILM REVIEWS:
HEREDITARY (USA 2018) ***** Top 10
Directed by Ari Aster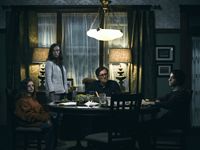 It is not the story that counts but how the story is told.
HEREDITARY is a psychological supernatural horror film, the best horror film this year, that has a simple, straight forward premise but unfolds brilliantly in all departments. As the saying goes: "The devil is in the details," and this adage is evident in every moment and detail found in the film. One scene has lead character Annie (Toni Colette) find a note after she spills blue paint on the table. She is seen carrying the note the next scene with the note noticeable with a spot of blue at the edge of it.
The film opens with a shot of a doll house with miniature furniture and figures inside. The camera closes in to one of the rooms, quite untidy, with a figure under the covers in the bed. By a hardly noticeable scene change, the room transforms to a real one, as a father, Steve Graham (Gabriel Bryne) enters it. The miniature furniture and rooms matter as this is the work of the mother, Annie who has the project of miniature art for a gallery. There are little objects in the miniature house that provide curious interest to those who notice.
When Ellen, the matriarch of the Graham family, passes away, her daughter's family begins to unravel cryptic and increasingly terrifying secrets about their ancestry. "My mother was a very private person. She wasn't always there, especially at the end." Annie says of her mother at the eulogy. The more they discover, the more they find themselves trying to outrun the sinister fate they seem to have inherited.
Toni Collette delivers an Oscar winning performance. She has been cast in a lot of nuanced roles lately (MADAME and BIRTHMARKED) but this one shows her true worth. Though chances are low that one would win an Oscar for a horror flick, one would never know. Her pleadings: "Please, please, please," to her husband are genuinely the most desperate as anything I have ever seen. The other great performance comes from Alex Wolff, who plays Peter, the son. Wolff was unforgettable in MY FRIEND DAHMER where he played the best friend of the serial killer Jeffrey Dahmer.
Aster's HEREDITARY is surprisingly compelling from start to finish. Though running at 127 minutes, there is not a dull moment. Aster also devotes almost equal time to each member of the family, allowing to audience to feel both the anguish and desperation of each member.
Aster's humour is so sly that it often passes by without notice. The best example is the choice of the ending song played during the closing credits: Joni Mitchell's "Both Sides Now", right after the film's horror climax. Humour is also provided by the character of the over cheerful, Joan (Ann Dowd), a support group member who introduces Annie to the supernatural.
It is also neat the way the film manipulates the audience in wanting to believe that the supernatural exists. When Joan introduces Annie to her first seance, the audience wants the spirit to appear. When Annie insists that her dead daughter's spirit can be conjured up, the audience wants it to happen. The sense of audience anticipation is brilliantly created, keeping the audience full attention to the proceedings. Another example is Annie's eulogy at the funeral service of her mother, describing her mother but again priming the audience of the horrors to come.
HEREDITARY premiered at Sundance in the Midnight Section. It is the best horror film so far this year, a big surprise, reminiscent of the surprise horror hit, GET OUT last year. And the film has been getting rave reviews from almost everywhere it has played.
Trailer: https://www.youtube.com/watch?v=01NfsDcyEFU&feature=youtu.be
HOTEL ARTEMIS (USA 2018) **
Directed by Drew Pearce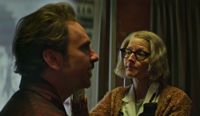 There is a segment in both the JOHN WICK action movies where Keanu Reeves who plays an assassin takes refuge in a special European Hotel. One has to be a member of this hotel to enter, of which certain rules must absolutely be followed. There must be no killings. Everyone must respect each other. In HOTEL ARTEMIS, Jodie Foster plays the head nurse, Jean Thomas of the hotel. The only thing is that HOTEL ARTEMIS is not really a hotel but a hospital run by Thomas where the secret members-only can convalesce if they are shot, wounded or need medical attention. But when a cop is admitted all hell breaks lose and FREE FIRE occurs. HOTEL ARTEMIS plays like a cross between FREE FIRE and the JOHN WICK hotel segments. But the film does not work and interest wanes quickly.
The film tries hard to distinguish itself as being original. For one, it is set in the end future of a war-torn Los Angeles. The film begins with a rather violent bank heist, as seen from the robbers points of view. Some are killed and some are wounded. Two African Americans survive but one is wounded and has to be brought to the HOTEL ARTEMIS for hospital care, no questions asked. It is there where the audience is introduced to the no-nonsense head nurse who will not let anyone through the high security gates. She has a really nasty looking security guy, Everest (Dave Baustista), built like the mountain itself.
HOTEL ARTEMIS does to really work because the script and story have nowhere to go. No one really cares about any of the riff-raffs that enter hospital, who survives or who dies. The humour is off, neither black, neither camp, neither satirical and neither funny. Action segments are well executed, lifting the film a little, though this can hardly be classified as a true action film.
This is Jodie Foster's first film after a long absence. She does well, though looking her age. The cast includes other minor actors including Jeff Goldblum, Zachary Pinto and Sofia Boiutella.
HOTEL ARTEMIS lastly suffers from a slip shod ending, which is expected given that the film's whole story never leads anywhere. Do not book your stay at HOTEL ARTEMIS.
Trailer: https://www.youtube.com/watch?v=JqfuKsoEEms
OCEAN'S 8 (USA 2018) ***1/2
Directed by Gary Ross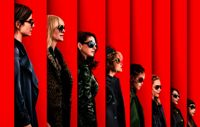 OCEAN'S 8 (original title OCEAN'S EIGHT) has almost nothing in common with the other OCEAN movies. There is no casino, no rat pack and no Steven Soderbergh directing, though Soderbergh has producer credit. Matt Damon of the OCEAN films makes a quiet cameo while the atmosphere of the crime caper is kept intact. As most are aware of by now, OCEAN'S EIGHT is a female spin-off of the rat pack OCEAN films. The female rat pack rob the prize jewels during the annual Mets benefit gala dinner.
The film opens with Debbie Ocean (Oscar Winner Sandra Bullock) released from jail when she promises to live the simple life. Yea, right. She has no intention whatsoever to alter her life of crime. Inspired by her brother, Danny Ocean, Debbie attempts to pull off the heist of the century at New York City's star-studded annual Met Gala. Her first step is to assemble the perfect crew (which the film introduces one by one): Amita (Mindy Kaling), an Indian jewel expert, Tammy, (Sarah Paulson), a now housewife, previously Debbie' crime partner, best friend, Lou (Oscar Winner Cate Blanchett), Asian thief, Constance (Awkwafina), Tech savvy genius, Nine Ball, (Rihanna) and Rose (Helena Bonham Carter). Bell will wardrobe mega-star Daphne Kluger (Anne Hathaway) who will be wearing $150 million worth Cartier necklace that they will steal together with other assorted jewellery at the Met Museum. More fun is entered into the proceedings with insurance investigator, John Frazier (late night show host James Corden) behaving like an efficient but sarcastic Sherlock Holmes.
The actors appear to be having a really good time particularly Carter, Hathaway and Corden and their enthusiasm rubs off well on the audience.
In these times of female equality, it is good to see a solid well-made female crime caper. What is immediately notable is that there are no fights, firepower, pyrotechnics or car chases. It is a tough task to keep audience attention from waning and suspense sustained. The script co-written by Olivia Milch and Ross (director of SEABISCUIT, PLEASANTVILLE, THE HUNGER GAMES and writer of BRUBAKER, BIG) and direction by Ross achieve the rare feat. The film runs over two hours and the only time I glanced at my watch was tat the 2-hour mark.
Those who are in the know of the haute couture industry (sorry - you are not, if you do not know who Anna Wintour or André Leon Talley are) will enjoy this film more for the appearances of cameos, the familiarity of fashion events and a few fashion inside jokes. The filmmakers have assembled a stunning cast of cameos, like Matt Damon, Carl Reiner and Elliot Gould as well as a whole lot playing themselves such as Anna Wintour, Zayn Malik, Katie Holmes, Maria Sharapova, Serena Williams, Kim Kardashian, Adriana Lima, Kylie Jenner, Alexander Wang, Kendall Jenner, Olivia Munn, Zac Posen, Hailey Baldwin, Derek Blasberg and `Lauren Santo Domingo.
Don't expect any life lessons or messages as the film does the reverse, promoting theft and embezzlement as well as promoting the satisfaction from exacting a revenge. But the film, provides classy, sophisticated entertainment in place silly fodder like BLOCKERS, LIFE OF THE PARTY and I FEEL PRETTY that have fart and shit (though there are puke) jokes.
Female version of Hollywood blockbusters have done critically like the recent female GHOSTBUSTERS. OCEAN'S 8 cost a hefty $70 million. The former film was the most successful comedy at the box-office of that year but only made a tiny profit due to its huge cost. OCEAN'S 8 might be in the same boat.
Trailer: https://www.youtube.com/watch?v=MFWF9dU5Zc0
PRODIGALS (Canada 2018) ***
Directed by Michelle Ouellet
Written by: Nicholas Carella
As Canadian as it gets, a big city dreamer, Wesley (David Alpay from THE VAMPIRE DIARIES) returns home to the small Ontarian town of Sault-Saint Marie from Toronto to testify for an old friend on trial for murder. The script by Sean Minogue and Nicholas Carell based on the stage 2011 play by Minogue ups the angst by making it clear that Wesley is not a lawyer that everyone in the town thinks he is. The old friend on trial is quite the asshole.
In Sault-Saint Marie, Wesley struggles between an urge to reignite his relationship with his ex-girlfriend, Jen (Sara Canning) and his friends' expectations for him to save the trial. Despite Wesley's good intentions, he often comes across as quite the jerk.
Jen initially treats him with disdain, blaming him for leaving him behind. But, as stories like this goes, they rekindle the times they have had with a good old fashioned roll in the hay. But Jen (fortunately) has learnt her lesson and would not dream of letting Wesley get the upper hand again. complications also arise as she is also going steady with another man, commonly known as Nips.
Director Ouellet captures the atmosphere of small town, Ontario complete with run down strip malls, dodgy pubs and moody skies. It is winter or at least close to it as snow and ice can be observed on the ground. The town is claustrophobic and there is no where to escape from the old friends Wesley has. The story is told from Wesley's point of view. It is a film about twenty-somethings,
PRODIGALS contains a simple story of a man still trying to grow up and gain respect of his friends. There is not much where the story can go. Given the story's limitations, Oulleet keeps his film always on track, trying to keep the audience's attention. It helps too that the lead actor Alpay, good looking and charismatic despite his character's faults. Caning and Alpay show off good chemistry as a couple.
The film contains a lot of confrontation scenes which reminds the audience that the film is based on a play. But Ouellet, at least, puts these confrontation scenes in different settings.
As dramatic adapted plays go, PRODIGALS is a film where drama, acting and atmosphere are most important with crowd pleasing entertainment kept within limit. PRODIGALS ends up a successful realistic youth drama with real small town issues that sometimes cannot be solved. Such is life!
Trailer: https://icff.ca/movie-2018-il-colore-nascosto-delle-cose/
THE QUEST OF ALAIN DUCASSE (La quête d'Alain Ducasse)(France 2017) ***
Directed by Gilles de Maistre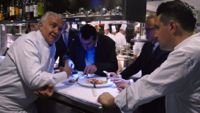 The Quest of Alain Ducasse is an absorbing documentary about the most renowned
chef and culinary mentor in the world. With 23 restaurants across the globe and 18 Michelin stars, Ducasse continues to create restaurants, to build schools, and to push the boundaries of his
profession with his boundless curiosity. His quest is the perfect gastronomic restaurant in the Palace of Versailles, creating a modern vision of what the kings would have devised three centuries ago.
The film follows Ducasse on a journey of 2 years as the audience follows him around the world visiting his restaurants in Tokyo, the United States, Athens, China, the Philippines and elsewhere. In the shadow is the opening of a new restaurant in Versailles with a menu 'fit for kings'.
Despite the chef's success, fame and wealth, Ducasse remains a humble man. When asked about the ambition of being the 'King of Gastronomy' he replies that all he wants is to satisfy and leave memories of a good meal. His idea of a good time is simple - to be alone in a garden with a vegetable. To him being with a carrot or a courgette is to observe nature's perfection. He is an advocate for sustainable foods, with as little meat or sugar or dairy cream in his desserts. He believes in change, working with a team to share and to come back to the same place. Ducasse is shown as a wise man, not only excelling in gastronomy but in words and actions. The film never shows him angry and hardly dissatisfied. Ducasse is always journeying to observe, his aim to taste something he has never tasted before.
The doc is largely narrated by the director himself, who gives a good perspective on what is going on, on the screen.
There are lots to enjoy in this eye-opening documentary. The one and foremost is the large assortment of foods on display. Besides looking delicious, the food looks decorative and imaginative. There are also lots to learn bout Ducasse the man and those inspired by him. My personal best food scene is the sturgeon caviar segment. It is explained that the best caviar in the world is from China waters, with cultivation techniques imported from Iran. The audience gets to witness a 10-year old bred sturgeon sliced open for its roe and how the caviar is eventually cooked in a oracular cylinder and brought to the dining table, in all its perfection. Another superb segment has Ducasse having a meal with past-President Hollande as they plan the meal for the Climate Change Summit in Paris. Hollande has his say in the film too.
The film contains a few contradictions. Besides stressing Ducasse's humility, there is a scene where he proudly walks across a garden in the Philippines with the locals carrying an umbrella for him to protect him from getting wet. For sustainable food,s the harvesting of roe and destroying the sturgeon after looks like excessive decadence.
The Quest of the film's title is the Master chef's is the opening of his new restaurant. This is where the film leads. It is clearly not a biography of Ducasse. Nothing is shown or revealed of his family or background except that he has a wife and 4 daughters, one of whom is shown on the screen as the father visits her on a farm she is in charged of.
The film culminates with the opening of the Versailles restaurant.
Trailer: https://www.youtube.com/watch?v=ax0KtQzn4dc