The week of Canadian new films. Three of them debut this week - THE UNSEEN, NORTH MOUNTAIN and DARKEN.
BEST FILMS PLAYING:
Best Animation:
The Incredibles 2.
Best Crime:
American Animals
Best Documentary:
The Quest of Alain Ducasse
Best Foreign:
C'EST LA VIE (LE SENS de la FETE)
Best Horror:
Herditary
Best Drama:
YOU WERE NEVER REALLY HERE
FILM REVIEWS:
DARKEN (Canada 2018) **
Directed by Audrey Cummings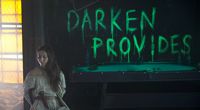 The words at the beginning of tho new Telefilm Canada horror film DARKEN tells the audience: DARKEN is the resting sanctuary for all souls - whatever that means. Darken is set in a bizarre, mysterious, and violent unknown world supposedly set with danger and death around every corner.
Mother Darken appears to be the God in some alternative universe or different dimension. Her high priestess, Clarity (Christine Horne) and oddball looking and acting assistant, Martin (Ari Millen) accuse a member of their religious sect of betrayal. When the betrayer admits her guilt, she is stabbed and pushed out a door out of this universe.
A nurse, Eve (Bea Santos) helps the wounded girl, but ends up entering DARKEN through a one-way door.
Eve finds a violent prison-like world of labyrinthine rooms, interconnected with no apparent rhyme or reason and no way of escape. If all this sounds weird and unbelievable - it is! As she fights for survival within this brutal place, she finds allies who are rebelling against the rule of a self-appointed religious despot who demands allegiance to the all-powerful god called "Mother Darken." Eve and the exiles, as they are called must fight with everything they have if they are to have any hope of surviving the horrors Darken has in store for them. The exiles are told that they have to keep moving. But apparently, they are moving nowhere - and getting to nowhere fast. And again when one exile is wounded, Eve (humorously) says:" We need to move her now."
The film plays like a children's playground game adults that have forgotten to grow up indulge (in). The fight scenes are executed for more gore and violence that excitement. Lots of pain are inflicted on the wounded.
Olunike Adeliyi playing an exile, Kali deserves an acting award for the most over-acting performance in a movie this year. She demonstrates how to act with her eyeballs, nose, lips and grimaces. The dialogue is terribly silly: "Mother (Darken) is terribly upset!" "Whenever I turn my back, they always disobey me." "Mother is so angry with us." - being a few examples. The character Clarity is exceptionally good at giving orders and doing nothing. The exiles use lighters that they somehow have, to light their way in the darkness though none of them smoke.
Prior to the film's theatrical release, the producers Shaftesbury had released an 11-part digital prequel series, Darken: Before the Dark on YouTube, taking audiences deep inside the fantastic otherworld of DARKEN. The audience is presented here with multiple points of entry on a range of platforms to build a world around the film. With DARKEN, audiences can watch the digital series, connect and discuss on social, immerse themselves via the VR experience, see the film on the big screen, or pre-order it to re-watch at home
DARKEN went on to win Best Science Fiction Feature at Buffalo Dreams Fantastic Film Festival, Best Fantasy Feature at Motor City Nightmares International Film Festival, and won four awards at Blood In The Snow Festival including Best Director and Best Cinematography. Whatever all these awards mean, DARKEN is not a very good horror film - overacted, overdone, unbelievable story - a textbook case of maximum effort and minimum results. But DARKEN is recommended for its unintentional humour!
Trailer: https://www.youtube.com/watch?v=Itt-itaQZi0
MARLINA: THE MURDERER IN FOUR ACTS
('Marlina si Pembunuh Dalam Empat Babak')
(Indonesia/Malaysia/Thailand/France 2017) ****
Directed by Mouly Surya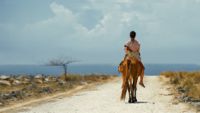 It is rare that a film from Malaysia or Indonesia, less an art film at that, receives commercial release in North America. But MARLINA: THE MURDERER IN FOUR ACTS which premiered here at the Toronto International Film Festival is a special film that comes highly recommended.
The film plays like an Indonesian western. It opens with a sparse landscape of dried brown vegetation to an Ennio Moricone-like soundtrack. In the distance, is a figure of a man on a motorcycle (instead of one on a horse). Director Surya is fond of distant shots with her characters slowly moving into her frames. Her frames are beautifully crafted, many of which could make perfect paintings.
Marlina (Marsha Timothy), recently widowed is unable to pay her husband's funeral services. A troupe of ugly and unforgiving men use this excuse to take her livestock and have their way with her.
"What do you want?" Marlina first asks them. "I want your money, your livestock and if we have time, we will sleep with you All seven." But they are not prepared for the fury of this woman, in this revenge fantasy where women are warriors and will take no shit. The film is surpassingly relevant in these times of female abuse.
Marlina poisons them with a soto ayam (local chicken soup dish) dinner and beheads Markus, the head of the gang, as she is riding him.
Marlina the Murderer in Four Acts (Marlina si Pembunuh dalam Empat Babak) is divided into 4 roughly equal parts titled The Robbery, The Journey, The Confession and The Birth.
The confession is the most intriguing of the 4 acts where Marlin confesses her crime to a policeman at the station who nonchalantly records the facts as if they mean nothing. He is obviously goes by the book, having being doing the same job for too long. The last act is the most shocking and violent, bringing the film to an exciting climax.
Though the film is a slow moving and artsy, it is no less engaging a piece of storytelling that will grab one from start to end. Humour is deadpan and always present as Marlina takes a bus with the head of Markus to make a report at the nearest police station. She meets a pregnant neighbour, Novi who also has man trouble. Her husband Umbu believes her late delivery is due to the fact that she has cheated on him. The humour is mainly local, on the practices and beliefs of Marlina's encounters.
Surya's film is also intriguing from the observation of the unfamiliar Indonesian country culture. I never knew horses were common in Indonesia, but I recognize much of the local dialect as I have relatives living in Indonesia, though in Jakarta.
Marsha Timothy is nothing short of amazing in her portrayal of a women of fury who will not put up with any nonsense. The soundtrack is impressive and includes the song "Lazuardi", composed and performed by Jakarta indie rock band Efek Rumah Kaca.
A stylish but violent film proving Surya as a fantastic storyteller. The film is set on an island in East Indonesia shot in the language of Malay.
Trailer: https://www.youtube.com/watch?v=Ikgy2Xukwng
NORTH MOUNTAIN (Canada 2015) ***
Directed by Bretten Hanna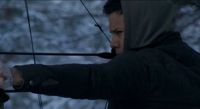 Made in 2015, NORTH MOUNTAIN is an almost full indigenous film from its direction, actors, setting, story and script.
NORTH MOUNTAIN is the film's setting as well as the area where the film's protagonist a 30-something Mi'kmaw hunter first discovers the wounded body of a man that changes his life, also providing him some coming-of-age maturity for good measure.
Wolf (Justin Rain)is a young Mi'kmaw hunter, spends his days hunting and trapping on the isolated North Mountain. His simple routine is disturbed when he discovers Crane (Glen Gould), a wounded ex-con on the run from the law. Wolf brings him to his home, where he lives with his grandmother, Nan, nurses Crane back to health, and an intimate bond forms between them. Some excitement is introduced with the arrival of a dirty cop from Crane's past sets into motion a series of dark events that tests their relationship and changes their lives forever. There is a huge bag of money. Crane tries his best to remain incognito to prevent the family helping him from getting into trouble with the killers hunting him down.
It is a good story (that could be se anywhere) made even more intriguing with an indigenous setting. A few snags in the plot involve how easily the bad guys keep finding Crane. Best these overlooked as many Hollywood thrillers contain plot holes. Director Hanna is also unafraid to include some violence (finger breaking) and gore to add a bit of flavour to his thriller. The film is initially vague about Wolf's family though everything comes clear towards the middle of the film.
"It would not be Christian if I did not look after her." the film has minimal dialogue and each one indicates more than one bit of information. The line for example, tells of the shopkeeper's religion, her kind and caring nature and her relationship to the person mentioned in the sentence.
A good blend of drama, emotions with some suspense and thrills, NORTH MOUNTAIN is a well made indigenous film that should both appeal and entertain mass audiences. Wolf uses his native hunting skills yo get better of the villains who hunt down him and Wolf for the large amount of money stolen from them. How Crane got the money is never dealt in detail.
North Mountain is the directorial feature debut from Bretten Hannam, a Nova Scotia filmmaker, himself of Mi'kma, Ojibweorigin while having a bit of Scottish ancestry. He is a Fellow of the Praxis Centre for Screenwriters, Outfest Screenwriting Lab, as well as an alumnus of the Canadian Film Centre's Screenwriting Lab. After a wildly successful festival run and racking up multiple awards, including the Screen Nova Scotia Award for Best Feature Film, North Mountain gets a week-long engagement at The Carlton Cinema, beginning on June 29.
Shot in Mi'kmaw and English with some subtitles.
Trailer: https://www.youtube.com/watch?v=uQyhnIHEzx4&feature=youtu.be
SICARIO: DAY OF THE SOLDADO (USA 2018) ***
Directed by Stefano Sollima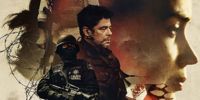 Italian director Stefano Sollima takes over the director duties from Denis Villeneuve in the SICARIO sequel, both films written by Taylor Sheridan. The director's imprint makes a difference with the sequel, a solid one at that playing more like a no-nonsense action suspensor. In case one is wondering, the film translating to English would read: Hitman: Day of the Soldier.
The film's trailer shows the film's key scenes where the task and thus the subject of the film is at hand. It is an operative that has no rules, and one that is as dirty as it gets.
The film is as current as it gets with Trump wanting to build a wall between the border of the the U.S. and Mexico. The setting is the U.S. Mexican border where illegal aliens are crossing the river to get into the States. The drug cartels are, according to the film, smuggling terrorists across the U.S. border. When the film opens, a terrorist attack has just occurred with innocent Americans killed. The Americans want revenge and hire CIA agent Matt Graver (Josh Brolin) from the first movie to start a drug war. so that these drug lords will destroy each other. Graver hires undercover operative Alejandro Gillick (Oscar Winner Benicio Del Toro) to kidnap Isabela Reyes (Isabela Moner), the daughter of a drug lord, in a false flag operation designed to incite war between rival cartels. The mission goes awry when it is discovered by the Mexican government, prompting Graver to order Reyes' execution. When Gillick refuses, he turns rogue to protect her as Graver assembles a new team to hunt them both.
One of the film's extended segments shows Isabela in school having a schoolyard fight with another girl who she punches in the face. At the principal's office, she challenges the principal to expel her. Her toughness is clear but after her kidnapping, all she does is scream and get scared. It is puzzling the reason Isabel is shown to be tough unless it is to show the trauma she is going through while being kidnapped. The film also omits any scene with her father, Carlos Reyes.
The script by Sheridan opens the film up for many subplots. One is the young Mexican who is an expert on the area around the border, and who is hired to guide the illegal aliens across the border. His character is smart, merciless and yet vulnerable with a family he cares for.
Benicio Del Toro and Josh Brolin make the movie. They play hard-ass characters who are violent, determined and efficient sicario (hit-men) in what they do. Christine Keener does well as Graver's boss who is just as brutal in the execution of her duties. The screen lights up when these characters come head to head in confrontation.
If this SICARIO makes money, the ending prepares the audience for yet another sequel. There are plenty of potential and opportunities for more action packed stories. If Brolin, Del Toron and Keener are in for another SICARIO, that would indeed be a good thing.
Trailer: https://www.youtube.com/watch?v=Pymm6cmE9uQ
THE UNSEEN (Canada 2016) ***1/2
Directed by Geoff Redknap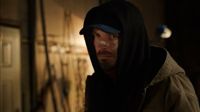 THE INVISIBLE MAN would be an alternative title to the occasionally inventive thriller called THE UNSEEN. It smartly encompasses several genres like sci-fi/horror, (yes, even) gay parenting, thriller, family drama, daughter/father relationship and crime noir and succeeds in each.
THE UNSEEN begins as a family drama. A separated husband and wife who obviously still care for each other but do not wish to make a go again for obvious reasons have a problem daughter, Eva (Julia Sarah Stone) who is living with her mother.
As the film opens, the daughter, Eva is about to take a trip with her friend, against the wishes of the mother, Darlene ( Camille Sullivan). It is revealed that Darlene is a lesbian mother, raising Eva with her female partner. The audience takes it to be the reason the father, Bob (Aden Young) and Darlene are apart. It is good to see current films like THE UNSEEN accept gay relationships as a given, quite unlike films of the past decades.
Writer/director Geoff Redkap shifts the story's point of view among the father, mother and daughter, quickly but effective;y, resulting in a film that makes the audience more connected to the characters. THE UNSEEN begins with the mother's, then the father's then occasionally the daughter's points of view on the incidents of the story though the film stays eventually settles on Bob's, though all three are just as valid and interesting.
Bob Langmore is a former hockey player, now a struggling mill worker who years earlier mysteriously abandoned his family and isolated himself in a small northern town. He returns for one last chance, after losing his job in the oil drilling company (one assumes from the surroundings and work description) to reconnect with his troubled daughter Eva (Julia Sarah Stone) but must partner with Crisby (Ben Cotton) a strung-out animal trafficker, to finance the trip. When he discovers Eva is missing, Bob risks everything to find her including exposing the secret that he is becoming invisible.
Director Redknap is fond of ambiguity. The northern town where the film is set is not named though clues are left as to where it might be located. A brief shot of a road sign at one pout in the film lists the town of Kelowna, south of the Canadian province of British Columbia. The history of mental illness in the family also leaves the audience guessing as to which side of the family it comes from or whether it has to do with the invisibility.
The invisibility occurs in stages with the victim suffering in pain. The film's last third turns into action thriller mode with the film ending in a built-up climax.
Redknap creates a good compelling character out of Bob. Bob is an asshole at times in the film, threatening kids or the cops. But he is an asshole the audience will root for. So, when he gains his invisibility powers, the film soars to a new high.
THE UNSEEN is a solid Canadian horror piece. It appears initially to be the run of the mill at the beginning, but giving the film a chance proves Redknap's mettle as a writer and director.
Trailer: https://www.youtube.com/watch?v=r51Lz5aH8Ks
WESTWOOD: PUNK, ICON, DESIGNER, ACTIVIST (UK 2018) ***
Directed by Lorna Tuckers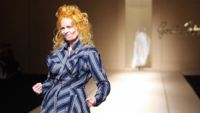 The Westwood mentioned here is Dame Vivienne Westwood, fashion's notorious rebel. Westwood defined the British Fashion scene for 40 years and she is responsible for creating many of the most distinctive looks of our time. Her partner at the time was Sex Pistols' manager Malcolm McLaren.
The film begins with Westwood speaking freely to the camera. Director Tuckers knows her subject's quaint personality and instead of asking questions with her answering lets her do the talking. "I do not like to answer questions," she confesses to the camera. "Terribly boring." But Tuckers does ask her tot all about the Sex Pistols, which she grumbles about, 'but that makes uninteresting talk." By letting Westwood talk, Tuckers intersperses her words with archive footage and images that are obtained on the subject. The film surprisingly, flows very smoothly as if all the images and words matching identically. Amidst all this, the audience learns of the origin of her design, together with watching many of her originals, many weird yet fascinating. It is more is insightful to watch a documentary about a subject when the subject is still alive and able to speak about herself and her work to the camera. Vivienne's son and her manager, Carlo (both of whom do not get along) also have their say in the film. Pamela Anderson, Christina Hendricks and Kate Moss make welcome cameo interviewees.
Despite the fact that Westwood is a worldwide known celebrity designer, Tuckers brings her down to earth by devoting a fair amount of screen time to her personal and business problems. Her breakup with then husband Malcolm, her relationship with Andreas from Austria as well as her business problems make her a more vulnerable person.
The second half of the doc reveals Westwood as an activist for the environment. She works with Greenpeace and is concerned about the end of humanity that comes with a dying planet.
There film blends archival footage, beautifully crafted reconstruction, and insightful interviews with Vivienne's fascinating network of collaborators.
Director Lorna Tuckers herself spent her 20's working behind the camera and jumping on tour buses with bands creating tour videos and music promos. She understands the problems that come with success. The film emphasizes Westwood's reluctance of expanding her brad too fast.
And what is Westwood the person like? She is shown to be bossy, fond of uttering foul language like the frequent use of the 'f' word and also not afraid to come down on her employees. On a more personal level, she is shown to be a caring mother and one who would not take any nonsense from her at times, jealous husband, Malcolm.
Tuckers's film moves along at a good pace,and her documentary makes as compelling a watch as her subject Dame Vivienne Westwood is compelling.
WESTWOOD the documentary comes to Toronto June 29 for a one week engagement at the Hot Docs Ted Rogers Cinema.