BOUNDARIES featuring Christopher Plummer as a drug dealer is the best film opening this week.
BEST FILMS PLAYING:
Best Animation:
The Incredibles 2
Best Crime:
American Animals
Best Documentary:
The Quest of Alain Ducasse
Best Foreign:
Les Gardennes (Playing in the U.S.)
Best Horror:
Herditary
Best Drama:
BOUNDARIES
FILM REVIEWS:
22 CHASER (Canada 2017) ***1/2
Directed by Rafal Sokolowki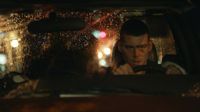 Driving a tow truck is not one of the most sought of vocations. These drivers do not have good reputations either. When an accident occurs, they act like parasites, rushing to get your business in towing your vehicle. There are always either too many of them out there when you do not need them or not there when you do need them.
It takes guts to make a film about a truck driver. And writer Jeremy Boxen and director Rafal Sokolowski have guts in taking the project of a truck driver and making it work.
The film begins with familiarization of the audience with tow truck lingo. The two important terms are bylaws and chasers. The protagonist is Ben (Brian J.Smith) who at the beginning of the film is called a by-law, as this driver is only allowed to tow vehicles that break the city's bylaws. Desperate to make ends meet he purchases equipment in order to become a chaser. The instant something is heard on the police radio about an accident, chasers race to the scene of the crime or accident to get a tow. The last time a film was made about chasers was NIGHTCRAWLER with Jake Gyllenhaal playing a reporter racing to any crime scene to shoot a video to sell to the highest TV newsreel bidder.
But Ben is a decent human being. He is willing to do the right thing. When a cyclist is hit, he calls 9-1-1 and agrees to stay to make a police statement, that results in him waiting and not taking other tow calls. Ben also loves his wife and young son.
The film benefits from some great performances, including Smith's taking the lead. Raoul Max Trujillo takes the prize for best supporting performance as a fellow driver. Aiden Sharp is equally excellent as a money laundering cop, Ray, the kind of villain audiences loves to hate. Kaniehtiio Horn also proves her acting mettle, especially in the confrontational scene as Avery, Ben's long-suffering wife. "What is wrong with us?" Her cries about what has gone wrong with their family should bring tears to many an audience's eyes.
So, Ben becomes one of the city's last decent tow truck drivers risking everything on a desperate quest to become king of the road and provide for his struggling family.
For those familiar with Toronto, there is additional pleasure in recognizing the familiar roads where the car chases take place.
Throughout the film, the question playing in everyone's mind is how the story and drama will etch out. To reveal it in this review would be a definite spoiler. But the film's ending should satisfy everyone.
22 CHASER is a solid crime drama that Torontonians will be proud of.
Trailer: https://www.youtube.com/watch?v=-g0Jd1cHrbQ&feature=youtu.be
ALWAYS AT THE CARLYLE (USA 2018) ***
Directed by Matthew Miele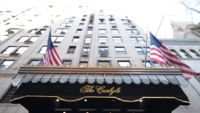 Documentaries are made for varying reasons. They could be for education, to inform the world of some little known subject, to celebrate a famous person, to whistle blow or to honour a person in a biography. ALWAYS AT THE CARLYLE, the new documentary written and directed by Matthew Miele celebrates a famous hotel - the famous hotel called the Carlyle.
The iconic Carlyle hotel has been an international destination for a particular jet-set as well as a favourite haunt of the most discernible New Yorkers. This documentary celebrates glamour - the glamour of the hotel (the cost of a suite could go for as high as $22,000) and the glamour of the guests that have stayed there. The list of guests includes stars Woody Allen, Wes Anderson, Anthony Bourdain, Naomi Campbell, George Clooney, Sofia Coppola, Alan Cumming and Jon Hamm as well as Presidents and dignitaries like John F. Kennedy and Ted Roosevelt.
The Carlyle Hotel enjoys the reputation popularized by recent movies like the JOHN WICK films and HOTEL ARTEMIS with Jodie Foster. In these films, a hotel would service any client no matter what background with everyone treated fairly and equally despite any shadiness. At the Carlyle, the management declined to tap the rooms of any suspicious clientele as all hotel guests are treated with respect. The example given is the request by the government agency to tap the Iraqi delegation that stayed there during the Gulf War. No was the answer.
Whatever happens at the Carlyle stays at the Carlyle. That is the saying and understand of both the staff and guests of the plush expensive hotel. Even the names of the celebrities are not disclosed by the staff.
Director Mile has assembled a varied cast of interviewees to shed light on the hotel. Besides the stars mentioned, the hotel staff, many of whom have spent their entire lives working there. These include Kim of Room Service, Ernesto the doorman, Helal the waiter and several of management from sales to decor designer.
The film reveals the uniqueness of the Carlyle, in the words of both sides, the clientele and staff. The art decor, the personal friendliness, the class, the care taken and style are a few of the factors. The staff also speak of their favourite encounters. George Clooney (who also speaks to the camera in an interview) and John F. Kennedy top the list of the staff's favourite guests.
What is a hotel without some wicked scandal? The hotel staff is asked about Marilyn Monroe and Kennedy and about many young and super gorgeous twenty-somethings that enter the hotel doors. Fortunately, the staff is discreet.
The film's highlights are the performances that take place at the hotel's cafe. A seat is reputed to cost at least $150 with a minimum of a $75 order. One of the most popular performers is Bobby Short who is shown performing in a brief clip. His performance and the hotel are also featured in Woody Allen's film HANNAH AND HER SISTERS. Woody Allen is also featured playing the clarinet in the cafe.
ALWAYS AT THE CARLYLE is entertaining fluff. The film celebrates celebrities.
Trailer: https://www.youtube.com/watch?v=chbAw9uNV8U
BOUNDARIES (USA/Canada 2017) ***1/2
Directed by Shana Feste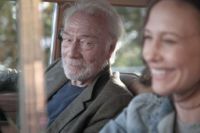 BOUNDARIES is a film about breaking boundaries, not creating or keeping them. When the film starts, Laura (Vera Farmiga) talks to her therapist about the boundary she had created with her estranged father, Jack (Christopher Plummer). Jack has telephoned but Laura has refused to pick up. But she eventually makes contact with him.
BOUNDARIES is a feature by writer/director Shana Feste who has made 5 or so features including THE GREATEST and COUNTRY SONG. BOUNDARIES caters to the commercial moviegoer, hitting all the right buttons at the correct times For the more critical filmgoer, critics included, all that transpires might be all too much. BOUNDARIES has so far received very mixed reviews. Hate it or love it!
Laura (Farmiga) is a single mother who lives with her son Henry (Lewis MacDougall) and a slew of stray animals she's rescued. When Henry is expelled from school for drawing the principal nude and her estranged father Jack (Plummer) is booted from his senior home, Laura makes a deal. She agrees to drive Jack from Seattle to LA, where her sister (Kristen Schaal)
has reluctantly agreed to take him in. In return, Jack promises to pay for Henry to attend a private school, where his creativity can be nourished.
Expect lots of theatrics that will involve lots of tears and laughter.
So, Laura, Jack, Henry and a few of the furry strays head off, with Jack insisting they stop along the way to visit a Buddhist camp, a couple of old pals (Christopher Lloyd et al.) and even Laura's feckless ex-husband (Bobby Cannavale). Little does Laura know that Jack is selling weed from the $200,000 stash in his trunk, having a last bit of fun before the drug becomes legal. Still oozing charisma at age 85, Jack has also cajoled Henry into helping him.
Despite its predictable Hollywood happy ending, Feste takes her audience for a ride with some good dialogue and good performances from her actors.
Christopher Plummer is quite hilarious.
Vera Farmiga is also quite hilarious
Teen actor Lewis MacDougall not only hilarious but dramatic, emotional and winning,
Of the supporting cast. Peter Fonda does what is expected as the film deals with weed. But it is Bobby Cannavale steals the show as Laura's ex, a real a-hole. The films most dramatic and powerful scene involves him and Farminga, who also proves her acting mettle.
Feste's script could be improved on the way it manipulates audiences. But to her credit this manipulative script contains choice lines like:
"I'm so fucked up, I can't even tell my therapist how fucked up I am."
"I'm desperate. Don't tell me things are going to get better."
"My family is awful, But they cannot help it."
The film can also be described as an edgy family road movie. The film includes an appropriate road movie soundtrack, pleasant to listen to especially on the road.
Director Feste admits that the film is an unabashedly autobiographical portrait of her own charming grifter dad, who was in and out of her life during her early childhood and then
moved in with her when he became ill. Her father (who recently passed away) has a cameo in the film as the construction guy who cops weed from Jack.
Trailer: https://www.youtube.com/watch?v=xf6qk93WHf0
FIREWORKS (Uchiage hanabi, shita kara miru ka? Yoko kara miru ka?) (Japan 2017) **
Directed by Akiyuki Shinbo and Nobuyuki Takeuchi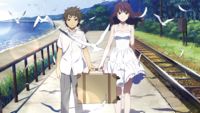 FIREWORKS is the hit Japanese animation feature featuring teen boys doing what they do best during their free time - chasing girls and making pranks. Despite this theme, FIREWORKS turns out to be an extremely boring exercise from the very start. Be it the unfamiliar Japanese culture but that should not be a sufficient reason.
It is based on the 1993 Japanese live-action television play of the same name, also released in cinemas in 1995, by Shunji Iwai.
The lengthy title can roughly be translated to 'Fireworks, Should We See It from the Side or the Bottom?' as teen wonder as they travel to an island for the purpose of watching fireworks.
To directors Akiyuki Shinbo and Nobuyuki Takeuchi's credit, FIREWORKS has a solid look that can pass for a Hayao Miyazaki movie. The typical Miyazaki movie regularly contains a plot that includes the element of teen true love, and part of this theme is present.
The story is set in the town of Moshimo. The vents take place from the point of view of teen Norimichi Shimada. Norimichi and his friends, Yusuke, Miura, and Junichi live while harassing their teacher and the former half galvanising over the beauty of their classmate Nazuna Oikawa, who is poised to move to a new town with her family. Nazuna, on the day she is supposed to leave, picks up a small strange-looking glass marble she finds by the sea. After school, she encounters Norimichi and Yusuke who happen to be on pool-cleaning duty. Challenging them to a swimming race, she proposes the winner has to follow whatever she says. Yusuke wins and she asks him to go together to the festival to see the fireworks.
Both Norimichi and Yusuke have the hots for Nazuna but it is the former that prevails. He uses the marble to alter time in order to eve Nazuna. And so the story goes.
The story/film can be described as a teen coming of age drama with magic though it leans more towards the whimsical than the dramatics.
The film is to be commended for its lively coloured animation with haunting music by Satoru Kōsaki
The supernatural slant is provided in the shape of the glass marble that when thrown turns back time. Unfortunately, the audience is forced one again to view a few of the boring scenes. The glass marble is thrown a couple of times. It is all about the glass marble. Nothing is mentioned of where it came from or how in got its powers.
Why would, this film, many may wonder earn a commercial release? For one, Bell Lightbox gives foreign films a chance - a good thing and also the fact that though the film received mixed to positive reviews from critics, many have praised the film for its music and animation. The film has so far grossed $26 million worldwide, becoming the sixth highest-grossing anime film of 2017 and the highest-grossing Shaft (the film company that made FIREWORKS) film.
Trailer: https://www.youtube.com/watch?v=KG770hOuT2k
LEAVE NO TRACE (USA 2018) ***
Directed by Debra Granik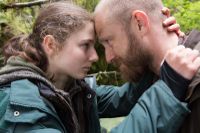 LEAVE NO TRACE is another strong female character drawn adventure drama after her successful WINTER'S BONE. Written and directed by her and based on the book My Abandonment by Peter Rock, the film premiered at the 2018 Sundance Film Festival.[2][3] Bleecker Street will release the film in the United States on June 29, 2018.[4]
The summarized plot tells the story of a father and his thirteen-year-old daughter . Will (Ben Foster) is an ex-military who has lost his faith in humanity for reasons not disclosed. When the film opens, he and daughter Tom (Thomasin McKEnzie) live in an isolated existence in a vastly urban park in Portland, Oregon, (the film was shot in Eagle Fern Park in Clackamas County) when a small mistake derails their lives forever. They are taken in by social services.
The film contains several embedded messages. The first and foremost is the question on homeschooling. Will and Tom live an isolated existence at the film's start, living in conditions unacceptable by normal Americans. Tom sleeps in close proximity with her dad. Though this is a no-no, nothing sexual occurs. To is home schooled. When interrogated about this, The interrogator admits that Tom is advanced in her schooling though cautioned that she lacks the social aspect of education. But director Granik eventually pushes Tom towards normal life which she has not experienced. Tom loves the social and interactive aspect as they are slowly integrated into society. Until Will escapes with Tom back to square one. When an Will has an injury, Tom is forced to choose between the two lifestyles.
LEAVE NO TRACE is Granik's gentler more accessible film. There is much kindness depicted in this movie than in WINTER'S BONE. The truck driver and other strangers that encounter Will and Tom are always more than eager to help them.
Both actors Ben Foster (THE PUNISHER, X-MEN) and Thomasin McKenzie deliver believable an human performances, worthy of any audience's sympathy.
As far as anticipation goes, one keeps wondering where everything is leading to and how everything will end. One can predict some friction between father and daughter when she makes her stand on independence. "The same thing that is wrong with you is not wrong with me," is the all important line Tom confronts Bill with. And the reply; "I know." The film moves on a different tangent when the father is an understanding and caring one.
The film contains a few originally performed songs with original music by Dickon Hinchliffe. The cinematography of the vegetation and fauna of the national parks is effectively captured by Michael McDonough.
LEAVE NO TRACE is that rare film that proves that confrontation in a story need not always be resolved by shouting, screaming and cheap theatrics. Here, the confrontation is resolved with reason and understanding. And the film succeeds as a quiet yet effective drama of human inadequacies that sort themselves out.