Hotel Transylvania 3: Summer Vacation opens this week. A number of documentaries on singer celebrities, THE KING and WHITNEY make their debut. The Canadian feature THE DEATH (AND LIFE) OF CARL NARRDLINGER is a little gem that needs checking out.
BEST FILMS PLAYING:
Best Animation:
Hotel Transylvania 3: Summer Vacation
Best Crime:
American Animals
Best Documentary:
The Quest of Alain Ducasse
Best Foreign:
Les Gardennes (Playing in the U.S.)
Best Horror:
Hereditary
Best Drama:
BOUNDARIES
FILM REVIEWS:
THE DEATH (AND LIFE) OF CARL NAARDLINGER (Canada 2016) ***1/2
Directed by Katherine Schleemer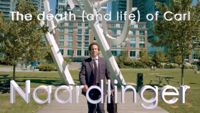 THE DEATH (AND LIFE) OF CARL NARRDLINGER is one of those quirky little films about quirky little characters that succeeds in a quirky sort of way. Consistent, meticulous and occasionally insightful, this was the kind of Canadian film that shot directors like Atom Egoyan and Ingrid Veninger to fame.
Carl Naardlinger (Matt Baram) has spent most of his life answering questions - on the telephone. When your computer does not work - he is the IT consultant you call. Patient, intelligent and kind he is a voice in the interconnected ether - touching the lives of thousands of people he will never see, or meet. The film opens with Carl Naardlinger in action, doing what he does best on the telephone, though the caller goes on and on (comically) about her life rather tan seeking the solution from him.
The next scene is set in the Naardlinger home where Carl celebrates his birthday with his wife, Pam (Grace Lynn Kung). Pam is a real estate agent, over meticulous over her work and also in maintaining the perfect relationship with her husband. They eat healthy, speed walk daily and tell each other everything that happens daily. Well, almost. After Carl blows out the candle on his cake, they are interrupted by a knock on the door by missing persons person, Detective Renton (Anand Rajaram). A man with the same name as his has gone missing and is presumed dead. Carl instinctively feels related to the stranger that bears his own name. Pam, his wife, is unnerved by a shocking coincidence of her own, when their annoying neighbour dies after she wishes it. It seems the Universe is playing a cruel joke on them both. Things get stranger when instead of finding the missing Carl Naardlinger, Carl finds his identical twin brother Don (Mark Forward) who happens to be in town for a conference.
If all these events sound implausible, director Schleemer resolves the puzzle neatly at the end. But her film is not to be enjoyed for the puzzle but by the odd behaviour of each character in her story. Two other characters, a couple Paula (Beatriz Yuste) and Larry (Ryan F. Hughes) a non so perfect couple, acquaintances of the missing Carl come into the picture. The one common trait among all of Schleemer's characters is neediness.
Of all the actors creating all these oddballs, Grace Lynn Kung is terrific as the perfectionist Pam. Kung won the Best Actress ACTRA Award for her role in this film.
The film is shot around Toronto in the city area and in the ravines where there still are lots of green. The script make good use of Toronto and its surroundings with familiar names (to Torontonians) of areas and streets mentioned in the film.
Given the unknown names in the cast, the odd plot and the small budget, the film might not attract big enough a crowd to give this film the credit it deserves.
Trailer: https://www.youtube.com/watch?v=rrWZPADPm3I&feature=youtu.be
GAUGUIN (France 2017) ***
Directed by Édouard Deluc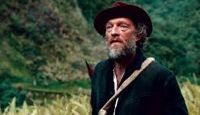 For those unfamiliar, GAUGUIN is a famous talented French painter of the 19th century. But Paul GAUGUIN (Vincent Cassel) was a dissatisfied painter tired of the so-called civilized world and its political, moral and artistic conventions. So he leaves his wife and children to travel to Tahiti, Polynesia on the other side of the world with little money.
For those not well versed in Geography, Tahiti is right in the middle of the Pacific Ocean, plunked right in the middle of lots and lots of water, far away from nowhere. It is a beautiful place with white sandy beaches (check your Google map) but the country is large enough to nurse a huge jungle. The cinematography is never too shy to show the beauty of the island. There are lots of gorgeous landscapes on display with shots of green, rivers, mountains an beaches. Indeed, it would be a worthwhile place to visit for a naturalistic vacation. Tahiti is where Gauguin is headed, consumed with a yearning for original purity, and ready to sacrifice everything for his quest.
Those who criticize me know nothing of an artist's nature. These are the words of Gauguin s he rides his horse into the jungle with barely enough provisions for a few days. Impoverished with diabetes, and solitary, Gauguin pushes deep into the Tahitian jungle, where he meets the Maoris and Tehura, his muse, who will inspire his most iconic works of art. Tehura becomes Gauguin's wife. In real life, Tehura was only 13, which means that Gauguin would be stamped a pedophile in today's standards.
The film traces the two years of Gauguin's life in Tahiti, which is inspired by Noa Noa (meaning Fragrance) , the travel diary Gauguin wrote after his first trip to Tahiti in 1893.
Deluc's biography is even in its pacing with no high points with a few dramatized events - the only one or two involving Gauguin's painting like the difficulty of finding a canvas and the confrontation with his wife Tehura on hi suspicion of her being unfaithful. Still this charged scene is conducted with restraint. Deluc trivializes Gauguin's sickness. Gauguin is never shown really sick only perhaps a bit of coughing and grumbling about his energy. But in real life, he did live till he ripe age of 54.
Vincent Cassel inhabits the role of Gauguin, delivering a steering performance showing the artist at his ugliest, unkempt, often sick and tired. Cassel used to be a hunk and heartthrob in his younger days with his stunning good-looks and great body as in films like BROTHERHOOD OF THE WOLF and READ MY LIPS. His age is showing in recent films like MESRINE and GAUGUIN but he continually to do outstanding work, staring out as one of France's greatest and most under-rated actors. His chiseled body is still observable many a film's scene where he has his top off.
GAUGUIN is a no-nonsense biography, told straight forward from start to finish, but praising the artist for more than his worth as a human being. Nothing is also mentioned with his relationship with his wife and kids when he returned to France.
Trailer: https://www.youtube.com/watch?v=3HiCzb2gWo0
HOTEL TRANSYLVANIA 3; SUMMER VACATION (USA 2018) ***
Directed by Genndy Tartakovsky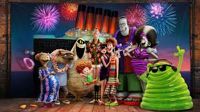 According to Cineplex Magazine, writer/director Genndy Tartakovsky finally agreed to do the second sequel when his in-laws invited him and his family on a cruise ship to celebrate New Year's Eve. This was when Tartakovsky realized that being confined to one location with ones family's is fertile ground for the drama and disaster needed for this third outing.
The first two H.T. films were only so-so, so one wonders the reason Tartakovsky was so reluctant to do a third film. To his credit, this one is the funniest of the lot, likely because Tartakovsky has gained more experience as an animated comedic director. There are not that many jokes that involve the monsters in the confined space of a cruise ship, likely because the ship is large enough for the monsters to get lost.
Unlike most animated films (DESPICABLE ME, ZOOTOPIA) in which the plot involves something really substantial like saving the world, the lazy story involves the monsters escaping extinction as they are pursued throughout the ages by the Van Helsing family who believe that all monsters are bad and must be eradicated from the face of the earth. This is introduced at the film's start, which is actually the film's most hilarious bit, where the monsters are in disguise trying to pass on as humans on a train when Van Helsing suddenly appears. A chase on the top of the running train ensues with the monster all getting away with Van Helsing as the only casualty.
Dracula (Adam Sandler) agrees to go on a cruise ship with his daughter Mavis (Selena Gomez) and his troupe of monsters that includes Frankenstein (Kevin James), the werewolf (Steve Buschemi) and the invisible man (David Spade). He goes on a date and falls in love with the ship's captain, Erika (Kathryn Hahn) who not only happens to be a woman but Van Helsing's daughter and has it in her blood to destroy Dracula and his pals.
With Adam Sandler leading the voice cast, one can expect the jokes to be silly. And the jokes come as silly as they get, which fortunately are quite hilarious. One complaint is that they happen a bit too fast, so that a lot will be missed if one is not paying full attention. The lazy plot allows for a lot of improvised jokes with the monsters reacting largely to each other. The voice cast is impressive, and includes the likes of Kathryn Hahn, David Spade, Wanda Sykes and even Mel Brooks. It is hard to know who is voicing which character even with Sandler voicing Dracula, as Sandler does his characterization with an East European accent.
Even a child will know that Dracula will survive once again from the clutches of Van Helsing or his daughter. Director Tartakovsky manages to sneak in a nice message or two within the proceedings.
The idea of an animated feature containing all the known movie monsters is a good one, thus spurning three in the franchise and with more, more likely to come.
Trailer: https://www.youtube.com/watch?v=d5exSS74Lh0
THE KING (USA 2018) ***
Directed by Eugene Melecki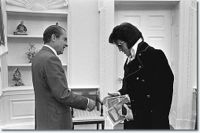 It is about time a documentary surfaced on Elvis Priestly - aka The King.
Why is Elvis nicknamed The King? In Kevin Smith's DOGMA, Satan claimed that he does not believe in fighting in God's army and was therefore banished from God's Kingdom. A character goes to say, Elvis served in the army and that is why he is The King! But the most appropriate reason would be that Elvis is the King of Rock and Roll.
"How does it feel to be right up there on top?" is a question asked at the start of the movie. As much as Elvis represents the American Dream - (anyone can be what he wants if one works for it), the film accurately reveals the truth that it should be peace, love and the pursuit of happiness that one poor black woman in the film confesses.
But THE KING the movie is not so much a biography of Elvis but a history of Elvis tied to America and its politics. Writer/director Melecki devotes a fair amount of scene time to the debate of Elvis' appropriation of black music. One black interviewed says that he stole black music and never did anything for the black man. But another says that music should not be segregated. There are two sides to each story.
As Elvis was such a famous star, there exists much archive footage available for Melecki to choose. Included are clips from his many films.
A good impressive cast of stars that include Ethan Hawke have their say. Hawke speaks with authority about Elvis as if he knew the king personally. Other interviewees include Elvis' best teen friend but one wonders the reason Melecki includes the folks that used to stay in the original house where Elvis grew up. These people did not even know that it was Elvis' house they lived in. Melecki also includes himself in the doc as he is driven around asking questions.
It is hilarious how all documentaries include clips of President Donald Trump and very unflattering ones at that. THE KING is no exception with Trump displayed at his lower common denominator. The film contains a neat look at America from Canadian Mike Myers' perspective. Melecki puts American down at many points in his documentary.
Director Melecki's last third of the film covers the reason why American is not great again. Despite what Trump had said: Make America great again!" America can only be great if it cares again. Melecki also contrasts Elvis loyalty to the country and military to Mohammed Ali's refusal to join the army. "Going to jail is better than killing innocent Chinese and Vietnamese," says Ali in the film. Then there is the Alec Baldwin bit degrading Trump again. It is an excellent debate. The only problem is the film going completely off-track with the downside of America, though Melecki ties it to Elvis at the end.
The film ends sadly with the death of THE KING, sadly at the young age of 42. THE KING is as much a story of the downfall of Elvis as it is of America.
Trailer: https://www.youtube.com/watch?v=csXtdjsqYLM
LUK'LUK'I (Canada 2017) **
Directed by Wayne Wapeemukwa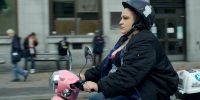 Wayne Wapeemukwa's first feature and it feels like one, sees five characters in a dodgy area in Vancouver. One is a middle-aged prostitute, Angel (Angel Bell). She does not have a heart of gold but has instead a beautiful offspring and a dog. Then there is the transgendered roller bladder who ends up insulting too many people. A father with cancer tries to reconcile with his son while his buddy hallucinates on flying saucers. The most interesting is the paraplegic, who is revealed to be gay as he fantasizes with a man he meets at a bar bingo game. All the 5 stories are intercut with a few musical interludes (Angel taking a shower to a dance tune in slow motion). The film, with its edgy feel, is just fairly interesting. It is no doubt the weirdest Canadian film seen this year. Director Wapeemukwa makes no attempt to link the stories together, which is what most directors of films with multiple stories do.
Trailer: https://www.youtube.com/watch?v=jV1734KZvIA
MARY SHELLEY (Luxembourg/Ireland/UK 2017) **
Directed by Haifaa al-Mansour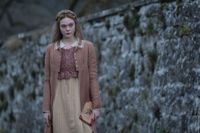 "There is something at work in my soul, which I do not understand," so says Mary Shelley at the beginning of the film. We take it that the filmmakers plan to shed some light on the topic of Mary Shelley's troubled soul, which inevitably resulted in one of the most famous horror novels of all time - "Frankenstein".
MARY SHELLY is a biographical drama of the famous author who wrote the book "Frankenstein" by the age of 18. At the film's start, the audience sees the younger Mary (Elle Fanning) reading and scribbling. She has trouble at home, particularly in the relationship with her step-mother and sent to live with relatives in Scotland where she meets her suitor Percy Bysshe Shelley (Douglas Booth).
However, 15 minutes into film after Mary meets Percy, director Haifaa al-Mansour decides to concentrate her film on Mary Shelley's first love and her romantic relationship with him (full name Percy Bysshe Shelley). The story turns out to be less a biography of the author than a period love story. Worse still, al-Mansour's decision to have her film punctuated with Percy's poetry distracts the fact that the film is about Mary and not about him or his writings.
The trouble with all this is that director al-Mansour is unable to sway the audience unto Mary's side. There is hint of the need for female independence in these times, which is emphasized at the end when she has trouble getting her novel published. When told by her father (Stephen Dillan) that if she goes with Percy, she would lose the love of her father forever," one is immediately not on her side, for Mary seems young, impetuous and impertinent. When Percy finally flirts with the younger Claire (Bel Powley) , things become clear that Percy is not the man Mary had thought him to be. It is too late as Mary is pregnant with his child.
Elle Fanning is convincing as the independent young lady who falls into hard times, due to her own fault. Douglas Booth is terribly annoying as the handsome rogue, Percy - but I suppose the character of Percy is supposed to be annoying. Tom Sturridge goes over the top in his portrayal of the even more detestable Lord Byron.
The scene of Mary comforting Claire in the woods under rain and thunder shows the director at her worst, going for cheap theatrics.
Al-Mansour's film is beautifully created and shot in terms of period atmosphere both in the interiors to the dimly lit cobblestone street and vast green Scottish landscape exteriors. MARY SHELLEY is Saudi Arabian director Haifaa al-Mansour's second feature after she became film society's darling with her debut feature WADJDA. WADJA was the first film made by a female director from Saudi Arabia and the first film from Saudi Arabia o be screened at Cannes.
` But MARY SHELLEY ends up a story without a strong direction with inspiration behind Mary for her books only hinted at. One assumes it is due to her hardships - such as the haunting of her mother's death, her distressful love affair and loss of her in infant child. In the end, the audience is still left in the dark as to the understanding of what was really at work in the soul of Mary Shelly.
Trailer: https://www.youtube.com/watch?v=T-WGaZaojFc
SKYSCRAPER (USA 2018) **
Directed by Rawson Marshall Thurber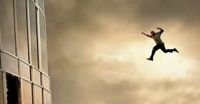 Silliness is the order of the day! Universal Studios has given a $125 million budget to writer/director Rawson Marshall Thurber who has been responsible for small films like DODGEBALL, WE'RE THE MILLERS and CENTRAL INTELLIGENCE, the latter also starring "The Rock" Dwayne Johnson. The Rock has had two recent hits JUMANGI and RAMPAGE. Is The Rock impervious to failure? The ultra-silly SKYSCRAPER will put The Rock who plays a one-legged hero, jumper of buildings to the test.
The film begins with FBI agent Will Sawyer (Dwayne Johnson) attempting to save a a man who is willing to kill himself and his son, but ends up with him losing his leg.
Will is now a former FBI agent and amputee. Will lives in the tallest and "safest" skyscraper in Hong Kong with his family. The skyscraper itself, known as "The Pearl," houses several floors that function as their own society, and despite the risks highlighted by Sawyer, who is the building's head of security, his bosses insist that it is impenetrable. True to Sawyer's belief, the building comes under attack by terrorists, forcing Sawyer to take action. Matters are complicated further when he finds himself framed for the attack, and his family trapped above the resulting fire line.
Among the silliness:
Will hangs from buildings using duct tape.
Will uses his metal leg many times to save the day
Will is able to climb umpteen floors with that leg of his.
Thurber's written dialogue is just as silly. At the end when all is over, Will's wife Sarah tells him "You need a shower." "I do" is his reply". What a great family," Inspector Wu retorts. As the film involves Will also saving his two kids, "Daddy, daddy," are two words that can be heard repeatedly during the film.
The film is noticeable short of one-liners as Will is more often that not hanging for his life from the skyscraper.
SKYSCRAPER steals shamefully from many other films like TOWERING INFERNO, THE FAST AND THE FURIOUS and most notably, the James Bond film with the mirrors climax, THE MAN WITH THE GOLDEN GUN. The film expectedly contains lots of CGI and pyrotechnics,
The cast includes lots of Asians, obviously to cater to the Chinese market. Will Trump slap a tariff on SKYSCRAPER? Singaporean Chin Han plays the skyscraper's builder, Taiwanese Hannah Quinlivan plays a sexy Chinese fighter (what is it with her hair?) and Hong Kong's Byron Mann plays Inspector Wu. The main villain is played by Dane Roland Møller, a terrorist. Noah Taylor first seen as a child actor in THE YEAR MY VOICE BROKE makes a cameo as a baddie.
Will's wife, Sarah (Neve Campbell) is not the usual dame in distress, screaming housewife. Here, she not only speaks Chinese but can fight her way through any number of villains. The children are the useless screaming ones that need saving.
The script calls for Will to fight both the fire and the terrorist resulting in a divided film which cannot decide which direction to go. The fire is then as easily put out as the villain dispatched (not revealed how in the review).
SKYSCRAPER is still watchable for the less demanding moviegoer as there is always something happening (silly or not) in very scene. At the time of writing, of 91% google users liked the film. As long as one is comfortable at the one legged jumper, able to leap buildings!
Trailer: https://www.youtube.com/watch?v=t9QePUT-Yt8
SORRY TO BOTHER YOU (USA 2018) ***
Directed by Boots Riley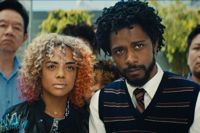 SORRY TO BOTHER YOU are the words one often hears on the telephone when called by an annoying telemarketer. Cassius Green (Lakeith Stanfield) has just landed the job as one after an interview where he is discovered for bringing in fake trophies and prizes. He is told that one only needs to read and come to work with a smiling face to get a job. But one has to stick to the script (STTS), the most important motto and one that is pinned everywhere in notices around the office cubicles.
The film is set in an alternate present-day version of Oakland, where Cassius is having a rough life—living in his uncle's garage with his girlfriend, Detroit (Tessa Thompson) and struggling to find a job. Strapped for cash and desperate, he lands a position as a telemarketer, but has difficulty getting people to listen to him—until he discovers a magical key (introduced to him by a fellow telemarketer played by Danny Glover) to customers' attention: using his "white voice". David Cross does Cassius' white voice. Cash quickly rises to the top of the telemarketing hierarchy, but risks losing sight of his morals as he achieves greater and greater success.
Things get crazier when Squeeze (Steven Yeun) organizes a strike. But Cassius is singled out to become a power seller. He gets to meet the big guy, Steve Lift (Armie Hammer) and begins working in a stranger environment when the film becomes weirder and weirder as a satire. Nods are given to the George Orwell's "Animal Farm" where Boxer the horse is a hard, tireless worker but eventually turned into glue when unable to work any longer.
SORRY TO BOTHER YOU is a complex satire that obviously had a lot of work put into it. When Cassius gets to work in his cubicle reading his script to a customer in a home, Cassius literally drops into the homes and catches them in odd positions including making love.
The film contains no real insightful message of things that people do not already know. Besides having really impressive sets and art direction, and really hard effort put, the film is a mixed mess. One has to complement the superb coordination of work by the set and art director and writer/director Boots Riley. Riley follows the company's motto of sticking to his script though diverting into surrealism as much as opportunities arise. One thing to be learnt from this effort is that there need be some order in the creation of a satire on disorder.
For all that has been described this overlong feeling film running at 105 minutes feels really boring for the first 30 minutes or so, as Riley sets up the stage for his satire. His film then kicks into action and pretty crazy action at that.
Though Riley's SORRY TO BOTHER YOU might be a textbook example of maximum effort and minimum results, one cannot help but give the man (who is supposed to be an activist, musician and artist) credit for trying. It is this trying and effort that gives his film the most pleasure.
Trailer: https://www.youtube.com/watch?v=J_5cO6RU3nw
THREE IDENTICAL STRANGERS (USA 2018) ***
Directed by Tim Wardle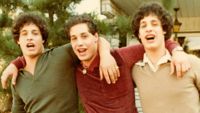 The doc, THREE IDENTICAL STRANGERS opens in the year 1980 when 19-year-olds Robert Shafran and Edward Galland found each other at the same community college and realized they were twins separated at birth. (Two coincidences here.) To each other's surprise, they discover a third. Triplets at birth finding each other is news. The surprise triplets became fast friends and overnight media sensations. When they first found each other, they were wrestling on the floor like puppies. There are clips of the triplets on television shows and in even a movie, DESPERATELY SEEKING SUSAN. Media highlight their similarities like their taste in women, sports, likes and habits. The differences are obviously not mentioned as these are not news-worthy items. It is a well known fact that if something is constantly brought up, people believe it to be the truth. They open a restaurant called 'Triplets'. They make a lot of funny, enjoy each other's company and are very happy. Can the happiness last forever? Every story eventually has a dark side. This story certainly has. This side takes over the film with it becomingly very sinister during its last half.
The dark side involves the discovery at the adoption agency that the triplets (as are other twins) were part of an experiment conducted on human behaviour.
I previewed this doc with my partner as I wanted his input on the subject of twins as he has three good friends who happen to be one of twins. To my surprise, (there seems to be surprises just jumping out with this doc), he informed me that he did not wish to see the second half of the doc as he has already seen it. Apparently, according to him, (I could not find any documentation), the second part of the do with the experiment of separation of twins at birth were already screened on TV as part of a CBC documentary series. This explains the reason the film appearing clearly divided into two parts, each very different with director Wardle never tempting to bridge the two segments or the transition in mood of the two sections at all. The result is a rather disjointed two sections of film, with the audience feeling elated initially and then disgusted at the goings-on.
The film's best part is the insight given by a few of the interviewees. One, a lady who worked at the adoption research centre gives her opinion that it was not considered inappropriate in those days to do experiments of this kind. Psychology was new and in, and it was a cool subject then, not like today.
Wardle appears to wish to please the audience and the manipulation is clear from the film's start. The initial meeting of Robert and Edward when Robert when to college is enacted with all the fake surprise looks of the actors. Wardle has gone so far as the film a vintage Volvo cruising down the street, the same make of vehicle Robert drove years ago.
As they say, a documentary is often as good as its subject. A far as Wardle's documentary goes, what other film could have topped this with a more intriguing subject. THREE IDENTICAL STRANGERS will eventually be praised as a film despite its glaring flaws.
THREE IDENTICAL STRANGERS is intriguing fodder but one wishes that more conclusion would have been presented regarding the experiments.
Trailer: https://www.youtube.com/watch?v=c-OF0OaK3o0
WHITNEY (USA/UK 2018) ***
Directed by Kevin Macdonald
WHITNEY is a household name. Her song "I will always love you" was the all time number one selling record of any female artist. Whitney Houston starred with Kevin Costner in the movie hit THE BODYGUARD. When she drowned in her bath tub from an overdose in 2012, she again made headline news, but not in the best of occasions. Everyone knows who Whitney Houston and bits and pieces of her troubled life but director Kevin Macdonald (he made the Oscar winning Doc ONE DAY IN SEPTEMBER) bares it all in the warts-an-all documentary of one of the world's most famous singers of all time.
Director can do nothing but screen Whitney's performances onscreen (except for maybe her disastrous Danish concert) and still capture the audience's interest. Macdonald realizes the potential of her performances and there are many songs played on the film's soundtrack. Her most famous song, "I will always love you," is heard twice with Whitney performing, once in a rousing rendering in South Africa after Apartheid and the second not so arousing during the Danish concert where fans booed her offstage. Macdonald begins the film with an uplifting note, with Whitney rendering her other famous song "I wanna dance with somebody" with voice over claiming her to be the number 1 pop star. The film goes down from that high point.
Not long into minutes of that song, Macdonald edits into the picture images on America's unrest from riots to bombings to angry demonstrations. One immediately wonders the reason Macdonald is doing this as Whitney's life has nothing much to do with a all these, except that she was living during those times. The same thing can be observed in the recent Elvis documentary THE KING, but in that one Elvis was drafted into the military and he was cited as the American dream. The film then delves into Whitney's childhood, going on to her rise in the music industry with some reference to her church singing.
After the first third of the film's 2 hour running time, Macdonald slowly charts Whitney's downfall. This encompasses her caustic marriage to Bobby Brown, her drug addiction, her child molestation, her fallout with her father, her failure for a comeback and finally her death from an overdose. These are depressing topics and mar the life of a celebrity the world loves. Fans will take offence over this grim look on their favourite idol though it is claimed that this documentary was made with the full cooperation of the Houston family
Macdonald attempts to defend his position during an interview with Whitney's ex-husband Bobby when he refuses to talk about Whitney's drug abuse claiming that this was not the cause of her downfall. Macdonald retorts that she was taking drugs in the last years of life and not to include it in the doc would not paint a true picture of her. True, but Macdonald also includes a long panning shots as the camera moves in and out of the hotel room to the bathtub where she drowned. Again, one wonders the purpose for this gruesome and uncomfortable exercise.
The last documentary made about a similar performer was Asif Kapadia's Academy Award Winning AMY. Macdonald's WHITNEY definitely has his audience feeling sorry for her though more good memories could have been included in his grim documentary. When one loves and remembers Whitney, one wants to remember the good stuff as well as the bad.