The latest Mission Impossible makes its debut. But the best film opening is one that I most highly recommend: ANGELS IN WHITE. A film that demadns to be seen - relevant in these current times where women are abused and have to make their stand in the totall corrupt world of its Chinese setting.
BEST FILMS PLAYING:
Best Animation:
The Incredibles 2
Best Crime:
American Animals
Best Documentary:
Netflix's The Bleeding Edge and McQueen
Best Foreign:
Angels Wear White
Best Horror:
Hereditary
Best Drama:
Don't Worry, He Won't Get Far on Foot
FILM REVIEWS:
ANGELS WEAR WHITE (China 2017) Top 10 *****
Directed by Vivian Qu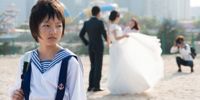 One of the best films I previewed at last year's Toronto International Film Festival, ANGELS WEAR WHITE proves its excellence on second viewing. This is writer/director Vivian Qu at her best, with her tense, relevant and powerful film of young female abuse.
Young women under pressure in a corrupt seaside town. The question Qu's excellent study is whether one can hold on to ones dignity in the midst of such over-powering adversity.
One reason Qu's film works so well is that she is able to get right into the skin of her characters' emotions. This tactic can be observed several times within only the film's first 15 minutes. When Mia (Vicky Chen) is first introduced, the audience sees her observing what appears to be a huge statue of Marylyn Monroe. The camera never reveals the full statue, as if telling the audience that the height of her stays can never be reached. Mia looks up and down as the camera follows her to her work in a seedy seaside motel, where she is watering the plants. What is going on in her head? When she later watches the closed circuit camera on the goings-on in a motel room where two young schoolgirls are accosted for sex, the audience becomes a voyeur while at the same time wishing Mia would intervene. A later argument at the hospital shows a vigorous argument taking place between the father and mother of one for the schoolgirls as she is being tested for her virginity. Qu shoots the argument off screen where the audience can only hear (or read the subtitles) without seeing the actors, thus emphasizing the importance of the words.
Qu also captures the essence of Chinese society and all its corruptness. The first is the higher ups, Commissioner Liu abusing his authority. On a lower level, corruptness is still apparent. Mia records a larger number of towels than actually taken to be washed to the daily laundry pick-up while she gets a kickback. The school system is candidly shown with a school prefect stopping a fight and how students are chastised in the school system. When Mia is questioned by the inspector on the illegal goings-on, she remains silent - typical of the Chinese way of say nothing, get into no trouble. The inspector is also shown accepting a bribe from the hotel owner.
Female director Qu's film has a strong female slant. The main characters are female, most of them mistreated by their male counterparts. When the male motel manager wants the truth out of Mia and the hotel receptionist as to what happened, he hoses them down with water. Women have it bad. "I don't want to be re-born as a woman." That all-important line says to all, when Lily suffers the pain from hymen reconstruction (to show that she is still a virgin).
Qu's film is beautifully shot by Belge cinematographer Benoît Dervaux. There is one crystal clearly shot scene where Mia rides her motorbike in a drizzling rain, with no noticeable drops of water on the camera lens.
The film's most prominent charter that only comes into the story half hour through the film is the female attorney Hao (Shi Ke). This is a well written extremely strong character, brilliantly performed by Shi Ku. Hao must be director Qu's favourite character, judging from the way the camera tracks her movements. Hao's character is smart but most important is the fact that she is trustworthy and caring human being. She gains the trust of school Wen (Zhou Meijun) enabling the investigation to progress. This contrasts the male Inspector's scare tactics.
Qu's film is intriguing, suspenseful, occasionally exciting and emotional in all aspects. The film's main conquest is depicting the travails of women in a society so corrupt all all levels that there is little hope for all. But still there is hope in a few that care like lawyer Hao.
Young women user press ANGELS WEAR WHITE is a real knock-out that demands to be seen.
Trailer: https://www.youtube.com/watch?v=-LrXwXZQ5hY
BELLE DE JOUR (France 1968) ****
Directed by Luis Bunuel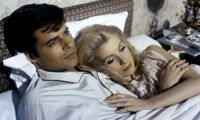 BELLE DE JOUR begins innocently with a open horse carriage moving leisurely in the countryside driven by two horsemen. The camera reveals a couple (Jean Sorel and Catherine Deneuve) seated at the back exchanging love talk. "I love you so much," and the retort, "I love you more." But when he kisses her, he finds her very cold. The carriage is stopped and he drags her to a tree and strings her up to be whipped by the two horsemen. Why this sudden brutality?
It is a disturbing sequence that turns out to be a nightmare as the girl wakes up in bed with her apparent husband.
The film returns to the main life of the couple, Severine and her husband Pierre, a surgeon. It turns out that she is frigid in their sexual relationship though she is turned on sexually by other things. The film hints that the problem could have arisen from sexual abuse when she was a child. Severin is accosted by her husband's friend, Husson (Michel Piccoli) who is described as rich and idle, his two weaknesses. Severine spurns his advances.
Two things make BELLE DE JOUR intriguing. One is the mystery element. Director Bunuel plays on the audience's curiosity, or sexual curiosity, which is even more powerful. Severine learns of a girl Henriette who sells herself as a whore at a nearby house, which eventually prompts her to become the BELLE DE JOUR, a woman of the day as she sells her services during the day instead of the night. The other element is Bunuel's expertise at surrealism. Bunuel famous for his surreal films like L'AGE DOR, THE DISCREET CHARM OF THE BOURGEOISIE and THE PHANTOM OF LIBERTY plays this film where reality seems a fantasy and vice versa. The sexual favours desired by Belle de Jour's clients are not always involving intercourse. One sequence has the client get off with his face being stepped on by his girl. The very idea of a very bored housewife (Deneuve) serving clients every afternoon is in itself quite surreal.
There is much to fascinate besides the film's sexual content. One is the study of the characters, why each behave the way they do. The other is the period piece, set in the past when one assumes sex is more controlled. Which is not the case.
Deneuve looks totally glamorous as her wardrobe was designed by none other than Yves Saint Laurent.
BELLE DE JOUR shot many of its actors to fame, not to mention Catherine Deneuve. Pierre Clementi won recognition as the extremely jealous gangster client, Marcel and went on to work after this film with the world's best directors. He is unforgettable in Bertolucci's THE CONFORMIST. Michel Piccoli again plays the role of another weirdo.
Not to give away any spoilers, the tim has many twists in the story including a happy fantasy-type ending that should please audiences.
BELLE DE JOUR would have likely been seen already by many a cinephile. But it is still interesting a watch a second time around as one-to-one can not be expected to remember everything about the film. BELLE DE JOUR is re-released in a 4K restoration print for a special engagement run beginning this week at the TIFF Bell Lightbox.
Trailer: https://www.youtube.com/watch?v=P5oqTzcpfZw
THE BLEEDING EDGE (USA 2018) ***1/2
Directed by Kirby Dick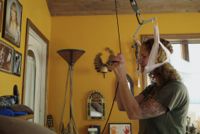 THE BLEEDING EDGE is a Netflix original documentary that premiered at the Tribeca Film Festival and will launch globally on Netflix this week. Co-written and directed by Kirby Dick, this is another of the docs that he specializes in - the expose doc. In THE INVISIBLE WAR and THE HUNTING GROUND, he exposed the military and university campuses for female abuse. His target this time around is the medical industry - narrowed down to medical devices, then to the companies that make and sell them and also the FDA that approves them.
The film begins with praises in the technological health care system. From ultrasound before birth, to health testing of delivered babies to adults, devices have aided human beings in their health monitoring. A talking head Jeanne Lenzer with the title on the screen 'The danger Within Us' adds her praise. Those familiar with director Dick's films, know that he is priming the audience to take the bait. America has the most technologically advanced health care system in the world. Dick bang-on reveals that medical interventions have become the third leading cause of death, and the overwhelming majority of high-risk implanted devices never require a single clinical trial. With his producer/writer film partner Amy Ziering, they turn their sights on the $400 billion medical device industry, examining lax regulations, corporate cover-ups, and profit driven incentives that put patients at risk daily. Weaving emotionally powerful stories of people whose lives have been irrevocably harmed, the film asks: what life-saving technologies may actually be killing us? Dick covers the FDA, the government agency that approves medical devices and exposes the defect in the system.
Dick finally narrows down his film, systematically to a few targets - hip replacement devices and hence, the hip replacement companies; the metal tube inserted into the women by the company ESSURE to prevent pregnancies and the vagina mesh.. One whistle blower is Dr. Stephen Towers who not only has a medical practice but a hip replacement. After trashing his hotel room one day, a result of chrome poisoning (the metal was discovered in his blood after blood tests) from his medical devices in his hip poising his body including the brain, he gets the device removed only to miraculously discover all his previous pain and ailments disappeared. The two main organizations targeted are Johnson and Johnson and the agency, the FDA.
Essure is indicated for women who desire permanent birth control (female sterilization) by bilateral occlusion of the fallopian tubes. Essure is currently no longer available in Canada. but still available in the United States.
The ultimate question asked is whether the risk of medical devices is worth the benefits reaped from them. Dick's answer is a clear no but leaves the audiences to make an educational decision given the relevant facts.
Kirby Dick and Amy Ziering have given audiences another disturbing but entertaining and cautionary winner. The film ends with guidelines to follow for anyone considering medical implants.
Trailer: https://www.youtube.com/watch?v=slmilObZl28
BLINDSPOTTING (USA 2018) ***
Directed by Carlos López Estrada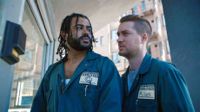 Written and starring written by Rafael Casal and Daveed Diggs two childhood friends who grew up in Oakland, California, BLINDSPOTTING is less a structured film than a series of incidents tied together to tell a story, as manipulative as it becomes. They felt that cinematic portrayals of the San Francisco Bay Area have constantly "missed something". Their flawed film wanted to draw attention to the culture, community, and sense of "heightened reality" that shape life in Oakland, high goals. The film therefore addresses issues of gentrification, police violence, and racism. But the film provides no solutions and only poses more questions.
The term BLINDSPOTTING is at one point explained in the film by a psychologist that it is the spot that an individual wants to see in a certain situation, which might not be the case in reality. The brain sees one image and blocks out the other. It is the fighting they Collin sees in many an incident.
The film opens with the probation conditions laid upon convicted felon, Collin (Daveed Diggs) after serving his term in prison. It is a year long probation where Collin has to meet various conditions including keeping an 11 pm curfew and not get into any altercation with the law.
The film follows two childhood friends, Collin and his trouble maker white best friend, Miles (Rafael Casal), through the last three days of Collin's year-long probation. Collin lives in a probation house and struggles with trying to get his life in order and put his criminal past behind him, while the short-tempered and rowdy Miles searches for trouble and embraces the "street" lifestyle. One night while waiting anxiously for a red light to change in order to get home for his 11pm curfew, Collin witnesses a white police officer (Ethan Embry) gun down a black civilian, an incident that haunts Collin over the next few days. Immediately observable is the fact that Collin initially appears scared rather than angry at the injustice. Miles purchases a gun which ends up in the hands of his young son Sean, an incident which horrifies Sean's mother Ashley (Cephas Jones). Collin begins to realize that Miles' recklessness will likely land him into trouble, and the two are set on an explosive collision course.
When Collin was in prison, it is pointed out that Val never visits him while Miles does. Val claims the reason Miles visits him is that he feels guilty and that he should have been the one in jail. As the film is manipulative, it never addresses the reason Val has never visited. But to one in prison, a visit by a friend means lots.
Collin on the other hand, is trying to keep his relationship with Val (Janina Gavankar).
These are two friends that should stay away from each other. Things reach a boil when Miles purchases a gun, that he uses freely without restraint. Yet the two get a job together Collin meets the bad cop, who happens to be one of the people the two have to move.
Occasionally engaging and funny, BLINDSPOTTING is original for the fact that audiences might not be familiar with the 'Bay' Oakland area. Though the film shows promise, the uneven BLINDSPOTTING lacks structure and a strong narrative.
Trailer: https://www.youtube.com/watch?v=-9-HBqVbtTo
McQUEEN (UK 2018) ***1/2
Directed by Ian Bonhôte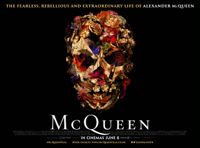 Written by Peter Ettedgui, directed by Ian Bonhôte and co-directed by Ettedgui, McQUEEN is the no-nonsense documentary on British fashion designer and couturier Lee Alexander McQueen who shocked the world when he committed suicide by hanging himself at the age of 40, at his home in Mayfair, London.
The controversial Alexander McQueen himself reveals: "A lot of people say, I've discovered Alexander McQueen. But I discovered Alexander McQueen." His resume included being chief designer at Givenchy from 1996 to 2001. That and his achievement in creating his own Alexander McQueen label earned him 4 British Designer of the Year Awards.
Though he passed on in 2010, It is fortunate that there is enough archive footage assembled to have him speak candidly on camera about his work, colleagues, friends and life, as if he was still alive. The doc thus provides an insightful and comprehensive examination of McQueen.
The doc reveals McQueen's family life with information of his youth and some shocking information of abuse from his father and sister's husband, though no details are given. His Scottish heritage makes an impression on him and his designs. The film goes on, chronologically as he grows up, with little money through his rise in fame, with his mentors and colleagues. McQueen was openly gay, with several boyfriends saying their spill on camera.
The film is tremendously interesting from start to finish as the subject himself was interesting. The film, like the man never fails to surprise with his humour, wit and talent on show.
The film glows with the coverage of his shows that reveal his genius in his designs. His themes are dark. two of them are called "Jack the Ripper" and "The Highland Rape".
Among the many messages that can be discovered in the man's life is that success not only comes from talent but hard work. The film shows McQueen working hard into many a night, a compulsive worker. The successful and wealthy often know poverty. McQueen worked hard as he was broke. And the adage that success does not bring happiness is evident in the last days of McQueen's life. "Being famous is not important,: he says "What is, is what I do." But with money, (McQueen quickly became a millionaire), came drugs and unhappiness.
The film takes a darker side at the hour mark when McQueen's drug habit is revealed. He becomes, what his employees call 'a taskmaster'. Worst still, he is diagnosed HIV positive. McQueen's appearance also changes as the film progresses. He is practically a different person at the start compared to the man he becomes at the end of the film.
Important and included in the film is the difficult issue of McQueen's death. The interviewed talk about the possible reasons for the suicide as well as the troubled man he became.
It would have also been insightful if director compared McQueen's life with other famous designer icons to put McQueen's life in perspective. Still, McQueen is an intriguing film about a gay man who went beyond his boundaries to prove himself capable of being world famous despite his personal demons.
McQUEEN is so far the top box-office grossing fashioned themed documentary in the U.K..
Trailer: https://www.imdb.com/title/tt6510332/videoplayer/vi194427673?ref_=tt_pv_vi_aiv_2
MISSION: IMPOSSIBLE - FALLOUT (USA 2018) ***1/2
Directed by Christopher McQuarrie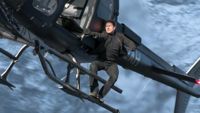 The 6th instalment and touted last of the Mission Impossible franchise sees Tom Cruise reprise his role as IMF's Ethan Hunt who went rogue in the last film and getting into more trouble in this one. Christopher McQuarrie, a veteran of action picks as in MI: ROGUE, X-MEN, THE MUMMY and the two Tom Cruise JACK REACHER films, writes and directs FALLOUT, a non-stop series of action setups punctuated by a forgettable story line or one that does not really matter. It thus plays like a James Bond movie, which is a good thing, as success at the box-office has proven.
Cruise is back, though looking more his age. No nude or even upper body shots of the actor who is now 55 years of age, but still hunky-looking as a true action star. He still has the chops. His crew is back which includes Luther (Ving Rhames) and technical field agent, Benji Simon Pegg), the new IMP Secretary Hunley (Alec Baldwin) and new director of the CIA, Erica (Angela Bassett). New to the cast is Superman Henry Cavill in the odd role of August Walker, a CIA agent who is initially on Ethan's side then sanctioned to kill him.
When the film begins, an IMF mission ends badly and villain Solomon Lane (Sean Harris) escapes custody, the world is faced with dire consequences. McQuarrie allows the villain 5 minutes to deliver his spill on terrorism, which is funny and somewhat logical in a twisted sort of way. As Ethan Hunt takes it upon himself to fulfill his original briefing, the CIA begins to question his loyalty and his motives. Hunt finds himself in a race against time, hunted by assassins and former allies while trying to prevent a global catastrophe. Like most action films, the world needs saving, and just in the nick of time (James Bond in 007 seconds, Ethan Hunt in just one) by the film's titular hero.
The skydiving sequence at the film's start is a real nail-biter though this one is topped. The fight scenes are violent, fast and well executed like the one in a club toilet. The only credibility point is the few people in it. At a typical packed club, the toilet is always full with customers lining up for the stalls, urinals, right up to its entrance. There is a bike chase with Hunt on a motorcycle again, though not on a bright red Ducati as in MISSION IMPOSSIBLE 2. This one has Hunt unable to start his bike, starting only in the nick of time when the cops show up, an excuse for another chase. Just as one might think McQuarrie has run out of ideas, he comes up with one of the most inventive and exciting climax in an action film ever. Though the film runs a lengthy 147 minutes, the extended action sequence with Hunt and Walker battling it out on a perfectly smooth vertical rock face after their helicopters crash into each other is nothing short of amazing. The sequence also shows how difficult it is to climb up a taut tight rope (to the helicopter). Added to the thrills is suspense as Hunt has to retrieve a detonator as his team dismantle two bombs simultaneously. It is an impossible task. The film emphasizes this, but one has to remember that this is, after all, a Mission Impossible film.
A solid actioner that should leave MI fans wanting for more. Maybe one more really last MI film in the franchise.
Trailer: https://www.youtube.com/watch?v=wb49-oV0F78
OUR HOUSE (Canada/Germany 2017) **
Directed by Anthony Scott Burns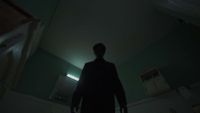 OUR HOUSE is a small budget horror film with a Canadian setting. Nothing really special about it - OUR HOUSE does not break any new ground. But it does have a few special moments. One wonders the reason Germany and the United States came abroad in the production.
It takes half way through the film before any supernatural events emerge. And when they do, they take away some of the interest that has been built during the film's first half. Director Burns takes care in building up the relationship of a family after mother and father have died in a car accident. The children left are Ethan (Thomas Peltz), the eldest, and his younger brother, Matt (Percy Hynes White) and little sister Becca (Kate Moyer). Their relationship is more interesting than the horrors than come about after when the ghosts appear. One point that comes to mind is why Social Services have not entered into the scene.
The story centres on Ethan, a bright kid who invents a machine that he hopes will bring electricity into homes without wires - wireless electricity. Though this is to really unbelievable in terms of concept and in terms of a kid being able to do this with limited equipment, he does come up with an invention that is able to bring spirits from the dead. Even more unbelievable. It turns out that while leaving the family home to work on that machine, mother and father have a car accident and die. Matt blames Ethan. When Ethan's machine comes on, Becca communicates with the dead parents.
At it turns out, it is not the parents that are communicating with Becca. But spirits that pretend to be the parents. This is when the children discover that something really nasty is afoot. And it is at this instant that the film's horror manifests.
One thing that the film never clarifies is the story's time setting. It appears for the most part that the film is set int he 70's from the equipment that Ethan uses in his experiments. The oscilloscope and other instruments have big dated buttons that look nowhere like the modern equipment of today. There are no laptops or computes observed in the film. But just as one is to assume that the film is set in the 70's, the audience sees the children using cell phones.
The children and teen actors perform well given the limitation of the material. Pelt who has the main lead looks like a skinny version of a young Jeff Bridges. White steals the show as the odd looking Matt, who one is never sure of what he is thinking or up to.
OUR HOUSE holds the audience's interest a little - not so much as a horror film but as a family drama of children trying to survive after the sudden death of their parents. Odd and uneven, the well-intentioned film unfortunately fails as the director's aim - to scare audiences as a horror film.
Trailer: https://www.youtube.com/watch?v=MZRC3xfhxnY
SHOCK AND AWE (USA 2017) ***
Directed by Rob Reiner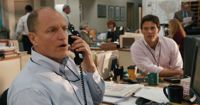 As the film title might imply, the fictionalized events of a true story is intended to shock and awe. But the title of the film, SHOCK AND AWE (technically known as rapid dominance) is a military tactic based on the use of overwhelming power and spectacular displays of force to paralyze the enemy's perception of the battlefield and destroy its will to fight. This doctrine was applied by the United States in the Iraqi invasion
The film, based on a true story (that it proudly declares at the start of the film) is an account of the journalists investigating the assertions by the Bush Administration concerning Saddam Hussein's alleged possession of weapons of mass destruction as an excuse for the 2003 invasion of Iraq. Two determined reporters, Jonathan Landay (Woody Harrelson) and Warren Stroebel (James Marsden), their boss, John Walcott (Rob Reiner), and war correspondent, Joe Galloway (Tommy Lee Jones), lift the lid on abuse of power at its highest level and expose the truth about what led us into the longest and costliest war in American history.
Written by Joey Hartstone and directed by Rob Reiner (A FEW GOOD MEN, LBJ, THE PRINCESS BRIDE), SHOCK AND AWE is unfortunately no ALL THE PRESIDENT'S MEN. Part of the reason appears to be the writer and director's over eagerness to please. This means getting the blood of the audiences riling with anger at the injustices done to both the American people and Iraq. The dialogue is always full of one-liners and punch ones with insults frequently thrown at the guilty (Donald Rumsfeld is called 'looney tunes') for the pleasure of the audience.
But the script distracts with the female presence, no doubt put in to entice female audiences to see the film. Warren's romantic fling with neighbour, Lisa (Jessica Biel) leads nowhere as does Jonathan's wife, Vlatka's (Milla Jovovich) objections to the danger her husband might have got himself into.
In the words of Joe Galloway, When the government fucks up, the soldiers pay the price. This is illustrated by the story of a black soldier put into the story. Adam (Luke Tennie), has his spinal cord severed in an explosion just three hours after he landed in Iraq. The incident is emphasized on the day Adam enlists to what he believes, in serving the country. His angry mother points out that he does not even know where Afghanistan and he wants to travel there to fight. And worse still in a war that is lied about by the Bush Administration. The film poses the question as to who is the most detestable U.S. President in history. It would be a tough fight with George W. Bush as the frontrunner.
Director Reiner gives himself, playing Journalist Night Ridder chief, John Walcott the best role and the best lines. "Bossman got balls!" Warren tells Jonathan at one point in the film. And "We don't write for people that send other people's kids to war!" says Walcott angrily - another best line.
Reiner's film achieves its purpose in whistle blowing the Bush Administration and with shock and disgust rather than awe. In being more entertaining, the film loses a little of its dramatic effectiveness though audiences should not be complaining.