CRAZY RICH ASIANS opening this week is receiving rave reviews. The film will be reviewed on the week of the 27th as yours truly could not make the promo screening. Nothing else spectacular opening to report.
BEST FILMS PLAYING:
Best Re-Release:
Belle de Jour
Best Crime:
American Animals
Best Documentary:
Nico, 1988
Best Foreign:
Angels Wear White (China/France)
Best Horror:
Hereditary
Best Drama:
The Miseducation of Cameron Post
BEST FILMS OF 2018 (so far)
Angels Wear White
Hereditary
Isle of Dogs
You Were Never Really Here
FILM REVIEWS:
ALPHA (USA 2018) **
Directed by Albert Hughes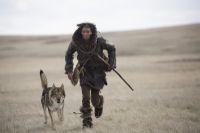 (This review contains one spoiler that is important to bring up in the reviewing of this film. The paragraph containing the spoiler is highlighted in italics.)
An American film shot largely in Canada (Alberta and British Columbia) and in Iceland, ALPHA also includes lots of CG effects as evident in the endless long lists of names involved with CG in the closing credits.
ALPHA is set back in the Ice Age in Europe (it could be anywhere else for that matter) about a young man and his dog. It all begins after a Steppe bison hunting expedition gone awry. A young man struggles against the elements to find his way home, all the while developing a friendship with a wolf.
The film is co-produced and directed by Albert Hughes, with a screenplay by Daniele Sebastian Wiedenhaupt, from a story by Hughes. It is difficult to dislike a film about a man and his dog surviving the elements as evident by the rousing applause at the end of the promo screening. But good intentions aside, ALPHA contains too many flaws.
The main flaw is continuity. One major segment has Keda (Australian Kodi Smit-McPhee) hanging for dear life on a vertical rock face after falling off the cliff. Rain pours. The what seemed bottomless gorge is suddenly filled with water that allows Keda to fall in, to survive the fall. The next scene shows him lying on the ground with hardly any water to be seen. Following that, Keda, for no reason appears at the top of the cliff that he originally fell from. The film does not show him climbing back up to that level.
The wolf dog first appears only after more than half the film's running time. Near the end, the canine is shown returning to the pack, but in the next scene is shown coming back to Keda.
The dialogue is incredibly corny. Though the actors speak in a made-up stone age language, the subtitles read: "Lead with your heart, not with your spear." And at the end of the film, the father tells Keda: "You earned it, my son."
Warning Spoiler: It turns out at the end of the film that the canine is a female. That is weird as the film title ALPHA implies the canine being an alpha male, especially when called to fight other larger animals to protect her master. If this in part of Hollywood's need to have more female centred themes, the idea is ridiculous. Though personally, if I would have a choice of a male or female canine, I would pick the latter.
But in 3D and with all the location shots and CG effects, ALPHA is a feast for the eyes. The screen also fills with green in one scene, likely from a shot of the Northern Lights as seen in Iceland. The one famous glacier and waterfall in Iceland are both on display in the film as well.
ALPHA is all good looks but a total mess.
Trailer: https://www.youtube.com/watch?v=uIxnTi4GmCo
DR. BRINKS & DR. BRINKS (USA 2017) **
Directed by Josh Crockett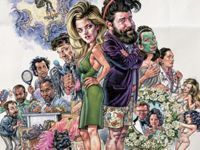 DR. BRINKS & DR. BRINKS must have been a project of love for writer/director Josh Crockett as he had to publicly raise funds to complete the film. To Crockett's credit, it is a worthy effort that is relatively entertaining but no masterpiece.
DR. BRINKS & DR. BRINKS is a dysfunctional family comedy/drama (too many Brinks spoil the broth) with more comedy than drama though the drama is still pretty intense in parts. The title refers to the husband and wife doctor team who work with the Doctors without Borders. They spend more time with children in underdeveloped nations that with their own. This results in their own children not really knowing their own parents or family for that matter. Two of the siblings who hardly see each other are brought together as a result of their sudden death from an airplane crash with disastrous results.
The story devotes almost equal screen time to the brother Marcus Brinks (Scott Rodgers) and sister Michelle Brinks (Kristin Slayman). Marcus has a relationship with Alex (Ashley Spillers). A bit more time is spent on Michelle with her character being right most of the time, likely because Slayman playing her is the film's producer and the wife of the director in real life. Marcus sports a thick beard and there is a lot of free sex (including bondage and kinky sex) involved so one can guess that director Crockett aims at the new age free spirited era of the forgotten 70's. The sexual encounters liven the film as well as reveal certain characteristics of the siblings.
To add fuel to the fire, Kristin begins a sexual relationship with Alex's father Bill (Robert Longstreet). She knows it is wrong but cannot stop it. Bill thinks he is in love all over again and the best thing that has happened to him. While Marcus finds out, he becomes visibly upset while Alex is unaware initially. This incident makes up a good part of the film and is used as the catalyst to rock and then stabilize the various relationships.
The film's main aim is the examination of the relationship between the siblings amidst varying circumstances. Besides the problem stated, it is also revealed that the house that Marcus and Alex live in is still in the parents' name and has to be liquidated to pay off their debt. But this plot point could have been left out in the script without affecting much. The actor playing the lawyer (Roger Guenveur Smith) is pretty good.
As Marcus' vocation is singer/songwriter, the film has a nice break when a few of his catchy songs are performed.
The film lacks as strong conclusion thus creating an unsatisfying feeling for the audience that the film is leading nowhere. Though more comedy than drama, the comedy is light at best and the drama that escalates towards the film's end is somewhat predictable.
DR. BRINKS & DR. BRINKS opens in the U.S. this Friday in select theatres and is available video on demand on September 4th.
Trailer: https://www.youtube.com/watch?v=ba4AD0Rrh3s
EL ULTIMO TRAJE (THE LAST SUIT) (Argentina/Spain 2017) ***
Directed by Pablo Solarz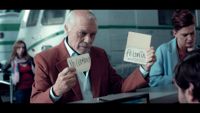 When Hollywood makes a movie about old people, they normally turn out to be old fart fantasies where old people live forever (COCOON), win some competition (FINDING YOUR FEET) or find love again. Often the actors playing the old farts try to outdo each other in looks and cosmetic get-up so much so that watching these movies have become so cliched. In this Argentine/Spanish co-production about an 88-year old man, the subject is not the search for the fountain of youth. Abraham Borsztein runs away from his home in Buenos Aires for survival. His daughters not only want to put him in a nursing home but amputate his and leg. Armed with the little money that he has managed to save, he bolts for dear life off to Poland.
Why Poland? Apparently some guy there had saved him from certain death at the end of World War II. Abraham has made a promise to bring him a suit (THE LAST SUIT of the film title) and he aims to keep that promise.
The journey does not run as smooth as expected. Abraham misses his train and gets his money stolen. But the adventure has only begun. He meets Maria (Angela Molina) who also has a few dreams of her own.
Director Solarz has his audience sympathize with Abraham. The camera is not shy to reveal an awful looking bad leg, all white in colour and might in need to be amputated to prevent the poison from spreading throughout he body. Details are not mentioned.
THE LAST SUIT is a nicely made (pardon the pun) film that may be described as a coming-of-age story of a senior 88-year old man. His journey of escape and fear for his last days is a real one for many seniors who cannot help themselves but fall to the mercy of their sometimes uncaring and insensitive children. One thing Abraham still has are his wits. He is sharp as can be.
The story also reveals that there is some good in man. The rude musician that Abraham first meets on the plane who first has his feet upon the chair turns out to be a really kind man after Abraham reluctantly helps him at customs.
THE LAST SUIT would be a film that targets the older demographic. The film's pace suits an elderly crowd as its good intentions. It is a good natured as many of the characters Abraham meets during his journey.
Despite its lightness in tone, THE LAST SUIT gets serious at the end, with a message that replaces a climax. Abraham searches for the friend that saved his life, mainly through his memories. Through flashbacks, the audience is brought back to the war and the injustice committed against the Jews. The film offers redemption in the form of a very kindly Germany lady that Abraham meet who helps him along the way. Though this is enlightening, the audience is manipulated in a way.
The film brings the thought that without memories, nothing else matters. One feels sadder for those with dementia and have nothing else when they reach that demise. THE LAST SUIT ends up a sad film about old age, but at least it is a realistic one about certain hardship that seniors can never escape.
Trailer: https://www.youtube.com/watch?v=BLZVMgJoo-k
MAISON DU BONHEUR (Canada/France 2016) ***1/2
Directed by Sofia Bohdanowicz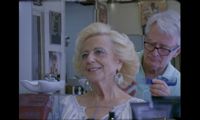 Subjects of documentaries are often famous people, but only a handful have been about ordinary everyday unimportant folk. MAISON DU BONHEUR (translated in English to House of Happiness), an occasionally brilliant film is one of the latter.
It was not that long ago in 1975 that Belgian director Chantal Akerman stunned audiences and critics around the world with her 3-hour long art house epic on the daily chores of a housewife. The film was called 23, Quai du Commerce, 1080 Bruxelles. Though a fictional film that ended with the female protagonist committing suicide as did the director herself recently, the film repeatedly showed the protagonist eating and cooking not once but repeatedly. Similarly, in MAISON DU BONHEUR, this one an hour long documentary, Torontonian director Sofia Bohdanowicz shows that the daily chores and thoughts of an ordinary person can be just as interesting as a celebrity.
The doc's subject is Juliane Sellam is a 77-year-old Parisian astrologer who has lived in the same pre-war apartment in Montmartre for half a century. In this vibrant documentary, Toronto director Sofia Bohdanowicz focuses on Sellam's daily life over 30 beautifully shot segments, which are narrated by both Sellam and Bohdanowicz.
When the film opens, Bohdanowicz (she is revealed as a very young filmmaker) is leaving Toronto to stay in Paris with a person she has never met - Juliane Sellam. Thus she begins filming Sellam's life, thoughts and musings.
The matriarch's life and rich inner world crystallize through her daily rituals of making coffee, applying makeup, and caring for her geraniums.
Bohdanowicz devotes 10 minutes or so on each ritual. Sellam describes desiring coffee as a young girl. Her aunt denies her a taste saying that young girls do not drink coffee. Her grandmother gives her a taste which she loves, just because she was initially not allowed to have any. Up to the present, Sallen says she has loved coffee. Bohdanowicz brilliantly shows, on cue, the slow pouring of steaming coffee into a cup. Sellam puts on make-up daily, even to just take out the rubbish. She confesses that she wants to look the best for everyone and that no one needs to see an ugly person in the morning She goes again to the origin of her love for make up. Her uncle used to be a nail polish salesman and he lets her try his wide array of samples. The shot of the samples with dozens of painted false nails on a platter is something I and not seen for 30 years. Her ritual with gernaniums is just as interesting. She waters them either late at night or very early in the morning so that people below her flat will not get wet from the water above. Bohdanowicz never fails to impress her audience with Sellam and her chores. And her doc goes on…..
The film has a special engagement run at the TIFF Bell Lightbox with the director present for a Q & A on the films opening day.
Trailer: https://www.youtube.com/watch?v=bInvPokMFH4
NICO, 1988 (Italy/Belgium 2017) ***1/2
Directed by Susanna Nicchiarelli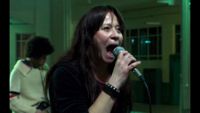 NICO, 1988 is as the title implies, about Nico during her last years before 1988. Nico is Christa Päffgen (an outstanding performance by Dane actress Trine Dyrholm), known to the world by her stage name "Nico". Nico was one of Warhol's muses, a singer of The Velvet Underground and a woman of legendary beauty. But expect a different person portrayed in the film, as Nico says in the film: "Don't call me Nico. My name is Christa." She admits she does not want to talk about The Velvet Underground followed by confessing that she thinks she is ugly.
The film follows Nico as she lived a second life after the story known to all, when she began her career as a solo artist. Nico, in the time prior to 1988 is the story of Nico's last tours with the band that accompanied her around Europe in the Eighties: years in which the "priestess of darkness", as she was called, found herself again, shaking off the weight of her beauty and rebuilding the relationship with her only forgotten son. The son, Ari (Sandor Funtek) appears at exactly the half way mark of the film. Besides the story of an artist and her tour, the film is also the story of a rebirth, of an artist, of a mother, of the woman beyond the icon.
One problem with NICO, 1988 is that the many people familiar with her would have high expectations for this biography, since Nico is a larger than life personality and hard to replicate. Getting the audience interested and caring for Nico is another thing - an important task for the director making the film..
As in most films on music performers, the drug problem needs be addressed. Nico is no stranger to drugs. It gets ugly. She uses the hard stuff - heroin and is not afraid to state it. In one disturbing scene set in a Prague restaurant, she goes ballistic when she cannot get some, blaming the communists for stealing her passport.
The last half hour of the 90 minutes film is a powerhouse where director Nicchiarelli
turns up the film full throttle. The audience sees Nico performing her songs. One can see the reason she got so popular. The film ends in the year 1988, which the audience can predict as her end.
The film's best segment is the one Nico performs at her illegal concert in Prague. Before she goes on stage, she curses her manager for arranging the gig. But when the spotlight shines on her on the stage and she starts crooning, director Nicchiarelli captures the singer's anger, regret and finally respect for her audience. It is a powerful, unforgettable and rare moment beautifully captured on screen.
What is also interesting is Nico's despicable personality. She calls her band members amateur drug addicts. She springs her drug addicted son, Ari from the sanatorium and drags him on tour believing herself that she is doing good, loving her son. She also accuses her manager (John Gordon Sinclair who played the main role of Gregory in GREGORY'S GIRL, way back when) of devising different ways of stealing from her. In one rare mement though, she unexpectedly thanks him.
NICO the film, (like the artist herself), can be best described as an exhilarating feel-bad biography.
Trailer: https://www.youtube.com/watch?v=38RBdHtWkWo
SKATE KITCHEN (USA 2018) ***
Directed by Crystal Moselle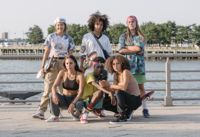 The Skate Kitchen is the name of a group of female skateboarders first featured in director Moselle's THE OTHER DAY (a short film created for fashion designer Miu Miu). Moselle first gained attention with her documentary about her siblings
THE WOLF PACK that won the U.S. Grand Jury Prize/Documentary at Sundance 2015.
SKATE KITCHEN, Moselle's debut full length feature also featuring the skateboarders, begins really well but unfortunately fades away to a sappy Hollywood happy ending despite a few bright moments. The opening shots with the camera following the main subject as she skate boards in a skate park gliding as confidently and smoothly set the stage for an excellent film. The high expectations are indeed tough to meet.
This is could be what movie making is all about - taking the audience into a fantasy world (in this case the world of skate boarding) and bringing them to a new exhilarating high. The film best moments are when the skaters are just goofing around on the street, music blaring (a few good tunes courtesy of D.J. Khaled) and they just dancing and goofing around. It shows their world, oblivious to the problems of adults and their outside world, a world of beauty and wonder, an Utopia and state that one wish to be, a pure high and without the use of drug or alcohol.
Camille (Vinberg) is a shy 18-year-old living with her single mother (Elizabeth Rodriguez) in Long Island. After a scary skate accident (shown all bloody and gross at the start of the film), Camille promises her angry and disturbed other that she will hang up her board. But as expected, the urge to skate is too great – so she responds to a social media post about a "girls skate sesh" in New York's Lower East Side. Finding the camaraderie she's been missing all her life, Camille falls in with the crowd and falls out with her mother. But when she falls for a mysterious skateboard guy (Will Smith's son, Jaden Smith), the relationship proves to be trickier to navigate than a kickflip.
The kids speak in their own lingo. But when director brings The main lead's world into reality - romance, an over-wring mother, a boyfriend, drugs and team loyalty, the movie high dissipates slowly.
One wishes there would be more depth in each of the characters in the film. Except for the main character, Camille (Rachelle Vinberg), no one knows any of the family of the other skaters. Even for Camille, nothing is mentioned of her father and her troubled relationship with her mother is sketchy at best.
The film plays like a documentary though it is clearly scripted. Quite a bit of improvisation goes into the making of the film a evident in the many candid scenes. Playing fictionalized versions of themselves are The Skate Kitchen (an all-female skateboarding crew in New York), including co-founder Rachelle Vinberg who has a main role in Moselle's film.
SKATE KITCHEN when working, is a wonderfully different female film. It makes a feminine statement by showing how much fun it is to be a human being with no penis.