SEARCHING is another film featuring western Asians as subjects that opens this week. CRAZY RICH ASIANS and SEARCHING should be raking in the money at the top 10 of the box-office.
BEST FILMS PLAYING:
Best Re-Release:
Belle de Jour
Best Crime:
American Animals
Best Documentary:
Nico, 1988
Best Foreign:
Angels Wear White (China/France)
1945
Best Horror:
Hereditary
Best Drama:
The Miseducation of Cameron Post
BEST FILMS OF 2018 (so far)
Angels Wear White
Hereditary
Isle of Dogs
You Were Never Really Here
FILM REVIEWS:
CARDINALS (Canada 2016) ***1/2
Directed by Grayson Moore and Aidan Shipley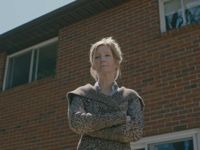 CARDINALS is a thoroughly enjoyable dry comedy/suspense drama written by Grayson Moore and and directed by him and Aidan Shipley, both Toronto's Ryerson University graduates. It stars Sheila McCarthy who is always ever so good in movies like these, since she shot to fame in Patricia Rozema's I'VE HEARD THE MERMAIDS SINGING. McCarthy plays a mother, Valerie just out of prison from a drunken driving crime that killed her neighbour. She is so good in CARDINALS that one cannot get enough of her.
The film is a bit disorienting. For many a segment, it begins blurry with the audience not knowing what is going on. For example, one scene starts with two women talking in a car before it is revealed that they are Valerie's two daughters. Another begins with a male visiting Valerie's house before the male is revealed to be Valerie's husband. Moore's script requires the audience to concentrate on the film, often providing surprises that titillate the senses. It is recommended that the film be watched in its entirety in a cinema or if watched at home, without any interruptions. The flow of the film's narrative should not be interrupted.
One has to love the dialogue. Wants what's best for your mother. Not so easy when your mother is just out of prison. Example is the daughter to mother conversation when Valerie is just out of prison and the daughter wants the mother to make a few friends again. "Did she suggest going out or did you?" "She called and asked when you were coming out." "Then she suggested." "How do you know I want to see her?" Valerie is smart talking all the way and knows what she wants, likely that she had a decade in prison to plan what she was going to do when she got out.
As if the film is not without sufficient surprises (a good thing of course), the directors insert a spring swan parade that Valerie attends out of the blue. Apart for the weird exhibits and odd swan hats and attire, the attendees wear it is snowing in the open. These quirky and other highly original scenes distinguish and make Moore and Shipley's film their own, creating a unique personality that is impossible to copy.
The role of Valerie's parole officer is brilliantly written. Though he is shown as a kind of asshole, he does make valid points and observations contributing to the story. All this is evident in the scene where he mediates a meeting between Valerie and (Noah Reid), the son of the man Valerie ran over.
As the film goes on, it becomes apparent all the incidents are not what they seem. A flashback shows Valerie opening a bottle in the car to have a drink after she had hit the neighbour. She enquires if her friend, Wendy who worked at the plant told the reason she had left weeks after Valerie went to prison. Something is afoot and directors Moore and Shiokey piques the interest of the audience like a true Hitchcock suspensor.
CARDINALS remains one of the quirkily films Canadian directors used to churn out in the 80's like Atom Agoyan, Patricia Rozema, Guy Madden and others. One can hardly wait to see Moore and Shipley's next project. And stay for the closing credits to listen to the sweet little creepy song.
Trailer: https://www.youtube.com/watch?v=ZjOw0ug3Bqw
JULIET, NAKED (USA/UK 2018) ***
Directed by Jesse Peretz
JULIET, NAKED is a British/American production set in both London and the U.S. based on the best selling novel of the same name by Nick Hornby. The novel is described as a sensitive modern tale illustrating the effect the internet can have on a romantic relationship. The film gets that message across, though it feels like a romantic comedy without a happy Hollywood ending, which means that audiences might have difficulty liking this film. JULIET, NAKED is not half bad, but it is not barely half good, falling flat and dragging along for a major part.
The story centres on Annie (Rose Byrne) who when the film opens, has relationship problems with long term boyfriend, Duncan (Chris O'Dowd). Duncan, a professor at a local university has an obsession with singer-songwriter Tucker Crowe (Ethan Hawke). He is head of the Tucker Crowe website and knows all the works and songs of Crowe. When a packet of Crowe songs arrives in the mail that Annie opens and listens to, Duncan becomes clearly upset that she has not only opened his mail but listened to Crowe before him. Duncan also begins an affair with a new professor, that he confesses to Anne. This is total wishy-washy behaviour and the audience is only too glad to see Annie kick him out of the house.
As the story goes on, Annie meets Crowe in person and begins an affair with him. The brown stuff hits the fan when Duncan finds out. Not only does Duncan accuse Annie of doing this to get back at him, but he begins disagreeing with Crowe about his work.
If all this sounds too serious, the film is not, and a lot of humour is injected into the story so that the film can still be labelled as a romantic comedy. But it is one with a difference as it does not follow the beaten path of the Harlequin-styled story.
All three actors are excellent in their roles. It is always a pleasure to watch Rose Byrne (NEIGHBOURS and NEIGHBOURS 2) who is always good in anything she is in. Ethan Hawke, known for his fondness in blues and music gets to sing a few of the songs featured in the film. O'Dowd who has proven himself proficient in drama (CALVARY) and in comedy (BRIDESMAIDS) makes an unlikable character both likeable and sympathetic.
The film has a few odd segments. One is the problematic hospital segment where all of Crowe's children from multiple partners all show up at the hospital when he suffers an unexpected heart attack. How would they all show up together when they were so difficult to even meet is one question. They argue and bicker to no end and then are never seen again during the movie. Annie first meets Crowe at the hospital too and any logical person would have left Crowe or any such person with so much baggage.
JULIET, NAKED is at least good for a few laughs with a few well timed jokes.
Trailer: https://www.youtube.com/watch?v=rwWKaYsNqBM
THE LITTLE STRANGER (UK/ France 2018) **
Directed by Lenny Abrahamson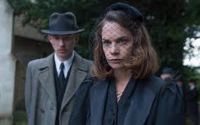 THE LITTLE STRANGER is a gothic supernatural horror drama directed by Lenny Abrahamson (best known for the sleeper-hit ROOM) and written by Lucinda Coxon, based on the novel of same name by Sarah Waters. THE LITTLE STRANGER is a different type of sleeper - one of the slowest moving films of the year a sort of THE SLOW AND THE FURIOUS.
The subject of the film is Dr. Faraday, As a small boy, he was fascinated by Hundreds Hall, even stooping so low then, to stealing while entering the grounds. Grown up now, Dr. Faraday (Domhnall Gleeson) is a country doctor. During the summer of 1947, he tends to a patient at Hundreds Hall, where his mother once worked as a housemaid. The Hall, which has fallen into decline, is home to Mrs. Ayres (Charlotte Rampling) and her two children, Caroline (Ruth Wilson) and Roddy. After taking on the new patient, Dr. Faraday finds the Ayres family's story will soon become entwined with his own. 'The house does not like us.'
Director Abrahamson appears fascinated with the English countryside, thus making it his priority to create atmosphere instead of gothic mood. The scenes are often dimly lit with natural light, and he is fond of scenes set during dawn when the sun first begins to appear. If there is light in the house, it is usually in the background, so that the figures in his images are only often silhouetted. All this is fine as the film looks great, thanks to his cinematographer. But with atmosphere, the film is stuck in the mire of looks, as if unable to burst it out of the story it so wishes to tell.
The film feels at many times wanting to burst back into the past through flashback but only seldom does. Most of the part is revealed through dialogue and musings.
Characters come and go as fleeting as the morning dew. The film could see more of the story's most interesting character, Roderick (Will Poulter), the facially disfigured war veteran being treated by Faraday for PTSD symptoms. Not much is revealed of Carolyn's sister or the origins of the dark forces that could be inhabiting Hundreds Halls. Roderick mysteriously disappears after a third through the film. Though set two years after World War II, nothing is ever mentioned of the war, safe for the Roderick character.
The feeling of 'it could be or it could not be supernatural" is always sustained. In many films, this tactic creates more mystery but in this film, it creates more annoyance with the feeling of indecision as to where the film is heading to.
Gleeson as Dr.Faraday appears stoic and sleeping walking through his role. Rampling does her usual 'there is something odd about this woman' character. The romance between Faraday and Carolyn unfolds so slowly, it feels non-existent, though one might argue that that was the purpose in mind.
For the few scary or death scenes, the audience is always warned that something is going to go wrong from the dialogue. "What can happen in the nursery?" or "There is something in the house that frightens me."
Abrahamson's THE LITTLE STRANGER is a disappointment compared to his previous ROOM.
Trailer: https://www.youtube.com/watch?v=ASR04zW4K8w
MA VIE AVEC JAMES DEAN (My Life With James Dean) (France 2017) ***
Directed by Dominique Choisy
The first thing to note about MY LIFE ABOUT JAMES DEAN is that there is no James Dean in this movie. He does no appear in the film (except in a poster and a cut up figure in a dream sequence) or is this an American film. MA VIE AVEC JAMES DEAN is the title of the fictitious French film that the director brings to a small town in picturesque Normandy.
When soft-spoken film director Géraud Champreux (Johnny Rasse) arrives on France's Normandy coast for screenings of his latest art-house movie, there's nobody there to greet him. But he somehow manages to attract a motley crew of locals who bring their own drama along on his little tour.
There is the cinema projectionist (Mickaël Pelissier) who falls besides coming out for
Géraud. Nathalie Richard plays a lovelorn cineaste who is supped to organize the event but falls apart when her fame lover god with a man instead.
The film contains some quirky insights common to French films. "Love is a burden, I hate being in love," says the woman who organizes the film event. But that makes life exciting, is Géraud's retort. She likens love to getting gum stuck on the sole of ones shoe and continues that there are hundred of gums on the street. One scene later on shows a woman walking along the street trying to get the gum off her shoe.
Choisy's film is also typical of the old gay films that teases with promising gay love or gay sex. The audience gets a first glimpse of Géraud without his shirt on - displaying a nice chiseled upper body. Later when he is drunk, the female hotel receptionist and male projectionist take off his clothes to let him sleep (as he is dead drunk) in his underwear. Thee is also a nice shot of the projectionist and Géraud in one frame as they watch his film through the projectionist's window, a gay film where two naked men indulge in the act of sex.
Choisy plays his film with Kafka-ish touches. Géraud asks a resident where the Hotel de Calais is, right outside the hotel. The hotel receptionist tells him that there is no working telephone in room 5 in which he is put in. She then gives him the hotel telephone from under the counter. A resident Géraud first meets when he enters a bar speaks with fish metaphors.
Choisy's film is a small production, very much like the film Géraud has brought to Normandy. It is well made and well-though through and immensely entertaining in its own odd way. It still shows the freshness of first love and coming-out.
One segment that occurs out of nowhere has a band in the night outdoors performing a song with spectators all sporting sunglasses. The scene is reminiscent of Aki Kaurismaki's films where bands often perform and his characters often wear shades. One wonders if Choisy is paying a bit of homage to Kaurismaki considering that quite a bit of the humour is deadpan. The film could also be considered a nod to the Woody Allen classic PLAY IT AGAIN SAM where Humphrey Bogart nudges Allen's character towards romance, in which case it is James Dean
nudging the projectionist on with his love or Géraud.
MA VIE AVEC JAMES DEAN is an entertaining sweet little quirky gay comedy with likeable characters with sufficient inventiveness to make it a good watch. Available VD and DVD August 28th
Trailer: https://www.youtube.com/watch?v=Oc7zun7Ft6I
SEARCHING (USA 2018) ***
Directed by Aneesh Changanty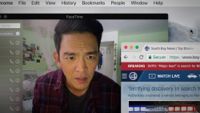 SEARCHING is a psychological thriller starring John Cho (STAR TREK and HARRY AND KUMAR who plays David Kim, a father trying to find his missing 16-year-old daughter, Margo (Michelle La). As David interviews people who were supposedly close with her, he begins to learn that his daughter was not as perfect as she seemed. SEARCHING is a psychological thriller that unfolds almost totally from the computer screen. This is not a new tactic thought still quite a novel one, having being used only recently in UNFRIENDED: DARK WEB and its original UNFRIENDED films.
The question that immediately comes to mind is whether the story warrants this style of movie making and if it does, how effective it is.
The story involves David searching through her daughter's web history, so quite a chunk of the film would involve watching the computer screen. Watching events unfold through a computer screen is more taxing for the following reasons:
it requires the audience to often absorb simultaneous events occurring on the screen. When a user is typing a reply, the question above the txt involving the question needs to be read too
the texts on screen is often too small to ready (this occurs a few times in the film), though it an be made larger when the box is maximized.
what appears on the screen is sometimes blurry
But being a novel idea, it is still a fresh look at a psychological film and the tactic does work, though one mayans argue that the entire film need not have to be told this way, without compromising the story. But credit to the filmmakers to try something new, and one can tell the amount of effort and coordination going into the making of the film this way.
While director Changanty does his best to put as much of the film on the computer screen, it is not always possible. The part of David beating up a possible suspect at a theatre is shown as if seen on youtube. But the searching for Margot's body in the ravine area is not. The film revokes back to normal non-computer mode necessary keep the story intact.
The decision to make an American film about a missing daughter to include an Asian family is a good one. Most films have centred on whites or African American families, and this is a rare one where the fully English film is on a Korean American family. Apart of a few references to Korean culture (the kimchi cooking), the film could be substituted for any minority couple. But typical to most Asian families is to have a daughter take piano lessons. John Cho is one of the most famous young Asian actors today after making his name in STAR TREK and the HARRY AND KUMAR films. He show his serious acting chops in this movie.
Credit should be given to the studios for a thriller with a break in trend, made with a Korean family and taking place on a computer platform.
Trailer: https://www.youtube.com/watch?v=3Ro9ebQxEOY
TRENCH 11 (Canada 2017) ***
Directed by Leo Scherman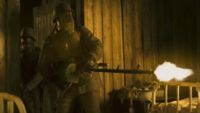 TRENCH 11 is set in the year 1918, a year well known for being the year World War 1 ended. There are a lot of interesting events occurring during the last year of a World War that makes good cinema. The recent Hungarian film entitled 1945 is an example of another film set in the last year of a War.
But TRENCH 11 is a fictional horror film. The premise is that those no-good Germans have been practicing scientific warfare again under our noses, in fact 78 feet underground in those trenches. Some virus has gone loose and it must be contained or the outcome of the end of WWI might turn out quite differently.
At its worst, TRENCH 11 disintegrates into a zombie flesh-eating movie set in the trenches with cheap prosthetics effects, like a face with the nose eaten away. The dialogue can turn clichéd too as in the example of the line spoken: "This place was not built to keep people out. It was built to keep people in."
At best director Schermna uses the effects of the film's setting to create real horror, as in the darkness and claustrophobia of the trenches. The lighting is carefully done so that more often then not, only the essentials are seen - the faces as they peer through the corridors of the trenches. There is always suspense created when a character turns the corner, as it is dark and no one can see what lurks there. A few worthy scenes here such as throne with the German and Canadian sitting down to have a drink together,
Humour is provided by the German Officer Reiner, who wants to cleanse Europe by the disease. Austria actor Robert Stadlober camps it up too, playing Rainer as a complete lunatic. One can almost imagine the froth coming out of his mouth. The main lead belongs to Rossif Sutherland (brother of Keifer and son of Donald Sutherland) playing a tunneller who is given the dauntless task of leading the group out of the trenches. The script also calls for an asshole major. Oblivious to good safety and common sense, he risks everyone's lives. " We are here to complete a vitally important mission and by God I intend to see that it is done." He is disposed with early in the picture, which is a shame as he livens up the film. The tunneller's romance with a girl called Veronique (Karine Vanasse) is what spurs the tunneller on. Director Scherman makes good use of the dynamics of the different forces (Americans, British, Canadian).
The zombies or Germans infected with the deadly disease are scary enough, if one can strain through the darkness to catch a glimpse of them. What is even more disgusting are the parasitic worms that wiggle in and out of the corpses' wounds. The worms are thin and squirmy (as opposed to fat and juicy), still guaranteed to make ones skin crawl.
TRENCH 11 ends up a scary enough horror movie with interesting characters making effective use of its World War setting. The film has won rave reviews when it was premiered at the After Dark Film Festival in Toronto.