Fall comes and with it fewer blockbuster movies. More serious fare. THE SISTERS BROTHERS are two films opening this week worth a visit.
BEST FILMS PLAYING:
Best Documentary:
FAHRENHEIT 11/9
Best Foreign:
Angels Wear White (China/France)
1945
Best Horror:
Hereditary
Best Drama:
The Children Act
BEST FILMS OF 2018 (so far)
Angels Wear White
Hereditary
Isle of Dogs
You Were Never Really Here
FILM REVIEWS:
ASSASSINATION NATION (USA 2018) **
Directed by Sam Levinson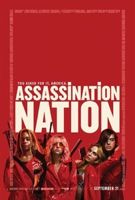 ASSASSINATION NATION had a standing ovation at the Midnight Madness premiere at TIFF - not so much that the film was any good but for the spirit of the director, actors and publicity that included a full band entering the theatre during the closing credits to perform the end song in unison with the band playing on the screen. The film opens with a barrage of audience warnings (and with reason) of the countless ways one's sensibilities could be shattered by is about to transpire on screen that includes pedophilia and rape. Set in the suburban community of Salem, the film's mayhem first ignites when an anonymous hacker starts exposing the private data of select citizens. When the hacker suddenly exposes half the town, an initial wave of righteous public shaming gives way to a violent mob mentality of paranoid prejudice where the pitchforks are no longer proverbial. The target are 4 high-school girls. So it is them vs. Salem with the audience clearly on the girls's side. Lots of glorified violence, inane dialogue and scenes that have continuity problems and make no sense. But this is after all a Midnight Madness movie and the audience loved the film, despite its flaws.
Trailer: https://www.youtube.com/watch?v=d9qyOGEuLY4
FAHRENHEIT 11/9 (USA 2018) ***
Directed by Michael Moore
The title of the new Michael Moore documentary that premiered at this year's Toronto International Film Festival needs some explanation. The title Fahrenheit 11/9 references November 9, 2016, the date that Trump's win in the 2016 United States presidential election was announced though the election took place on November 8. The title is also a callback to Michael Moore's 2004 political documentary Fahrenheit 9/11, whose date references September 11, 2001 during which the September 11 attacks occurred in the United States. Why Fahrenheit? Both of Moore's documentary titles are a nod to the 1953 dystopian novel Fahrenheit 451 by Ray Bradbury, that being the temperature at which books or papers burn, as the dystopian society outlaws books. The publicist of the film suggested that Trump being in office is just as serious as a terrorist attack.
FAHRENHEIT 11/9 is one of Moore's lighter documentaries. It seems a lot of the furious anger he displayed in his early docs like ROGER & ME and BOWLING FOR COLUMBIAN has dissipated in Moore's old age. The film opens with the night prior to Trump's election win where most Americans including Hillary Clinton's electoral workers were sure of her to win. It seems a big upset that Trump won. As the film goes on, it appears that this film is not all about attacking Trump.
Moore likely included this lengthy introduction to give himself credit. In July 2016, Michael Moore was treated like a crackpot doomsayer for writing the essay "5 Reasons Why Trump Will Win". His prediction was the opposite of most pollsters and pundits but it came true in the wee hours of November 9, 2016 when the electoral college votes were tallied.
Anyone in the way of the making of this doc becomes Moore's target. It is humorous to see the way Moore creates his conspiracy theory of sorts. Besides Hilary coming into attack, so does President Obama. He is shown as a manipulative clown of a presidential level asking for water in Flynn Michigan during the poison water scandal. Moore's camera shows that Obama hardly touched the water while claiming his asking for water was not a stunt.
Among Moore's other targets are Governor Rick Snyder who really gets it. Moore actually makes himself a target when he claims he was silenced similar to a bribe when invited as a guest on the Roseanne Barr show together with a pre-President Trump. Moore did not complain much during the show, and as he confessed, but just played along. His lighter side is also shown int he way he explains through his conspiracy theory how Gwen Stefani got Trump elected.
So, Moore's film is not all about Trump. And the film benefits from that, that it shows a wider look at the United States and how fucked up it got, the exact words Moore uses on how Trump eventually got the Presidency. But Moore's film surprisingly has a really bright side. The camera shot of the thousands of protesting young people on the streets on American protesting demonstrates that there is a future in mankind - that scene being the film's best scene.
One need not know the politics of the United States to understand the president elution process. Moore explains just the important bits.
FAHRENHEIT is a more varied doc that Moore usually makes, resulting in a lighter and more insightful film. It is definitely a timely film and worth a look.
Trailer: https://www.youtube.com/watch?v=LBqY9k1L8KY&feature=youtu.be
LIFE ITSELF (USA 2018) ***
Directed by Dan Fogelman
I overheard the television the other day for a minute that blared the words of actor Mandy Patinkin interviewed for the film: "this is one of the best scripts I have ever read." I cannot agree after viewing LIFE ITSELF the new film directed and written by Dam Fogelman about various lives intertwining as if life the narrator was playing a good joke on mankind. Abby (Olivia Wilde) is a New York graduate student. Her boyfriend, Will (Oscar Isaac), loves her deeply, but the depth of his commitment overwhelms her sometimes. What's his story? Their circle includes Annette Bening and Mandy Patinkin as parents who have their own stories to live out. And Antonio Banderas and Laia Costa do remarkable work when the action shifts to Spain. As each character's story is revealed, the fascination increases between lovers, between children and parents, between America and Europe and even between past and present. Abby studies unreliable narrators in fiction but as she notes in her thesis, "Life itself is the ultimate unreliable narrator." Best way of enjoying this movie, is to just sit back and enjoy the excellent storytelling.
Trailer: https://trailers.apple.com/trailers/independent/life-itself/
LOVE, GILDA (USA 2018) **
Directed by Lisa D'Aplolito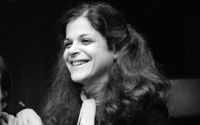 LOVE, GILDA is a documentary which as its title implies, a loving tribute to the late comedian Gilda Radner who passed away a decade or so ago from ovarian cancer,
D'Aplolito's documentary is exactly what one would expect of what homages do - interviews from close firms and family, detail of the subject's youth and influence, the rise to fame, the subject's talent and perhaps some faults may it be alcohol or drug use. This is the reason the doc is so unimpressive. There are no surprises. In fact, none of Gilda's flaws are mentioned. One can either assume she did not use any or she did and the point left out. It should be noted that Gilda hung around John Belushi in SNL, a heavy drug and alcohol user. Belushi died from a drug concoction of heroine and cocaine.
The film traces Gilda's influence coming from being inspired by Charles Chaplin and Lucille Ball (the doc includes a few short clips of Chaplin and Ball). Gilda grew up with naturally born talent, first amusing her father when he came home from work. Sadly he left her at the tender age of 14. D'Aplolito provides a glimpse of her dad coming out of a swimming pool.
The multi-talented writer, singer and performer first shone at the Second City comedy club in Toronto. She was an original cast member of Saturday Night Live (SNL), creating characters like personal advice expert Roseanne Roseannadanna and reporter Baba Wawa. She performed her one woman Broadway show to rapturous audiences and left a modest mark on the movies with roles opposite her second husband Gene Wilder in the likes of Hanky Panky (1982) and The Woman In Red (1984). The doc also mentioned her big flop comedy directed by starring her and Wilder, HAUNTED HONEYMOON.
The interviewees in the doc include her brother and other close friends. Current SNL performers like Bill Hader, Melissa McCarthy and Amy Poehler also have they say. There is quite a bit of archive footage with Gene Wilder, who the doc is quick to mention is not a comic but an actor in comedies.
But for a doc about such a lively artist, the doc does not match her spirit. Her comedic routines on display are not her best and do not elicit laugh-out laughs. They are mildly humorous at best. This is best described to be similar to an SNL episode - a ht or miss, as in the case of many of the SNL's skits.
So what did Radner contribute to the human race? The doc is quick to point out that Radner made jokes out of her cancer. There is a funny bit with her and Gary Shandling on the topic. Radner was unafraid of pushing the limits of her humour.
It is hard to fault D'Aplolito's doc on Gilda Radner. But one would have expected something more biting and funnier. In the end, the doc creates a sadder cloud over the talented comedienne. Death was always her enemy - taking away her loving after at the age of 14 and also taking her away at the early age of only 43.
Trailer: https://www.youtube.com/watch?v=1B44XRFotuo
THE SISTERS BROTHERS (USA/France/Romania/Spain 2018) ****
Directed by Jacques Audiard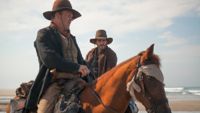 Director Audiard's films have always benefited from oddball protagonists from his first film, De Battre mon coeur s'est arrêté to DHEEPAN to UN PROPHETE. Two weird protagonists create havoc in his latest film adaptation of Patrick deWitt's award-winning western novel called THE SISTERS BROTHERS. Two brothers with the last name 'sisters', Eli (John C. Reilly) and Charlie (Joaquin Phoenix) are bounty hunters sent to kill a prospector (Riz Ahmed) accused of stealing from a tyrannical crime boss (Rutger Hauer). Their journey takes them through an encounter of myriad complications from San Francisco and through the Sierra Nevada: witches, bears, a madam who owns a town and commands a murderous army of fur trappers, and a detective (Jake Gyllenhaal) tracking the same peculiar man they are. It is a great adventure, also for the audience to see Audiard excel with different material. Also, the film is quite funny with biting humour and a bit of message on the lessons in life. And as in all his films, the goal of his protagonist is to have a stable life.
Trailer: https://www.youtube.com/watch?v=3OwvqKwTKmE
THE WIFE (USA 2018) ***1/2
Directed by Björn Runge
THE WIFE is the story of the neglected long-suffering wife, Joan (Glenn Close) who when he film opens learns that her husband Joe Castleman (Jonathan Pryce) is to be awarded the Nobel Prize in Literature for his body of work.
Both travel to Stockholm with son in tow. But secrets soon surface. As they say, behind the success of every man is a woman. It turns out that Joan is the secret of Joe's success. She is the one actually writing all the books with the husband Joe claiming all the victory. When Joe gets all smug about it, and worst still begins making advances to a female photographer, Joan finally loses it - with the husband's pride, insincerely and dishonesty.
The story also flashes back to the 1950s when Joan (played by Close's real-life daughter Annie Starke) was an eager student and Joe (Harry Lloyd) was a then married creative writing professor – and to the 1960s when Joan got a job at a publishing house. Although Joan herself had writing ambitions in those days, a caustic encounter with a failed novelist (Elizabeth McGovern in an extremely effective and amusing cameo) warned of the obscurity awaiting the "lady writer" no matter how talented. Her words determine Joan's ultimate fate in life. It is not that a writer needs to write. A writer needs to be read. A woman's work, no matter how good will never be read.
A film about writers and this one about a Nobel Prize winner for Literature at that is expected to have exceptional writing. Jane Anderson's script achieves this but blows it in one unfortunate scene. At best, the script reveals only bits of the wife's secrets at a time, whetting the audience's appetite for more in terms of anticipation. Some of the best script involve unwritten dialogue. When a tragic event occurs in the film (not to be revealed as a spoiler), Joan's sad face is shown but with no tears, the only water shown in images on each side of the frame. But Anderson's script blows it in the introduction speech when Joe is given the Noble Prize during the ceremony. The phrase "most importantly," is used. Not only is this phrase considered incorrect grammar by many, this phrase was only used in the last 5 years or so in North America and therefor never in the 1990's (the film's setting) and certainly not in a European city like Stockholm.
The script's best line is uttered by Joe: "There is nothing worse than a writer with feelings that have been hurt." Yet Joe does not realize the truth in his words. He has committed the offence twice in not acknowledging his son's work and more important, his wife's literary contribution. The husband and wife's final confrontation is also well written and well acted out.
Glenn Close is an exceptional actress who has been nominated six times for an Oscar. She delivers a brilliantly understated performance a kind of reversal FATAL ATTRACTION that should finally garnish her the Oscar she deserves. If her character, Joan never won any award, lets hope that this would be an example of life not imitating art.