04
Oct
2018
Details

Category: Movie Reviews
Written by Gilbert Seah
Two big films openign are VENOM and A STAR IS BORN.
The Bradley Cooper remake of A STAR is BORN opens but if you want a real authentic rise of a singer/songwriter to fame - opt for BAD REPUTATION that pales this film by inevitable comparison.
BEST FILMS PLAYING:
Best Documentary:
Bad Reputation
Best Foreign:
Angels Wear White (China/France)
1945
Best Horror:
Hereditary
Best Drama:
The Children Act
BEST FILMS OF 2018 (so far)
Angels Wear White
Hereditary
Isle of Dogs
You Were Never Really Here
FILM REVIEWS:
AT FIRST LIGHT (Canada 2017) ***
Directed by Jason Stone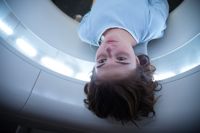 AT FIRST LIGHT is a low budget Canadian sci-fi suspense drama set in s small American town. (The film according to the imdb database had shooting locations in Nevada but the closing credits give acknowledgement to the town of Porterville, California.) AT FIRST LIGHT is impressive for the reason that it is a small film, all departments performing at their best.
Do not expect the special effects of sci-fi first contact blockbusters movies like FIRST CONTACT, CLOSE ENCOUNTERS OF THE THIRD KIND and ARRIVAL. The only spaceship effects are six or so circular mysterious orbs of lights in the sky that a driver chases at the start of the film. The best of the special effects are the levitation of a vehicle from the ground. But these suit the movie. nothing more elaborate would give the impression of falsehood.
AT FIRST LIGHT is a film about first contact. This film intelligently shows that first contact need not be physical. It occurs as light, experienced by Alex (Stefanie Scott) when she swims and is affected by the light of the film title. She experiences her life flashing through her brain and finally emerges dazed and confused from the contact. The story starts from this point.
Sean (Théodore Pellerin), her childhood friend who has a crush on her, and Alex go on the run after this close encounter with the mysterious orbs of light. Alex learns that she has extraordinary powers that she has no idea how to control - pretty much like SPIDER-MAN learning how to use his super powers - them. As the two flee from their families, the police and a covert government agency, Alex and Sean find themselves at the centre of an unprecedented event in human history. First contact. As her powers grow stronger and more dangerous, Sean must decide whether staying with Alex and discovering the truth behind her transformation is worth dying for.
The actors, mostly young teens deliver outstanding performances, that should make them rising stars. A few of them are already well known and have been in other films The main lead, Alex, played by Stefanie Scott has been in the INSIDIOUS movie. Théodore Pellerin has been seen in ITS ONY THE END OF THE WORLD and last year's BOOST, my favourite Canadian film of the year.
The film can cater to cinephiles, sci-fi fans and even teenagers. Despite its simplified story-line the filmmaker and crew has proven once again it is not the story in the movie that counts, but how the story is told. AT FIRST SIGHT might not be the best movie of the week but it is certainly the one most worth a look at.
Trailer: https://www.youtube.com/watch?v=e7YpD8F4TEc
THE HATE U GIVE (USA 2018) ***
Directed by George Tillman, Jr.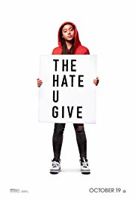 The film earns its title THE HATE U GIVE from the very early scene in which an ex-con father, Maverick, just released from prison instructs his two children, daughter Starr (Amandla Stenberg) and son on the black person's code as well as the survival technique when confronted by a cop, especially a white one. When accosted, both hands must be in full view of the cop, so that he does not become nervous and reach for his weapon. This Starr commits to memory. Later in the film when she and friend Khalil (Algee Smith) get pulled over for not signalling a turn, she puts her training into practice. Khalil, however reaches for his hair brush and ends up
shot by the cop. Both the cop and Starr are shocked. The riots and protests that occur when the white cop goes free is what propels the film's story.
This is a story right out of today's headlines - cops's misuse of authority; minorities targeted; cops acquitted, riots etc. etc.
Based on Angie Thomas's award-winning bestseller, THE HATE U GIVE is as urgent and gripping as its source material, with performances that deepen the impact. It is time and again that a cop shoots an innocent person dead. So common is this news that most of what occurs on screen often seem cliched. The common things that come to mind is "We have seen all this happen, time and again."
Angie Thomas' novel makes the story personal and does its best to have the readers and the audience identify with the protagonist. Starr Carter (Stenberg) lives two lives. In her working-class neighbourhood, she is Starr Version One, at home among family and friends, just being her teenage Black girl self. At school she is Version Two, code-switching her speech and behaviour to fit in with the rich, white world of her classmates. One night back in the neighbourhood she reconnects with her childhood sweetheart, Khalil who is shot dead with her as the key witness. There are only two witnesses: the police officer and Starr. Caught between worlds at a time when she is still working out who she is, Starr struggles to make the right choices. Should she testify or keep the code of silence demanded by the neighbourhood drug lord (Anthony Mackie)? Should she listen to her uncle Carlos (Common), a police officer who urges her to trust the justice system? And what can she say to her friends at school?
These questions are dealt with to some detail which makes the film interesting. Chris, Starr's new boyfriend is too kind and obliging for credibility. Director Tillman is also quick to manipulate his film for the purpose of crowd pleasing. When Starr video records the rough house attics the cops pull on her father, the film is quick to have her utter the words "I have to right to record this." These lines got loud cheers from the audience at the screening I attended. There are two other similar segments in the movie that got the audience applauding. The ways the cops mistreat the blacks are also too well geared to anger the back folk. The white characters are mostly easy targets for a angry black audience which makes the film seem even more manipulative. But Starr's charter is at lest to shown to be perfect. Her character is allowed to get angry and hurl a rock at the cops during an angry protest scene.
Stenberg displays sufficient range of emotions to serve her character. Anthony Mackie is almost too good-looking to portray the bad guy drug King-pin. Common's cop is well written character that offers a cop's point of view.
THE HATE U GIVE ends up a well orchestrated film, the only flaws being it being too manipulative, predictable and a crowd pleaser. This film contains as a result no surprises and no new insight.
Trailer: https://www.youtube.com/watch?v=3MM8OkVT0hw
KNUCKLEBALL (Canada 2017) ***1/2
Directed by Michael Peterson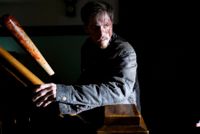 KNUCKLEBALL is a Canadian horror thriller set in the U.S. in the dead of a winter storm. It is advertised as an R-rated HOME ALONE in which a 12-year old boy must defend himself against a house intruder, in this case not only a killer but a pedophile.
As far as the story goes, it is a straight out too well-thread thriller plot with a few nasty bits added in. By co-writer Michael Peterson knows how to put on the suspense in this exercise in terror. Peterson understands the mechanics of a Hitchcockian thriller and applies it at best he can.
The film begins with a husband and wife dropping their son, a 12-year old Henry at his grandfather's out in the woods while they fly out of the city. It is clear from the dialogue that the relationship of the couple is estranged, which as expected (cliches occur quite a bit in the story) will improve later on, once they realize their boy is in trouble and they cannot get to him because of the storm.
As the plot goes, the grandfather unexpectedly dies in the night. Henry finds himself cut off and alone on an isolated farm. When his nearest neighbour, Dixon, realizes that the boy has no one to protect him, Henry becomes a target for reasons he cannot understand. With his parents at least 24 hours from returning and a massive snowstorm brewing, Henry retreats into the house and prepares for a siege, HOME ALONE-style but so much more brutally violent. We are talking barbed-wire here. What follows is a desperate battle for survival that will also unlock the terrifying connection between his family and the killer next door.
As in true Hitchcockian fashion, the terror does not arrive immediately. In Hitchcock's THE BIRDS and also Spielberg's JAWS, the first attack occurs only after half the movie has passed. In KNUCKLEBALL, the grandfather is alive with Henry for the first 30 minutes, with the film tending towards simple drama/comedy instead of a thriller. Grandfather dies in bed at the 30-minute mark.
Peterson's film contains lots of segments that prompts audience anticipation. When grandfather teaches Henry how to throw a knuckleball, one knows that Henry will eventually use his new craft at his intruder. There is one point that grandfather collapses from a heart attack while climbing the roof. He screams and utters to himself: "Get up you old sap. Time to call it a day".
When Henry is alone with the intruder, a local cop is dispatched to the house. No need to guess what happens to her - the same thing when a detective or cop is dispatched (Hitchcock's PSYCHO) to a residence when the occupant is under siege happens here.
KNUCKLEBALL suffers from an all too familiar story. But Peterson improves this story by an engaging first third and and scary other two thirds. Peterson's talent is his ability to draw his audience into the story which results in a very satisfying and absorbing be it ultra-violent thriller.
Trailer: https://www.youtube.com/watch?v=nM-CpDkPOcM
THE OLD MAN & THE GUN (USA 2018) ***1/2
Directed by David Lowery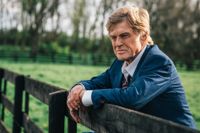 THE OLD MAN & THE GUN is a seniors film for sure from its subject, setting, protagonists and even in pacing. One will definitely notice the film's slow pacing but don't let the slowness fool you. The script, based on David Grann's 2003 article in The New Yorker titled "The Old Man and the Gun" contains a lot of details that could easily be overlooked. The film is in many ways a clever one with more insight uncovered if (the film) discussed later. Director Lowery's excuse for his film being slow is echoed by the words of Robert Redford in the film's opening cafe scene; "It is my style."
The film is based on the true story (or mostly true as the opening credits boast) of career criminal, prison-escape artist, and amicable bank robber Forrest Tucker (Robert Redford). The film opens with one of his successful bank hold-ups.
Having first been put away at age 15, Forrest had spent much of his life in jail and much of his energy breaking out - he successfully escaped incarceration 18 times. Forrest is, in the film in his seventies, free, and living in a retirement community, yet he cannot resist the lure of another bank heist. He assembles a gang (the cops nickname 'the over-the-hillers') who, though armed, rely mainly on creativity and charisma to claim their loot. They are pursued by Detective John Hunt (Casey Affleck), whose official duty is galvanized by the purity of his love for the chase. The film's setting is 1981 with Forrest still robbing banks.
For reason of not revealing any of the film's spoilers which will certainly diminish the film's entertainment, the key plot points will not be mentioned in this review and so naturally, a lot of the script's brilliance cannot be detailed. So, take it with some faith that there are a few bouts of brilliant in the script.
It is one thing to make a film politically correct but to have Detective John's wife as a black played by Tika Sumpter is going a bit overboard. I doubt that this was the case in real life.
But THE OLD MAN & THE GUN is not really about cops and robbers, bank robberies or prison escapes. It is about life and and what one does with ones life. The film's message is to " Keep on and keep keeping on…" which in the case of Forrest is to keep robbing banks. It is a universal message that results in this seniors film also having a universal appeal. Robbing banks is in Forrest's blood and he cannot change it. When he is imprisoned, Forrest's newest love interest Jewel (Sissy Spacek) convinces him finally to say put and not plan an escape. This he does but to completely change his nature of robbing banks is an impossibility with him. As the song goes in the 80's hit tune that is played in the film - The Kink's "Lola", Well that's the way that I want it to stay and I always want it to be that way - for my Lola.
This film has been reported to be Robert Redford's last acting role and the film is a slow but well-thought out and executed entertainer!
Trailer: https://www.youtube.com/watch?v=d7rlUe-Thvk
THE SISTERS BROTHERS (USA/France/Romania/Spain 2018) ****
Directed by Jacques Audiard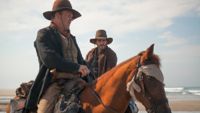 Director Audiard's films have always benefited from oddball protagonists from his first film, De Battre mon coeur s'est arrêté to DHEEPAN to UN PROPHETE. Two weird protagonists create havoc in his latest film adaptation of Patrick deWitt's award-winning western novel called THE SISTERS BROTHERS. Two brothers with the last name 'sisters', Eli (John C. Reilly) and Charlie (Joaquin Phoenix) are bounty hunters sent to kill a prospector (Riz Ahmed) accused of stealing from a tyrannical crime boss (Rutger Hauer). Their journey takes them through an encounter of myriad complications from San Francisco and through the Sierra Nevada: witches, bears, a madam who owns a town and commands a murderous army of fur trappers, and a detective (Jake Gyllenhaal) tracking the same peculiar man they are. It is a great adventure, also for the audience to see Audiard excel with different material. Also, the film is quite funny with biting humour and a bit of message on the lessons in life. And as in all his films, the goal of his protagonist is to have a stable life.
Trailer: https://www.youtube.com/watch?v=3OwvqKwTKmE
A STAR IS BORN (USA 2018) ***
Directed by Bradley Cooper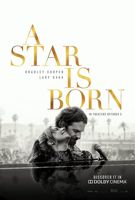 The third remake after the Judy Garland/James Mason and Barbra Streisand/Kris Kristofferson entries, A STAR IS BORN, Academy Award Best Actor nominee Bradley Cooper's
directorial and screenwriting debut arrives in Toronto for a commercial release right after great hype at both the Venice and Toronto International Film Festivals. Having high expectations, I was ultimately disappointed. The film is good but not that good, falling into the trap of the typical failed romantic drama due to personal demons and artistic conflict - predictable storyline of personal conflict and over-staged drama.
The film opens with super singer Jackson Maine (Cooper) performing live at a huge concert. It is an amazingly shot scene complete with a screaming crowd, astounding acoustics and musical performance, setting the stage for more outstanding performances to come. And they thankfully are, whether performed by Jackson or his rising star, Ally (Lady Gaga). But Jackson is clearly on a self destructive course. He arrives at a bar after the opening concert, dropped off by his chauffeur. He ends up in a drag bar (because Lady gag has the hit gay positive song, "Born This Way") where he is impressed by Ally's performance of La Vie En Rose. Apparently she is so good, she is the only non drag performer allowed to sing there. Jackson takes her home and this is the beginning of the relationship in which Jackson also grooms Ally to be a star.
The rest is history and the story almost everyone in the movies is aware off. As Ally rises to fame, Jackson downward spirals into losing his. Jackson also suffers from a hearing problem and has a rift with his older brother and manager (Sam Elliot, who is good but mumbles half his dialogue).
Cooper's film captures the atmosphere of the rich and famous, from the parties, the glare of the spotlight, the attraction of fame as well as the pain that comes with it.
The main trouble is that it can safely be said that the audience has seen all this before -a star's rise to fame, her lose of identity (clearly mentioned a few times to make its point) and conflict of interest. Cooper's film attempts to bridge the gap between having a solid relationship and a successful singing career This does not happen. One basically has to give up family life for musical fame. This story is more effectively told in the gut wrenching documentary BAD REPUTATION, about the life and career of girl rock and roller Joan Jett, that coincidentally also opens this week. BAD REPUTATION puts A STAR IS BORN to shame. BAD REPUTATION is the real thing where Jett maintains her identity, ditches family life to launch a successful music career that audiences can root for an identify with.
The film also suffers from having two protagonists Jackson and Ally instead of just concentrating on Ally. Cooper is ok, he has his star charm but it is Lady gaga that makes the movie. She does not look anything like the Lady Gaga everyone is used to seeing and it is her that the audience sees that a real young and rising star is born. Move over Madonna!
Still A STAR IS BORN will be well received by many as a love story that hovers between the shadow of tragedy and the bright light of artists at their peak as observed by many of the teary eyed audience (mainly females) who left the theatre at the promo screening.
Trailer: https://www.youtube.com/watch?v=iPxGl3B2I4A
VENOM (USA 2018) ***
Directed by Ruben Fleischer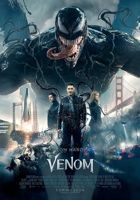 Discounting SPIDER-MAN, VENOM is the first of the Sony Pictures Universe of Marvel Comics. The filmmakers ensure that there is some brand distinction from the Warner Brothers (DEADPOOL, BATMAN vs. SUPERMAN) and Disney (THOR, IRON MAN) Marvel collaborations, so it is of no surprise that VENOM comes out like a hybrid of the existing Marvel action hero or anti-hero films. VENOM is quite good and more to come would be welcome.
Ruben Fleischer who made ZOMBIELAND, makes a clear stamp in VENOM, which in truth is a horror story. There is an alien parasite than inhabits the host, our hero and a nasty one at that - a shapeless gelatine blob looking like black jello gone bad.
Shot in both New York City and San Francisco, director Fleischer makes sure the audience is reminded of the filming locations. There is a scene where the infected Eddie Brock freaks out on a cable car ride. There is an elaborate chase involving cars and a motorcycle compete with special effects that is reminiscent of one of the best car chases in film history - Peter Yates's BULITT. What makes the car chases in past films stand out is their continuity. This is missing in VENOM's vehicle chase, but it is still pretty impressive.
Tom Hardy, the English actor who has proven his acting chops in LOCKE and LAWLESS and who has been in everything from DUNKIRK, INCEPTION to the MAD MAX reboot is a perfect choice for the antihero. In plain clothes, he is Eddie Brock, the TV reporter who has a hot show 'The Eddie Brock Report' who wants to do the right thing and expose the very bad people. One of these bad people happens to be Drake (Riz Ahmed) of Life Enterprises who has just brought back parasites from outer space. Drake has a weird and unbelievable (but, hey, this is a comic book film) plan of bonding human and parasite to inhabit outer planets when Earth fails. Trouble is the humans and parasites do not match and the humans die. But Brock makes a good fit. Brock has a girlfriend, Annie (Michelle Williams) who help him when he is infected.
VENOM is largely harmless entertainment. The monster does possess an enormous tongue, which the filmmakers cannot resist but use in a kissing scene.
VENOM contains lots of brilliantly executed action scenes all with pyrotechnic explosions and special effects combined. Comic and action fans should be content. There are also some crazy scenes, like the one Eddie, when first infected dunks himself in the lobster tank of a posh restaurant and starts munching on the raw crustaceans. Williams and Hardy make good romantic chemistry. Hardy is sufficiently versatile enough to pull off a crazy anti-hero performance, in fact one of his best. Riz Ahmed, one of my favourite actors makes a sufficiently sinister villain. Stan Lee makes his usual cameo appearance.
Audiences are advised to stay put to the end of the closing credits as there is a last surprise scene involving VENOM.
VENOM is an entertaining enough action hero movie and one should be eager for the next instalment.
Trailer: https://www.youtube.com/watch?v=u9Mv98Gr5pY