10
Oct
2018
Details

Category: Movie Reviews
Written by Gilbert Seah
Big films opening this week include FIRST MAN (on the moon), GOOSEBUMPS and BAD TIMES AT THE EL ROYALE. Two awesome documentaries FREE SOLO and STUDIO 65 are worth a look
BEST FILMS PLAYING:
Best Documentary:

Bad Reputation and
Free Solo
Best Foreign:
Angels Wear White (China/France)
1945
Best Horror:
Hereditary
Best Drama:
The Children Act
BEST FILMS OF 2018 (so far)
Angels Wear White
The Ballad of Buster Scruggs (Netflix)
Hereditary
Isle of Dogs
You Were Never Really Here
FILM REVIEWS:
ALL ABOUT NINA (USA 2018) **
Directed by Eva Vives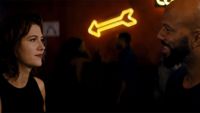 The film is as its title implies ALL ABOUT NINA. The film follows Nina from the first frame even providing a voiceover by Nina throughout the movie. The film follows the journey of the strong independent woman Nina finally being torn the fuck down.
Nina Gold (Mary Elizabeth Winstead) is an up-and-coming comedian in New York City. According to the press notes, she is supposed to be funny, smart and has worked hard to build a career for herself in the male-dominated world of stand-up. But when it comes to romantic relationships, Nina's life is a mess. Random guys in bars, abusive married men (Chace Crawford), and an inability to stand up for herself finally convince Nina it's time for a change. The trouble is that what is written in the press notes do not come out as written on the screen.
Her routine at the start of the about how females get fucked and how men always want to fuck women might be right on today's topical headlines, but Nina is downright annoying. Her 5-minute or s routine is also unfunny, crude and dirty. This results in the male standup comic that comes after her hitting on her after. Her character is not that smart either. One thing the director Vives does, while making Nina annoying, is to create an even more obnoxious male so that one cannot hep but take Nina's side. But one again, there is a turn. Nina accepts the abuse, She accepts being hit and from a real dick lover (who happens to be a cop; an easy target) and has sex with him after, which basically make all the characters in the film detestable. It would take a lot of effort to create a likeable film or story out of all detestable characters This fact makes the film intriguing to see whether the director Vives, who also wrote the script is up to this dauntless task.
In the film, there is a segment in which Nina attends a new age group meeting. When asked to share with the group, an incident one should not have seen like "I saw my father hit my mother", Nina ditches the group. When confronted by her new Mexican roommate, she says she wants her privacy and does not want to have others share her personal affairs, though she shares her stuff onstage as a standup comic. It is the same way for the audience in this movie. Director Eva similarly puts the audience in a female oriented scenario with certain do's and don't's but the audience has no choice but sit through the entire movie.
Director Vives offers a way out for the self-destructive Nina. She packs up and moves to Los Angeles, for a once in a lifetime opportunity to audition for Comedy Prime — the end all, be all of late night comedy. After killing it in Los Angeles, she meets chill contractor Rafe Hines (Common), who tempts the brash New Yorker into considering commitment. Sublimating her own desire to self-destruct, Nina has to answer the question, once and for all, of whether women can indeed have it all. Of course, the answer comes from a female so one can predict whee the film is leading.
30 minutes into the movie, Vives includes a second standup comic deliverance by Nina. The routine is still mildly funny at best and still crude and rude and serves no purpose after the audience has seen the first routine. This is the point at the film where one can tell there is no redemption in this unlikeable comedy - more unlikeable for males than for females. Males - this is one movie to avoid and as for females - take your chances if you dare.
The be fair, the film contains a few brilliant moments like the segment where a gay couple argue about the sponge put at the bottom of the sink. On the negative side, the film's climax involving Nina's truth sexual abuse routine is almost unwatchable.
Trailer: https://www.youtube.com/watch?v=mS-BYN5FC1Q
AMERICAN CHAOS (USA 2017) ***
Directed by James D. Stern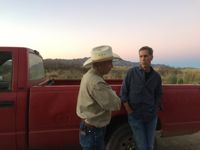 How did Trump win and Hilary lose the Presidential election? More than half the world were initially in disbelief. Writer/director James Stern's documentary AMERICAN CHAOS aims to provide the answers while providing audiences with a bit of entertainment as well.
The film contains an excellent introduction sequence that sets the stage of exactly what is to be expected from the documentary - a biased Democrat look at their sad victory of Donald J. Trump as the President of the United States. The first images shown on screen are black and white, grainy footage of previous Presidents of the United States from Roosevelt to Kennedy to Nixon and finally to Trump. Stern introduces himself then as a man born and obsessed into politics from the Democrats point of view and a true citizen of Chicago. He cannot believe that Trump would win and informs the audience the purpose of the movie - to travel around the U.S. to meet and greet the Trump supporters to find the reason for their loyalty. Coming from a Democrat, one can expect a totally biased view and perhaps occasionally sarcastic presentation of events, but to be fair to the man, he does let the supporters have their say and the documentary does offer two differing points of view. So, for which side one would take - one can be rest assured in the words of the Gregory Peck character of the black defendant lawyer in TO KILL A MOCKINGBIRD, Atticus Finch, true democracy is illustrated to one who inhabits the skin of the opposition to see and feel from his (or her) point of view.
The doc is set during the six months leading up to the election. Stern's travels took him
from Trump's adopted home state of Florida, to the Republican National Convention in Cleveland (where he circumvented tight security to find thousands chanting "build a wall" and "lock her up") and back to Florida for the election.
On the plus side of Trump reporters, one of the most convincing episodes involves Stern's camera taking the audience to the Mexican and U.S. border where a seasoned border patrolman complains of his job of keeping illegal Mexican aliens out. His patrol car has to cover miles and miles of border. The seemingly ridiculous wall that Trump suggests makes sense to these people living at the border. Americans there claim they need their weapons to be safe and are against gun control. Stern's doc makes himself and the audience see the other point of view.
There is a big correlation between the reasons of the pro-Trump Americans and the pro-Brexit Brits, as pointed out in the film. It is so true, as I never myself, expected the Brits to want to exit the E.U. I spoke to the Brits in London during the Brexit and discovered that the working class that voted for it were really fed up and had enough of politicians who sat on their butts and did nothing. They would do anything to prove these politicians wrong. And same ca be said for the pro-Trump Americans who have their say in this doc. They are fed up with Hilary and these people in power who expect to win and want them to be de-throned regardless of consequences. A pastor even said on camera that God uses bad Kings as well as good Kings, and he voted Trump to be President and not his Sunday school teacher.
AMERICAN CHAOS breaks no new grounds in departments of musical score, cinematography or editing but it is still a powerful film in a quiet sort of way.
Trailer: http://www.mongrelmedia.com/index.php/filmlink?id=fb102922-2752-e811-9449-0ad9f5e1f797
BAD TIMES AT THE EL ROYALE (USA 2018) ***1/2
Directed by Drew Godard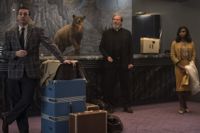 From the music, songs and vintage cars, the film's setting appears to be the 60's - a time when political correctness are not in place. This might explain the girl cat fight (for male chauvinist audiences to get off on) scene in the middle of the film - similar to the gypsy girl fight put on for the entertainment of 007 James Bond in Terence Young's (Young a director who loves to put in cat fights in his films) FROM RUSSIA WITH LOVE.
The film arrives with quite the bit of hype that anything can happen and the film is quite the mind-f***. That said, audiences will be pleased to note that they will not be disappointed.
The film involves seven strangers, each with a secret to bury, who meet at Lake Tahoe's El Royale of the film's title, a rundown hotel with a dark past. Over the course of one fateful night, everyone will have a last shot at redemption - before everything goes to hell.
The film begins with an unseen stranger renting a room at El Royale. He removes the carpet and floorboards to hide a bag of loot before being blown (shot dead) away. The film moves forwards 6 months with the arrival of the seven strangers.
First to arrive is Father Daniel Flynn (Jeff Bridges) entering the empty hotel foyer only to be greeted by vacuum cleaner salesman Sullivan (Jone Hamm) and backup Motown singer, Darlene Sweet (Cynthia Erivo). They are eventually greeted by the desk clerk, Miles (Lewis Pullman - yes, Bill Pullman's son). Later arrivals include a bad ass female, Emily (Dakota Johnson) with her even more bad ass sister (Cailee Spaeny) in tow. Every person has a secret and no one is who he or she seems. Father Flynn is no priest. Sullivan is no vacuum cleaner salesman and Miles is no ordinary hotel clerk either. One by one, the guests are done off, pretty much as in Agatha Christie's TEN LITTLE INDIANS but with a difference. This is a bad ass fucked up movie and be prepared to jump out of your seats. Not once but may times. Director Godard, who also wrote the script ensures that there are lots of surprises around every corner. So, be a little patient as the film has a bit of a slow start.
There are a few segments that could have been left out like the politically incorrect cat fight scene, without much change in the story.
All the actors appear to be having fun, hamming up their roles, especially THOR star Chris Hemsworth (a regular in Godard films) playing the villain, Billy Lee.
For a 60's setting, the atmosphere is well created and believable. All details from wardrobe, vintage cars to music are in order.
The film contains a good satisfactory ending where the deserving characters get to live and the bad ass guys get their come-uppance. BAD TIMES AT THE EL ROYALE should satisfy bad ass movie fans with bad ass entertainment, Tarantino/Rodriguez style.
Trailer: https://www.youtube.com/watch?v=y7wzBVARwaU
BIGGER (Canada 2017) **
Directed by George Gallo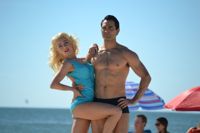 Originally entitle BIGGER THAN LIFE, the film has had its title changed to just BIGGER, perhaps not to be confused with the Nicholas Ray 1956 film. The title LARGER THAN LIFE has also already been taken by the Carol Channing documentary. BIGGER tells the story of two Canadian boys and how they shaped the fitness industry into the multibillion-dollar industry it is today.
The film unfolds in flashback as told by an elderly Joe Welder (Robert Forster) during his brother, Eddie's funeral.
BIGGER falls into the trap of being too willing to please. Director Gallo includes too many romantic episodes and too many incidents that have Joe ending up looking good.
Gallo's script is so manipulative, it becomes too obvious what he is trying to do. In one scene, Joe (Tyler Hoechlin) is trying to get his health/bodybuilding magazine financed by a big publisher who when seeing him, is coughing and smoking like a chimney. The irony is noted. Gallo does this a second time when Joe seeks finance from a smoking and fat banker. Joe is supposed to be short in the emotions side. This fact is made known in bed right after a lovemaking session where his girl, Betty (Julianne Hough) freaks out at not knowing anything about him. Ok - the audience gets the point. There is no need for her to go on and on nagging him with Joe maintaining his "je ne sais quoi" facial expression. The musical score is also there to ensure the audience feels the way they are supposed to during the different scenes.
Subtlety is clearly lacking in the film. This is not helped by Kevin Durand overacting in his role as arrival publisher, Hauk, who in desperation in one scene, punches Joe up. The script treats Hauk as a super villain, the type found in action hero movie, so one might not blame Durand for this horrid performance. As far as other performances go, the accent seems to be placed in terms of great importance. Hoechlin speaks with a strong mixed Jewish accent throughout the movie and in short spurts. Australian built actor, Calum Von Moger who plays Arnold Schwarzenegger does a solid Schwarzenegger accent.
BIGGER has a lot of solid well built and toned bodies, both male and female, for one to gawk at.
It is ironical that American actor Hoechlin plays the Canadian title role while Canadian Kevin Durand (from Thunder Bay, Ontario) plays an American. Durand overdoes his part proving himself to be the worst actor in the movie. It is not helped that he plays a despicable, arrogant ashore in the film.
Gallo's film turns quite different during the last third when Joe starts sporting a ridiculous (laughable) moustache. Once the Schwarzenegger character appears, the film turns unintentionally funny. But surprisingly, one gets used to the Schwarzenegger character who lifts the film out of the doldrums.
BIGGER can best described as a relatively entertaining but cheesy biography of the two brothers that put bodybuilding into sports. But Joe's predictions have come true. There are now gyms all over every city and solid portion of the population (myself included) now have gym memberships.
Trailer: https://www.youtube.com/watch?v=G3k1BKNIV9c
FIRST MAN (USA 2018) ***
Directed by Damien Chazelle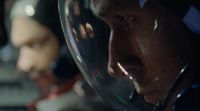 FIRST MAN tells the trials and triumphs of astronaut Neil Armstrong as he trains, tests and finally lands on the moon. The film is written by Oscar winner Josh Singer (SPOTLIGHT) adapted from James. R. Hansen's book with cinematography by Linus Sandgren whose visuals are the best thing about the movie. It is best seen in IMAX, as the screen jolts during the segment of the moon landing, as if to remind the audience of the glorious IMAX format.
The film opens with Armstrong (Ryan Gosling) in the cockpit of a rocket as it tries to re-enter the earth's atmosphere. It has troubles as it is bouncing off the atmosphere with altitude rising instead of decreeing. The ship rattles like crazy. It is a long 15-minute or so sequence with screeching metal and jittery frames, enough to give anyone a headache. It is clear that director Chazelle wants the audience to realize the absolute torture that the astronauts endure, which he repeats more than once again during his film. Subtlety is clearly not Chazelle's strong point. Chazelle loves to inflict torture on his subjects like in Armstrong as in Miles Teller's drummer in WHIPLASH and career bound musician Ryan Gosling in LA LA LAND - two of Chazelle's previous outings.
The film unfolds during the period of 1961 to 1969, ending with the success of the moon landing and of course Armstrong's famous words: "One small step for man, one giant leap for mankind." But the euphoria is again diminished by Chazelle insisting on reminding the audience (though flashback) that Armstrong lost his little girl, Karen through cancer.
FIRST MAN is extremely choppy in its storytelling. It requires that titles onscreen to tell the audience the year a segment is set and and what point NASA is at in its testing. There are scenes that are disorienting that the audience is left for a while not knowing where the film is at. An example is the wife Janet (Claire Foy) distraught at her husband's survival followed by a scene when all is well.
Chazelle's film and Singer's script capture both the intimacy of Armstrong's family life and camaraderie of his fellow astronauts more effectively. The confrontation between Janet and Neil where she loses it, forcing her husband to talk to the boys makes one of the film's best segments as in the astronauts beer drinking segment. The choice of the musical score and the songs chosen by the astronauts to play in space is also interesting,
FIRST MAN is Chazelle's biggest project and it looks superb not only for the moon segments but the ones on earth. No expense has been spared to provide the 60's atmosphere from the vintage cars, clothing, wardrobe and 60's dialogue.
FIRST MAN is visually more arresting than most space movies, excepting Kubrick's 2001: A SPACE ODYSSEY. But Philip Kaufman's THE RIGHT STUFF remains the best space movie about astronauts and their families. A little lengthy at 2 hours and 20 minutes, FIRST MAN is a solid experience demonstrating what Armstrong went through for success but unlike the other two aforementioned films, seeing FIRST MAN once is more than enough.
Trailer: https://www.youtube.com/watch?v=PSoRx87OO6k
RESTORING TOMORROW (USA 2018) ***
Directed by Aaron Wolf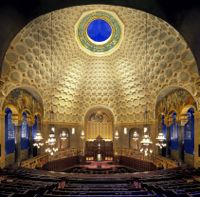 The film begins with these announcements, on titles as well as heard aloud as voiceover. 'Historically, the percentage of Americans without religious affiliation has been 10%. Since 2012, the number of young Americans in this category has been growing 30%. Historical houses of worship around the world have been closed forever.'
The religion under study here is the Jewish religion, with thought centred on the destruction of their magnificent synagogues. What is feared that, in the words of an interviewee, these buildings will be brought down like a beautiful cut flower fading in a vase.
The film then narrows down on one person, a good thing as to make the documentary more personal. The person is Aaron Wolf (the doc's writer, director and actor), who has moved from L.A. to New York to study and then returned to L.A. He was a third generation belonging to the Wilshire Temple - a huge and handsome structure, but he feels that the connection is lost when he returned.
As religious institutions are losing young members and even closing their doors at an alarming rate, director Aaron Wolf's personal journey of rediscovery comes alive in RESTORING TOMORROW, a universal story of hope as a treasured local temple near demise, is lifted up by a community's determination to achieve the impossible. Wolf's journey explores how when any community puts their mind to it, the impossible becomes possible. Wilshire Boulevard Temple, a Los Angeles treasure built by the original Hollywood moguls, needs to raise millions to restore its majesty and vibrancy, thus also restoring the future of the Jewish community, the greater Los Angeles community-and on a personal level, Wolf himself.
One of the great men examined in the film is Rabbi Edgar Magnin, a well connected man (a photo is shown with human his wife with the Reagans). Another Rabbi examined in the doc is Rabbi Alfred Wolf, The director's own father who is described as a visionary and dreamer. He was selected between two German Jews to study in the U.S. (this meant, at that time, the difference between life and death) and he left Germany. He founded an inter-religious group that aimed to make peace and give respect to all different religions. This is the segment of the doc that not only makes most sense and is the most interesting but also more relevant in today's current affairs.
Though the documentary lacks a climax (though not without many inspirational moments including the rending of the well-known Hal David and Burt Bacharach song 'What the World needs Now' ), it makes up for it by an important message. The last portion of the film shows the restoration of the temple in L.A. from its planning to its physical restoration. The message, and one of one of the Jews's fulfilment is to make more Jews who will themselves make even more Jews, so that they can do good for the Earth.
Trailer: https://vimeo.com/220395027
FREE SOLO (USA 2018) ***1/2
Directed by Chai Vasarhelyi and Jimmy Chin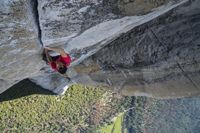 FREE SOLO is the new documentary by Chai Vasarhelyi and Jimmy Chin who wowed audiences years back with the other mountain climbing 2015 doc MERU that chronicled the first ascent of the "Shark's Fin" route on Meru Peak in the Indian Himalayas. Chin is himself a mountain climber who has climbed with the subject, Alex Honnold. Chin is also a close friend of Alex.
To appreciate FREE SOLO the documentary, one must understand the sport of free soloing.
Free solo climbing, also known as Soloing, is a form of free climbing and solo climbing where the climber (or free soloist) performs alone and without using any ropes, harnesses or other protective equipment, relying entirely on his or her ability instead. Soloists typically climb above safe heights, where a fall would always result in serious injury or death. In ordinary free climbing, safety gear is used to protect from falls, although not to assist the ascent.
FREE SOLO the doc offers an unflinching portrait of 31-year Alex Honnold as he
prepares to fulfill his long-time dream to climb the face of Yosemite's El Capitan – 3,200 feet of sheer granite – without a rope. Less than 1% of those who climb attempt free solo. The film explores his psyche and relationships, with interviews from Honnold, his mother, his girlfriend and fellow climbers.
The film be best seen on the big screen due to the majestic landscape of rock, mountains and natural vegetation. I, unfortunately viewed the film on a streaming link, but better to have seen it this way than not at all. Not every person can be a free solo climber but watching this doc on the big screen offers audiences the opportunity to experience the thrill the subject Alex Honnold goes through. The director of photography credits go to Mikey Schaefer with Chin and Clair Popkin.
A funny segment of the doc (providing the audience with a break) involves Alex doing an MRI of his brain. It is determined that he needs more stimuli than most to get himself excited. Alex is extremely fit and has a muscled wiry physique, though is is clear he has a bit of a posture problem, which could be due to a past injury.
To make the film more human, the directors devote some screen time to Alex's family background. His mother is a French teacher and Alex never knew how to hug or use the word love as a kid. Alex also speak candidly on screen as to what motivates him and to the reasons of his choice of the sport. The film examines the relationship between Alex and his new girlfriend, she obviously deterring him from giving 100% to the sport. And the final portion of the movie is the filming of the climb on El Capitan.
FREE SOLO gives a new meaning to the term edge-of-your-seat suspense. The film won won the People's Choice Award (Documentary) at TIFF 2018.
Trailer: https://www.youtube.com/watch?time_continue=2&v=LvOB5MYHjuk
KNUCKLEBALL (Canada 2017) ***1/2
Directed by Michael Peterson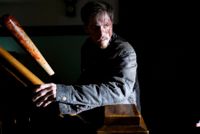 KNUCKLEBALL is a Canadian horror thriller set in the U.S. in the dead of a winter storm. It is advertised as an R-rated HOME ALONE in which a 12-year old boy must defend himself against a house intruder, in this case not only a killer but a pedophile.
As far as the story goes, it is a straight out too well-thread thriller plot with a few nasty bits added in. By co-writer Michael Peterson knows how to put on the suspense in this exercise in terror. Peterson understands the mechanics of a Hitchcockian thriller and applies it at best he can.
The film begins with a husband and wife dropping their son, a 12-year old Henry at his grandfather's out in the woods while they fly out of the city. It is clear from the dialogue that the relationship of the couple is estranged, which as expected (cliches occur quite a bit in the story) will improve later on, once they realize their boy is in trouble and they cannot get to him because of the storm.
As the plot goes, the grandfather unexpectedly dies in the night. Henry finds himself cut off and alone on an isolated farm. When his nearest neighbour, Dixon, realizes that the boy has no one to protect him, Henry becomes a target for reasons he cannot understand. With his parents at least 24 hours from returning and a massive snowstorm brewing, Henry retreats into the house and prepares for a siege, HOME ALONE-style but so much more brutally violent. We are talking barbed-wire here. What follows is a desperate battle for survival that will also unlock the terrifying connection between his family and the killer next door.
As in true Hitchcockian fashion, the terror does not arrive immediately. In Hitchcock's THE BIRDS and also Spielberg's JAWS, the first attack occurs only after half the movie has passed. In KNUCKLEBALL, the grandfather is alive with Henry for the first 30 minutes, with the film tending towards simple drama/comedy instead of a thriller. Grandfather dies in bed at the 30-minute mark.
Peterson's film contains lots of segments that prompts audience anticipation. When grandfather teaches Henry how to throw a knuckleball, one knows that Henry will eventually use his new craft at his intruder. There is one point that grandfather collapses from a heart attack while climbing the roof. He screams and utters to himself: "Get up you old sap. Time to call it a day".
When Henry is alone with the intruder, a local cop is dispatched to the house. No need to guess what happens to her - the same thing when a detective or cop is dispatched (Hitchcock's PSYCHO) to a residence when the occupant is under siege happens here.
KNUCKLEBALL suffers from an all too familiar story. But Peterson improves this story by an engaging first third and and scary other two thirds. Peterson's talent is his ability to draw his audience into the story which results in a very satisfying and absorbing be it ultra-violent thriller.
Trailer: https://www.youtube.com/watch?v=nM-CpDkPOcM
STUDIO 54 (USA 2018) ***
Directed by Matt Tyrnauer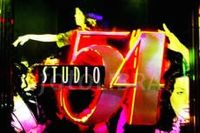 Everyone has heard of STUDIO 54, arguably the most famous of all the dance clubs in the world. Studio 54 is now closed and is currently a Broadway theatre, located at 254 West 54th Street, between Eighth Avenue and Broadway in Midtown Manhattan, New York City. The building, originally built as the Gallo Opera House, opened in 1927, after which it changed names several times, eventually becoming CBS radio and television Studio 52.
The doc is set in the late 1970s, at the peak of the disco dancing and music trend when the building was renamed after its location and became a world-famous nightclub and discotheque.
But director Matt Tyrnauer's doc centres more on the nightclub founders than on the club itself. The founders Steve Rubell and Ian Schrager spent hundreds of thousands of dollars on professional lighting design and kept many of the former TV and theatrical sets, in the process creating a unique dance club that became famous for its celebrity guest lists, restrictive (and subjective) entry policies (based on one's appearance and style), and open club drug use. Founded in 1977, the club was final sold in 1980 to Mark Fleischman who reopened the club after it had been shut down following the conviction of Rubell and Schrager on charges of tax evasion. In 1984, Fleischman sold the club, which continued to operate until 1986. Long history, here, provided with credit to Wikipedia for the invaluable information.
Everyone loves a trip down nostalgic memory lane - especially when one is older and memories involve their youth. Rubell is now deceased, having passed away from the AIDs epidemic while Schager is now an old man. But it is good to see these two hard working individuals during their height of their powers and youth giving everything to their baby, STUDIO 54.
Director Tyrnauer is fortunate to be able to obtain old footage of the club, since there are lots as the club was ultra famous. There are many clips of past interviews with both Rubell and Schrager including them with many celebrities. Tyrnauer begins with a recent interview with Schager. In the words of Schrager, this is a story that needs to be told as it is, and after 40 years, Schrager is now comfortable to have his say to the camera.
STUDIO 54 is as much a story about the club (or studio) as it is about Rubell and Schrager. The film documents the two boys from Brooklyn who met in college and became fast friends like a husband and wife, in the words of Schrager.
The film's first 50 minutes show the club's upside. The pair can do no wrong, but make lots of money with their club. The approval of a liquor license seems a minor problem. They had to turn down hundreds of partygoers who could not get into the club. There are lots of shots of the celebrities who celebrated at STUDIO 54 including the Rolling Stones, Liza Minnelli, Paul Newman with a list of countless other celebs. But all good things have a turning point. The film also documents the jail sentences served by the pair due to tax evasion and drugs.
STUDIO 54 will probably not be cater to the non-partying crowd. But for the majority who love to have a good time forgetting all their troubles while dancing in a club, STUDIO 54 brings back fine memories and serves as a worthy tribute showing immense trouble comes hand in hand with the success of any hug club venue.
Trailer: https://www.youtube.com/watch?v=w99oGMwbTy4