18
Oct
2018
Details

Category: Movie Reviews
Written by Gilbert Seah
THE HAPPY PRINCE, WHAT THEY HAD and HALLOWEEN are 3 films opening that are worth a look.
BEST FILMS PLAYING:
Best Documentary:

Bad Reputation and
Free Solo
Best Foreign:
The Guilty
Best Horror:
Halloween
Best Drama:
What They Had
BEST FILMS OF 2018 (so far)
Angels Wear White
The Ballad of Buster Scruggs (Netflix)
Hereditary
Isle of Dogs
You Were Never Really Here
FILM REVIEWS:
BEAUTIFUL BOY (USA 2018) ***
Directed by Felix van Groeningen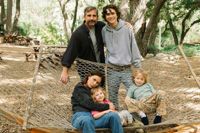 Films about addiction no matter how well made are a difficult watch. Acclaimed films of this genre in the past, Blake Edwards's DAYS OF WINE AND ROSES (alcoholism) and Otto Preminger's THE MAN WITH THE GOLDEN ARM (drugs) are examples. The title of this latest opus on drug addiction supposedly crystal meth addiction, attempts to disguise the unpleasant material at hand.
Based on the bestselling pair of memoirs by father and son David and Nic Sheff, Belgium director Felix van Groeningen's first English language film chronicles the heartbreaking and inspiring experience of survival, relapse, and recovery in a family coping with addiction over many years. The son is the addicted one, and the father a mild user of drugs when younger goes all out to save his son from devastation. As the story is derived from their memoirs, one can safely assume that all the events that occur in the film are true, maybe with just a little bit of dramatization.
Academy Award nominee Timothée Chalamet delivers a better performance here than in the over-rated CALL ME BY YOUR NAME. But it is Steve Carell than achieves the acting honours. At times, one hates his character for being too controlling and at other times, sympathize for his defeat. It is when one never notices an actor's performance that he is doing a phenomenal role and Carell achieves this feat proving himself apt at both comedy and drama.
Nic is indeed a beautiful child with two brothers. Nic's drug use grows uncontrollably. The film traces his genuine attempt at rehabilitation, then coming clean before a relapse. His parents (Amy Ryan plays the mother) are always there for him, though too angry and controlling (understandably) at times. Nic comes close to death as well. As said, it is a chore to watch the downward spiral of a drug addict.
Though film's press kit says that the drug of addiction is meth, the film shows otherwise. Nic is shown at various point heating up a liquid in a spoon and then injecting the solution into his veins. Meth is just mixed with water when injected, so Nic must have progressed to crack, which is not explained to the audience. In another scene, David, the father sniffs a line of powder as he claims he wishes to experience first hand of the drug. Again, nothing is explained to the audience as meth is normally consumed by snorting (as David did) but more commonly by smoking it in a meth pipe (never shown) though the use of injection (which gives a faster high) is less common.
The film is well shot (the surfing segment) and there are no complaints with regards to the other departments.
BEAUTIFUL BOY premiered at TIFF together with another drug addiction film, Baldvin Z's LET ME FALL from Iceland set in the capital of Reykjavik. Baldvin Z draws his film on true stories and interviews with the families of addicts and is clearly the better film in terms of raw authenticity. In this film Magnea the addict is never really keen of rehab and constantly lies to her long-suffering parents who finally gives up on her. BEAUTIFUL BOY in comparison is American and the boy Nic genuinely wishes to come clean though the film proves this an extremely difficult task. But BEAUTIFUL BOY proves once again the triumph the human spirit over adversities like meth addiction.
Trailer: https://www.youtube.com/watch?v=y23HyopQxEg
THE GUILTY (DEN SKYLDIGE) (Denmark 2018) ***1/2
Directed by Gustav Möller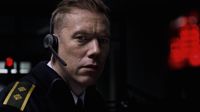 The film that won the Audience Award (World Cinema Dramatic) this year at Sundance,
THE GUILTY is a taut Danish thriller that begins with cop, Asger (Jakob Cedergren) at work at the Copenhagen Emergency Call centre. The film has shades of and will be inevitably be compared to the two American films THE CALL (Halle Berry) and LOCKE (Tom Hardy).
Asger takes the first call from a guy who got robbed in his car. As Asger delves deeper into the situation, he determines that the caller had a hooker in the car who robbed him…"Let him stew in the car," Asger says to the patrol car cop dispatched to that scene. In another incident, he admonishes the caller for overdosing on speed. "It's your own fault." Asger says. Clearly from these two calls, the audience can determine a few things about Asger. He is too hyper for the job and gets too personal. Perhaps deep down, he might be a good person. It is soon revealed that Anger is a suspended police officer for a brutal incident only vaguely described and thus assigned this desk job. He has a court hearing the following day, which he hopes will get him back`on the street. His woman has also left him. Asger is on edge.
Just as one thinks things cannot get worse, Asger gets a call from a woman who, Asger determines is being kidnaped by her ex. He gets her to speak in code as the ex does not know she has called the call centre but thinks she is talking-to her young daughter on the phone. Asger determines the colour of the van they are in as well as a few other facts. He gets too personal when he promises the daughter, after calling up the woman's home that he will keep the mother alive.
What works is the fact that this taut thriller is conceived totally on a cinematic level. The audience hears what is happening on the call and nothing is seen. An example is when the van is stopped by a patrol car when heard on the phone by Asger. The audience hears the rain, the shuffling of feet, the car brakes and so on. These only peaks the curiosity of the audience and also heightens the suspense. Möller creates additional tension with close-ups of Asger's face, with him sweating or quivering.
Besides begin a solid suspensor, Möller's film works on other levels - as a character study and a whodunit. The script co-written by Möller and Emil Nygaard Albertsen has an unpredictable plot twist at the end. THE GUILTY is also a textbook example where all departments work together to create an atmosphere - the cinematography by Jasper Spanning reminding the audience of the claustrophobic enclosure of his working and personal environment and the sound editor, Oskar Skriver, who has the formidable task of having eh audience read what is going on by just hearing the sound effects over the call line.
With regards to Asger's character, director Möller is indecisive whether to make him a likeable character the audience roots for or a troublesome hero. So Asger comes across as both, depending on the situation.
THE GUILTY is Denmark's entry for the Best Foreign Film for the Oscars in 2019.
Trailer: https://www.youtube.com/watch?v=abaoKA6rn5k
THE HAPPY PRINCE (UK/Germany/Belgium/Italy 2018) ***1/2
Directed by Rupert Everett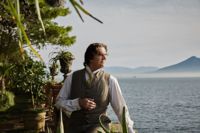 Having starred in two Oscar Wilde film adaptations, AN IDEAL HUSBAND and arguably Wilde's most famous THE IMPORTANCE OF BEING ERNEST, openly gay actor Rupert Everett seems the appropriate artist to adapt the last years of Wilde's life into film. The film is named after one of Wilde's short stories THE HAPPY PRINCE which in the film, is read out in beautiful prose by Wilde (played by Everett) to his two sons in bed as a bedtime story.
As evident even in Wilde's comedies, there is always a dark and sinister element, so THE HAPPY PRINCE is not an easy watch. But Everett does the late playwright justice.
Ghosts haunt Wilde in the dame fashion as the ghosts of Christmases past haunted Scrooge.
It is 1897. The period and atmosphere are very well created. Wilde flees to France, having served two years in a London prison for "gross indecency," the result of an affair with his young lover Lord Alfred "Bosie" Douglas (Colin Morgan). After a failed attempt to reconcile with his wife (Emily Watson) and sons, Wilde instead reunites with "Bosie" and runs off to Naples. Three years later, Wilde is back in France, lying on his deathbed in a cheap Paris hotel room. Past memories flood back, transporting him to other times and places.
The film omits any of the genius of Wilde or where the genius come from. The only instance is the reading of the Happy Prince story to his children. One other note of Wilde's past achievement comes in the form of a lady admirer recognizing Wilde out of the blue and loaning him five pounds. Everett is intent to show the gloom and despair of Wilde and in this respect succeeds. "Suffering is the mystery of life," quips Wilde himself at the beginning of the film. Everett, like Wilde in the younger days was quite the looker. Now at the age of 59, Everett looks frumpy, having lost most of his youthful looks, but however,primed at this age to pay Wilde in his late forties.
One of the few uplifting scenes in the film occurs with a brawl in a western-salon type bar in Paris. Wilde astounds the customers with the rendering of "The boy I Love is in the Gallery", before falling flat on his face on the floor.
Quite a bit of screen time is devoted to Wilde and his two lovers, "Bosie" and Robbie (Edwin Thomas), the former being the more flamboyant and the latter more serious. The film shows Wilde more loyal to Lord Alfred "Bosie" Douglas. But both of the relationships are toxic. Pushed to the limit at one point, Wilde scolds Robbie when he pits his other lover, Bosie against him : "You will never love me the way he does." It is noted in the closing credits that Bosie was left penniless whereas Robbie managed to claim more of Wilde's fame at the end.
Everett does triple duty as actor, writer and director in this film. His best achievement is in the acting department and Everett will be remembered as the actor who best played Oscar Wilde.
Trailer: https://www.youtube.com/watch?v=4HmN9r1Fcr8
Mid90s (USA 2018) **
Directed by Jonah Hill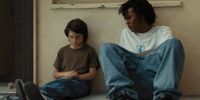 Actor Jonah Hill (MONEYBALL) makes his directorial debut in the highly touted Mid90s, a film that centres on rebellious youth. Like all first time directors, tJonah Hill demonstrates in the film's strengths what he is familiar with - in this case his acting. His young actors perform magnificently capturing the spirit of troubled youth. But there is much lacking in the overall bigger picture. For one, Mid90's captures a minuscule portion of the life of its subject, 13-year old Stevie (Sunny Suljic last seen in THE KILLING OF A SACRED DEER) but omits the larger story of perhaps examining the advancement in his coming-of-age rites.
The film begins with a skateboarding segment where the camera fluidly follows the smooth gluing movement of the sport. It is a promising start showing expert technical camerawork. The film then settles on Stevie and his friends who hang around a skateboard park with other misfits, some of whom are acquaintances with others they have altercations with.
One of the film's troubled scenes involve a party where most of the partygoers are between the ages of 18 to 30 where obviously, drug and sex are going on, besides alcohol consumption. Stevie meets an older black girl. They chat before heading upstairs to a room where they make out, Stevie for the first time and her, to satisfy her curiosity. If the gender of these two were reversed, the elder participant would be considered a pedophile, a dirty old man akin to a Harvey Weinstein type sex offender. Also, Stevie is of the young age where he should be sheltered from foul language, such that is frequently uttered with the skateboard buddies. One wonders if his dialogue was dubbed into the film, and if not, that would be trouble for tHill and his filming company.
Credit is to be given to Hill and Suljic however in the creation of this sweet 13-year old character who comes across as vulnerable, goofy and occasionally strong and clever. The other buddies are more cardboard characters despite given interesting names like Fourth Grade (Ryder McLaughlin), perhaps for the reason he behaves and thinks like one and Fuckshit (Olan Prenatt) called that for other reasons.
The script, probably with a lot of dialogue improvised is street smart talk, fast and furious and often hilarious and occasionally hits the nail on the head with respect to youth observation. One must be fast to catch the lines or one will miss out. Political correctness is thrown out of the window in the film with the N word constantly in use and dialogue like "Don't say thank you, that's gay!" One could argue that this is the way words are used on the streets.
Jonah Hill's Mid90s may be interesting in parts containing impressive performances from its young cast but the film is too short sighted. Despite being authentic and entertaining, Mid90s is nowhere remotely close to Truffaut's 400 BLOWS. The film has garnered rave reviews and one can see that is a street-smart down-to-earth crowd pleaser, despite its flaws.
Trailer: https://www.youtube.com/watch?v=w9Rx6-GaSIE
THE OATH (USA 2018) ***
Directed by Ike Barinholtz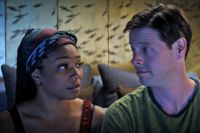 The Oath is a fictional black comedy about American citizens given the supposedly option of signing a loyalty oath to the President. As far as black comedies go, they do not often generate many laughs, and neither does this one. THE OATH can be best considered a comic look at America and something that could but hopefully never happen. Citizens are required to sign before the next Thanksgiving is up. The oath is hopefully to isolate terrorists in America. The incentive given to those who sign is a huge tax cut, but it seems that those opposing are being persecuted.
This controversial White House policy turns family member against family member when Chris (Ike Barinholtz), a high-strung progressive news junkie, and his more level headed wife Kai (Tiffany Haddish) learn bout it. Their reaction is disbelief, followed by idealistic refusal. But as the Thanksgiving deadline to sign approaches, the combination of sparring relatives, and the unexpected arrival of two government agents sends an already tense family gathering completely off the rails. Chris mentions that this is not the America he knows or the one he wants to grow up with.
Director Barinholtz keeps the film's budget in check. Instead of showing an actual riot with cars and buildings set on fire, the above is seen on the television screen. Most of the action takes place at the dining table with a few exteriors.
The film's best joke also happens on the television when it is announced (heard) that actor Seth Rogen has disappeared because he was opposed to the oath.
For a man so geared on Thanksgiving, the film allows the man (Chris) to throw away etiquette and allow him to use his cell phone. This incident is the catalyst for the big break up at the Thanksgiving dinner. This is a scene well done with tempers flaring and foul language running loose.
Performances-wise, every actor seems to be overdoing their parts. All this looks normal for the fact that the events unfolding are so over the top.
The film reaches great intensity once the CPU (Citizens Protection Unit) agents invade Chris's home without a warrant. Someone in the dinner party had complained that Chris is advising others not to sign the oath, and hence the agents's sudden intrusion. Agent Mason (Billy Magnussen) taunts Chris to the point that he pushes him resulting in him taking out his gun, and punches Chris. As a result Chris's dad hits Agent Peter (John Cho) with the chimney stoker knocking him out cold. Mason is tasered and is tied up. Mason is crazy and continue to threaten Chris while Agent Peter appears the rational one. Director Marinholtz surprisingly keeps the audience at the edge of their seats during all the action combined with verbal shouting. The children of the family are never seen during all the commotion, having being conveniently locked in another room or whisked off to another location.
One troubling flaw are the mixed messages sent by Barinholtz's film. Should one stand up for ones belief despite opposition from family or should one put family first and personal principles second? The message is blurred more by the words uttered by Chris's dad: "One has to do whatever it takes to keep ones family safe."
When one wonders how all the mayhem and violence will end, Barinholtz gears his film towards an unexpected plot twist. THE OATH ends up disappointing audiences' expectations despite some solid compelling set-up drama.
Trailer: https://www.youtube.com/watch?v=9LcVhhno-Uo
TRANSFORMER (USA 2018) ***
Directed by Michael Del Monte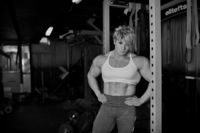 Better a big muscular woman or a small weak man?
TRANSFORMER, the true transgender story of a muscled power lifter undergoing a sex change operation offers an unique perspective on the transgendered community and how each transition is unique to the person transitioning. Janae (aka Matt) Kroc was as masculine as you can be prior to her transition, a world record powerlifter renowned for her masculinity. When she transitioned, she struggled with remaining true to her passions as a powerlifter while wanting to become more feminine. The film illustrates a lesson that transitioning doesn't mean leaving one person behind to become another - so audiences should be prepared to be taking for quite the ride.
Krocs's personal and family are also on display. Kroc bears all his secrets. He admits to the origin of his power weightlifting. He was bullied as a very young boy and never liked to be in that position. After getting bigger. no one would mess with him. That is until he started dressing up as a female.
The film follows not only Kroc through his weight lifting exhibitions and contests, but also through his personal life. He is shown swimming with his three boys in the house pool. He informs the audience that his wife would not allow him to dress in front of her or the children. Unlike his children, she never understood or gave him a chance, which means it best if they separated. The children speak highly of their cross-dressing father, saying that everyone should be able to do what he or she wants.
It is indeed sad to see that there are still people in the world who are unacceptable of gays or people who are different in general. A moving while disturbing segment shows protesters during an LGBT march. These people carry just awful and nasty signs like LGBT (Let God Burn Them) and HOMO Sex is Sin. Well, Kroc has admitted earlier in the film that he is still attracted to females and not men. One really nasty sign reads" Get AIDs yet?" What is wrong with these people? Why is there a need to be plain nasty? After that segment, the camera then focuses on Kroc back in male clothes. One certainly gains a new respect for this man - one who is able to stand up for what he believes and to challenge all the unacceptable idiots in the world, who are the ones who should burn in hell. Kroc is also shown boding with other transgender power lifters. They share their emotions and experiences in a very sensitive moment.
But one can tell the film is short of material. Director Del Monte inserts Krocs' pumping training sessions as filler.
TRANSFORMER turns out to be everything a solid documentary should be - a well. made doc on an intriguing subject based on a character that inspires and teaches, an one who will persevere despite all odds. The doc opens the audiences eyes to the good and the bad. The good being that here are still people that are giving and understanding like Kroc's children and the bad or very bad, the homophobic who are bullies, idiots and just plain nasty people. The film premiered at Hot Docs 2018 and it is rewarding to see this well deserving piece get a full wide distribution. A film that celebrates man's diversity and one that demands to be seen, if not for just one transgender's personal fight against all odds - a case of the underdog winning in a sort of feel-food documentary.
Trailer: : https://vimeo.com/233416373
WHAT THEY HAD (USA 2018) ****
Directed by Elizabeth Chomko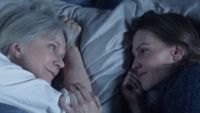 Before reading this review, it be best noted that the writer's mother passed away from Alzheimer's. The film thus hits more than a number of soft spots, and though WHAT THEY HAD a film about a mother with the decease is occasionally flawed, the film kept me at most parts in tears.
Playwright and theatre actress Elizabeth Chomko delivers a gut wrenching directorial debut with her award winning screenplay. The film is fortunate to have four top notch actors delivering unforgettable performances - Hilary Swank and Michael Shannon playing duelling siblings trying their utmost best to look after their parents, Robert Forster playing the father looking after his dementia stricken wife played by Blythe Danner.
The film's plot can be summed up simply with a few lines tut it is the drama and details that create the movie (i.e. the writing and direction). Bridget (Hilary Swank) returns home at her brother Nicki's (Michael Shannon) urging to deal with her ailing mother, Ruth (Blythe Danner) and her father Burt's (Robert Forster) reluctance to let go of their life together.
The film fails to identify the ugly aspects of living with the disease. For example, my mother did not shower for 8 months before I discovered it and and to get a caregiver come into help her shower weekly. And still, every week she would forget and we and to literally drag her to the bathroom. She would also do her number two before reaching the toilet and not remember about it a day after. The film also never showed at any point Burt's loss of patience over his wife's forgetfulness.
The drama works as the script offers each of the family's point of view on the problem. And each member is right and has sacrificed in her or his own way. There is no one correct solution. As the Burt character talks about love: "You find someone you can commit to, and then you work at it." This line is also true even if you one finds ones soulmate or love at first sight. One has to work at it. The film contains many dramatic sets-ups with excellent dialogue and tearful moments.
The script shows its occasional brilliance. One is the use of the scenario of the dementia-ridden mother hitting on Nicki, her son. The incident is first milked for laughs and then the same one for sympathy.
One might complain that the film tugs too are at the heartstrings. The Christmas setting adds on to the sentiment especially in the exchanging of gifts scenes. But audiences love a good cry just as a good laugh at the movies.
Two-time Oscar Winner Hilary Swank (MILLION DOLLAR BABY and BOYS DON'T CRY) who not only stars in the film but co-produced it is known to make films about subjects that matter. They might have been successful such as in BOYS DON'T CRY about LGBT rights or less successful such as in FREEDOM FIGHTERS about at-risk students. WHAT THEY HAD is an earnest and sincere film about a subject every human beings will face in their families at one time or other, sooner of later.
Trailer: https://www.youtube.com/watch?v=1kBGxsyp__o