Opening this week is JOHNNY ENGLISH STRIKES AGAIN, CAN YOU EVER FORGIVE ME? among others.
BEST FILMS PLAYING:
Best Documentary:
Bad Reputation and
Free Solo
Best Foreign:
Angels Wear White (China/France)
1945
Best Horror:
Hereditary
Best Drama:
The Children Act
BEST FILMS OF 2018 (so far)
Angels Wear White
The Ballad of Buster Scruggs (Netflix)
Hereditary
Isle of Dogs
You Were Never Really Here
FILM REVIEWS:
BEL CANTO (USA 2018) **
Directed by Paul Weitz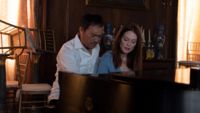 Inspired by the 1996 Peruvian hostage crisis, BEL CANTO is supposedly a dramatic love story that follows a famous soprano, Roxane Coss (Julianna Moore) who travels to South America to give a private concert at a party for a wealthy Japanese industrialist, Hosokawa (Ken Watanabe). The film is based on the novel by Patchett, published in 2001.
Just as the glittering gathering of diplomats and politicians convene for a performance by Coss, the embassy is taken over by a guerrilla rebel group demanding the release of their imprisoned comrades. Threats are made, lives are lost, a tense negotiation begins, and a long standoff ensues. While they are confined to the house, the hostages and their captors, who speak different languages, are forced to find ways to communicate through a Japanese translator Gen (Ryo Kase). Music, especially the beautiful arias performed by Coss (dubbed in, of course), sparks a shared sense of camaraderie and love. Other characters include the French ambassador (Christophe Lambert) and a Russian businessman (Olek Krupa) who do nothing but muddle the story.
Weitz's film is all over the place - over serious to the point that one expects Weitz to have his drama suddenly break out into comedy. Weitz cannot decide what to concentrate his story on - the romance, hostage situation or the action or messages such as the guerilla's fight for rights and freedom, the universal influence of music or the power of love.
A different view is offered for the rebels from the point of view of the youngest rebel who shoots and kills a hostage. "If blood is spilled, it is for the people," he is told. Brainwashing of the young rebel diminishes the sympathy for the plight of the rebels.
A few scattered jokes here and there lift the film's monotony. " You sure they will not shoot? Not everyone likes opera." says Coss. A few Hollywood type dialogue is also scattered here and there." "The voice you have will never being to them," says Hosokawa to Coss when she asks his opinion whether to sing for the rebels.
It's a good guess what attracted Oscar Winner Julianne Moore to the role of the opera diva. Moore gets to portray a famous woman at the height of her beauty. She also gets to lip-sync, pretending to be a world class opera performer. Obviously the director does not think much of her credibility as whenever she starts singing, his camera quickly cuts to the expressions of faces of the listeners, seldom focusing on Moore more than a short period of time. The reason is clear, as the audience can attest. The camera also pans and rests on Moore's cleavage as she falls to the floor during the hostage scene, to emphasize the beauty of her character. The camera does this tactic twice, making the motive too obvious.
Yet another problem of the film is the credibility of the romance between the singer and her Japanese admirer. One would think that under a hostage situation, things would be more tense than for a couple to fall in love. It would easier to believe that every hostage would be at each other's nerves. The race and cultural difference does not help either. And the two are unable to communicate in a common language. Coupled with this romance is a another involving the Japanese translator and a young female rebel, Carmen. This one, at least, is more believable.
Running at 90 minutes, the film feels as long as any hostage situation. One wants it all to end quickly - not the hostage situation but the film.
Trailer: https://www.youtube.com/watch?v=dBIQ0KFGn8M
CAN YOU EVER FORGIVE ME? (USA 2018) ***1/2
Directed by Marielle Heller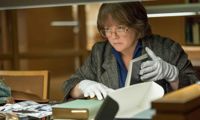 It takes courage to make for comedian Melissa McCarthy to lose all that weight and to star in a serious role of a convicted felon as well as to bring to the screen the story of a protagonist that is annoying and not one many can root for. Accolades for the effort. Based on the book/biography of the same name, CAN YOU EVER FORGIVE ME? tells the story of failed writer Lee Israel who did at one time make it on the New York Times Best 10 bestseller list but now, down spiralled to drinking and being exceptionally rude to everyone. She is a petty thief as well. Then she learns something she is really good at, forging literary letters and selling them to collectors. She befriends a gay Brit (Richard E. Grant) who does not help her esteem either. Heller's first third of the film shows Lee as a dislikable person, despite offering some break in her jokes and insults. Heller and McCarthy achieves their difficult task of getting the audience to slowly become sympathetic (if not root) for the character after that. But the film is a biography and a study character of the forger Lee Israel and in that sense, the film succeeds tremendously.
Trailer: https://www.youtube.com/watch?v=UvJIaNsf_bY
JOHNNY ENGLISH STRIKES AGAIN (UK 2018) **
Directed by David Kerr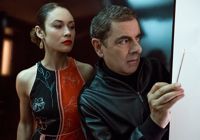 The third instalment after JOHNNY ENGLISH and JOHNNY ENGLISH REBORN, JOHNNY ENGLISH STRIKES AGAIN sees one again bumbling secret agent (Mr. Bean who can speak) Johnny English (Rowan Atkinson) saving the world, in this case from internet hacking by super villain Jason Volta (Jake Lacy).
When the film opens, English is a retired M17 agent now teaching geography at some boarding school. When M17 is on the receiving end of a massive cyber attack from an unknown entity, that exposes the identities of all its current field agents, the Prime Minister (Emma Thompson looking more puzzled than anything else probably wondering what she is doing in this dud) instructs M17 to reinstate older, inactive agents like Johnny English to be employed to solve the case. As a result of accidentally killing off three other older retired agents (cameos by Edward Fox, Michael Gambon and Charles Dance), he is given the job, which he undertakes with the help of his faithful and unfunny assistant, Angus Bough (Ben Miller).
British TV series expanded into feature films often take their characters on holidays (KEVIN AND PERRY GO LARGE, ABSOLUTELY FABULOUS, ON THE BUSES etc. etc) to some foreign country. This sequel takes the agents to the south of France for their investigation. Nothing much in terms of comedy improves.
The oddest thing about the film is that the script by William Davies contains no shortage of elaborate comedic set-pieces. These includes among others these two:
English and Bough dressed up as French waiters devising ways to get close to a suspect dining in a French posh restaurant with his girlfriend. This involves a fire resulting from flambé prawns in order to nab a cellphone while eventually setting the entire restaurant ablaze
a Virtual Reality simulation with English taking down a number of innocent strangers in public while imagining he is fighting Volta's men in his mansion home. This involves hitting a bakery eatery employee with two baguettes, toppling a tour guide on a double decker bus and pushing an old lady in a wheelchair out of a store.
Yet none of these generate any laughs - I did look around the theatre many times to see if anyone even remotely smiled
A smart idea of self parodying involves a glamorous Russian agent Ophelia Bulletova, played by former 007 James Bong girl, Olga Kurylenko who investigates Volta. Any segment involving her and English also fail to incite any humour.
On the positive side, the film contains no toilet or barf jokes, though there is a harmless (and again unfunny one) involving the agent caught with his trousers down.
The film has so far grossed, at the time of writing almost $100 million while garnishing generally unfavourable reviews by critics. The first two made around $160 million each which explains this third outing from Universal Pictures. At best, what can be said is that younger kids might find this whole espionage exercise entertaining.
Trailer: https://www.youtube.com/watch?v=-Qv6p6pTz5I
Mid90s (USA 2018) **
Directed by Jonah Hill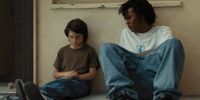 Actor Jonah Hill (MONEYBALL) makes his directorial debut in the highly touted Mid90s, a film that centres on rebellious youth. Like all first time directors, tJonah Hill demonstrates in the film's strengths what he is familiar with - in this case his acting. His young actors perform magnificently capturing the spirit of troubled youth. But there is much lacking in the overall bigger picture. For one, Mid90's captures a minuscule portion of the life of its subject, 13-year old Stevie (Sunny Suljic last seen in THE KILLING OF A SACRED DEER) but omits the larger story of perhaps examining the advancement in his coming-of-age rites.
The film begins with a skateboarding segment where the camera fluidly follows the smooth gluing movement of the sport. It is a promising start showing expert technical camerawork. The film then settles on Stevie and his friends who hang around a skateboard park with other misfits, some of whom are acquaintances with others they have altercations with.
One of the film's troubled scenes involve a party where most of the partygoers are between the ages of 18 to 30 where obviously, drug and sex are going on, besides alcohol consumption. Stevie meets an older black girl. They chat before heading upstairs to a room where they make out, Stevie for the first time and her, to satisfy her curiosity. If the gender of these two were reversed, the elder participant would be considered a pedophile, a dirty old man akin to a Harvey Weinstein type sex offender. Also, Stevie is of the young age where he should be sheltered from foul language, such that is frequently uttered with the skateboard buddies. One wonders if his dialogue was dubbed into the film, and if not, that would be trouble for tHill and his filming company.
Credit is to be given to Hill and Suljic however in the creation of this sweet 13-year old character who comes across as vulnerable, goofy and occasionally strong and clever. The other buddies are more cardboard characters despite given interesting names like Fourth Grade (Ryder McLaughlin), perhaps for the reason he behaves and thinks like one and Fuckshit (Olan Prenatt) called that for other reasons.
The script, probably with a lot of dialogue improvised is street smart talk, fast and furious and often hilarious and occasionally hits the nail on the head with respect to youth observation. One must be fast to catch the lines or one will miss out. Political correctness is thrown out of the window in the film with the N word constantly in use and dialogue like "Don't say thank you, that's gay!" One could argue that this is the way words are used on the streets.
Jonah Hill's Mid90s may be interesting in parts containing impressive performances from its young cast but the film is too short sighted. Despite being authentic and entertaining, Mid90s is nowhere remotely close to Truffaut's 400 BLOWS. The film has garnered rave reviews and one can see that is a street-smart down-to-earth crowd pleaser, despite its flaws.
Trailer: https://www.youtube.com/watch?v=w9Rx6-GaSIE
ROOM FOR RENT (Canada 2017) ***
Directed by Matthew Atkinson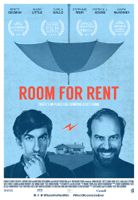 Direct from Manitoba! I seriously cannot recall any Canadian film from Manitoba (excepting Guy Madden films) but this one is not half bad. It is in fact, quite good.
Mitch Baldwin (Mark Little) is a classic case of a loser. As an adult, he is still living with his parents and too unmotivated to work. Worst still, Mitch had won $3 million in senior year. Three years later, he is flat broke and a laughing stock after becoming famous on TV upon winning the lottery. The status quo is challenged when his father, Warren (Mark McKinney) loses his job. Short of money, Mitch convinces his parents to take in a lodger. The stranger, Carl Lemay (Brett Gelman) turns out more than Mitch anticipated.
Written and directed by Matthew Atkinson, this simple premise proves ample opportunity for twists and turns in the plot. The stranger Carl is the biggest wild card and Atkinson keeps the secret of who he actually is right to the very climax of the film.
"My parents are hounding me all the time", says Mitch at one point in the film. Of course, Mitch does nothing but sit around all day, never looking for work as he is supposed to, expecting his parents to bring snacks and food for him all the time.
Carl does everything that director Atkinson can imagine to annoy Mitch. And these are really annoying.
Among them:
bringing Mitch's old girlfriend, Lindsay (Carla Gallo) back into the house
bonding with Mitch's parents - something that Mitch was never able to do
showing up talk to Mitch all the time and lastly
annoying Mitch just because he can
The reason all this works is that Mitch deserves what he is getting from Carl. Mitch is plain lazy, unmotivated and takes advantage of his parents.
All the above take place during the first half of the film. Then Mitch starts taking action. He begins taking a stand and protecting himself against his enemy. Mitch even starts to gain respect from his ex-girlfriend who begins helping gather evidence against Carl. All this is made more interesting for the fact that Carl turns out to have a few skeletons in the closet. The two eventually end up in a face off when Carl confronts Mitch in his bedroom and punctures his waterbed as revenge.
Director Atkinson has a keen eye for comedy. His comedic setups are meticulous and the humour comes across well. It helps too that his 4 main actors playing Mitch, Carl and the parents are very good.
A little comedy, a little romance, a little message movie - all surprisingly twisted and unexpectedly inventive for a small budget Canadian feature. Definitely worth a look.
And the climax where everything about Carl is finally revealed is a real hoot! If the climax does not get one laughing aloud, nothing will!
Trailer: https://www.imdb.com/title/tt5796156/videoplayer/vi2493626905?ref_=tt_pv_vi_aiv_1