25
Oct
2018
Details

Category: Movie Reviews
Written by Gilbert Seah
TIFF Cinematheque Present - The films of INGMAR BERGMAN
A must for all those serious about cinema, Ingmar Bergman films demonstrate the art of cinema and the influence of a director's life and religion on his craft.
Bergman has also been an influence on many a filmmaker, most notably Woody Allen, Margarethe von Trotta, Olivier Assayas, Mia Hansen-Love, Ruben Ostlund among others. Allen has made films like STARDUST MEMORIES which is definitely Bergman in tone while von Trotta has made SEARCHING FOR INGMAR BERGMAN, a documentary on the Master's work. It is a pity the doc is not screened as part of this retrospective as it would serve as the perfect companionship. The doc was screened at this year's Toronto International Film Festival and hopefully will get a theatrical run soon.
This exhaustive series screens almost every Bergman film, which needless to say should be seen on the big screen. The cinematography by Sven Nyquist,who has worked on most of the Bergman's films is nothing short of astonishing.
Bergman's films range from the playful like the most entertaining FANNY AND ALEXANDER to his most serious (about death WILD STRAWBERRIES, CRIES AND WHISPERS and of course, THE SEVENTH SEAL with the grim reaper or relationships PERSONA) to his kind of action/revenge flick, the excellent THE VIRGIN SPRING). A warning is that the films are not an easy watch - many are ultra-grim, except maybe for FANNY AND ALEXANDER which runs more than 3 hours in length.
Religion plays part in Bergman's films. His childhood is best exemplified in FANNY AND ALEXANDER.
For the complete program schedule, ticket pricing, venue and showtimes, please check th Cinematheque website at:
Capsule Review of Selected Films:
CRIES AND WHISPERS (Sweden 1972) ***
Directed by Ingmar Bergman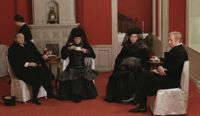 Though the only foreign film to be nominated for a Best Picture Oscar, CRIES AND WHISPERS is one of my least favourite Bergman films. Though the cinematography here by Bergman regular Sven Nykvist is one of his best works, the film is too artsy for my taste. The story follows three sisters, played excellently by Liv Ullmann, Ingrid Thulin and Harriet Anderson, one of which is dying from an unnamed ailment. She is closer to her maid that the oner two sisters though she (Agnes) tries to reconcile the problem after her death. There are lots of heavy breathing, moaning and groaning and of course, crying and whispering, which I think could be quite laughable at times. Religion is always at the forefront again. There are hints of lesbian love and incest though thankfully Bergman spares the audience any sex scenes. All a very sordid and gloomy affair.
Trailer: https://www.youtube.com/watch?v=6Pw7FYex5pQ
For complete article:
click on link below for our sister website:
http://toronto-franco.com/index.php?option=com_content&view=article&id=245&catid=21