The excellent South Korean film BURNING, a hit at this year's Cannes opens this week at the Bell Lightbox. BOHEMIAN RHAPSODY, the bio of Freddie Mercury makes its debut with a colourful performance by I, ROBOT's Rami Malek.
BEST FILMS PLAYING:
Best Documentary:
Bad Reputation and
Free Solo
Best Foreign:
Burning
Best Horror:
Halloween
Best Drama:
The Children Act
BEST FILMS OF 2018 (so far)
Angels Wear White
The Ballad of Buster Scruggs (Netflix)
Burning
Hereditary
Isle of Dogs
You Were Never Really Here
FILM REVIEWS:
BOHEMIAN RHAPSODY (USA/UK 2018) ***
Directed by Bryan Singer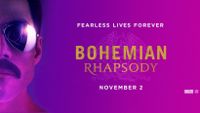 BOHEMIAN RHAPSODY is a biography of the British rock band Queen concentrating on lead signer Freddie Mercury (Rami Malek from I, ROBOT and PAPILLON) set from the band's formation to the band's performance at the 1985 Live Aid concert in 1985. Director credit goes to Bryan Singer though he was replaced before shooting was compete by Dexter Fletcher. (America's director's guild, the DGA only allows one director credit).
The story centres on Freddie Mercury. He is shown at the start of the film at odds with his Pakistani family, particularly his strict father in his small London home. After a visit to a small club, he replaces the band's lead singer and before long, he leads the band now called Queen to fame. The script by Anthony McCarten gives Mercury a lot of credit (perhaps too much) for the band's success. The other band members (with Gwilym Lee as Brian May, Queen lead guitarist, Ben Hardy as Roger Taylor, Queen drummer and Joseph Mazzello as John Deacon, Queen bass guitarist) are given brief mention.
Besides this flaw giving Mercury too much credit - the film even bookmarks the film with his entrance onto the Live Aid Concert- the film is overlong, stretching past the 2 hour length. The climax of the film - Queen's performance of their hits could have been shortened for better effect. The desire to please audiences results in the film falling into clichéd territory. Father of the family finally approves his son's success, including the father's advice of good thoughts, good words, good deeds being repeated at the film's conclusion. The blowing of a kiss by Mercury to his mother, as promised is yet another example. Mercury's story also falls into the standard mould of rock band/singer's biographies - of rise to stardom, fall from grace and recovery back to existence with life lessons learnt, with hit songs dispersed in the process.
What the film benefits from is lead actor's Rami Malek's diversified performance, especially his showmanship during the Live Aid Convert. Malek has demonstrated his acting chops already this year with an unforgettable performance in PAPILLON.
Mercury's relationships are also given full display including his bi-sexualilty. Mercury's first girlfriend Mary Austin (Lucy Boynton) is demoted from first-class lover to best friend as Freddie finally takes on a male partner, Jim Hutton (Aaron McCusker).
As in most biographies on subjects with AIDs, the audience is informed that Mercury has contacted the decease with credits informing that his death later followed from complications due to the disease, with no details of his suffering or maybe regret.
Queen fans should be pleased with the rendering of most of the band's hits including the title song, "Another One Bites the Dust and "We are the Champions."
One of the film's producers is Queen's third manager, Jim Beach, played by veteran Brit actor Tom Hollander. Mike Myers has a small role as n EMI executive.
What BOHEMIAN RHAPSODY has going for it are the performances of the band's songs and Malek's acting.
Trailer: https://www.youtube.com/watch?v=ZQ5uRRIZrBI
BURNING (South Korea 2018) ***** Top 10
Directed by Lee Chang-dong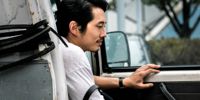 This surprise mystery sleeper that took Cannes by storm is based on a short story by Haruki Murakami about a young man who grows suspicious about the motives of a deceptive interloper who is hanging around with his childhood friend and love interest. While jumping from job to job to support himself, Jong-su (Yoo Ah-in) is a sort of country bumpkin. He runs into Hae-mi (Jun Jong-seo), the childhood friend from his hometown. The two start to grow fond of each other, and Jon-su wonders if he has found someone he can maybe one day fall in love with. He looks after her cat when she goes away to Africa but in return finds her changed, arriving with a wealthy stranger, Ben (Steven Yeun). Ben is likened at one point to THE GREAT GATSBY (Jong-su being a writer), a wealthy mystery man. Lee's film stands out for his excellent pacing, attention to detail (audiences have to be fully attentive) and his creation of mystery and longing around his characters. The film has just been selected as South Korea's nomination for the Best Foreign Language Film Oscar.
Trailer: https://www.youtube.com/watch?v=wi6Kw7V8
SCIENCE FAIR (USA 2018) ***1/2
A film by Cristina Costantini and Darren Foster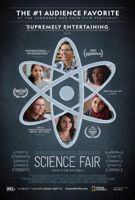 School kids giving their best for some world competition has always made good fodder for feel-good, inspiration and entertaining documentaries. Spelling bees, ballroom dancing have successful source material and now science projects in a typical school science fair. Hopefully these projects will do the world a change and make it a better place. Yes, the children are our future!
SCIENCE FAIR follows nine high school students as they navigate rivalries, hiccups and triumphs on their journey to compete at the 2017 International Science and EngineeringFair (ISEF) in LA. As 1,700 of the smartest, quirkiest teens from 78 countries face off, the stakes are high for the fair's $75,000 top prize.
The film does well to make the subject personal as these students are interviewed and tell the camera their aspirations and goals in life. The audience sees these kids as both highly intelligent talent as well as normal children wanting to have a good time while attaining their goals.
Choosing which nine students from the seven million that try to qualify for ISEF must have been a daunting task for directors. And why 9? 9 seems an appropriate number to show differences and variety in the film. I am sure whichever 9 the directors would have picked - the nine would still be interesting - so it is clear the most charismatic the ones chosen the better and the more eclectic the better, which appears to be the case in the film.
Among the 9 students: A West Virginia math whiz nearly failed algebra, yet he taught a computer to rap like Kanye West. At a sports-obsessed South Dakota school, a Muslim girl turns to the football coach when she can't find a teacher to serve as her research advisor. In a poor Brazilian area, two friends identify a protein that inhibits the Zika virus. In Germany, an aeronautics fanatic redesigns a century-old wing. But will it fly? Then there's the Kentucky trio who invent a new kind of stethoscope and, from the same school, a child prodigy who deals with a set-back.
There is nothing wrong too with a touch of nostalgia. Also interviewed are 93-year old Dr. Paul Teschen, winner of the first-ever national science competition in 1942, and Dr. Nina Schor, the first girl to win after boys and girls were allowed to compete against each other. Script is by Jeffrey Plunket, Costantini and Foster. Costantini and Foster also collaborated on the award-winning short documentary Death by Fentanyl.
One cannot argue that SCIENCE FAIR lacks spirit. The film's most energetic segment sees the finalists dancing up a storm at a dance party. Consider the background of the doc's two directors. But Costantini is a two-time alumna of ISEF, thus giving her an insight into
the scene. Foster was a science kid too, but he admits that the level at which Costantini competed was another world. She even skipped going to the junior prom with her high school crush so she could compete at science fair. Dedication and obsession!
SCIENCE FAIR is a very entertaining and inspirational documentary that went on to win the Audience Award winner at both the 2018 Sundance and SXSW festivals. SCIENCE FAIR is not the kind of doc that would go on to win the Oscar for Best Documentary but the best thing is that it is such a pleasurable and easy yet inspirational watch.
Trailer: https://www.youtube.com/watch?v=AJdYLAc-gzM
SUSPIRIA (USA/Italy 2018) **
Directed by Luca Guadagnino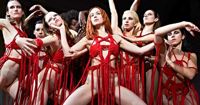 What happened to good old fashioned subtlety? And what happened to the maggots dropping from the ceiling of the boarding school?
SUSPIRIA 2018 is the curious remake of the 1977 Gallo horror classic by Dario Argento about a young girl entering a new ballet school, discovering it to be run by a coven of witches. The director here is Luca Gaurdagnino who helmed the overrated CALL ME BY YOUR NAME, whose talent (or lack of) is more evidently displayed here.
Jessica Harper who starred as the innocent girl in the original has a cameo in this updated version as the doctor's wife who went missing during the war. Dakota Johnson plays the lead role here with Tilda Swinton playing Madame Blanc and an elderly male doctor using heavy prosthetics.
SUSPIRIA opens with words implying a long film (2 and a half hours) with 6 Acts and an epilogue. The film is and feels lengthy. It looks great, courtesy of cinematographer Sayombhu Mukdeeprom with haunting music by Thom Yorke who won an Award for it at the Venice International Film Festival.
SUSPIRIA is all looks but it is unfair to say all looks and no substance. There is more plot than the original though the script is based on Argento's screenplay. The story is still set in a German dance school. But the problem is that Guadagnino' s storytelling technique appears not to be in use. It was ok for his last film CALL ME BY YOUR NAME that worked on a weaker narrative, the beauty of the Italian countryside and first love. In SUSPIRIA many scenes appear unconnected and after reading the story from the press notes, a lot of what transpires is not communicated to the audience. The plot is made more complicated by its setting in 1977 with the politics of the Berlin Wall.
SUSPIRIA is a complete mess. Take this scene near the end as a classic example. The old doctor, Dr. Klemperer (played by Swinton herself) and his lost wife (now re-untied and played by Jessica Harper) are out walking out in the snow before she disappears for no reason. The doctor is then dragged into a building by two elderly women, screaming at the top of their lungs. The doctor is supposed to be lured to the building by a witch disguising herself as the wife. A huge witch ritual begins with no shortage of nudity (the sort with lots old old withering bodies, sagging breasts and drooping buttocks) but the type one does not want to witness. Madame Blanc (Tilda Swinton) is killed in this ritual or isn't she? - All too confusing.
Director Guadagnino has put too much effort and has obviously become too serious with the project. The original SUSPIRIA was a slasher film, scary but fantastic cheesy entertainment that is on every horror fan's list as a must-see. Gaudagnino has definitely taken all the fun out of the horror classic. This one is elaborate, creepy and disgusting for no reason it was meant to be this disgusting. SUSPIRIA has so far got mixed reviews from critics, as most probably are unsure what to make out of this mess of a horror movie. Argento's SUSPIRIA was funny, clever and short.
Trailer: https://www.youtube.com/watch?v=BY6QKRl56Ok
TAKE LIGHT (Canada 2018) ***1/2
A film by Shasha Nakhai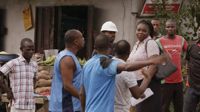 A web of corruption and anger leaves 50% of Nigerians without electricity in Africa's largest energy-producing country. The film opens saying that Nigeria produces more gas than any state in Africa. Yet 50% of the population are without electricity and those who are with have it for a few hours at most. The film blames the corrupt post-colonial Government. These are everyday stories of people connected to the grid.
Being an electrical engineering by profession who got a job at Singapore Power but did not work there as I just got my Canadian immigration approved at that same time, I take special interest in the technical portions of the film - like how the control room at the power plant operates. The director keeps the engineering jargon at a minimum so that the layman can understand the basic principles of power generation, such as the reason blackouts occur. The reason is attributed to two causes.
Despite the grim subject, the director does not fail to provide some needed humour. The film also tracks the PHED workers as they cut off electricity supply to the cities that default on their payments. The PHED is the new name for the Government Power Supply company though every Nigerian still insists on the old name - NEPA (acronym: Never Expect Power Again). In a humours spill, they say that the are the most hated employees in Nigeria. Everyone also thinks they are corrupt. One swears that on the job application form, one has to declare that one is corrupt. Also interviewed are James and Harry, in the words of Harry: "We are James and harry, two angry men on YouTube." They complain about the dwindling value of the currency.
A few reasons to see TAKE LIGHT: one is that few films provide a glimpse inside the country of Nigeria and her people. The second is a fairly understandable examination of the workings of a electricity power plant. The third is to witness how the Nigerians deal with public corruption.
One of the film's most intriguing segments shows Godwin, a illegal Nigeria electrician at work. He studied electrical in school, is smart and works under the cover of darkness. "We youth are tired of empty promises," he says. "We are smarter that PHED and we move fast, without safety measures."
The film shows two sides of the argument. The camera follows the citizens complaining about power outages. The PHED or NEFA CEO, Jay McCowsky is interviewed mid-point during the film. The film also includes a very disturbing image of from space, at night. Nigeria is awash in light. But the glow almost entirely flares from oil and gas wells - accelerating global warming and polluting the planet. The country, with the world's largest proven oil reserves, leaves half its population without electricity, and the rest with erratic service.
Before its opening run, TAKE LIGHT has a Special Event Screening on October 29, 2018 at the Hot Docs Ted Rogers Cinema where director Shasha Nakhai, Cinematographer/Editor Rich Williamson, Producer Ed Barreveld (who also narrated the doc) will be in attendance and holding a Q+A following the screening.