The (22nd) ReelAsian International Film Festival is currently running in downtown Toronto and North York.
Capsule reviews of selected films (most if the main features) follows below this article.
For more information and a full schedule of screenings, please check its website at:
http://www.reelasian.com/festival/
Capsule Reviews of Selected Films
DEAR EX (Taiwan 2018) ***
Directed by Mag Hsu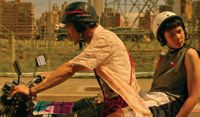 This gay positive Taiwanese entry arrives timely at ReelAsian just in advance of same-sex marriage becoming legal in Taiwan in May of 2019. Taiwanese director Tsai Ming-Liang has championed the gay art house movie with films like VIVE L'AMOUR but DEAR EX is yet another worthwhile entry, looking at the gay lifestyle from a lighter though still quite serious view. The film follows three people who are linked by fate because of love and family. Adolescent Song Chengxi (Joseph Huang) loses his father Song Zhengyuan (Spark Chen) to cancer, but instead of having time to mourn, Chengxi finds himself caught in a feud between his widowed mother Liu Sanlian (Hsieh Ying-xuan) and his father's gay lover Jay (Roy Chiu). As Liu fights Jay for Song's insurance money, though it is never clear what had happened to the money. Each of three subjects are super-hyper and when they get together, there is now hostage of shouting and fighting, driving not only the other crazy but the person him or herself. It is comical to see the three interact and what is the final outcome of the film.
Trailer: https://www.youtube.com/watch?v=r94pd519Jf4
For rest of articel:
click on this link for our sister website:
http://toronto-franco.com/index.php?option=com_content&view=article&id=247&catid=21