The BEST film opening this week is a Netflix original movie. ROMA recalls the memories of Mexican director Alphonso Cuaron (GRAVITY) of the women looking after him when he was a kid.
BEST FILMS PLAYING:
Best Documentary:
The Great Buster: A Celebration
Best Foreign:
Burning
Roma
Border
Best Comedy:
Christmas Chronicles
Best Drama:
Roma
BEST FILMS OF 2018 (so far)
Angels Wear White
The Ballad of Buster Scruggs (Netflix)
Burning
Green Book
Hereditary
Isle of Dogs
Roma (Netflix)
You Were Never Really Here
BEST FILMS OF 2018 (so far)
Angels Wear White
The Ballad of Buster Scruggs (Netflix)
Burning
Green Book
Hereditary
Isle of Dogs
Roma (Netflix)
You Were Never Really Here
FILM REVIEWS:
CLARA (Canada 2017) ***
Directed by Akash Sherman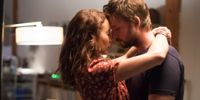 CLARA is a rare science fiction romantic drama made in Canada's own Toronto that disguises the fact quite well, passing of as an American film in an unnamed city and in unnamed university. Lots of references to NASA gives the impression that CLARA is an American made movie.
The film opens with Dr. Isaac Bruno (Patrick J. Adams) delivering a lecture on astronomy to an auditorium full of eager students. He is quizzed by one who challenges his disinterest in the field. It is here that Isaac draws a parallel between finding true love (L=0), which equates to a zero to finding life in the other parts of the universe.
In the next scene, Isaac is fired from the Faculty by the dean (Jennifer Dale) for - it all sounds really funny - "misappropriating telescope time'. Obsessed with his work, he decides to conduct studies on data on his own and seeks the help of an outsider who turns up to be his romantic interest. Clara (Troian Bellisario) is a sort-of free-spirit who shares Isaac's fascination of the wonders of the universe. Their unlikely collaboration leads to a deep connection and a profound astronomical discovery as they detect patterns in stellar data. She also opens Isaac up to the outside of space research and data.
CLARA contains spots of uplifting moments. One cannot go wrong with the music of Bob Dylan as Clara picks one Dylan's vinyls and plays it. The lyrics: "She once was a true love of mine" also tells the story of Isaac.
The script, also written by director Akash Sherman often falls into cliched territory. Like the line spoken by Clara; "Do you want something more than all this, for the universe to surprise us?" Clara and Isaac then kiss for the very first time. The script also plunges the audience into the here and now of its two characters. But nothing is known of the two characters's past backgrounds.
At one point, the free spirited Clara appears to be a character just out to change the life of another subject and then move on to another. This premise made a very interesting movie in the 70's called SWEET NOVEMBER in which Sandy Dennis picked a character every month to change a life for the better. November was played by Anthony Newley who falls in love with her but she moves on. CLARA sort of follows this story as Clara thus moves on while Isaac gets on with an improved life.
CLARA has an ending (unfortunately unable to be revealed here as it would be a massive spoiler) that badly undermines whatever message the film intended to portray, thus betraying the entire movie.
CLARA is a sad film about two lonely people who eventually find each other, only to find that fate is not on their side, despite the good connection. It is a sad premise lifted by the story's setting in the wonders of space. The resulting film is, as expected, a mixed bag of tricks, with some good moments as well.
Trailer: https://www.youtube.com/watch?v=7eIbm4cfA8M
DEAD IN A WEEK: OR YOUR MONEY BACK (UK 2018) **
Directed by Tom Edmunds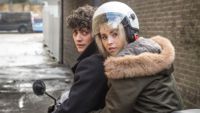 DEAD IN A WEEK (OR YOUR MONEY BACK) follows the sad life of William (Aneurin Barnard, the Welsh actor from DUNKIRK), a failed writer who has tried to take his life 9 times without much success. These attempts are sad, not because they failed but because they are shown briefly on screen as attempts at comedy but simply failing at getting any laughs. The hanging results in ceiling breakage. The electrocution leads to a blackout. Yes, not funny. And neither is the rest of the film. The premise might have looked good on paper but what transpires is only mildly funny comedy at best and a whole lot of predictable fare.
William hires a contract killer who needs him to be his last killing to make his quota. The contract killer, Leslie (Tom Wilkinson) gives William his calling card at the bridge where he attempt his 10th suicide. William jumps off but no prizes in guessing that he lands on a passing boat below. William signs a contract for his own death. The predictable catch is that he falls in love and his next book looks like a success. So, he now wants to live. But the killer is not going to stop what he is paid to do.
The worst thing about the film is when it attempts to offer life lessons advice to the audience. The speech by William just before he is about to be shot is something everyone could do without. The contract killer, Leslie is supposed to be super efficient so the scenes in which he shoots and keeps missing William is totally unbelievable. The running joke of Leslie's wife supporting her husband in his job ("Maybe this will help", she tells him at one point handing him a kitchen knife, sending him off to work) outstays its welcome.
Punch lines like: "Killing is the only thing I live for," as uttered by the hit man is typically expected from a film like this. Or "I am an assassin, that is what I do, that is what I am." The script also has to resort to foul language, a sure sign of desperation. The Ennio Morricone-type soundtrack (Clint Eastwood used to play similar lone 'Man with no Name' killers) is an obvious choice for music.
The Aki Kaurismaki film I HIRED A CONTRACT KILLER, by inevitable comparison, that treaded similar territory is more effective on a different level. Kaurismaki's film was deadpan comedy which means that one could watch the weirdly funny film and still not laugh. The film was depressing but I have seen it three times. The closing credits have the cheek to claim that DEAD IN A WEEK is based on an original idea by writer/director Tom Edmunds. Both films has the protagonist change his kind and both have them falling in love. CONTRACT KILLER had him fall in love with a flower girl with added a nice touch.
The film has an odd rather original ending that does not qualify as a Hollywood ending. Unfortunately it makes no sense at all.
Trailer: https://www.youtube.com/watch?v=d-HKbDkqpqY
NOTHING LIKE A DAME (UK 2018) ***1/2
Directed by Roger Michell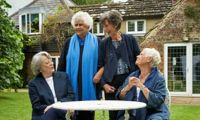 NOTHING LIKE A DAME follows four grand British dames of the cinema and theatre as they sit back and have tea. It is a unique and rare opportunity to enter into their presence and share their esteemed company. Director Michell captures the intimacy of the situation. The four dames discuss the highs and lows of heir careers, their romances and as well as their advice on life.
The four dames are Eileen Atkins, Judi Dench, Joan Plowright and Maggie Smith.
Director Roger Michell (NOTTING HILL) takes his audience into the setting of a rural cottage in England that Plowright built with her late husband, Sir Laurence Olivier, the legendary actor. The four sit outside in the garden or inside in the kitchen or dining room often drinking tea. Or sipping champagne.
A fair warning that the film is clearly British-bound - which means that unless you have a fair knowledge or at least interest in British fare, NOTHING LIKE A DAME might be a complete bore - like a visitor in uncomfortable company.
For the rest, there are lots to enjoy especially from the presented archive footage of plays performed at the National Theatre, London to old movies that feature the four dames in their younger days.
Director Michell resists the temptation of using the Roger and Hammerstein song "Nothing Like a Dame" from SOUTH PACIFIC. The soundtrack often heard instead is the haunting and nostalgic theme composed by Nino Rota for Federico Fellini's AMARCORD. The score is at once immediately recognizable to cineastes and an appropriate one at that, as AMACORD means I REMEMBER. The film is wholly made up of the memories of the four women.
Michell poses interview questions to the four, heard quietly, as if under his breath. One involves the experiences of working with ones husband. Their funny retort: "Which one?" The clear one comes to mind is Sir Laurence Olivier married to Joan Plowright. There is a clip from their movie together THE ENTERTAINER in which Plowright plays oddly enough, Olivier's daughter. Maggie Smith also talks about working with Olivier in OTHELLO with a clip of the film shown to illustrate the incident. Also included is the famous scene of Smith kissing her husband who plays her lover in THE PRIME OF MISS JEAN BRODIE.
It is on a humbling note that none of them consider themselves as great beauties They each laugh at never been seriously considered beautiful enough to win the role of Cleopatra. They claim only to be laughed at when they mentioned the fact to their friends. Dench herself says that she is too short while Atkins claims that she was never considered a great beauty, nit even by her father.
Near the end of the film, each offer wise words on life. Atkins talks about being more even tempered and never to get angry while the others talk above the importance of love and the coordinated use of the brain with the body.
Trailer: https://www.imdb.com/title/tt7363336/videoplayer/vi1185397529?ref_=tt_pv_vi_aiv_1
ROMA (Mexico 2018) Top 10 *****
Directed by Alfonso Cuaron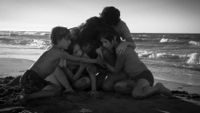 ROMA marks another Netflix original movie. There are so many these and so many good ones at that (THE BALLAD OF BUSTER SCRUGGS, THE CHRISTMAS CHRONICLES, this one) that very soon there might even be an award for Best Netflix movie. (Netflix should look into this possibility for publicity.3
ROMA's is bookended by camera shots of an overhead flying airplane, the first image seen as a reflection in the water poured on the floor by the maid Cleo (Yalitza Aparicio) and seen again as in the last image in the sky, probably a metaphor that Cleo has risen to a different height in life. The first shot of the plane introduces Cleo as a servant to a wealthy Mexican family. The second time the plane appears is when Cleo an the family are at a beach where she saves the children from drowning, another highlight of her life after being depressed from a failed romance. And the third signals …… . Sorry, no more spoilers in the review.
The film is called ROMA because that is the name of the suburb in Mexico City that the film is set. The film follows the life of maid and nanny Cleo as she works for a wealthy Mexican family, loved by the mistress and her children. The daily routines of cleaning, serving, washing are laid out bear amidst Cleo facing life's ordeals like a failed romance, the breakup of her employers' marriage and Mexico's troubles. This is crafted layered storytelling.
Cleo works hard. She is jilted and left pregnant by her male chauvinist lover. "One thing is for sure. Women are always alone." The mistress tells Cleo at one point in the film, which is the theme of the film. Surprisingly, this message is also so relevant in the current age of female abuse. Women have to stand together as depicted in the story of the film.
The film has three outstanding segments - a riot protest gone violent, as seen from a window; a drowning scene and a forest fire all done old fashioned no gimmicks style. Cuaron flexes his artistic muscles with a man singing during the forest fire segment. Cuaron also brings the audience up to date to the problems faced by the Mexicans like land rights and violent protests, use of firearm and class distinction. But the most moving segment (and indeed most moving segment found in ay film this year) is the Cleo's delivery scene, again the details of which will not be spoilt out in this review.
ROMA is director Cuaron's film of his childhood memories with his maid. Directors always make their bet films based on childhood memories - examples being Ingmar Bergman's FANNY AND ALEXANDER and Federico Fellini's AMARCORD. ROMA can be added to the esteemed list.
ROMA is shot in black and white 16mm and a gorgeous looking picture. I have seen ROMA twice and the film passes the test of still being captivating on its second viewing. ROMA is Netflix's hope of winning its first Academy Award in the category of Best Foreign Language Film. It has my vote.
Trailer: https://www.youtube.com/watch?v=sKVYRtE-kXI
TIGER (USA/Canada 2018) ***
Directed by Alister Gierson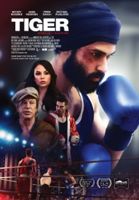 TIGER tells the story of a boxer (based on true events) who also had to contend with battles outside the ring - for his Sikh religion. He was not allowed by the American Boxing Corporation to box unless he shaved his beard claiming that they held the best interest of boxers in mind for cuts and bruises might not be seen underneath the facial hair.
The film is inspired by the true story of Pardeep Singh Nagra (Prem Singh) aka Punjab Tiger, a practicing Sikh man who was banned from the sport of boxing. Pardeep fights back with the support of his coach and mentor (Mickey Rourke), family and a community lawyer (Janel Parrish) who he falls in love with. Obstacles faced include racial profiling by public officials, overtly racist threats, jealous rival boxers and pressure to change from loved ones. It is within the course of these challenges and at his weakest moment that he discovers love.
One wonders the reason the film is entitled TIGER instead of PUNJAB TIGER, which would be the more appropriate title. One might think that for an anti-racist film, dropping the PUNJAB word might be taking a prejudiced view that the title might put off general audiences. On the other hand, one could also argue that the simple TIGER will fetch a larger audience and likely the ones to learn a lesson or two about racism.
Good intentions aside, TIGER feels like a poor man's version of ROCKY. There are similarities between the two boxing films. Both are based on real life characters and both do not qualify as a true biographies. Rocky Balboa's character emphasized his Italian background while Pardeep Singh his Sikh background. Both rely on the expertise of their experienced coach, who were real boxers, Mickey Rourke in TIGER. There is also the romantic element in both films that show the boxer also as a human being.
Prem Sing delivers as the feisty boxer. It is good to see Mickey Rourke (Academy Award nominee for Best actor in THE WRESTLER) again on screen though the man is definitely showing his age (and his glass eye). A photograph of Mickey Rourke int he film shows the boxer/star in his hey day.
The film's climax is expectedly the middleweight championship fight between The Tiger and the racist bully, Bryan Doyle (Michael Pugliese). (Pugliese and the real Nagra wrote the script for this film.) Everyone loves a good boxing match. The camera work is sufficiently effective, well cut to the fight, the spectators' reactions and the agony on the fighters' faces. Director Gierson cannot resist using the roar of the tiger on the soundtrack during the final bout.
TIGER ends up a predictable and cliched though relatively entertaining part-biography of boxer Nagra who discovers that winning a fight need not always be in the boxing ring. The film won the Best Film at the San Diego International Film Festival.