07
Dec
2018
Details

Category: Movie Reviews
Written by Gilbert Seah
BEST FILMS PLAYING:
Best Documentary:
The Great Buster: A Celebration
Best Foreign:
Burning
Roma
Border
Best Comedy:
Christmas Chronicles
Best Drama:
Green Book
Best Doc:
They Shall Never Grow Old
BEST FILMS OF 2018 (so far)
Angels Wear White
The Ballad of Buster Scruggs (Netflix)
Burning
Green Book
Hereditary
Isle of Dogs
Mary Poppins Returns
Roma (Netflix)
They Shall not Grow Old
You Were Never Really Here
FILM REVIEWS:
ANNA AND THE APOCALYPSE (UK 2017) **1/2
Directed by John McPhail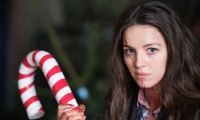 ANNA AND THE APOCALYPSE is the rarity that is a zombie musical set during Christmas directed by John McPhail and written by Alan McDonald and Ryan McHenry. The film is based on the 2010 BAFTA-winning short Zombie Musical.
The zombies do not appear till 20 minutes or so into the movie. They are seen only in the background as Anna and her friends do a musical number. The film takes its 20 minutes in the set up of the story that revolves around Anna and her the sleepy Scots town of Little Haven – at Christmas.
The story is typical for a young teen. Anna (Ella Hunt) is upset that her father disapproves of her taking a year off her studies in travelling to Australia. Anna's best friend is John (Malcolm Cumming) who want something more than a plutonic relationship with her. Nick (Ben Wiggins) woos her though she dislikes him for his wild behaviour. Her friends include lovebirds Chris (Christopher Leveaux), who loves recording everything on film and Lisa (Marli Siu).
Though a Scots production, the film fails to use much of the magnificent Scots landscapes usually found in films from Scotland. The Scots accent is also lowered several notches so that North American audiences can follow the dialogue and song easily. The dance and song numbers are nothing spectacular - something that in the order of what can be expected in a show put on by a school, which is actually the case here. The musical novelty in a zombie flick runs out of steam quickly. After the seconds song, one wishes the distraction of song be left out. The one exception is the spritely naughty musical number performed by Lisa on stage with lewd lyrics accompanied by scantily lad boys in Christmas spangled attire.
The zombies are disposed off with a fair share of violence but done in a matter-of-fact comical way. No one should complain.
The reason for the zombie outbreak given is a flu type virus. Nothing is mentioned of what is happening in the rest of the world. The film totally revolves around the narrowed world of Anna and her friends.
The teen characters in Little Haven resembler pretty much the typical teenager around the world but less annoying. They are stuck in their little world of non-ambition, fun, romance and independence. The script could have added some rites-of-passage or coming of age that the teens could have gone through a result of the so-called apocalypse.
The story also ends up predictable fare towards the end. One can tell who is going to be bitten by the zombie and thatAnna and her father will reconcile.
The reason this small Scots film fined North American distribution is the fact that is is a musical - a rarity. But it is this same fact that mars the film from going anywhere. It seems all the incidents are geared towards a musical number from the very first song "Breakaway" which stresses Anna's desire to travel to Australia. The film's target audience for ANNA AND THE APOCALYPSE would be youth interested in horror fare.
Trailer: https://www.youtube.com/watch?v=G9j1CBq1Wj8&t=
DIVIDE AND CONQUER: THE STORY OF ROGER AILES (USA 2018) ***1/2
Directed by Alexis Bloom
Alexis Bloom's Divide and Conquer: The Story of Roger Ailes is a timely documentary (in the era of all the sexual abuse allegations) that charts the rise and fall of the late Republican Party booster and controversial Fox News mogul, Roger Ailes who crashed amid multiple sexual harassment allegations.
Roger Ailes is first shown in the doc as an elderly successful man. Director Alexis Bloom quickly and very efficiently brings the audiences up to date to what they are in store for. A big scandal. The audiences is shown Ailes as a kid and young man with old photos and a voiceover that updates the audience that Ailes was a very handsome young man, full of wit and humour.
As what good filmmakers do, Bloom connects the audience with the film's subject. Bloom creates a doc difficult to dislike by carefully crafting her subject as a bully, womanizer, sexual abuser, racist and all-around bloody bastard and then recording his deserved downfall.
Bloom first reveals the insides Ailes as a child. Ailes had inherited an illness, haemophilia (the inability of the blood to clot) from his mother and was a walking time bomb. Because of this fear, the audience is told, Ailes could see the fear in people. The audience is given a lesson on the cunning of Ailes, how he stole the producer-ship of The Mike Douglas Show and how he became media advisor for Richard Nixon enabling him to win the Presidency. The same can be said for why he did for other Senators and Presidents elected. "Without him (Ailes) they would not be there," is what one interviewee says of Roger Ailes.
The film is quick to point out the success of the man. For 50 years, Roger Ailes heavily influenced Republican politics – from shaping Richard Nixon's image for the 1968
election (through a series of televised events, whose camera angles were borrowed from Leni Riefenstahl's 1935 Nazi film Triumph of the Will) to steering the conservative movement
towards George H. W. Bush, the Tea Party, Donald Trump et al..
Bloom drops the bomb right at the film's half hour mark. Interviewee Marketing Consultant Kellie Boyle describes in detail how Ailes came onto her and destroyed her career when she refused in her words; "to lay with the big boys." The film's best segments are the testimonies given by Ailes' accusers.
Backed by Rupert Murdoch, Ailes also started Fox News and turned it into a juggernaut, with profits exceeding those of all its rivals combined. Discarding notions of traditional journalism, he offered up flame-throwing TV. Short skirts and low necklines mesmerized the audience – and, as long as Fox made money, there was little oversight of his fiefdom. Under his tutelage, anger and fear became the norm, both on the ballot and on national television. He is as one aid claimed - 'more important than America'.
Alexis Bloom is a double Emmy nominee for the documentary Bright Lights: Starring Carrie Fisher and Debbie Reynolds. Bloom is in the big league of doc filmmakers with Alex Gibney serving as executive producer for this film.
The doc opens at the Ted Rogers Cinema and is also available VOD on December the 7th.
Trailer: http://www.mongrelmedia.com/index.php/filmlink?id=f8a03648-11c8-e811-944c-0ad9f5e1f797#trailersection
THE FAVOURITE (UK/USA 2018) ****
Directed by Yilmos Lanthimos
Lanthimos's latest film after DOGTOOTH, THE LOBSTER and THE KILLING OF A SACRED DEER is his most extravagant, with a period setting in a castle with royalty as its subject.
It is the early 18th century when England is at war with the French though the film opens oddly enough with royalty involved with duck racing and pineapple eating. The poor are taxed and the poor go to war. A frail Queen Anne (Olivia Colman) occupies the throne and her close friend Lady Sarah (Rachel Weisz) governs the country in her stead while tending to Anne's ill health, temper and sexual desires . When a new servant Abigail (Emma Stone) arrives, her charm endears her to Sarah. Sarah takes Abigail under her wing and Abigail sees a chance at a return to her aristocratic roots. Abigail schemes to fill in as the Queen's companion. Their burgeoning friendship gives her a chance to fulfil her ambitions and she will not let woman, man, politics or rabbit stand in her way.
THE FAVOURITE stands as a film that those familiar with Lanthimos will find quite similar to his last movie THE KILLNG OF A SACRED DEER. As in both films, the status quo of a family is challenged (Farrell's in DEER and Queen Anne's in FAVOURITE). Both sees the arrival of a stranger who is revealed to have closer connections with the family that will shake formalities and turn the family upside down for better or for worse. Though Lanthimos's favourite actor Colin Farrell is not in this film, one can see him inhabiting a similar character now taken on by Nicholas Hoult. THE FAVOURITE also contains Lanthimos's odd pounding soundtrack and his fade outs to black.
Lanthimos sees that the audience takes the side of Emma Stone from the very start when she falls flat with her face onto the mud on arrival at the castle. She can do no wrong, compared to Lady Sarah that the script by Deborah Davis and Tony McNamara ensures the audience dislikes from start to finish.
Both films contain odd dialogue that are funny because they can occur at the least likely moment. THE FAVOURITE's best line is when Queen Anne rebutting Lady Sarah when asked to dismiss Abigail: "I will not, I enjoy having her tongue inside me." Those unfamiliar with Lanthimos previous films (and better still if the trailer is not seen beforehand) will likely find THE FAVOURITE more amusing, shocking and refreshing while those who are will find him doing the same tricks in a different setting. All the main actors Weisz, Stone and Colman have been in Lanthimos past films. Surprises are no more surprises if they are expected to occur. One can say the same for a Lanthimos film - to expect surprise after surprise. It would be a surprise if his films did not shock or surprise. Still. Lanthimos's The FAVOURITE succeeds well in its ambitions. But the dialogue (in literally the Queen's English) - except one would imagine the words 'cunt' and 'fuck' were not used in those times - is sped up several notches compared to the slow dialogue in Lanthimos's other entries.
THE FAVOURITE arrives after the Venice International Film Festival with favourable reviews.
Trailer: https://www.youtube.com/watch?v=SYb-wkehT1g
THE GO-GETTERS (Canada 2017) ***
Directed by Jeremy LaLonde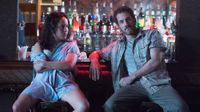 THE GO-GETTERS is a pretty nasty movie. It is meant to be so. Well, life can be so, but a nasty movie is normally not taken in as well by audiences that feel good crowd pleasers.
According to the press notes, this is the genesis of how it all began. "Our writers, Aaron Abrams and Brendan Gall, first started writing this as a pissing contest to see who could make the other laugh the hardest," says director LaLonde (How To Plan An Orgy In A Small Town, Baroness von Sketch Show). "After years of people loving it but saying the project was too risky, it was passed along to producer Jordan Walker, who loves edgy material, and he passed it along to me. It was always written for Aaron to star, and we were lucky to get Tommie-Amber Pirie, who brought her cuss-filled A-game every day.
Owen (Aaron Abrams) is a social non-starter, jobless, homeless, reduced to sleeping on a mattress in the boiler room of his disgruntled brother Kevin's bar, and down to his last five dollars. One day, while smoking the remnants of a cigarette he picked up off the street, he meets Lacie (Tommie-Amber Pirie), a hooker still wearing the hospital gown she was given when she was treated for a drug overdose.
She promises him a hand job for a few bucks that he fools her that he has. When things do not work out, they do still hang around, creating a hate love but mainly hate relationship. They eventually decide to get enough cash to go to Brockville to to get out of Toronro and take over the house in Brockville currently occupied by Lacie's grandmother so that they can live there. But it is not easy for a quarrelling couple who hate each other so much to bring in $49 for the train fare to Brockville. They argue their way through schemes they have to beg, borrow or steal (but mainly steal).
There are a few good pissing contest segments like the one where the two catch a cab in rider to rob the driver. A few of the nasty segments like the glory hole scam gets too nasty for comfort. The audience will likely not take any sides either - the two characters being equally repulsive. The film has a neat plot towards the end coupled with a cameo by Kids in the Hall's Scott Thompson.
One last unforgettable film with such a fighting couple is Alex de la Iglesia's PERDITO DURANGO (DANCE WITH THE DEVIL) which centres on a serial killing couple played by Javier Bardem and Rosie Perez. The cocaine sniffing Bardem picks up the Perez character in a bar saying: "this is my lucky day.". "This sure isn't mine," is her reply. That film reached dizzy heights which THE GO-GETTERS unfortunately does not achieve.
But THE GO-GETTERS aims low and never pretends to be a remarkable film. A lesson in life is subtly sneaked into the story which lifts the film up several notches. Nastiness is the aim of this couple relationship story where feel-good and crowd-pleasing are replaced by scramming, shouting and insults resulting in an overall nasty but not necessarily awful film.
Trailer: https://vimeo.com/244558998
LOVE JACKED (Canada/South Africa 2017) ***
Directed by Robert Adetuyi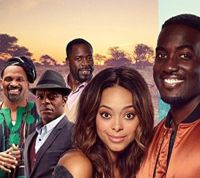 LOVE JACKED is a a romantic comedy with a touch of road trip featuring charming characters, family drama and humorous misadventures. The description can be applied to almost any number of romantic comedies, but this does not mean it will be a predictable bore. The recent CRAZY RICH ASIANS treaded similar waters but it won the hearts of audiences as well as made lots of money. That film was smart enough to tap Singapore, an ultra modern city that provided a fresh look to the well-worn genre. LOVE JACKED uses Cape Town, South Africa to provide a varied touch.
When the film opens, Maya (Amber Stephens West) is in trouble and requires a bailout.
Maya is headstrong with artistic ambitions, a strong contrast to what her father Ed (Keith David) wants: a dutiful daughter to run the family hardware store. Ed is shocked when Maya takes her assertions of independence a step further and decides to travel to Africa. While looking for inspiration, she meets Mtumbie (Demetrius Grosse), an African Casanova who sweeps her into a whirlwind romance and the two announce their engagement. When Maya's father tries to persuade her to forget Africa and return home, her resolve to go ahead with the marriage hardens until she finds Mtumbie in bed with another woman. But rather than admit that her father was right, she tells her family the wedding is on. Drowning her sorrows at a small diner and looking for a way out of her situation, Maya meets pool hustler Malcom (Shamier Anderson) who is on the run from his partner Tyrell (Lyriq Bent). With Malcolm on the run and Maya trying to convince her family she is still engaged, they devise a plan to solve both their situations: Malcolm will hide out from Tyrell pretending to be Maya's African fiancé Mtumbie.
No prize in guessing that Maya wilful in love with Mtumbie. Myumbie shows up at the airport dressed in African robe speaking with a Nigerian accent. He wins approval of the family even Maya's father. The story pays homage to the Eddie Murphy Joh Landis' comedy COMING TO AMERICA, one of Murphy's funniest comedies. Mtumbie even mentions COMING TO AMERICA in this film.
The scripts adds on a few more obstacles to the romance. Mtumbie is a pool hustler from Quebec (quite funny) who is on the lam from his buddy who wants to kill him. Mtumbie also meets an uncle of maya's who is expert on anything African - beginning to quiz Mtumbie on his origins. Maya's sexy cousin starts hitting on Mtumbie. All Harlequin novels contain obstacles that are all overcome at the end for the benefit of the couple finding themselves again.
For a family that owns a hardware store, the family can afford to own a mansion that is unbelievably grand. But movies are normally set in huge mansions with elaborate decor rather than meagre dwellings, realistic to the story or not.
The best thing about the film is actor Demetrius Grosse who can play both the chivalrous romantic hero or the African clown speaking completely with Nigerian accent. He is a hoot and one could watch him forever. Keith David is also hilarious as the father who always has a one-liner under his breath.
Cliches and predictability aside, there are sweet moments of romantic charm. LOVED JACKED is an entertaining light date film for couples with other things in mind on a date.
Trailer: https://www.youtube.com/watch?v=s3XQ09nocQM