HAPPY CHRISTMAS all! 10 or so film all opening this week and Christams Day.
BEST FILMS PLAYING:
Best Action:
Mortal Engines
Best Documentary:
They Shall not Grow Old (playing 17th and 27th only)
Best Foreign:
Burning
Roma
Best Comedy:
Christmas Chronicles
Best Drama:
Ben is Back
Best Doc:
They Shall Never Grow Old
BEST FILMS OF 2018 (so far)
Angels Wear White
The Ballad of Buster Scruggs (Netflix)
Burning
Green Book
Hereditary
Isle of Dogs
Mary Poppins Returns
Roma (Netflix)
They Shall not Grow Old
You Were Never Really Here
FILM REVIEWS:
AQUAMAN (USA 2018) ***
Directed by James Wan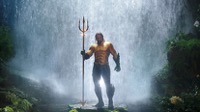 As much as I have complaints about the new Superhero DC comic AQUAMAN film adaptation, I have the highest regards for the film's director James Wan. Born In East Malaysia, (a neighbour of Singapore where I was born), Wan is the only Hollywood successful director from that region. Wan was a skinny teen like myself, and his early photos reminds me of myself. He has gained fame and fortune through his talent and horror films like he SAW franchise, INSIDIOUS and the CONJURING films. He also brings on board Patrick Wilson from the latter two movies to play the villain in AQUAMAN.
Wan is known for his excesses. Excesses abound in the 2 and a half hour action blockbuster aquarian fantasy AQUAMAN, played with aplomb by Jason Momoa. There are plenty of images and CGI effects to gawk at. The film looks amazing. See it in IMAX and one will feel that one is in a gigantic fish tank as in one of those big aquariums found in big cities. As far as super-action hero movies go, there is plenty to satisfy the fan base. Superhero action fans will no doubt leave the theatre cheering, as in the case of the promo screening I attended. Surprise guest Patrick Wilson was present . Who can ask for anything more?
But one can. The film lacks any good plot development, character intelligence and spicy dialogue. When Aquaman is told that he has to save the underwater and land worlds by claiming the throne, all he can say is 'duh!'. The script does not offer him any good one-liners either. Lazy writing leaves a lot of unexplained and choppy facts in the story. The effect of the evil that the villains do is brought down several notches by making them misunderstood beings. One scene shows AQUAMAN as a boy at a city aquarium bullied by other kids, when a shark in the tank comes to the rescue. Where did the boy, who is supposedly born and bred by the lighthouse keeper father find residence in the city and who where his foster parents? That one scene appears from nowhere and conveniently disappears. The key that only unlocks the trident with droplets of water is far-fetched bulls**t. The climatic fight underwater by the edge of the cliffs makes no sense. No one can fall off a cliff underwater.
The story begins in the year 1985, though Aquaman existed in comics way before then. In Maine, lighthouse keeper Thomas Curry (Temuera Morrison ) rescues Atlanna (Nicole Kidman), the princess of the underwater nation of Atlantis, during a storm. They eventually fall in love and have a son, Arthur, who is born with the power to communicate with marine lifeforms. Atlanna is forced to abandon her family and return to Atlantis, entrusting to her loyal advisor Nuidis Vulko (Willem Dafoe) the mission of training Arthur. Under Vulko's guidance, Arthur becomes a skilled warrior but is rejected by the Atlanteans for being a half-breed and ultimately leaves Atlantis behind.
There is a subplot that really looks out of place with an invasion in which Arthur confronts a group of pirates attempting to hijack a nuclear submarine. Their leader, Jesse Kane, dies during the confrontation while his son, David (Yahya Abdul-Mateen II), vows revenge against Arthur. David later targets Atlantis at the behest of Orm (Patrick Wilson), Arthur's younger half-brother and Atlantis' king who uses the attack as a pretext to declare war on the surface. All thistles to Aquaman having to retrieve a trident (like the Sword in the Stone) and battle Orm to ave the world. Yes, all action here films involve saving the world. The inter-racial subplot looks too obvious a political correct move. We have seen all this before time and again.
Still, as far as Warner Bros. DC super hero film adaptations go, (example the awful BATMAN v. SUPERMAN, SUICIDE SQUAD), AQUAMAN, as in WONDER WOMAN is one of the better films.
Trailer: https://www.youtube.com/watch?v=WDkg3h8PCVU
BEN IS BACK (USA 2018) ****
Directed by Peter Hedges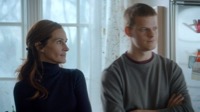 Peter Hedges, the writer/director of the new family drama cum thriller BEN IS BACK rose to film fame with the successful WHAT'S EATING GILBERT GRAPE? BEN IS BACK tells what happens when Ben, (played by Peter's son Lucas Hedges, last seen in BOY ERASED and MANCHESTER BY THE SEA) the drug addict son of the family returns home for Christmas against the advice of his worker.
His mother Holly (Oscar Winner Julia Roberts) is the only one standing up for him. Neither her new husband Neal or Ben's sister think it good idea for the unannounced Christmas visit.
It is either Ben making Christmas right or making the biggest f***ing mistake.
The script plays on whether Ben's intentions on staying clean are genuine. Mother Holly has already warned her son that she is keeping her eyes and checking in him 24/7 and one mistake and she will send him packing to rehab. The film offers many opportunities for hm to be slipped drugs and director Hedges nor makes it clear to Holly or the audience whether he got some or did not. This is the fun part of the film - being in the dark and in suspense as to waits going on.
Ben's past acquaintances will not leave him alone either. When the family returns from a Christmas Cantata, the family home is broken into and their dog Ponce (played by Nigel) missing. Ben takes off with Holly to find the dog. He ditches her to find his supplier (when he was dealing) to get the dog back but not until doing one last job.
Hedges ties in the thriller element into the family drama. The tactic works wonderfully with the audience tense and glued toothier seat while always on the side of Holly and Ben. Hedges knows how to connect his audience to both the characters and the story.
The script contains one flaw when Ben goes back to drug usage at the end, which is believable as no one can give up a bad habit including smoking and substance abuse. Ben overdoses. One would think that being a dealer would know the safe dosage of cocaine (no to mention he was given only a baggie) that would never overdose. One can only guess that the overdose segment was inserted for the purpose of artistic dramatization.
The film is aided by two Oscar worthy performances. Julia Roberts is so good by just sitting it the car looking scared and confused. Her anger dialogue is also well-written allowing her to show her acting prowess, her character hen breaking out into then use of many 'f' words. Hedges is also excellent keeping the advices int he dark as to his true intentions. They make the movie.
The script also works entertaining set-pieces into the story. The segment with Ben's sister at the Christmas Cantata singing "O Holy Night' is beautiful especially when her soprano solo reaches the high 'F' note.
But the film's best segment is the one where Holly, after discovering drugs on Ben again, drags him to the graveyard, screaming atheism asking whether wants to be buried. It is a moving and explosive scene and one obviously written (and with success) for artistic dramatization.
BEN IS BACK is a rare family drama tied in with an added thriller element, making it an engrossing watch from start to end. And the greatest joke on the audience is that the same question at the start of the film "whether Ben is making Christmas right or making the biggest f***ing mistake" is still left for the audience to answer.
Trailer: https://www.youtube.com/watch?v=j7ckCekdGr8
BIRD BOX (USA 2018) ***1/2
Directed by Susanne Bier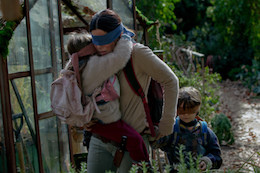 It had to happen after the box-office phenomenon of John Krasinski's A QUIET PLACE - a female version of a horror dystopian setting of a film that could alternatively be called A DARK PLACE. In BIRD BOX, the characters are not allowed to see or contact a virus of some sort that would kill them. The protagonist is a female and so is the director, Dane Susanne Bier who has made a few acclaimed foreign films. She brings structure, insight, craft and emotion into an otherwise run of the mill futuristic film.
BIRD BOX is an American post-apocalyptic horror film directed by Susanne Bier and with a screenplay by Eric Heisserer, based on the 2014 novel of the same name by Josh Malerman.
The script is radically different from Malerman's novel. Quite a few incidents have been omitted like the wolf attack or simplified like the sister's death. The ending is softened to a happier one. So as not to give off a spoiler, one should read the book (or the summary available on wikipedia) to discover what real horrors took place in order for the survivors to live in the sanctuary.
So what is the reason behind this end of the world scenario? In Alfred Hitchcock's THE BIRDS, a hysterical woman offers her theory while customers are held up at a gas station bar. In BIRD BOX, one character offers his educated sounding theory to those held up in the house. But another calls him out. "And where do you work? In a grocery store? Then he claims he is writing a book on the end of the world while getting all his research from the internet. Another satirical moment occurs when the crazed John Malkovich character that he will make the end of the world great again.
The film follows a young woman (Sandra Bullock) who, along with a pair of unnamed children, (called boy and girl, for reasons made apparent in the film) must make it through a forest and river that includes rapids, blindfolded to avoid a supernatural entity that takes the appearance of its victims worst fears and causes them to commit suicide. The film is called BIRD BOX because the woman carries a box of birds - the birds immune to the epidemic, supposed to be able to warn them and guide them to safety. As the journey unfolds (with title indicating the number of days on river), flashbacks, set in the period 5 years earlier explain what happened prior to the woman and three children before being left to their own devices. As the time period closes in to the present, the story gets a little confusing though not difficult to discern with a little thinking.
Before the 3 are left by themselves, there is a period where the woman and a few others are held up in different places that include a house and a grocery story. The group is played by a variety of known and excellent actors that includes Trevante Rhodes, Jacki Weaver, Rosa Salazar, Danielle Macdonald, Lil Rel Howery, Tom Hollander, BD Wong, Sarah Paulson and John Malkovich. This is the film's best segment. They argue vehemently with each other as to what to do. This potion is reminiscent of the excellent original 2000 Spanish film, Alex de la Iglsia's LE BAR (THE BAR), where an assortment of characters are held up in a bar while a disease is occurring outside and they cannot let anyone in for fear of being contaminated.
BIRD BOX is to be commended as an excellent dystopian futuristic film with strong female content and ethic diversity.
Trailer: https://www.youtube.com/watch?v=o2AsIXSh2xo
BUMBLEBEE (USA 2018) **
Directed by Travis Knight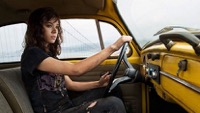 BUMBLE BEE is a transformer character, who is the main lead in the 6th instalment of the TRANSFORMERS film franchise. The 6th film, entitled BUMBLEBEE is also saves as the prequel to the 2006 film THE TRANSFORMERS set in the 80's.
The film begins in the world of Cybertron. The audience is immediately immersed in a battle scene. The heroic Autobots, led by Optimus Prime (voice of Peter Ciullen), are on the verge of losing their war with their enemies, the evil Decepticons, and make preparations to flee the planet. The Decepticons ambush them during the evacuation, and Optimus sends young scout B-127 (voice of Dylan O'Brien) to Earth to set up a base of operations where the Autobots can regroup. How does the audience know what is going on? By one line of dialogue in Optimus Prime's communication with B-127.
So, B-127 reaches Earth alone in 1987, crash-landing in California and disrupting a training exercise being conducted by Sector 7, a secret government agency that monitors extraterrestrial activity on Earth. S7 lieutenant Jack Burns (John Cena) presumes him a hostile invader and attacks, driving B-127 into the forest, where he is then ambushed by the Decepticon Blitzwing. When B-127 refuses to disclose Optimus's whereabouts, Blitzwing spitefully tears out his vocal processors and damages his memory core. B-127 manages to destroy Blitzwing before collapsing from his wounds. Before entering stasis, B-127 scans and transforms into a nearby 1967 Volkswagen Beetle.
B-127 as the V. Beetle is discovered by a girl, Charlie (Hailee Steinfeld, best remembered as the teen in the Coen Brothers' TRUE GRIT) who nurses him back to health, nicknaming him Bumblebee The Deceptiocons trace Bumblebee resulting in a climatic battle at the end of the film.
For a TRANSFORMER instalment, the theory of louder and bigger do not apply here. The action scenes are minimal with more attention paid to the story of Charlie's family on Earth. Unfortunately it is a dull and cliched story. Charlie's father has passed on and mother, Sally (Pamela Adlon) has remarried. Charlie does not get along with Ortis (Jason Drucker) her younger brother and her stepfather. She goes loggerheads with her mother as well, wanting her freedom. There is nothing remotely interesting in this family drama and the script does to make any attempt to try to make anything interesting or different either. The family drama eats into the action segments in the 2-hour running time, resulting in less action than the other TRANSFORMER films in the franchise. The 80's setting is created by filling the soundtrack with 80's tunes with a few 80's props here and there.
The climatic battle is between Bumblebee and his two predators and it does not a genius to guess who will prevail. The film has many glaring loose ends. With Bumblebee near its death, Bumblebee is suddenly restored to full straight without much explanation. How did Optimus Prime land on earth at the very end to speak to Bumblebee?
The silly romantic subplot between Charlie's neighbour, Memo (Jorge Lendeborg Jr.) is an annoying distraction. Films these days always need to put in an inter-racial relationship for political correctness, that have become too obvious. Lendborg Jr. is neither funny, charming or smart, unlike Jason Druker who plays Cahrlie's brother Ortis, Drucker stealing every scene he is in. The other actor that takes everything with a pinch of salt is John Cena. John Ortis as the goofy Dr. Powell puts in a bit of life into the story.
With the slant of this latest Transformer movie to the female gender, (the script was also written by Christina Hodson, one wonders whether the male fans will still stay loyal to the series. The boy and his dog tale has deteriorated into a girl an her 'bot' tale. BUMBLEBEE is in competition with a dozen or so big Christmas openings. It is anyone's guess how it will do.
Trailer: https://www.youtube.com/watch?v=lcwmDAYt22k
IF BEALE STREET COULD TALK (USA 2018) **
Directed by Barry Jenkins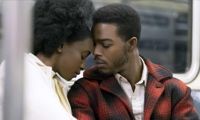 Beale Street is a street in New Orleans, the audience is told at the start of the film, where the story of the film is set and the place where Louis Armstrong was born.
The follow-up to his first Oscar Winner for Best Picture MOONLIGHT, IF BEALE STREET COULD TALK sees one again the victimized black in a prejudiced light.
Based on the book by James Baldwin, the film follows a 19-year old woman fighting to free her falsely accused husband from prison before the birth of their child. If Beale Street could talk, the truth would have been revealed in the events that occurred and the husband set as a free man.
Tish (KiKi Layne) is only 19 but she is been forced to grow up fast. She is left pregnant by Fonny (Stephan James), the man she loves. But Fonny is going to prison for a crime he did not commit, due to, as clearly emphasized in the film by a racist white redneck cop. As the film begins, Tish must break the news to her family, and his. Tish's mother, (Regina King), soon must decide how far she will go to secure her daughter's future. The announcement makes the film's best segment, the target of attack being overzealous Christianity. Fonny's religious mother curses Tish's baby hoping it to be born withered only to be slapped hard by her husband, in one of the film's more energetic moments. But nothing more is heard from Fonny's mother, who is undoubtedly the story's most interesting character - the one one loves to hate, and an easy target.
For a film with such a fiery plot, Jenkins' film is extremely slow-paced, sometimes unintentionally funny with many segments plain dragging along. One example is a 3-minute sequence where Tish's mother tries on a wig, looking in the mirror for a while only to finally take it off when meeting the rape victims, the purpose of which is never made clear. One could probably fault the source material for there is hardly any surprise in the story, quite unlike Jenkins' last film, but Jenkins does not allow his actors or his camerawork to perform as freely as in MOONLIGHT. The film also shifts uncomfortably among three subjects, Tish, her mother and Fonny. Anoher sequence shows prison visit where Fonny is visited by Tish. He has clearly been beaten up (red eyes, swollen lip and cut), but Tish never questions him about it or the incident raised.
Tish and her mother display characters, too perfect to be believable. Toronto's own James at least displays a more credible Fonny with human flaws, angry at society and also angry at times at his wife.
It is odd that Jenkin's style in BEALE STREET and MOONLIGHT is totally different. MOONLIGHT was original and looked improvised while BEALE STREET looks extremely and staged.
An interesting subplot involves the family's young Jewish lawyer. His sincerity in the case is questionable but not dealt with in depth.
Flawed, but IF BEALE STREET COULD TALK is still steps better than the awful THE HATE U GIVE!
Trailer: https://www.youtube.com/watch?v=RMlRasKEu84
MARY POPPINS RETURNS (USA 2018) ***** Top 10
Directed by Rob Marshall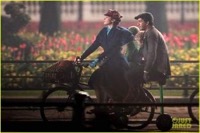 MARY POPPINS RETURNS begins with a song-and-dance number in the early morning of London where the fog is still on the ground. A street lamplighter named Jack (Lin-Manuel Miranda, who wore the music for HAMILTON) brings the audience into the spirit of things.
Set in 1930s London, which is the time period of the original novels by P. L. Travers, the story follows Michael (Ben Whishaw) and Jane Banks (Emily Mortimer), who are now grown up. Michael is living with his three children (Pixie Davies, Nathanael Saleh, and Joel Dawson) and housekeeper Ellen (Julie Walters), in the house on Cherry Tree Lane. After Michael has a personal loss, Mary Poppins (Emily Blunt) comes back into the lives of the Banks family. No details on how Michael lost his wife.
The songs are ok for the first half and turns lively and catchy in the second half. The Sherman Brothers who wrote the songs for the original POPPINS have music credits in this one. None of the songs in the original are sung in this one, but a few chords of "For a Spoonful of Sugar", "Feed the Bird" and 'Let's Go Fly a Kite" can be heard on the soundtrack. A song "Trip a Little Light-fantastic' reminds on of "supercalifragilisticexpialidocious". The musical number with the lamp-lights runs similar to the musical number performed by the chimney sweeps on the rooftops in the original.
A few magical segments brighten up the story. The three children go on wild adventures like into the bathtub with Mary or into rotating ornament. The grownups disbelieve and the children point to Mary Poppins. "Mary Poppins never explains." These are the same words uttered in both movies.
A bit of romance is inserted in the story between Jack and Jane - not too much, just a hint for artistic purposes.
Emily Mortimer was the special guest present at the special screening. She praised director Rob Marshall forms vision and one can see his vision realized in the picture - from the imaginative musical numbers to the impressive magical adventures.
The film contains three super cameos. The first is Meryl Streep playing a Mary Poppin's cousin, Topsy. With a thick Eastern European accent with coloured hair, bright rags and pearls and necklaces, her musical number is one lively inspiration that turns the film at its midpoint from mediocre to excellent fare. After Streep's appearance, the film goes uphill right to the heights of the floating balloons at the film's end, the balloons given by Angela Lansbury, the balloon lady breaking out in song. Lansbury has been in a magical musical Poppins type hit years back, the memorable BEDKNOBS AND BROOMSTICKS. But the best cameo of all is Dick Van Dyke, aged masterfully playing Mr. Dawes Jr., the son of Mr. Dawes Sr., who he played in the first film. Julie Andrews turned down the offer of a cameo.
MARY POPPINS RETURNS arrives 54 years after the original Julie Andrews musical. It is a long but worthwhile wait. It is indeed good to feel like a child again.
Trailer: https://www.youtube.com/watch?v=-3jsfXDZLIY
MIRAI OF THE FUTURE (Japan 2018) ***
Directed by Mamoru Hooda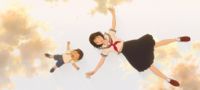 Director Mamoru Hosoda's (he started his own animated studio Studio Chizu) MIRAI is his third feature after his studios's WOLF CHILDREN and THE BOY AND THE BEAST. Again his interest in children and their fantasies are under consideration in his latest tale from the point of view of young Kun, the elder son in a typical Japanese family. When the film opens, Kun is greeted with the arrival of a new born baby sister. Things around the house are altered, as father now tends to the household chores of cleaning and cooking while mother goes on full time work. Emotions like jealousy and anger start to emerge. Kun fantasizes meeting his sister when she is grown up as well as his dog, humanized while shown how to ride a bike by his late great grandfather who was in the Japanese navy. The film's animation is somewhat similar to Studio Ghibli's in look and feel, especially since both studios are fond of animal creatures and Japanese folklore. MIRAI is simplistic in its theme, just about a boy growing up, and it is this simplicity that the film works its charm.
Trailer: https://www.youtube.com/watch?v=6d-lsJZgmJs
ON THE BASIS OF SEX (USA 2018) ***
Directed by Mimi Leder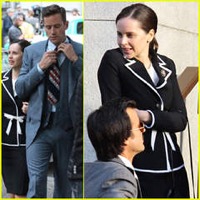 ON THE BASIS OF SEX (USA 2018) ***
Directed by Mimi Leder
Mimi Leder (director of the little seen PAY IT FORWARD and made-for-TV, THICK AS THIEVES) tackles a female issue film, ON THE BASIS OF SEX, an American biographical legal drama film based on the life of Supreme Court Justice Ruth Bader Ginsburg. The film is written by Daniel Stiepleman, with an impressive cat that includes Felicity Jones as Ginsburg, with Armie Hammer, Justin Theroux, Jack Reynor, Cailee Spaeny, Sam Waterston, and Kathy Bates in supporting roles.
If when watching the film, everything looks familiar, perhaps you might have seen a documentary released early this year called RBG, the letters stand for Ruth Bader Ginsburg - the subject of ON THE BASIS OF SEX. The doc concentrates more on her career and what she has done to promote progressive change in the legal America system. Leder ON THE BASIS OF SEX, opening during Christmas plays like feel-good stand up and cheer move while trying to keep to the spirit and truth of RBG, a legend in our times. (One can imagine director Leder herself trying hard o get work as a female director as one notices her dry spell of films after PAY IT FORWARD.)
The film covers the full life of Ruth Ginsburg. The first third shows her struggle in an almost all-male (she was one of only 10 females) Harvard Law School. The film is quick to emphasize that Ruth had more on her plate than her fellow undergraduates. She was not only married with a kid, but her husband (Armie Hammer) suffered from cancer with hospitalization. Ruth looked after him, their kid while attending his classes and her own the same time. She came up top of her class. The second part shows her at her job after graduation. She teaches while inspiring her students to change the world. Her subject was "Sex discrimination and the Law".
Leder's film reveals important truths. The success of a woman depends on the support of her husband. Clearly Ruth's husband was always behind her, giving in and urging her to strive on. The same can be likely said for husband of Prime Ministers Margaret Thatcher and Teresa May. However, Ruth and her husband's relationship appears too perfect. "You are ready for this. You have been ready for this your whole life. Go in there and let the judges see the real Ruth Ginsburg I know," is the husband's best advice, obviously spiced up int he script for artistic purposes. Despite the husband's support, it must be certain that they must have had huge arguments that would have rocked their marriage. No major disagreements are on display except for one minor argument which involves their daughter, now grown up.
English actress Felicity Jones is winning as Ruth Ginsburg. Armie Hammer, also delivers a remarkable performance in a little written role. But the best performance comes from little known Charles Milky who plays Charles Moritz, Ruth's caregiver client denied his tax benefits for looking after his ailing mother based on his gender.
It is clear that more cane learnt about Ruth Ginsburg by watching the doc RBG than this Hollywood dramatization. Audiences have seen similar films before, like MADE IN DAGENHAM and even the lighter and more hilarious LEGALLY BLONDE. What is clear is that Ruth Ginsburg is still recognized as a major force in changing sex discrimination in America. Her story needs be told in one form or another.
So the ultimate question is whether Ruth Ginsburg's achievement in life can be trivialized into a 2-hour feel good movie? Surprisingly, the answer is yes, judging that the real Ruth Ginsburg appeared the end of the film implying her endorsement of the film which was written by her nephew, Daniel Stiepleman. At least the words at the start of the film declared the film 'inspired' rather than 'based' on a true story. But as far as feel-good movies go, Leder's film is a textbook example of how to achieve the task
Trailer: https://www.youtube.com/watch?v=28dHbIR_NB4
SECOND ACT (USA 2018) ***
Directed by Peter Segel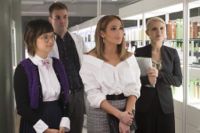 Though advertised as a romantic comedy, SECOND ACT has the romantic element only as a subplot, which is a good thing as romantic comedy have been such a well-worn genre, audiences can hardly be surprised any more. SECOND ACT, like the title implies, gives the romantic comedy a second angle and a successful one at that, in timing and delivery of the comedy.
Jennifer Lopez begins as a happily settled woman in a relationship. As far as modern America goes, one assumes that she is not married to her man, as he stands up and leaves her before the first third of the film is up. Trey (Milo Ventimiglia) wants children while she wants to pursue her career. Her career is what the film is all about. Maya Vargas (Lopez) is a bright woman who has no limits to her ambition and inventiveness. (Would Lopez ever play a stupid person?) She is unappreciated at work, and quits a Walmart like chain after they bring in someone (Dave Foley) to take the position she was supposed to be given, only because she does not have a degree. So, her best friend's son makes up a false curriculum vitae giving her gleaming degrees and work experience and lands her a job at a prestigious company under Treat Williams whee she is supposed to come up with a winning 'green' product. She encounters lots of obstacles which makes for some of the film's hilarity.
The film proves that a solid story is key to a good comedy. The story also involves a sentimental element with another worker, Zoe (Vanessa Hudgens) that is played well and not too be too obvious as to choke the audience by tightening the heart strings. In fact the story is absorbing enough to keep the audience so glued to the film that one hardly notices that the film does not contain that many funny parts. That is a good thing as romantic comedies often try too hard.
The film's best segment has Maya dirty dancing at a party with her obnoxious villainous competitor in the company. But the film also contains missed moments. The romantic fallout of Maya and her partner is predictable and less interesting or funny. It does not help that the actor playing him tries too hard and fails miserably. He seems to be there only for his looks. Treat Williams as Maya's new boss, Anderson Clarke is a nice treat (pardon the pun!), Williams a good actor in the 70's but hardly seen on the screen lately.
Lopez also performs the song "Limitless' composed by Sia.
What do director Peter Segel and Jennifer Lopez have in common? A series of flops. Segel made THE NUTTY PROFESSOR II: THE KLUMPS and 50 FIRST DATES? Lopez made thriller misses like THE CELL, THE BOY NEXT DOOR and at best the rom-com MAID IN MANHATTAN. Surprisingly, together like two negatives making a positive, SECOND ACT is endearing while entertaining, not going into excesses, but dealing out quite often the right mix of funniness and drama. SECOND ACT is one of Lopez and Segel's better films.
Trailer: https://www.youtube.com/watch?v=YsVo5necW6Q
SHOPLIFTERS (Japan 2018) ****
Directed by Hirokazu Kore-eda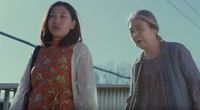 Hirokazu Kore-ed's (his masterpiece AFTER LIFE and last year's THE THIRD MURDER) latest film, SHOPLIFTERS won him the Palme D'Or at Cannes this year and is a real gem of a movie. It tells the story of a poor family barely etching out a decent living in the outskirts of Tokyo. The family is comprised of a couple, a grandmother and children. The beauty of the movie is the twist in the story, that if revealed would definitely destroy the movie's purpose.
The film's Japanese title MANBIKI KAZOKU literally translates to 'shoplifting family'. Indeed so. This is not Kore-da's first family themed film, after making AFTER THE STORM, LIKE FATHER LIKE SON and NOBODY KNOWS. The patriarch, Osamu Shibata (Lily Franky) and his young boy, Shota (Jyo Kairi) complete a shoplifting spree at the residential grocery store before treating him to delicious croquettes. They hear the cries of a hungry 4-year old who they bring back home (or kidnap) to feed her and later not return her to her family after discovering scars all over her body. Shota and the young girl, Yuri bond. Kore-eda's film is kept interesting from the various characters of the family that also includes the grandmother (Kiki Kilin), Shota's wife, Nobuyo (Ando Sakura) and her sister who works in a strip club.
The message that this make-shift dishonest family has more love than the typical Japanese family is obvious and drummed into the audience at the end of the film, in case the audience did not get it. But thankfully, Kore'eda's message is all not all black and white. He also looks at the limitations of homeschooling as Shota is taught shoplifting and does not attend school. "I thought kids who cannot study go to school," Shota questions a detective at one point in the film. The detective's answer is: "Some things you cannot teach at home - meeting people."
One of the film's most interesting segments has the family go to the beach together. How they interact with each other makes good observation.
The audience might wonder why did it took so long for Yuri's mother to search and claim her back. The audience overhears an argument between mother and father that they did not want her and that she was a nuisance.
The film contains two twists that occur after the son, Shota is injured while jumping off a highway overpass in order to escape being caught from shoplifting. This he does to save his little sister from getting caught. What is revealed is both unexpected that teaches the audience both of that family and what an ideal family should be.
Kore-ed's actors need not act - his camera does. From, close-ups, long hots, a character's glance, the turn of a face, Kore-ed knows exactly how to capture a moment or create an effect. The result is a superior movie from a clear Master of a medium who is not only a great story-teller (telling a story with a clear timely message) but a superb filmmaker.
Trailer: https://www.youtube.com/watch?v=Rwcb5ki1f-4
VICE (USA 2018) ****
Directed by Adam McKay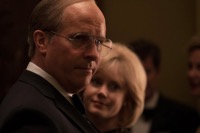 Expect the unexpected from Writer/director Adam McKay. VICE could stand for the evil that men do or the word before President, the office which Dick Cheney attained. He was Vice-President of the U.S., and arguably the most powerful one in history while having quite a few vices in his character like drinking uncontrollably.
McKay wraps up plenty of surprises in his anything-may-happen bio on Dick Cheney. Credits come on around the hour 15 minute mark. The film has not ended then but if one leaves, then the story could have ended there. But it goes on with full credits given at the end. There is narration too, from Jesse Plemons, who speaks to the camera. One wonders what he has todo with the story. To tell you more would spoil the surprise, but he has quite a bit to do with Cheney's life.
McKay's cast is fantastic. Christian Bale gained 40 pounds froth Cheney role and the make-up to allow him to age in an unhealthy manner is convincing. A Best Actor Nomination is definitely in the works here. Steve Carrell plays the unliked Donald Rumsfeld with all the sinister relish he was muster. It is surprising to see Tyler Perry inhabit the role of conscience bearing Colin Powell who finally resigned from the Administration. Oscar Winner Sam Rockwell (from THREE BILLBOARDS OUTSIE EBBING MISSOURI) is almost unrecognizable as President George W. Bush, portraying him as a conniving no-good human being (which he is).
Everything unpleasant one has heard in the news on Dick Cheney is in the film - including the so-called hunting accident when he shot his hunting friend - from his university drunken days to the vice-presidency. His university drop out is recorded and so is the impetus for his ambition in politics. This is a very meticulously crafted scene, which the audience hopes actually took place. His wife, Lynne (Amy Adams) gave him an ultimatum calling him a 'fat drunk' in the process. Cheney succeeds in the change. McKay also documents the couple's loyalty to the Democratic Party, and for former President Richard Nixon. For this unfamiliar or who dispel politics, there is still much to appreciate in McKay's VICE, For one McKay is a very resourceful and talented director and if not surprising the audience is updating the story to his skewed lenses.
The film includes a segment on the gay sexual orientation of Cheney's younger daughter Mary (Alison Pill). Cheney was shown willing to give up his career for her. This segment gives me some respect for the man I never liked. This is thus an important part in the life of the Cheney family which McKay is wise enough to include.
McKay is clearly against the evils executed by the Bush Administration primarily the War on Iraq. He inserts lots of images of innocent victims from Asia and Iraq. He also mocks the Unitary Executive Power that the Administration had and used to approve any proposals.
VICE is the second film made on the Bush Administration after Oliver Stone's W. McKay has made a powerful bio on Dick Cheney but one not without his biting humour.
Trailer: https://www.youtube.com/watch?v=NCmeqkZUXBk
VOX LUX (USA 2018) ***1/2
Directed by Brady Corbet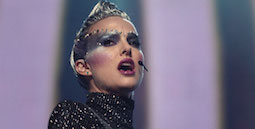 VOX LUX is a depressing life story of a pop artist that is credible and realistic by writer/director Brady Corbet aided by the spirited performance of Academy Award Winner Natalie Portman and by Jude Law who plays her nasty and suspicious manager.
As in her Oscar winning BLACK SWAN where she plays an artist in the form of a ballet dancer, Portman now plays pop singer/dancer who has risen to fame despite seismic, violent circumstances. Still she spirals downwards but there is a silver lining in every cloud.
The film begins in 1999 with teenage sisters Celeste Montgomery (Raffey Cassidy, last seen in THE KILLING OF A SACRED DEER) and Eleanor "Ellie" Montgomery (Stacy Martin), surviving a seismic and violent tragedy. The tragedy unfolds like a shock, and therefore will not be revealed in this review to prevent a full movie experience. Director Corbet clearly has the intention of this effect for his audience. The sisters compose and perform a song about their experience, making something lovely and cathartic out of catastrophe. This launches their singing careers. The sisters draw the attention of a passionate manager with no-name (Jude Law) and are rapidly catapulted into fame and fortune, with Celeste as the star and Ellie the creative anchor. By the film's second half, the film shifts to a 2017 setting. The now 31-year-old Celeste (Natalie Portman) is mother to a teenage daughter of her own (again played by Raffey Cassidy) and struggling to navigate a career fraught with scandals when another act of terrifying violence (again not revealed) demands her attention.
VOX LUX is the name of one of Celeste's album. The life of Celeste follows the route of many a singer/songwriter (like Amy Winehouse) whose documentaries have already been seen by many. The story of a star's downfall (as in the recent A STAR IS BORN) is a depressing all too familiar one that many will avoid, especially during the festive season. But director Corbet inserts an lively entertaining dance number at the climax for the purpose of lifting spirits. It works!
The film is narrated by Willem Dafoe (immediately recognizable) who has been doing a lot of narrating recently since DO DONKEYS ACT? The voiceover is supposed to put the story into perspective and keep it there as opinions can change. Like DO DONKEYS ACT? Defoe put-on touch of sarcasm into the proceedings.
Despite the sombre nature of the film's material there are a few bright moments. One is the message that has an aside. During Celeste's down period, she says to her audience: "This girl will never go down!" Director Corbet also inserts a very lively dance sequence during the film's climax which showcases Portman' versatility as an artist. Yes, this girl can sing and dance.
Because of the shocking incidents affecting Celeste's life, her ups and downs and the parallel rise of her daughter's singing career, VOX LUX feels a bit disjointed. But director Corbet knows what he is doing and brings his film to a satisfying conclusion at the end.
Trailer: https://www.youtube.com/watch?v=zxdVqr4hmZU
WELCOME TO MARWEN (USA 2018) ***
Directed by Robert Zemeckis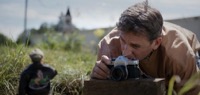 WELCOME TO MARWEN is based on the 2010 widely acclaimed documentary, Jeff Malmberg's MARWENCOL. The doc follows the crucial event of April 8, 2000, when Mark Hogancamp was attacked outside of a bar by five men who beat him nearly to death after he told them he was a cross-dresser. After nine days in a coma and 40 days in the hospital, Hogancamp was discharged with brain damage that left him little memory of his previous life. Unable to afford therapy, he created his own by building a 1/6-scale World War II–era Belgian town in his yard and populating it with dolls representing himself, his friends, and even his attackers. He calls that town Marwencol, blending the names Mark, Wendy, and Colleen.
Robert Zemeckis' film is however treats the material quite differently. WELCOME TO MARWEN is a fantasy drama. The film begins with a doll figure looking like Steve Carell flying an aircraft during WWII, shot down from the skies in Belgium where he is saved from Germans by a troop of beautiful girls. This fantasy world of dolls eventually dissolves into the
true story of Mark Hogancamp (Carell), a man struggling with PTSD. After having his memory erased from being physically assaulted, by five men beat him up and left him for dead, all because he told them that he liked wearing ladies' shoes. Following the attack, Mark was left with little to no memory of his previous life due to brain damage inflicted by his attackers. In a desperate attempt to regain his memory, Mark constructs a miniature World War II village, called Marwen in his yard to help in his recovery. Unfortunately, Mark's demons come back to haunt him when he's asked to testify against the five men responsible for ruining his life. Mark's PTSD is shown in the ilm to be caused by an overdose in taking his medication raster that the trauma itself.
One might argue that director Zemeckis is trivializing Mark's personal tragedy. There are reasons many would think this way. In the script by Caroline Thompson, Mark falls in love with his new neighbour, Nicol (Leslie Mann in a dead serious role). It is this love for her that helps him recover and for him the strength to attend court and to pursue his doll show. The chance encounter with photographer, David Naugle, which afforded Hogancamp the opportunity to show his works is totally omitted in the movie. Nothing is shown of the hard work that went into the creation of the village of Marwen. When Nicol does not return Mark's love, there is another, Roberta (Merritt Wever), who works in the toy store, in the waiting line.
The fantasy animation has the look of one of Zemeckis' previous films POLAR EXPRESS. The sequences, though well-done is not shown convincingly to serve any purpose but to fuel Mark's obsessions which in the film, is not shown to be a good thing. The dolls, a few topless are disturbing, especially when used as play things for a man who is not all there.
It is assumed that Mark finally gets it all together when he attends his court hearing. But by showing the culprits looking sorry of themselves, Zemeckis seems to have brought down what he has been building up throughout the film, that the guilty should pay for their bad deeds.
What ends up is a well-intentioned film that has lost its way from its storytelling. What could be a gut-wrenching real life recovery drama ends up as Hollywood feel-good fluff.