03
Jan
2019
Details

Category: Movie Reviews
Written by Gilbert Seah
A relative quiet week with regard to big openings. The Paul Dano film WILDLIFE and NFB doc WHAT IS DEMOCRACY? open.
BEST FILMS PLAYING:
Best Action:
Mortal Engines
Best Documentary:
They Shall not Grow Old
Best Foreign:
Burning
Roma
Border
Best Comedy:
Christmas Chronicles
Best Drama:
Ben is Back
Best Doc:
They Shall Never Grow Old
FILM REVIEWS:
PUGLI: A PUG'S LIFE (Canada 2018) ***
Directed by Michael McNamara and Aaron Hancox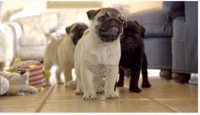 For dog lovers, especially pug lovers, arrives this lovable documentary of the lives of 3 rescue pugs together with some insight on the world of pugs. Even for those who are unamused by pugs, PUGLI is an enjoyable if not educational doc on the subject.
The film explores the current craze for flat-faced dogs and follows the trials, tribulations and triumphs of three pug dogs as they journey from rescue, to foster care, to their forever homes.
The first pug is Gunner. Gunner is a two-year-old pug in the care of Pugalug, Toronto's pug rescue network led by self-professed "Crazy Dog Lady" Blanche Axton. As she prepares Gunner for adoption, we meet a growing community of "squishy-faced dog" devotees with big personalities, and follow their stories of heroism, humour and heartbreak. Dogs are not allowed for adoption until they are at least well and adopters are made aware of the new pet's ailments as pets medical bills can come out to the thousands. Gunner is adorable and his medical problems do not show.
Next, the audience sees the glamorous side of the pug life, as cover girl Miss Pickles the Pug wins the Now Magazine (the Toronto few news and events weekly) prize for Best Instagram account.
There is Helmut, superstar of the monthly "Pug Grumble" at Toronto's Trinity Bellwoods Park, as he takes a break in his busy schedule for a photo shoot for the Canada Pooch clothing company.
Other minor pug stars include red-carpet movie star Igor Pugdog and his little brother Zombie are featured in their very own yearly calendar – a Pugalug Pug Rescue fundraising initiative driven by motorcycle-riding pug-lover Tracey Silverthorn.
The film also pays special attention to the owners. Yes, there are dog ladies as well - but with supportive husbands. These people are revealed to be committed owners who must nurse their pugs through the myriad medical problems that can plague flat-faced dogs. Titus is a half-blind pug crippled by a congenital condition but he will not give up barking and chasing after speeding trains. His doting owner Erin carries him everywhere he goes, and ensures that he gets his meds and his thrice-daily catheterization. As a result, for the past three years, these two have never been apart. And then there's Tawnie, the "sassy bitch" with a lengthy list of maladies, beloved by Blanche, Sigrid and the rest of the Pugalug team, but whose continual (and costly) vet visits have made her adoption prospects doubtful.
Movie pieces frequently feature villains. What is a good movie without one? In this case the villains are the breeders. The breeders are shown to be obsessed with breeding the perfect pug - which means a smashed nose and a curly, short tail. The nose means difficulty breeding with lots of pugs with respiratory problems. The shot tail entails spinal problems as well. As they keep breeding those with short tail or pug noses, the pups face medical problems on growing up.
The audience sees Jessica Kelly, dog behaviourist and Todd Kaufman, a psychotherapist who works with emotional support animals who both express their dislike for breeders who aim for the "smushiest face", the highest tail, and other extreme features. The film shows Jim and Mary Lou Dymond, an older couple who have spent 30 years trying to breed the healthy "perfect pug."
The film has a special screening on on Sunday, January 6, 2019 at 1:00pm- Hot Docs Ted Rogers Cinema before opening on different platforms.
Assorted clips:
https://www.dropbox.com/sh/z4qlh2grh4jhfy3/AAC5U__naEb5juf4iAFlg7_Ua?dl=0
WHAT IS DEMOCRACY? (Canada 2018) ***1/2
Directed by Astra Taylor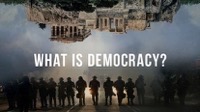 The National Film Board of Canada (NFB)'s WHAT IS DEMOCRACY? just nominated for Best Canadian Documentary by the Vancouver Film Critics Circle is the kind of educational film made for students to watch in schools where lots of information is provided on the subject as if coming directly from a textbook on democracy. The origin of the word is also explained in the film, to illustrate the amount of detail going into its research.
The film questions what it means to want to live in democracy. Therefore the question asked is what the word even means. WHAT IS DEMOCRACY? is an idiosyncratic, philosophical journey spanning millennia and continents: from ancient Athens' groundbreaking experiment in self-government to capitalism's roots in medieval Italy; from modern-day Greece grappling with financial collapse and a mounting refugee crisis to the United States reckoning with its racist past and the growing gap between rich and poor.
Celebrated theorists Silvia Federici, Cornel West, Wendy Brown, and Angela Davis are joined by trauma surgeons, activists, factory workers, asylum seekers, former prime ministers and others, in a film speaking to the camera or interviewed by Taylor, that connects past and present, the emotional and the intellectual, the personal and the political, to provoke critical dialogue about our future.
Though not really a feminist film, it should be noted (not a bad thing) that most of the interviewees and those involved in the making of the film including the director (who doubles her function as interviewer) are women.
Trump is given screen time. Surprisingly Trump is not dismissed as a bad President but given due respect as well as reasons he got elected. An identical situation can be applied to Brexit. The masses are fed up with the elected who have forgotten the people. The Democrats have forgotten the people, says one American. So when Trump goes down to the people at their level, he won their confidence.
An eye-opener is also revealed on how Americans are cheated on democracy in voting, especially the poorer and black parts of the United States.
Also interesting is the segment on Greece. Greece has been in financial crisis and has to be bailed out by the other European Union countries that claim that Greece have lived beyond their means and now they have to pay. The film reveals another side that does not reflect well on the banks and the authorities.
There are lots in the film that will titillate the mind. After all, it is the philosophers who had a big deal to do with the concept of democracy, as the film implies. The film's best segment has young students talking about democracy. They talk about the results of their complaints in school, one in articular that resulted in the school taking away the vending machines. They claim that the teachers say that they get paid regardless what they do and that the students need to go to college to success and be happy. Yet they do not set the example. It is a very moving and realistic situation that touches the heart.
The film summarizes democracy simply as justice - the right to self rule. The film also demonstrates selective democracy and that real democracy is practically unattainable.
The film will be back in the city on January 26 at Ryerson University at the DemocracyXChange Summit—a new annual event co-founded by the Open Democracy Project and the Ryerson Leadership Lab—where Taylor will deliver a keynote address, followed by an evening screening of her film.
Trailer: https://vimeo.com/266692157
WILDLIFE (USA 2018) ***
Directed by Paul Dana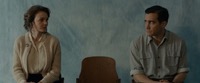 Paul Dano, in his early 30's is an excellent actor who has been seen in a diverse range of films from COWBOYS AND ALIENS to 12 YEARS A SLAVE. He has delivered outstanding performances in his films, the best of which is with Daniel Day Lewis, holding his own with the multiple Oscar Winner in P.T. Anderson's THERE WILL BE BLOOD in which a troubled teen learns of life.
Having proven his active chops, Dano has now taken on directorial reins in a new film again centring on a troubled teen. Dano also co-wrote the script with his partner Zoe Kazan, this giving the film a female point of view. It is familiarity that Dano has dealt with and it is of no surprise that the actor he has chosen to play the 14-year old protagonist, Joe looks somewhat like a younger version of himself.
The film is set in 1960, Montana. Jeannette (Carey Mulligan) and Jerry Brinson (Jake Gyllenhaal) have recently moved to Great Falls, Montana with their teenage son Joe (Ed Oxenbould). Tensions build after Jerry is fired from a low esteemed job as a golf pro at a country club. He is offered his old job back but refuses out of pride, and instead of looking for work, he sleeps in his car and watches the local firefighting efforts against a forest fire raging in nearby mountains. To support the family as Jerry looks for a job, Jeannette takes a job as a swimming instructor, while Joe works at a local photography studio. One day, Jerry decides to take a low-paying job fighting the forest fire, which upsets Jeannette and worries Joe. Jeannette speaks openly about her strained marriage with Jerry to Joe, and the stress of the situation takes a minor toll on Joe's school life.
While Jerry is away, Jeannette becomes romantically involved with one of her students, Warren Miller (Bill Camp), a rich older man who owns an automobile dealership. Fireworks begin when Jerry returns and Jeannette announces that she is moving out - all this inferno of and to Joe's dismay.
WILDLIFE s a simply told family drama but one told with conviction. The mountains and icy landscape look stunning in the background, reflecting the loneliness of people in the vast surroundings. Dana connects the audience with both points of view, that of the mother and the father but it is the story of the young son. "I surprised myself and had a good time. Did you?" asks the mother to Joe and one point int he film, illustrating how the film looks from the woman's point of view and then when there is no answer from the son, switches perspective back to the son.
The desperation of the mother is what propels the family woes. She tells Joe after Joe catches her making out with Miller. "He wants to make it better. Maybe you got a better plan. I wish I was dead."
It is a common story of father leaving home to get a decent job while mother becomes restless. There is really nothing Joe can do. He wants to keep the family together, but all he can do is to say how each misses the other.
Dana keeps his film on track as Joe's coming-of-age passage as he is forced to navigate the complex dynamics of adult relationships and figure out what to make of the woman who used to be just Mom. A well paced family drama with real characters from Paul Dana.
The film opens Jan 4th at the Bell Lightbox.