10
Jan
2019
Details

Category: Movie Reviews
Written by Gilbert Seah
The excellent film from Lebanon CAPERNAUM opens this week.
BEST FILMS PLAYING:
Best Family:
Mary Poppins Returns
Best Documentary:
They Shall not Grow Old
Best Foreign:
Burning
Roma
Capernaum
Best Drama:
Ben is Back
Bets Horror/Sci-fi:
Bird Book
Best Doc:
They Shall Never Grow Old
FILM REVIEWS:
CAPERNAUM (Lebanon 2018) Top 10 *****
Directed by Nadine Labaki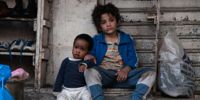 CAPERNAUM is the place around the Sea of Galilee where Jesus of Nazareth preached during Biblical times. According to the film title appearing on screen, it also means chaos - a word that accurately describes director Nadine Labaki's gut-wrenching story of poverty as seen from the eyes of a young boy in Lebanon. CAPERNAUM is guerrilla filmmaking at its best winning at Cannes 2018, both the Jury Prize and Prize of the Ecumenical Jury. Filmed in Arabic.
The film opens with a young handcuffed boy brought to court where he is being tried for murder. He has stabbed a man several times. His parents are there and the boy wishes to sue his parents for giving birth to him. The camera shifts to the face of the boy's attorney, who is splayed by director Labaki herself. He claims his parents have no right to bring children into the world when they are unable to feed or care for them. The film then rolls back in flashbacks to reveal the incidents leading to this awkward yet sad state of affairs.
Zain (Zain al Rafeea) is 12 years, or thereabouts, given that he has no papers or birth certificate. He is mounting his case from jail, where he is serving five years. The story then flashes back – to tell why he ran away from home and ended up caring for a toddler (Boluwatife Treasure Bankole) after meeting an Ethiopian illegal (Yordanos Shiferaw) who, like Zain, is without documents. It turns out that Zain is in jail as he stabbed a man who married his 14-year old daughter, impregnating her and then causing her death. Zain had loved his sister and tried his best at preventing her from being sold by her parents. The scene with Zain and his sister sleeping arm in arm is the perfect image the audience needs to see for director Labaki to make her point.
The performances from the non-actors, who according to the press notes live lives similar to that depicted on screen are terrific. Zain al Rafael as Zain the boy is nothing short of terrific. The film has two best scenes, one where he discards his mother's affections when visited in juvenile detention and the other in court where the mother tells the judge off, that no one should be judging her as they do not know how desperate her situation is.
The situation in Lebanon is no better either. Labaki's camera reveals the overcrowded prison conditions, where cells are packed with people, women and children. The streets are filthy and goods are bartered in the makeshift marketplace. Taps in Zain's abode flush rust coloured water. Lebanon would likely be the last place on your tourist list after seeing this film.
CAPERNAUM is a 2019 Golden Globe nominee and Lebanon's 2019 Oscar submission in the Best Foreign language film category. It is also on my Top 10 list for Best films in 2019, as it opens in January 2019. CAPERNAUM is a film that demands to be seen to appreciate the poverty in the world.
Trailer: https://www.youtube.com/watch?v=UrgWHfGEsbE
DESTROYER (USA 2018) ***1/2
Directed by Karyn Kusama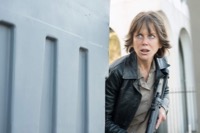 There is a new super hero in town. But this is a super hero of a different kind - not a Marvel or DC super action figure hero but a female down to earth cop with the super power of survival.
As the film opens, LAPD detective Erin Bell (Nicole Kidman) arrives on the scene of a John Doe murder and informs the responding officers that she knows the victim's identity. The responding officers clearly dislikes her and unafraid to show their feelings. She gives them the finger when they ask the identity.
At the police station, Erin receives a $100 bill stained from a dye pack in an unmarked envelope. Using a contact at the FBI, she confirms that the bill is from a bank robbery committed by a California gang many years prior that she and her former partner Chris (Sebastian Stan) were embedded in as undercover officers. She tells her superiors that she believes the bill and the John Doe murder to be proof that the gang's leader Silas (Toby Kebbell) is once again active.
Erin is forced to work her way through the remaining members of the gang in order to find Silas. She begins with Toby (James Jordan), who was arrested but is now gravely ill and living with his mother on compassionate release. She manually stimulates him in exchange for the location of Arturo (Zach Villa), a member of the gang who attempts to atone for his past crimes by offering pro bono legal services to immigrants. Arturo provides Erin with the location of DiFranco (Bradley Whitford), a lawyer who launders the money from the original robbery and from whom Erin deduces that Silas is active again because the money from the heist is almost gone. After threatening him, DiFranco gives Erin the location of the next money hand-off, which is performed by Silas' girlfriend Petra (Tatiana Maslany). Erin tracks Petra, eventually intervening in a bank robbery committed by Silas' new gang, and kidnaps Petra.
But the beauty of all this is that there is more than meets the eye.
Via flashbacks throughout the film, it transpires that Erin and Chris developed a romantic relationship while undercover, with Erin eventually becoming pregnant with Chris' child. Nothing more will be revealed of the story but that it is a bit annoying at the start for the audience has to piece the puzzle of the story together. But the work pays off. The fragmented narrative works eventually. One also needs to take time after the film has ended to piece everything together to see how the time line has worked.
Kidman is marvellous and the almost unrecognizable Erin who strives for redemption for an undercover operation gone all wrong. She even stole the money. Kidman was nominated for a Golden Globe for her performance but lost out to Glenn Close. The young Tatiana Naslany also proves herself a rising star.
The nitty gritty atmosphere of bars and rundown towns is effectively captured. Director Kusama (GIRLFIGHT) again proves herself as a strong female presence in films.
Trailer: https://www.youtube.com/watch?v=bqHaLUoiWZU
THE UPSIDE (USA 2017) **
Directed by Neil Burger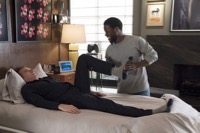 The film begins one night when Dell Scott (Kevin Hart) is driving Phillip's (Bryan Cranston) flashy sports car at high speed. They are chased through the streets by the police and eventually cornered. Dell claims the quadriplegic Phillip must be urgently driven to the emergency room as he is having an epileptic fit; Philippe pretends to have a seizure and the fooled police officers escort them to the hospital. All cliched comedy here, The story of the friendship between the two men is then told as a flashback with this scene retuned at the end.

THE UPSIDE is the remake of France's second most successful box-office film of all time, the 1999 LES INTOUCHABLES which cost 10 million euros to make but grossed over $360 euros.

The first paragraph describing the story could be applied to both films as THE UPSIDE is quite the similar film but with a few changes. The American remake changes parts of the original to make the story more believable and dramatic.

Among the changes:

the American version has a a more realistic but less effective ending

the Nicole Kidman character is expanded though not too credible at the end

the comedy is reduced with more drama added

the setting is changed from Paris, France to the U.S.

the character of Phillip's adopted daughter is omitted completely in the remake

as the film is based on the true story of these two 'friends', the original ending showed the two men in real life, Philippe Pozzo di Borgo and his French-Algerian caregiver Abdel Sellou

It is debatable whether each the changes improves the film, as what is written on paper might not turn out that well or turn out better on film. Still, the script by Jon Hartmere is a lazy one that follows most of the original scene by scene.

THE UPSIDE benefits from the three lead performances. Bryan Cranston (TRUMBO) has first billing. He plays a quadriplegic, which means he can only act using his neck upwards. Hart gets to clown around for all that is worth. When the script allow him to do his thing as in the scene where he is supposed to clean up his boss, (What is an American comedy without its shit jokes?) Hart comes across as quite desperate on trying to get a few laughs out of a script that lives him nothing. I found this segment unfunny and boring though it did get a few laughs from a few of the audience at the promotional screening. Kidman plays the prissy role of the personal business assistant well giving a needed boost to the under-written role.

For a comedy, the running time of over two hours (126 minutes) is lengthy which explains the film crossing the line into feel-good drama. Bit cliche upon cliche are piled up, if not identical set-ups from the original film. The end result is a goofy and unrealistic feel-good movie that is as boring as it is original.

Trailer: https://www.youtube.com/watch?v=iaoPOb_fWcw

}