31
Jan
2019
Details

Category: Movie Reviews
Written by Gilbert Seah
TIFF Cinematheque Presents- The Films of Aki Kaursimaki
TIFF Cinematheque presents an exhaustive retrospective of films by Finland's best known director Aki Kaursmaki. Well known for his deadpan comedy style, His films are often minimalist with little dialogue. He has also made a silent film JUHA. He has a few favourite actors who appear repeatedly in his films.
After graduating in media studies from the University of Tampere, Aki Kaurismäki started his career as a co-screenwriter and actor in films made by his older brother, Mika Kaurismäki. He played the main role in Mika's film The Liar (1981). Together they founded the production company Villealfa Filmproductions and later the Midnight Sun Film Festival. His debut as an independent director was Crime and Punishment (1983), an adaptation of Dostoyevsky's novel set in modern Helsinki. He gained worldwide attention with the very funny Leningrad Cowboys Go America (1989).
Kaurismaki is one of my favourite directors. I love hunter and he provides the best.
The rear starts on January the 31st. For more information on the films, venue, ticket pricing and program, check the TIFF website at:
https://www.tiff.net/the-review/aki-kaurismaeki-finds-laughter-in-the-dark/
His full list of feature films:
Feature films:
Crime and Punishment

, 1983

Calamari Union

, 1985

Shadows in Paradise

, 1986

Hamlet Goes Business

, 1987

Ariel

, 1988

Likaiset kädet (Les mains sales), 1989 (production for Finnish TV)
The Match Factory Girl

, 1990

La Vie de Bohème

, 1992

Drifting Clouds

, 1996

Juha

, 1999

The Man Without a Past

, 2002

Lights in the Dusk

, 2006

Le Havre

, 2011

The Other Side of Hope

, 2017
My BEST Kaurismaki films:
DRIFTING CLOUDS
THE OTHR SIDE OF HOPE
ARIEL
LENINGRAD COWBOYS GO AMERICA
THE MAN WITHOUT A PAST
Film Review of Selected Films:
ARIEL (Finland 1988 ) ***** Top 10
Directed by Aki Kaurismaki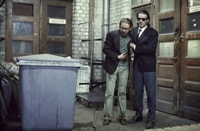 Like DRIFTING CLOUDS, ARIEL is a hilarious deadpan comedy on unemployment in Finland. The film follows the path of one loner, a poor soul who loses work when the mine closes for good. he is robbed from all the money he draws from the bank. But he has the ownership of a car his ex-boss gives to him before he commits suicide. Yes, it is that deadpan funny. He almost gets a parking ticket but earns a date from the traffic officer and they go on a date. She tells him she hates the officer cap and chucks it away. The film contains arguably the funniest one night stand segment. After sex in the morning, she asks: "Are you going to disappear in the morning?" "No this is forever," he replies. "Good, I got to work early in the morning," she retorts. He gets imprisoned after attempting to get the money back from the man who robbed him. ARIEL is to be credited as perhaps history's funniest depression film. Besides the laughs, Kaurismaki also captures the desperation of the lovers bringing in suspense and thrills to the story as well. A total delight!
For rest of article, click on link for article on our sister website:
http://toronto-franco.com/index.php?option=com_content&view=article&id=251&catid=21