ALITA: BATTLE ANGEL, James Cameron's 20 year old baby finally opens after years and years of conception. It looks dazzzling for all that its wrth and should be seen in 3-D IMAX.
FILM REVIEWS:
ALITA: BATTLE ANGEL (USA 2019) ***
Directed by Robert Rodriguez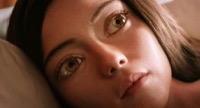 Not really looking forward to this Hollywood extravaganza, ALITA:BATTLE ANGEL turns out not too bad, aided by its awesome looking futuristic setting of a junkyard metropolis after a devastated War. The city looks like an overcrowded India with Zalem another city hanging over it.
The film is based on a manga graphic series which usually spells trouble in the narrative department. But the script is written by no less than AVATAR helmer James Cameron with Laeta Kalogridis blending in some action and romance to bring in females into the target audience in what is essentially a male movie despite its female protagonist.
The film's setting is the year 2562 after a huge war referred to as 'the fall' has destroyed Earth. All the inhabitants of the planet has settled into Iron City. At the film's start, Cyborg scientist Dr. Dyson Ido (Oscar Winner Christoph Waltz) discovers a disembodied female cyborg with a fully intact human brain. Ido rebuilds the cyborg and names her Alita (Rosa Salazar) complete with doll face looking a bit like Cameron's AVATAR creatures). As the film progresses, Alita and the audience learn more of what's happened to Earth. Warrior hunters are brought in. Ido is revealed to be one of them. Alita falls in love with a human named Hugo. Hugo has the dream of entering the sky city of Zalem, that stands like a kind of Utopian heaven. There is also a violent game of motorball (reminiscent of ROLLERBALL) that Alita has some talent for. Alita also discovers her past and her exceptional fighting capabilities.
The story's villains are Vector and Nova played by Mahershala Ali and Edward Norton respectively, each taking their role tongue-in-cheek as if not to laugh uncontrollably. Christoph Watlz gets a break from playing a baddie, which one would think must've pleased him. At theToronto International Film Festival press conference for DOWNSIZING, Waltz was questioned by a journalist if he faced a problem with all those baddie roles. Waltz was visibly upset and replied maybe that was the journalist's problem. Waltz plays the role of an eccentric father this time around. Jennifer Connolly plays his sympathetic ex, Shiren. The story is nothing special, understandable since it is based on a manga graphic novel. What makes up for it is the well orchestrated fight scenes and the motor ball sports matches even though it looks as if they were taken right out of ROLLERBALL.
The climax includes a segment where Alita and Hugo are on a gigantic tube that connects Iron City to the high city Zalem. Hugo climbs the tune up to Zalem. It is a spectacular sight (looking more spectacular if viewed in 3-D IMAX, high I was fortunate enough to see the film in). One really ridiculous looking scene has Alita holding Hugo's hand as he hangs for dear life after falling. Trouble is that only his torso is left, as he was repaired as a cyborg. Seeing Alita trying to save a torso looks really funny though that cliff having suspenseful scene was taken quite seriously by the audience at the screening I attended.
ALITA ends up not the best of Rodriguez and Cameron's efforts but still an entertaining one for all the corny manga story is worth.
Trailer: https://www.youtube.com/watch?v=w7pYhpJaJW8
GREEN BOOK (USA 2018) ***** Top 10
Directed by Peter Farrelly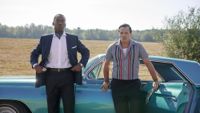 The review for GREEN BOOK is re-published to celebrate the issue of the film on new platforms.
The film will be available digitally on iTunes and Cineplex on Feb. 19th and then the DVD, Blu-ray and 4K Ultra HD copies will be available on March 12th. The film was originally slated for release on the latter platforms in February but pushed forward. likely for the reason that the studio might still milk in a few bucks after some Oscar wins on Feb 24th.
GREEN BOOK, the film is named from The Negro Motorist Green Book, a segregation-era road travel guidebook to help African-Americans dealing with racial discrimination issues and Jim Crow laws, such as whites-only garages, restaurants and hotels refusing services. This book (nicknamed 'vacation without aggravation') is used during the tour of the Deep South in the 1960s by Jamaican-American classical pianist Don Shirley (Mahershala Ali) and New York bouncer Tony Lip (Viggo Mortensen), who served as Shirley's driver and security.
The film follows the protagonist Tony Lip as he takes a difficult new job in order to support his wife, Dolores (Linda Cardellini) and his two kids. The job is to chauffeur and protect Dr. Shirley as he tours the racial prejudiced deep south. It is a pretty country but not for the coloured folk there. It is a simple story but one is both extremely moving and relevant in today's times. What makes the film totally winning is that it is a film about discovery, as each of the two main characters Tony and Dr. Shirley learn about each other, the people and ultimately about themselves.
As far as anti-racists films go, GREEN BOOK works because it captures the ugliness of racism without resorting to cheap theatrics and crowd pleasing dramatic setups as in the recent THE HATE U GIVE. Racism occurs when the guilty racist demonstrates the fact, unaware that the is doing so. This is demonstrated in the one scene where Tony hits an officer when he calls Tony a half-nigger.
There are many 'best' scenes in GREEN BOOK. My personal favourite is the hotel corridor scene where Dr. Shirley pleads Tony not to give up his job as his chauffeur and driver only to be corrected that he never intended to do so in the first place.
The 60's period setting is captured by effective yet simple props like the vintage TV, the old telephone, wardrobe and the old vintage cars.
The film also demonstrates that a film's climax need not always contain pyrotechnic explosions, super fight sequences or an exciting finish. GREEN BOOK closes nicely with a well-thought out conclusion.
Besides besides a Top 10 film, GREEN BOOK also contains Top 10 of the year performances by Viggo Mortensen and Mahershala Ali (MOONLIGHT). Both actors are superb, Ali delivering a more controlled performance only letting all the emotions go in the one scene when his character walks out of the car in the pouring rain. Mortensen (of Danish origin) perfects Tony's Italian mannerisms to a 'T', putting on physically the weight of the role. He captures the naivety and street smartness of his character.
GREEN BOOK won the Toronto International Film Festival's most coveted prize of the People's Audience Choice Award. Last year's winner THREE BILLBOARDS OUTSIDE EBBING, MISSOURI also won the Best Picture Oscar. GREEN BOOK hopes and deserves the same honours. GREEN BOOK is not a good film but a great film.
Trailer: https://www.youtube.com/watch?v=QkZxoko_HC0
ISN'T IT ROMANTIC (USA 2019) ***
Directed by Todd Strauss-Schulson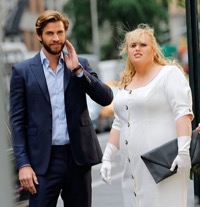 ISN'T IT ROMANTIC? is a romantic comedy that is supposed to be a satire of romanic comedies. High aspirations! The film plunges its protagonist, Natalie (Rebel Wilson) an Australian architect living in New York City into an alternative universe of the romantic comedy. After being mugged and bumping her head, Natalie now lives, while being aware, of this alternative PG-13 Universe with the running joke that the 'f' word cannot possibly be uttered. She must escape every cliche in order to find love and live happily ever after.
Nat finds the most handsome client at the office (Liam Hemsworth) speaking Australian and falling in love with her. Hemsworth is Australian, so for him speaking like an Aussie is no problem. But Natalie realizes that she should be with her best friend (Adam Levine) who she had previously in her past life totally ignored. Natalie decides to go all out to get him back.
Rebel Wilson is the slightly plump Aussie comedian that has been popping up in supporting roles in films of recent years. She is mostly annoying than funny. Wilson is at least tolerable in this film where she is given the main lead, turning annoying into over-endearing. It is too obvious that she is the pitiful girl that the audience should pity and root for and in the end go head-on cheering for.
Strauss-Schulson's film is however, not without its pleasures. The film's best segment tis a romantic musical number set in a Karaoke bar where Natalie shows up to the couple's party with the full intent of stealing the groom. They break up into an over-the-top kitsch that is unexpected and refreshing, sort of like when Rupert Everett broke out into the lip-synching song: in MY BEST FRIEND'S WEDDING. A similar musical number at the film's end however loses its punch, not being able to beat the Karaoke one.
ISN'T IT ROMANTIC? is described in the ads a a satirical fantasy film about romantic comedies. A film is a satire if it tears its subject in this case the romantic comedy apart, disbelieving everything about it being true. I generally do not consider romantic comedies as my favourite genre and I would love to see the concept of romantic comedies totally torn apart. No such luck - ISN'T IT ROMANTIC, still falls into all the pratfalls of a rom-com. It has a romantic happy ending, is fully predictable, the girl gets the guy she wants at the end and worst of all is filled with one cliche after another including the girl's best friend being gay, the supportive girl's best friend at work and a cutie pet at home. Other examples: Natalie is passed over at work, is a decent human being and not a beauty and worst of all a bump on her head that shifts her romantic universe (the last film with this similar premise was WHAT MEN WANT where a bump on the head gives the female protagonist the ability to hear men's thoughts). So there is nothing truly innovative about ISN'T IT ROMANTIC? It has a premise that the script does not really know what to do with. Isn't it sad?
The film opens Wednesday in time for Valentine's Day.
Trailer: https://www.youtube.com/watch?v=YVYzxm_RqMg
TROUBLE IN THE GARDEN (Canada 2018) **
Directed by Rosamund Owen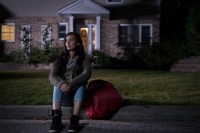 The film is appropriately entitled TROUBLE IN THE GARDEN as retesting activist Raven also known as Pippa McTavish (Cara Gee) is camped on in a tent in the garden of her surety who bailed her out and who is under house arrest in his home. Raven is trouble personified.
The film opens with Pippa arrested and jailed form protesting land development on disputed Indigenous land. Arrested - McTavish. A white man, Colin (Jon For) bails her out and she has to stay house arrest with his family. The following scene has Colin putting up a real estate sign, as he sells houses under the name McTavish. It is then revealed that Pippa is the adopted daughter and Colin the son of a white family. Pippa was disowned by the father for the reason disclosed later in the film.
The script by Owen is a bit too over-the-top in its good intentions. It is written for plenty of dramatic theatrics which means that there are too many incidents that are too coincidental to be believable. Example of cliched dialogue: "They are white but they are fucked. But they are the only family that I got."
Another of the film's problems is its feminism and radicalism. Sure, the land of the Indigenous people have been stolen, but the white man is considered evil with no redemption whatsoever. The script squeezes in a lot of key issues. Among these include the fact that: the natives were never allowed and the government considered it a crime for them to hire lawyers till the 60's to fight to gain back their stolen land - a point that would anger many Canadians besides the natives. One can imagine the anger of the Indigenous people over the stolen land - an issue that can never be resolved. As the saying goes, why bring it to the courts? Can one expect justice in stolen land?
The script makes a twist to have the brother's wife side with Raven. When Colin's wife finds out about her husband Colin's unfaithfulness to his sister, she storms out of the house and family. One would think her loyalty more to her family, especially when she is expecting a second child than side with Pippa who the audience learns has also upset Colin and the wife's wedding reception.
Actors Gee and For are good and more worthy than the material they are given. They commit to their confrontation scenes with conviction and bring enough drama to the film,.
Owen is a British born filmmaker now residing in Toronto. She must have taken up the cause of the Indigenous people while maintaining her strong female saint in her filmmaking.
The film boasts: Betrayal and reckoning - the issues that Raven will have to come to grips with, not to mention trying to reconcile with her brother and her well-intentioned adoptive parent. These are too ambitious and too many issues that are never satisfactorily resolved in the 70 minute movie.
Trailer: https://www.landmarkcinemas.com/movie-trailers/trouble-in-the-garden-official-trailer/