01
Mar
2019
Details

Category: Movie Reviews
Written by Gilbert Seah
TIFF Cinematheque Presents - Mexican Cinema
TIFF Cinematheque presents Mexican cinema that includes many rare Mexican films never or seldom screened before. The program of films is co-selected by Mexican director Guillermo del Toro, now living in Toronto whose favourite film, Luis Bunuel's LOS OLVIDADOS changed his life, as so he claims.
Capsule Reviews follow below and are listed in the order of their screenings at the Lightbox. The screening links are provided y kid courtesy of TIFF Cinematheque.
This program is a rare treat and in my opinion, one of the best programs delivered at TIFF for a long time.
CAPSULE REVIEWS (in order of Screening)
CRONOS (Mexico) ****
Directed by Guillermo del Toro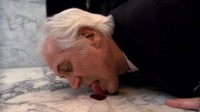 Del Toro's (THE SHAPE OF WATER, PAN'S LABYRINTH) feature debut is an impressive classic horror take re-set in Mexico. An antique dealer (Ferderico Luppi) comes across a strange device that is revealed to grant its owner the eternity of life. But it comes with a price. The owner would have to undergo severe pain for the device to take effect and the owner would have an insatiable taste for blood. American actor Ron Perlman plays the role of the violent nephew of an old wealthy uncle (Claudio Brook) who knows about this CRONOS device. CRONOS bears del Toro's trademark for blood and gore that would guaranteed to have audiences turn their faces away. Still CRONOS is a very scary and horrifying tale of the extent some people will go through to live forever. Del Toro also creates an impressive gothic atmosphere.
Screening: Feb 28th
LOS OLVIDADOS (Mexico 1950) ***** Top 10
Directed by Luis Bunuel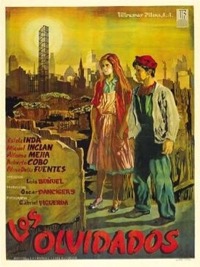 Compelling and uncompromising look at Mexican street youth that won the director the Best Director prize at Cannes. Shot in black and white around the dirty city streets around the countryside, the drama follows several youth including the perpetually bad Jaibo, recently released from jail, the generally good but impressionable Pedro among others. The action begins when Jaibo accidentally kills a fellow street kid while he complicates Pedro. Jaibo has no qualms against robbing or beating up cripples or blonde beggars. Pedro is guilty as hell incurring nightmares in one of Bunuel's another unforgettable surreal dream sequence involving a chicken and his floating mother. Pedro alos longs for his mother's missing love, so much so that he takes on a job as an apprentice to help support the family. "Why did you not give me meat to eat that day?" is the important question Pedro asks his mum to which he gets no reply. Compelling drama of poverty and one that the audience can feel for. This one of Bunuel's best - a story with a powerful message, worthy of Victor Hugo's LES MISERABLES.
Screening: March 1st
THE EXTERMINATING ANGEL (Mexico 1062) ****
Directed by Luis Bunuel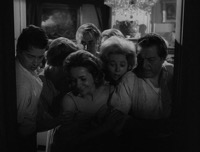 What might seem like an episode of THE TWILIGHT ZONE where guests at a lush dinner party are unable to leave for reasons totally unknown, THE EXTERMINATING ANGEL turns out to be Bunuel's quiet surrealistic classic. Thought things are weird, everything looks normal from the outside. Though there are no barriers to leave, whenever the guest leave, they are prevented by one reason after another- like "we should have a coffee before we go.." and then they never leave, staying for days leading to weeks to longer when each guest gets on each others' nerves. Animals like sheep and goats show up for no reason. The servants mysteriously leave the premises the night before again, for no reason and the chief valet refuses to take orders. How will all this end? It really does not matter, as the events that take pale are what makes tis unrealistic movie.
Screening March 16
THE SKELETON OF MRS. MORALES (Mexico 1960) ****
Directed by Rogelio A. Gonzales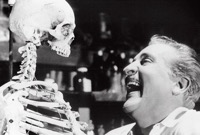 A noir comedy that very couple should see. The Morales are a couple from hell. She, Gloria (Amparo Rivelles) is a bitching, nagging wife who would not let her husband, a taxidermist enjoy his meal while denying him her marital duties. He, in theentime has taken to drink while looking at dirty magazines. To make matters worse, she is a religious woman who has her priest taking her side. Things reach boiling point when Gloria breaks the expensive camera her husband has saved the money for years to get. This is the last straw. What happens next has to be seen so ask not to have the delicious plot spoilt. The film is little seen Mexican gem that should not be missed.

Screening March 16

Films (to be reviewed)

The Realm of Fortune dir. Arturo Ripstein | Mexico 1985 | 135 min.

Sunday, March 3

This adaptation of a short story by Mexican author Juan Rulfo marked the first collaboration between director Arturo Ripstein and talented screenwriter Paz Alicia Garciadiego. Town crier Dionisio Pinzón (Ernesto Gomez Cruz) rescues an injured fighting cock and nurses it back to health, and is rewarded when the bird returns to the ring and scores a series of victories, making its formerly impoverished owner into a wealthy man. Dionisio's love life improves along with his fortunes, and he soon marries the lovely singer La Caponera (Blanca Guerra) — but his newfound prosperity does not necessarily connote a happier future. Incorporating elements of magical realism into their unsparing look at everyday poverty, Ripstein and Garciadiego forged a signature style that they would continue to develop in over a dozen subsequent features.

Sólo con tu pareja dir. Alfonso Cuarón | Mexico 1991 | 98 min.

Friday, March 29

Premiering at TIFF in 1991, the first feature by Oscar-winning filmmaker Alfonso Cuarón is a dark screwball comedy about love and sex at the height of the AIDS crisis. Playing sick from work one day, unlikely Casanova Tomás Tomás (Daniel Giménez Cacho) has to juggle two rendezvous when his flirty boss and a nurse he has been romancing show up at his pad at the same time. Armed with the keys to his out-of-town neighbour's apartment, Tomás ushers the unknowing women into the adjoining rooms and flits back and forth between them via the balconies. From up on high, he spies the lovely neighbour who has moved into the flat below his, but the first pangs of this new love are rudely interrupted by the wrathful nurse, who plays a nasty trick on him by changing the results of his recent HIV test. Financed through a state film-funding system, Cuarón's debut was originally denied a release by the government, but went on to great worldwide festival success and became a hit at home when it was finally granted a domestic release.

El Compadre Mendoza dir. Fernando de Fuentes | Mexico 1933 | 81 min.

Sunday, March 31

Poet turned exhibitor turned filmmaker Fernando de Fuentes was a pioneer in the Mexican film industry of the 1930s, working across many genres and masterfully adapting his cinematic language to the advent of sound. The second film in the director's famous trilogy about the Mexican Revolution, El Compadre Mendoza centres on a wealthy landowner who plays both sides of the conflict in an effort to maintain his status. When the Zapatistas come to town, he hangs a portrait of the rebel leader in his dining room and drinks to his health; when the government forces arrive, a portrait of General Huerta goes up instead. The landowner's duplicity finally catches up to him, and it is a Zapata general who ends up coming to his aid. Acidly commenting on the mores of the upper class, El Compadre Mendoza offers a cutting social critique even as it captures a crucial moment in Mexico's modern history.

}