DUMBO is the big one opening this week. The Canadian films GIANT LITTLE ONES and THROUGH BLACK SPRUCE also debut.
BEST FILMS PLAYING:
Best Animation:
Wonder Park
Best Documentary:
They Shall Not Grow Old
Best Foreign:
Never Look Away
Best Drama:
Gloria Bell
Best Film Opening:
Giant Little Ones
FILM REVIEWS:
BLUE NOTE RECORDS: BEYOND BLUE NOTES (Switzerland/USA 2018) ***
Directed by Sophie Huber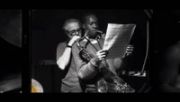 The second documentary after her critically acclaimed HARRY DEAN STANTON: PARTLY FICTION, BLUE NOTE RECORDS: BEYOND BLUE NOTES is about the record label company called Blue Note Records and the artists mainly jazz musicians that played on the label.
The founders are apparently still alive and they are seen in archive footage together with their artists they signed on.
The question is what is so special about Blue Note Records. Director Hubert is clear to let her audience know. For one, it is a label that the owners sign jazz musicians on because they love their music. Making money is only the secondary reason. An example is the commitment one of the owners had for jazz (or alternative) pianist Thelonious Monk. It took a while before people liked and got familiar with his music and the owner believed in the man and his music. Other artists that made Blue Notes Records their home include Miles Davis, John Coltrane, Bud Powell and Art Blakey, as well as present-day luminaries like Robert Glasper, Ambrose Akinmusire and Norah Jones.
The founders are just as interesting as their company. The company was founded in New York in 1939 by German Jewish refugees Alfred Lion and Francis Wolf who fled the Germans. If, the history of Blue Note Records goes beyond the landmark recordings, encompassing the pursuit of musical freedom, the conflict between art and commerce and the idea of music as a transformative and revolutionary force.
The film also includes an impressive cast of interviewees: Ambrose Akinmusire, Michael Cuscuna, Lou Donaldson, Robert Glasper, Robert Glasper, Derrick Hodge, Norah Jones, Keith Lewis, Lionel Loueke, Terrace Martin, Ali Shaheed Muhammad, Kendrick Scott, Wayne Shorter, Marcus Strickland, Rudy Van Gelder, Don Was.
The film's best moments are, s expected the artists performing. This is rare footage where the audience gets to see and hear the best jazz performances as delivered by history's best artists. Who can ask for anything more? Even non jazz lovers will be converted.|
Trailer: https://www.google.com/url?q=https://vimeo.com/263839824&source=gmail&ust=1553306177251000&usg=AFQjCNFoRfi3pfUvD2O6BDNDQXdA5g2xIQ
DUMBO (USA 2019) ***
Directed by Tim Burton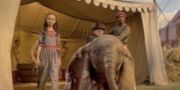 Everyone loves and remembers Disney's 1941 favourite animated feel-good fantasy, DUMBO. Dumbo, the baby elephant is born with huge ears that allow him to fly thus becoming the sensation of the circus. Don't expect the same with the live action film DUMBO written by Ehran Kruger and directed by Tim Burton. Burton's most famous films were BEETLEJUICE, EDWARD SCISSORHANDS and THE NIGHTMARE BEFORE CHRISTMAS all known for its darkness and nightmarish ideas. It is not surprising then that Burton's DUMBO is dark and gloomy. Dumbo rarely smiles, the scenes are mostly dark and the soundtrack is filled with loud and annoying sounds like chimpanzees screening, loud circus music and people yelling rather than talking normally. Those prone to migraines best stay away from this one.
The films starts on a bleak note where a rundown train carrying the circus that is falling on hard times travel through poverty America. Holt Farrier (Colin Farrell) is returning by train home to his children after the war. It is revealed that he has lost one arm. His wife has also passed away from influenza. Holt is out of a job because circus owner Max Medici (Danny DeVito) sold his horses). How more gloomy can the plot get?
More! Baby Dumbo is born and separated from his mother. The circus is sold to a conniving entrepreneur, V.A. Vandevere (Michael Keaton) who is out to make money out of the new sensation of the flying elephant. Dumbo's act needs to be polished and creates havoc when Vandevere wants the bank to invest money in his amusement world.
The magic of the original DUMBO emerges only a few times in the movie - mainly when Dumbo soars into the air. Even then, most of the flight takes place in the enclosed tent and if outside, occurs in the dead of night.
A lighter note is added with the characters of Max Medici and Vandevere's French girlfriend Colette (Eva Green). Both have the propensity to do good. The end up taking Dumbo's side. Even the one henchman of Vandevere ordered to kill Dumbo's mother tells on the deed, and quits his job out of disgust at his boss. Keaton in full powder-packed make-up, hams up his villainous character to the extreme of being cartoonish. His love for money ends up his downfall.
Nico Parker as Milly Farrier, Holt's daughter and Finley Hobbins as Joe, Holt's son are sufficiently charming reminding audiences that this is supposed to be a family movie. The other circus performers are just there for show with little much to do except for Miss Atlantis (Sharon Rooney) who does a few mermaid tricks and the snake charmer (Roshan Seth) who gets to utter the magic words "Fly my little one!"
But for whatever is director Burton's vision for the film, he does effectively capture the gloom of a struggling circus as he does on a world recovery from the war. His mark is certainly stamped on this movie.
For all that it is worth in terms of gloom vs. feel-good, DUMBO does grab the audience into the adventure of the circus and one does feel sorry for the elephant when his mother is forced to leave him.
Trailer: https://www.youtube.com/watch?v=7NiYVoqBt-8
GIANT LITTLE ONES (Canada 2018) ****
Directed by Keith Behrman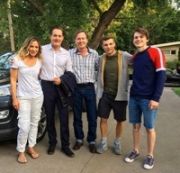 GIANT LITLLE ONES is the second feature from Vancouver filmmaker Keith Behrman (FLOWER & GARNET) that has already won accolades including three DGC (Directors Guild of Canada) nominations and the Vancouver Film Critics Circle's BEST Screenplay for a Canadian film. It also made this year's Canada's Top 10. It is a film about youth - and one that captures the bullying and expectations of both upon youth. The film has a gay slant and one that straight youth cannot accept, even in these days of gay acceptance.
The film opens with the protagonist, Franky Winter (Josh Wiggins) riding his bicycle around his neighbourhood. It is a great scene that celebrates writer/director Behrman's love for filmmaking. The plot and story is not yet established and the camera just spans and moves around in exhilaration as if to celebrate the joys of filming. And the joy is catching. The audience gets to enjoy this spanning of the landscape before the story settles on a more serious subject. What is seen on screen could very well be a suburb of a Canadian or American city - but the setting is left ambiguous. But one would wish that since it is a Canadian film, that the setting would be more deliberately stated as Canadian. Money talks - and an American setting means a bigger target audience.
The story is about labelling. A straight swim team member, Franky is labeled as gay and the story concerns on what he does to survive the labelling. Things do not help that his father (Kyle MacLachlan of BLUE VELVET) has recently come out gay. Franky's problem also causes a starin on his relationship with his mother (played by Maria Bello who also executively produced this film and has written a similarly themed book called "Whatever… Love Is Love: Questioning the Labels We Give Ourselves").
It all started off at Franky's 17th birthday party when his girlfriend, Natasha (Taylor Hickson) leaves after the incident in which they both fail to lose their virginity. Her brother, Ballas (Darren Mann) also on Franky's swim team spreads the rumour that Franky may be gay. That is when all the trouble starts. And continues through the film.
Behrman is brave enough to attempt certain daring lines in his script. In one key family scene, when Frank is told his visiting gay father has been told of the incident, he storms out of the room screaming: "I am not f***ing gay!" The words that might offend a portion of the gay audience are left intact to emphasize the emotions Franky is undergoing. Credit to Behrman. The film also shows the teens behaving maturely, as adults thug still dealing with teen issues. This aspect of the film shows that teens demand more respect as adults.
Excellent performances are delivered by all the young performers aided by Bello and MacLachlan. MacLachlan does not have many scenes but he creates quite the impact in those he is in.
So how does it all end? Is there a message for the audience? Revealing more would definitely be a spoiler to what is an excellent paced and remarkably moving film about coming-of-age, acceptance, family acceptance and a whole lot more issues.
Trailer: https://www.imdb.com/title/tt4481066/videoplayer/vi1848097561?ref_=tt_pv_vi_aiv_1
THROUGH BLACK SPRUCE (Canada 2018) ***
Directed by Don McKellar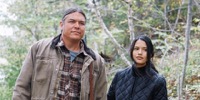 THROUGH BLACK SPRUCE has one scene where a character walks through wooded black spruce. There is something subtle about the scene though one can not be 100% clear what the meaning of it all is. The same thing can be said overall of Canadian actor/director Don McKellar's (LAST NIGHT) mesh of missing persons mystery and indigenous people statement. The film is an ambitious and diligent work but the two genres fit uncomfortably in a somewhat drab thriller, not for want of trying.
There are two things going for McKellar's movie. The first is the beautiful and stunning Ontario landscape of James Bay. The shots of the lakes, forests and vegetation are typical of the beast scenery Ontario, Canada has to offer. The second is the impressive performances of the film's indigenous cast. Veteran Graham Greene returns as well as the Toronto Film Critic's Association's darling (they recently honoured her), Tantoo Cardinal as well as Brandon Oakes. New is Tanaya Beatty in the title role of Cree woman Annie Bird.
The film is bookended by the violent beating of Annie's Uncle, Uncle Will (Oakes) of a golf club by the local drug dealer. The golf club is one of the most awful weapons used in film - the last time it was used was when Randy Quiard took out Sandy Dennis, the school councillor in PARENTS. The story of what happens in between is the movie.
Suzanne, Annie's sister has gone missing after chasing her modelling career in Toronto. The subplot emphasizes Canada's major problem of missing indigenous women. Annie stays in Toronto hunting for clues for her missing sister. She learns of her sister's drug habits including some shady dealings with ex-drug dealer boyfriend Gus. In the mean time, she has a mild romantic fling with her sister's last photographer, the fast-rising Jesse (Kiowa Gordon) before thing with the sister started falling apart.
In the mean time, Uncle Will takes off on his plane despite not having a void pilot's license for a decade up north into hunting territory for reason revealed at the end of the film. These segments are interspersed with Annie's mis-adventures in Toronto. The two segments do not flow well, and the dramatic effects of each are lost when the segments change. Thankfully, all makes sense at he film's climax when all is explained.
Despite the film's flaws, credit must be given to McKellar for mounting such an ambitious indigenous film. The hunting scenes especially the ones with the grizzly bear and the moose's carcass bring authenticity into the story.
The Toronto famed scenes are also well done. McKellar seems fond of Toronto's Queen Street where streetcars frequent (as observed by an overturned streetcar in LAST NIGHT). The club scene with the throbbing vibes whee Annie gets totally stoned look chic and trendy.
Not a total miss and not without its intrinsic pleasures, THROUGH BLACK SPRUCE is an entertaining mystery while shedding a little isight on the troubles of the indigenous people of Canada.
Trailer: https://www.imdb.com/title/tt7400118/videoplayer/vi2304227865?ref_=tt_ov_vi