11
Apr
2019
Details

Category: Movie Reviews
Written by Gilbert Seah
BEST FILMS PLAYING:
Best Animation:
Wonder Park
Best Documentary:
They Shall Not Grow Old
Best Foreign:
Never Look Away
Best Drama:
Gloria Bell
Best Film Opening:
Sunset
FILM REVIEWS:
THE BRINK (USA 2019) ***
Directed by Alison Klayman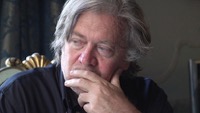 The first face seen on the screen belongs to Steve Barron and it is not a very pleasant face either. . Bannon is not an immediately recognizable face unless you are in-the-know-politics. In fact Bannon describes himself as a drunk and a Jabba the Hut looking guy. He is first observed drinking an energy drink whilst speaking over the telephone implying that this is one busy guy. And he is!
Alison Klayman's THE BRINK is described in the press notes as a fly-on-the-wall (meaning watching and hearing unnoticed like a fly on the wall) documentary about President Donald Trump's former chief strategist Steve Bannon. Klayman shadowed Bannon for over a year, starting after he left the White House in 2017 and ending with the US mid-term elections in 2018. To gain easier access, Klayman served as a one-person crew. She shot the entire film alone, save for a few scenes of B-roll. She did sound and carried her own equipment.
The first question that comes to mind is whether director Klayan is on Bannon's side or whether she is against him. As Bannon has given Klayman particularly Carte Blanche in doing her filming with him regardless where he is or doing, one can naturally assume that she must have a certain loyalty towards him, perhaps out of gratitude. This fact can be clearly observed in the film, as the film avoids any bad talk about Bannon. Klayman often lets Bannon have the last word in many segments. However, who Bannon supports is another question. Kayman can go against Bannon and his beliefs by going after the politicians he supports or endorses. One of the is Roy Moore, that Klayman is quick point out has been accused of sexually assaulting a 14-year old girl as well as committing other sexual harassment offences.
Documentaries on famous (or infamous) subjects always include a segment of their downfall before recording their rise again. In the case of Bannon, he had to leave the White House less than a week after the deadly Charlottesville "Unite the Right" rally in August 2017, and the Roy Moore debacle, though he was already a notorious figure in Trump's inner circle, known for bringing a far-right ideology into the highest echelons of American politics. Bannon was fired from his job at Breitbart News and lost his financial benefactors. Undefeated, Bannon turned to Europe, where he aimed to unite and mobilize right-wing populists in order to win seats in the May 2019 European Parliament elections.
The film exposes Bannon as a somewhat open man willing to reveal his thoughts on film. He is shown often with a sense of humour cracking jokes. When interrupted during a rally speech by a woman, he jokes that one of his ex-wives must have shown up. And he continues the reason as he says he did pay his alimony. Bannon loves drinking Kombucha, again joking that his endorsement will cause its stock to drop 50 %).
What is the most intriguing is that one can never be sure on is whether director Klayman is on Trump's or Barron's side. Director Klayman's other film AI WEIWEI: NEVER SORRY together with THE BRINK prove her aptness at creating intriguing documentary about serious political subjects.
Trailer: https://www.youtube.com/watch?v=FjfUPLEKZtI
FAUSTO (Canada/Mexico 2018) **
Directed by Andrea Gussmann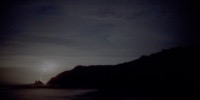 There are two types of filmgoers. The minority group are the ones that are more open to different types of films that include experimental films. A few years back I was at the Tate Modern in London with my friend, British director Simon Rumley (one of the 26 directors of THE ABC'S OF DEATH PART 2; THE LIVING AND THE DEAD and the upcoming ONCE UPON A TIME IN LONDON) and we approached an experimental film playing on exhibit. We left after 5 minutes. To my surprise, I thought the experimental film would at least hold the interest of a film director for at least 5 minutes. FAUSTO belongs to the section of Wavelengths, a section at the Toronto Film Festival where one can be sure to be able to get tickets. Films in the Wavelength section usually play to empty auditoriums.
Shot on Mexico's Oaxacan coast, Andrea Bussmann's (co-director of TALES OF TWO WHO DREAMT) hybrid ethnography is a direct, rigorous, and largely theoretical adaptation of Goethe's Faust that wholeheartedly adopts that text's anti-empiricist ideals: it is a portrait of a place and its inhabitants (deceased or otherwise) caught in limbo between what is and what was. In hushed narration, local myths commingle with the Faust narrative, while the images, shot digitally and transferred to 16mm, open onto a pre-colonial world where land and capital were not so synonymous.
(The above paragraph is the film's TIFF description.)
The film is basically story telling, as told by the film's randomly chosen characters the voices imposed on images, many taken of the Oaxacan coast. The images are impressive but by no means astounding. Quite a few of these images are shot at night and the shadows often cloud the clarity. A few of the stories are interesting - the hidden woods that hide the girl that escapes her marauders at the beginning of creation; the search of the missing shadow of a French journalist by questioning a blind zookeeper; the computers with the black screen in the areas of the black sand that could be due to the iron in the sand and others. Director Gassmann makes no attempt at linking these stories nor even linking some of the images with the voiceover. The film's pace is incredibly slow with the running time of 70 minutes feeling like a hefty 3 hours.
FAUSTO is occasionally pretty look at though it makes little sense most of the time. See this only if you are able to enjoy experimental films or films with little narrative. For myself, I just have so much patience. For critics who love this film, I dare you to recommend the film to your friends.
FAUSTO opens at the Bell Lightbox Friday April 12th. The film's director Andrea Bussmann will be present for an introduction and post-screening Q&A at the Friday, April 12, 6:25pm screening.
Trailer: https://www.youtube.com/watch?v=bV6rb012EGI
GIRLS OF THE SUN (Les Filled du Soleil) (France 2018) **
Directed by Eva Husson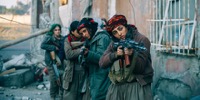 GIRLS OF THE SUN is director Eva Husson's (BANG BANG A MODERN LOVE STORY) second feature, inspired by an actual Yazidi female combat battalion that took weapons in a fight against ISIS.
The story follows ]an impassioned war correspondent, Mathilde (Emmanuelle Bercot), into the Daesh battleground of northwestern Iraqi Kurdistan, where she is embedded with a unit of female peshmerga fighters. Led by Bahar (Golshifteh Farahani), the unit is made up of women formerly held captive — many as sex slaves (which the film emphasizes a few times)— by Daesh following the massacre of their husbands and the kidnapping of their children. Seamlessly weaving between the harrowing pasts that brought them together and their perilous present, Husson highlights the shared suffering that strengthens their bond and their will to fight to get their village, and their families, back.
GIRLS OF THE SUN is too obvious in its attempt to propagate the importance of feminine issues. The theme of a woman reporter aided by women fighters escaping the brutal ISIS fighters should be enough of a theme to state that women are just as important as men and can do their job just as well if not better.has a child. The child has to be a daughter. When a General insists that enough men have been lost in the war, the female leader says corrects him to say that women have also lost their lives. All them men are shown as either bumbling idiots, sex abusers and ugly brutes. The females, however, are sympathetic and most of them are really good-looking. It is all too easy to make the enemy so vulnerable and the women too strong.
The French reporter can speak Kurdish. The Kurdish leader can speak French. Yet another case of making the story too convenient fo its own good.
The fact that French reporter could have retuned home but instead stayed behind makes no sense, especially since she has a daughter back home. She ha already lost an eye (for audience sympathy) due to a war injury. Has that not taught he a lesson yet? She an even joke that losing one eye makes it easier to sleep and she volunteers for guard duty. Really?
One can only feel sorry that this well intentioned female film with a solid plot idea has not achieved its goal. To Husson's credit, she had done enormous research for her film. She the encompassed work of filmmaker and journalist Xavier Muntz, who she met in October 2015 while he was documenting the Kurdish resistance to the jihadi insurgency. Husson ultimately conducted roughly thirty hours of interviews with Muntz as part of her research to make the film. Muntz has a cameo playing himself in the movie. I hate to say this, but perhaps a male director would have done a better unbiased job.
Trailer: https://www.youtube.com/watch?v=FKxCXMIG3Xg
HELLMINGTON (Canada 2017) ***
Directed by Justin Hewitt-Drakulic and Alex Lee Williams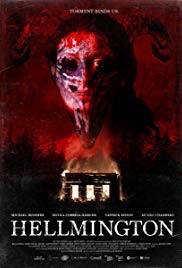 HELLMINGTON is a suspense thriller written and directed by Justin Hewitt-Drakulic and Alex Lee Williams. HELLMINGTON is the name of the school where the trouble in the story begins.
The film opens wth a burning house, an image that is revisited several times in the film - likely for the reason that it is the most expensive set-piece and also for the reason that it has something important to do with the mystery shrouded in the story. There is also an image of a little girl in a photograph. As the film progresses, more and more incidents are built into the story. There is a cult with the cult's symbol (a rather silly looking asymmetric one) that keeps appearing, the disappearance of a teen girl, the various suspects, the prison guards and the main protagonist, Sam who returns to her home town to re-open old wounds.
The basic plot involves a detective, Samantha Woodhouse (Nicola Correia-Drakulic) investigates her father's dying words; the name of a girl who has been missing for 9 years. Sam is called to the town and informed of the father's death by her uncle (Micahel Ironside, the only recognizable name in the cast), who is the brother of her father, both of whom worked as prison guards. The uncle appears to be a dirty old man from his actions, with Sam insisting she stays at a motel instead of his house. The motel's receptionist is hilarious, injecting thinly humour in this mostly serious film. The girl missing has disappeared after what looks like a prom party in which the last person seen with her was her date. Sam questions the date, who is seen suddenly running away, freaking out. The film has many well staged build-ups. Besides the one just mentioned, there is the one with Sam in a motel room when the occult sign suddenly appears on the wall, among others. Suspense is enhanced by the soundtrack within with thumping (on walls) or the loud sound of the heart beating.
Apparently there is more than meets the eye, as Sam turns up somehow connected with the girl's disappearance.
All the incidents are eventually neatly tied together in a well constructed mystery thriller that occasionally feels like a horror film. The film is shot in North Bay, Ontario where there are plentiful shot of the wood and country.
Trailer: https://www.youtube.com/watch?v=aRY2BYysN38
HER SMELL (USA 2018) ***
Directed by Alex Ross Perry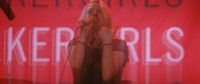 Directed by Alex Ross Perry, who also produced the film with its star Elisabeth Moss, HER SMELL the film could also be re-titled HER STINK as this is a warts and all account (mainly warts, actually) of the lead singer, Beck (played by Moss) of a fictitious female punk group called 'Something She' - whatever the name means. HER SMELL is the name of the club Something She is performing during the film's opening act.
The members of 'Something New" are Beck herself, and two others, Marielle (Agyness Deyn) and Ali (Gayle Rankin), who Beck constantly abuses and bullies until they finally freak out and give up on her. Later, they sign of another 3-girl punk rock band.
If Beck does even show up for her band's show, she will abuse verbally and occasionally physically all those around-her. These also include her record label owner, Howard (Eric Stolz), her young daughter, a toddler who she screams she is playing rocket with, tossing her into the air and at one point even falling to the ground and almost dropping her.
Her husband or ex-husband, Danny (Dan Stevens) shows up with the daughter but clearly there is no chance of a re-conciliation due to Beck's awful behaviour.
Her band members are no angels either - snorting coke or screaming foul language.
The punk songs heard on screen are not half bad, and are originally written.
The film runs long at over 120 minutes, and director Perry seems to have given his star Moss Carte Blanche to do whatever she wants to do. Moss delivers an uninhibited performance if it not electrifying is definitely unforgettable. It is an Oscar worthy performance, though one would think the members of the Academy would want to give the award for a role so demented. Moss is brave enough to show her ugly side. Moss can be beautiful as at the end of the film or just plain ugly when she is nasty. The camera reveals Moss ugly side - her sweaty palid skin full of zits and pimples.
The film's plot is simple. It shows the self destructiveness of Beck in Something She. She finally gets the act together and achieves redemption which is largely due to the love of her daughter. But the film has one main glaring flaw - the turning point. For someone to make such a radical change from evil to super good, there must be a drastic event to cause the one hundred eighty degree change in behaviour. This is missing. One can also not understand the reason Beck's boyfriend or mother (Virginia Madsen) continues to stay at her.
This is not the first movie about a self-destructive recording star - Bradley Cooper's A STAR IS BORN, BOHEMIAN RHAPSODY and VOX LUX with Natalie Portman portraying an almost identical character being recent examples. The question is whether anyone would want to pay good money to watch another caustic journey of a self-destructive female punk. But I must admit that I was moved.
Trailer: https://www.imdb.com/title/tt7942742/videoplayer/vi1934735897?ref_=tt_ov_vi