23
May
2019
Details

Category: Movie Reviews
Written by Gilbert Seah
ALADDIN opens this week, But go see BOOKSMART, the smartest and biggest comedy of 2019 .
BEST FILMS PLAYING:
Best Animation:
Wonder Park
Best Comedy:
Booksmart

Best Foreign:
Never Look Away
Best Action:
Avengers Endgame
Best Drama:
The White Crow
Best Film Opening:
Waterloo
FILM REVIEWS:
ALADDIN (USA 2019) **
Directed by Guy Ritchie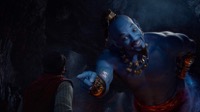 Disney takes a risk at hiring British writer/director Guy Ritchie (once wedded to Madonna) who has never made a good film since LOCK STOCK AND TWO SMOKING BARRELS for their live action remake of their classic animated ALADDIN with Robin Williams as the genie. Ritchie completely blotched ROBIN HOOD. He destroyed the Robert Downey Jr. SHERLOCK HOLMES films into meaningless special effects action flicks. Ritchie has not improved in his latest effort. Will Smith, one of the film's key attractions, as the blue genie is not much help either - failing in comparison to Williams. All Smith can do in his role is twist his blue torso.
ALADDIN is a Persian tale from the 1001 Arabian Nights stories, but the film somehow comes across as mixed Bollywood (Indian) , which is really strange considering that most of the actors are from Iran or Egypt. It does to help that the dance sequences where the actors ham it up during the closing credits looks typical from a Bollywood musical.
What is expected from an Arabian Nights film is provided with no surprises. There is a chase through a busy bazaar, a villain who wishes to usurp the throne, a King who wants to marry his daughter to a prince, unsuitable suitors, a poor beggar who turns up to be the handsome prince and so on.
Aladdin is a street thief in the city of Agrabah who falls for the princess who is never allowed out of the palace grounds. The King fears for her safety. The villain of the piece wants the throne and knows of the existence of the lamp and the genie. Aladdin finds the lamp and the genie grants him three wishes. The genie wants to be free and this would be Aladdin's last wish: to free the genie. In the meantime, there is the boring romantic affair between Aladdin and the princess amidst some dancing and silly songs, with some fight scenes included. It also feels that director Ritchie is looking for any excuse to insert his special effects action sequences.
The two young leads Mean Massoud (a Canadian with Egyptian background) and Naomi Scott (British) as Princess Jasmine are quite the perfectly looking couple. Marwan Kenzari Marwan Kenzari fares better as the conniving villain Jafar, the nefarious and deceptive sorcerer, and Grand Vizier Agrabah and the Sultan's chief advisor whose name precedes him.
ALADDIN is here a musical, with songs that are indistinguishable from one another. The film has nothing new up in terms of tricks or story. The supposedly plot twist in tricking the villain with his last genie wish does not make any sense if one considers the logic behind the reasoning. The addition of the new character, Prince Anders (Billy Magnussen) - the foreign suitor from Skanland is as ridiculous as his character. ALADDIN comes more than a predictable romantic comedy which lasts two hours - too long for a typical rom com. The part with the Will Smith telling a fable on a ship to his two children is also totally predictable from the start where the story was leading to. The magic of ALADDIN is truly gone.
Trailer: https://www.youtube.com/watch?v=foyufD52aog
ALL IS TRUE (UK 2018) ***1/2
Directed by Kenneth Branagh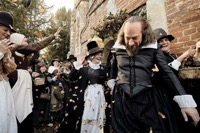 Kenneth Branagh, once touted as the new Sir Lawrence Olivier has had his own ups and downs with respect to theatre and the film industry, In his latest venture which could be described as filmed theatre, ALL IS TRUE is an admirable and entertaining piece with Branagh himself in the director's chair giving himself the honour of playing the Bard himself.
ALL IS TRUE is a wry drama depicting Shakespeare, the man, warts, glory and all in his last days with the film's closing titles educating the audience on the history of his offspring and family. Unlike the recent biopic TOLKIEN, this film's subject and his work flow very smoothly into each other. His words that are written in his plays also flow freely in his daily dialogue with his family and friends.
The film begins with him and a boy who insists that Shakespeare tell his story. The boy achieves his request as the boy turns out to be the Shakespeare's re-imagination of his dead son, Hamnet, who apparently died at the age of 11 of the plaque when the father was away on business. "We are stuff that dreams are made of…. and life is rounded up with a sleep," one of the most used quotations from THE TEMPEST, is used here in voiceover.
The film follows Shakespeare's return to Stratford-upon-Avon, where he hopes to reconnect with his family after being pretty much absent for 20 years. The decision occurs after disaster strikes when his Globe theatre that burns to the ground in London. Devastated and resolved never to write another play, Shakespeare heads home, where his wife, Anne (Judi Dench), 10 years older than him and daughters (Kathryn Wilder and Lydia Wilson) are hardly pleased to hear that he intends to stay. Also still haunted by the death of his 11-year son Hamnet a few years back, Shakespeare decides to build a garden in his honour. Then family secrets and scandals begin to surface.
The film is called ALL IS TRUE for two reasons. Firstly, it is the alternate name of the play HENRY VIII that was perfumed at the Globe Theatre in London when it was totally burnt down. The words also imply that all that transpires on the life of the Bard in Branagh's film is true.
ALL IS TRUE contains some magnificent acting. Branagh is excellent as the Bard looking like the man in the 'Chandos' portrait. Judi Dench is always superb and she plays his stern wife with hardly a smile on her face. David Thewlis has a cameo a lengthy scene with Shakespeare.
It is good to know more of the story of Shakespeare's real life, which many are unfamiliar with.
The film feels stagey because the actors speak in Shakespearean prose and act as if in the theatre. Even though Branagh takes the film out in the open many times with stunning cinematography by Zac Nicholson, ALL IS TRUE still feels like a play. Still this is a film for all Shakespearean fans. I would recommend it.
Trailer: https://www.youtube.com/watch?v=1I5cKmiONDI
BOOKSMART (USA 2019) ***** Top 10
Directed by Olivia Wilde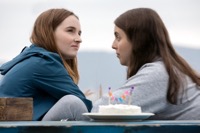 BOOKSMART is a high school teen comedy centring on two female best friends about to graduate high school and enter college. Before one dismisses this film as a crass no-brainer, a closer look should be taken at BOOKSMART as it proves it to be perhaps the sleeper of 2019.
Amy (Kaitlyn Dever) and Molly (Beanie Feldstein) are two high school seniors who have been best friends since childhood and are considered by their peers as academic. They are however, rather pretentious and lame - particularly Molly. Amy has been out for two years and has a crush on a girl named Ryan, whom Molly urges Amy to attempt to forge a relationship with before they graduate. The film is about partying. And then it gets serious while not losing the comedy. For Molly and Amy, it is all about getting into the best colleges. They have both studied hard and managed to get into the best college. When they discover that their classmates also enter colleges like Stanford and Harvard but have spent their time partying instead of studying like them, they freak out and decide to do one big unforgettable party before they graduate the next day. The big task to find that big party. While they venture the night, the unexpected happens.
BOOKSMART is fortunate to have as it two lead performers two exceptionally talented, yet to be discovered new actresses. Their comic talent can first be witnessed in the film's first key scene where they meet in the morning, doing their rap movies before going school - one of the film's most hilarious scenes that seem unmatched. The funniest one is arguably the one with Amy's toy Panda, Ling Ling. So good they are, that they cannot be competed even by the likes of veterans like Lisa Kudrow and Jason Sudeikis.
The film benefits from the skilful comedic writing team of Emily Halpern, Sarah Hskins, Susanna Fogel and Katie Silberman. Besides being hilariously funny with laugh out loud moments throughout the entire film, the film covers current key issues like coming out in high school, bullying, coming-of-age, stereotypes, doing good in third world countries like Africa and high school education. The film proudly demonstrates how cool it is to be gay - a positive image that teens who go see this film will appreciate.
The impressive soundtrack comprises a variety of music from rap to alternative. Music is by Dan the Alternator. The comedic set-ups are inventive working well in line with the main plot. The best one is the high school hall scene where the two friends enter school amidst all the joy and cheer of the second last day of school, that scene ending with a condom of water bursting on Molly's face. But watch out for Molly's high school graduation speech, one of the film's prized moments.
BOOKSMART does for high school what NATIONAL LAMPOON'S ANIMAL HOUSE did for college while adding in the buddy factor as in MICHELLE AND ROMY'S HIGH SCHOOL REUNION. BOOKSMART is silly and smart at the same time. Everyone in the filmmaking team knows humour and how to be funny. It is not surprising that the film's executive producers are Will Farrell and Adam McKay. The film moves so fastened furious that the film demands second viewing to get all the jokes. Olivia Wilde's BOOKSMART is nothing short of brilliant and the first film on my Top 10 list of 2019.
Trailer: https://www.youtube.com/watch?v=S0Mb6BgnhS0
GORDON LIGHTFOOT: IF YOU COULD READ MY MIND (Canada 2019) ***
Directed by Martha Kehoe and Joan Tosoni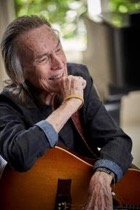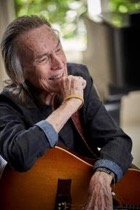 "If you Could Read My Mind", the only Gordon Lightfoot song that made it into the dance clubs that demonstrated the wide appeal of this gifted Canadian singer songwriter is arguably the most loved of all his songs and thus selected as the title of this comprehensive doc on the man. The film arrives after a very successful world premiere at this year's Hot Docs.
The film begins with the song heard on the soundtrack "That's what you Get for Loving Me," followed by shots of other famous singers like Peter, Paul and Mary and Johnny Cash also performing this song. It is a chauvinistic song, as Lightfoot himself admits, which he wrote while he was married to Kim (also shown on camera later on). But it is a beautiful song, followed then by many of other famous works including "If You Could Read My Mind".
It is the best time to make a doc on a subject when the subject is still alive and able to be interviewed and talk about his own life and work. Audiences are fortunate as there is plenty of Lighfoot insight. Martha Kehoe and Joan Tosoni have unprecedented access to the artist and his work.
The film takes the audience from high school auditoriums in straight-laced small town Ontario in the '50s, to coffee houses of Yorkville and Greenwich Village in '60s Toronto, through the turbulent substance-fueled arena shows of the '70s, to present day. With an intimate and emotional examination (with his accompanying songs) of the artist's profound relationship to his music and Canadian roots, IF YOU COULD READ MY MIND chronicles Lightfoot's evolution from Christian choirboy in Orilla to troubled troubadour to international star (starting work in a bank when first moved to Toronto) and beloved Canadian icon.
On docs on singer celebrities, there is always a considerable portion that tracks he subject's downfall be it drugs or drink and perhaps coming back. For this doc, Lightfoot's only vice happens to be his drinking and partying. But though he drinks to some excess, it made him fun to be with while going into a drunken rage occasionally. As the film reveals, Lightfoot would drink a bottle a day. But all things considered, Lightfoot could handle the stress through his drink and it did not destroy his career though he did hit a bit of a low point. But Lightfoot finally realizes that he was not in a good place, especially when his girl walked out with his kid, and quit drinking cold turkey. And he went on to his canoe trips (10 trips in the bush) while rehabilitating.
Even if you are not a truly a Lightfoot fan, this film will have a strong lasting effect. It is a relaxing easy-going doc, with lots of yes, wonderful Gordon Lightfoot songs.
The film will also be broadcast on CBC and doc Channel in late 2019.
Trailer: https://www.youtube.com/watch?v=EQneUY7od-c