30
May
2019
Details

Category: Movie Reviews
Written by Gilbert Seah
GODZILLA 2, ROCKETMAN and MA are the three big new ones opening this week.
BEST FILMS PLAYING:
Best Comedy:
Booksmart

Best Foreign:
Never Look Away
Best Action:
Avengers Endgame
Best Drama:
The White Crow
Best Film Opening:
Rocketman
FILM REVIEWS:
ASAKO I & II (Japan 2018) ***
Directed by Ryusuke Hamaguchi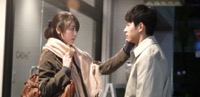 The film's title ASAKO I & II may be misleading. It implies two chapters or two films entitled ASAKO 1 and ASAKO II, which is what I thought. But the film is about two different characters in the love life of Asako. Both are played by the same actor, Masahiro Higashide.
The plot can be summarized in one line: One day Asako's first love suddenly disappears. Two years later, she meets his perfect double.
When the film opens, Asako and Baku meet for the first time, love at first sight style. They kiss compassionately and begin a relationship. They have another couple as friends, who turn up at the end of the film. One evening while Baku goes out to get food, he does not return till the next morning to Asako's dismay. But she is glad when he is returns. As they hug the voiceover announces that Baku will do his disappearing act again when he goes out to get shoes, this time never to return. Asako moves to Tokyo where she meets his look alike though a different person. Ryohei and Asako begin a relationship. They grow strong as a couple till the inevitable happens. Baku, now a male model and famous personality appears again in Asako's life. No more of the story should be revealed at this point of the review.
The film has been described in the press notes as a story of love initiation at the edge of fantasy and a reflection on the importance of first love in post-Fukushima Japan.
Director Hamaguchi (HAPPY HOUR) also displays his serious side in one of the film's more engrossing segments. After watching Maya's performance on a Chekov play on TV, there is a debate on her performance from cheap and praise seeking to earnest and moving. One member brutally criticizes her performance while giving a false pretext to leave the gathering before being brought to his senses.
The young actors are believable. It is interesting to see actors in Hollywood movies compared to their Asian counterparts. The male actors here are not buffed or muscle bound but slim and looking much still like teens. Higashide does well playing two different roles, the audience differentiating the two characters from their haircuts.
The film covers several genres like teen first love, coming-of-age, corporate business, mystery and friendship. The film's lightness in tone, however leads to a weak narrative meaning that a lot of issues are left hanging. It does pick up during the last 15 minutes as director Hamaguchi tightens the pace and story. A little patience is required in a somewhat initial rocky and frustrating start. The weird music heard of the soundtrack supports the film's feel.
The film was selected in official competition at the 2018 Cannes Film Festival and presented at the last Vancouver International Film Festival, the feature film is an adaptation of the best-selling novel of the same name by Japanese author Tomoka Shibasaki.
Trailer: https://www.youtube.com/watch?v=HaZV7rhBRBE
PHOTOGRAPH (India/Germany 2018) ***
Directed by Ritesh Batra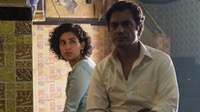 Writer/director Batra has risen to fame with his Mumbai hit THE LUNCHBOX which allowed him to direct two English language films (OUR SOULS AT NIGHT and THE SENSE OF AN ENDING). Batra is back to his Mumbai roots with his new modest film, a sort of Indian romantic comedy of manners or Indian manners rather, entitled PHOTOGRAPH.
As the title PHOTOGRAPH implies, a love affair begins with a photograph, in this case, the photograph taken of a pretty girl at the Gateway of India. And the romance begins from there. For those unfamiliar with India or Mumbai for that matter, PHOTOGRAPH delivers an insightful look of the city and the continent. Mumbais smoke 'bidi' too, their slang word for joints. The Gateway of India is no less than Mumbai, so called because it is a beautiful city by the waters and a tourist spot for both foreign and local tourists was well. Mumbai is not only the busy overcrowded city as depicted in other films like Danny Boyle's SLUMDOG MILLIONAIRE. In PHOTOGRAPH, director Batra shows both the beauty and bustiness of the Indian city.
PHOTOGRAPH is a light romance, so there is not much that the audience needs to concentrate on or figure out or meditate on. But there are lot of Indian cultures and mores built into the story. India is known for its caste system. In the story the male and female come from different classes. The girl Didi or Miloni (Sanya Malhotra) is Muslim with a maid (who she can confide with) and a stricter mother who has arranged Miloni's mirage with another Indian who is about to get his MBA from the United States. The running joke is that the man has been fat and has lost weight and now thin and the fear is that he might get fat again. When Didi meets him for the first time, he offered her cake and refrains from having any himself saying that he is watching his weight.
The love which blossoms between Didi and Rafi (Bollywood icon Nawazuddin Siddiqui) takes its time to unfold. The affair is sped up by the arrival of Rafi's grandmother, Dadi
(Farrukh Jaffar), a fiesta old woman who is not afraid to make her thoughts known. She also puts in a bit of bite into the story. Director Batra is in no rush to have them kiss or have them do the nasties in the bedroom. Which is a good thing. But romantic comedies are romantic comedies and one big flaw of rom coms are that they are predictable and are filled with cliches.
Director Batra overcomes the predictable clichéd romantic comedy by parody, lifting the film a few notches. This he does in the movie theatre where Rafi takes Didi to see a movie for the second time. Didi leaves the auditorium at one point, the reason given being a scurrying mouse beneath her feet. When Rafi goes out to get her later on, they discuss the predictability of romantic comedies.
If one does not expect too much, PHOTOGRAPH is a satisfactory romantic comedy with a Mumbai touch that enlivens the action.
Trailer: https://www.youtube.com/watch?v=LwOGIlpPqek
ROCKETMAN (UK 2019) ****
Directed by Dexter Fletcher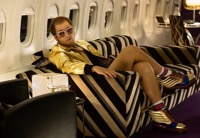 You got to love it when a subject executively produces his own biopic. And even more when the subject is Sir Elton John.

Elton John is world famous and known for his outrageous performances, flashy costumes an controversial remarks. His biopic, directed by Dexter Fletcher and written by Lee Hall who wrote BILLY ELLIOT) opens with him in bright orange gear, entering a bright light, which the audience assumes is going to be a grand stage, but turns out hilariously to be the room for an Alcoholics Anonymous gathering. As the orange clad figures discusses his life, the biopic relates the story of one of the world's best signer/songwriter from little boy to the present.

The film's next scene has Elton as a little boy in a song and dance number that is immediately reminiscent of Ken Russell's THE WHO musical TOMMY where little Tommy is inserted in a number called "Bernie's holiday camp". Russell's TOMMY has important significance to Elton John as he had a cameo role in the film as the pinball wizard, with the popular song later performed in its full entirety by John in the biopic.

By inevitable comparison to the recent BOHEMIAN RHAPSODY (Director Fletcher was named the replacement director for BOHEMIAN RHAPSODY and helped finish that film though only Bryan Singer received director's credit) which won 4 Oscars including the Best Actor prize for Rami, ROCKETMAN is more enjoyable to this reviewer for 2 reasons. This reviewer is a true Elton John and not a Queen fan, and so every song crooned in ROCKETMAN brings both nostalgia and joy. The film is also splashy and more daring (the sex scene that was left intact in the film, according to the Daily Mail article, compared to RHAPSODY where there were no sex scenes). The sex seen in ROCKETMAN, with John and his lover doing the nasties both butt naked in bed is sufficiently eye-opening though no intercourse is actually on display.

Both Tagor Egerton as Elton John and Jamie Bell (BILLY ELLIOT and THE ADVENTURES OF TINTIN) as his lyricist and friend, Bernie Turpin are close to perfect in their roles. Elton John has himself praised Egerton's performance in the film. What could be a better complement? Egerton also gets the Elton John mannerisms down pat to a 't'.

Certain songs in the film add a certain resonance not realized by many. One prime example are the lyrics of "Goodbye Yellow Brick Road" crooned by both Bernie Turpin and Elton John. '….going back to the howling old owl in the woods, hunting the horny black toad, I'm going back where my future lies, beyond the Yellow Brick Road". This segment is not only the most moving but most powerful part of the film which effectively forms the climatic moment of the film.

ROCEKTMAN which clocks just over the two hour mark reveals both the genius and demons of this talented individual. Owing to the nature of the subject, the downward spiralling of John is still glamorously displayed and neither dismal looking nor dull. One prime example is his diving in the pool fantasy sequence where John meets his boy-self at the bottom playing ROCKETMAN on is toy piano.

A few facts on his life are missing on the screen most notably his spat with Madonna and his knighthood. These would have added even more spice to the otherwise heavily layered dessert.

ROCKETMAN has been chosen as the Opening Night film for Toronto's 2019 LGBT Inside Out Film Festival. This weekend the film goes head-to-head competition with two other blockbusters, GODZILLA 2 (Ugh!) and MA. Elton John fans around the film should (their numbers alone) make ROCKETMAN the number 1 at the box-office. ROCKETMAN deserves to be, anyway.

Trailer: https://www.youtube.com/watch?v=S3vO8E2e6G0

SORRY FOR YOUR LOSS (Canada 2019) ***

Directed by Collin Friesen

SORRY FOR YOUR LOSS is an acclaimaed small Canadian film that makes its debut this week.

When the SORRY FOR YOUR LOSS begins and rolls on, it takes a while for the audiences to establish that the film being watched is Canadian. Everything looks American at first sight, including the familiar face of the main actor, Justin Martha who has been seen in THE HANGOVER. Suddenly, as his character takes a plane to attend his father's funeral, song with the lyrics "I hate Regina" is heard on the soundtrack.

Marking Collin Friesen's directorial debut, this heartfelt comedy follows exhausted new dad Ken (Justin Bartha) as he heads home to bury his own estranged father. Ken leaves his wife and baby behind to attend the funeral. Ken is talked into fulfilling his father's dying wish, in order to claim his inheritance – to have his ashes scattered on the playing field of the local pro football team. It is a task that proves tougher and funnier than it should be but with the help of his lonely, hippy mother (Lolita Davidovich, best known for BLAZE) and his father's old golf buddy, Jeff (Bruce Greenwood, who gets star billing for the role), Ken learns a little about himself, his marriage, and most important, that there is nothing about dying that makes you a saint. The father's last words on video makes one fo the film's funniest parts. The script sneaks a few messages about life as well.

The film takes a few cheap racial shots - at the Koreans and China. Have to admit that these are quite funny, not that I or the scriptwriters are racist or anything. And as such as the script goes, the film cracks quite a few black humoured jokes at death, funerals and dying wishes, which are again hilarious. If these are not laugh-out loud (as it would seem in bad taste to laugh too hard at these), they are at least good for an audible chuckle. Jokes are original to say the least. To the scriptwriter's credit, there has never been so much humour generated from unfunny jokes, as evident in the funeral service segment.

The trouble starts when director Driesen attempts at getting serious. After Ken has spent some time away, he gets into a bit of trouble and the wife gets visibly upset, especially after having to look after their baby all by herself. The tension rises and Ken, who is no saint has started hanging around with a ex-hooker who convinces him to quit his job over the telephone. This is when the film starts treading on predictable territory. After a few laughs, the audience is in no mood to get serious.

The film is nominated for three Canadian Comedy Awards, including Best Feature Film, Best Writing and Best Performance in a Feature.

Trailer: https://www.youtube.com/watch?time_continue=5&v=wLlf_Z8wji4

}