Two films about toys open this week. TOY STORY 4 and CHILD'S PLAY are wholly different films but are both worth a watch.
BEST FILMS PLAYING:
Best Comedy:
Booksmart

Best Foreign:
Never Look Away
Best Action:
Avengers Endgame
Best Drama:
Rocketman
Best Family:
Toy Story 4
Best Horror:
Child's Play
FILM REVIEWS:
ANNA (France 2019) ***
Directed by Luc Besson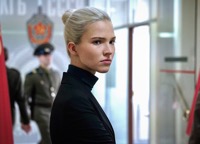 ANNA returns flashy French director Luc Besson (THE FIFTH ELEMENT, arguably his best movie) to his NIKITA (the film re-titled LA FEMME NIKITA in North America) roots with an ultra-violent slick spy/assassin action pic. ANNA is ridiculous, stylish, sexy and camp. Love it or hate it. Two of my film critic colleagues, TV personality critic Richard Crouse and NOW Magazine critic Norman Milner both hated it with a passion. I sort of loved it, so why the enormous difference in opinion?
One reason is how one wants to look at the film. ANNA is tacky. It would not be a surprise if the film would be re-titled LA FEMME ANNA. Besson has done this before and better. This might just be a vehicle for his new muse, super model Sasha Luss.
The plot can be summed up in one line. Quote Wikipedia: "Beneath a woman's striking beauty lies a secret that will unleash her indelible strength and skill to become one of the most feared assassins on the planet." Of course there is more. Anna (Luss) has a lesbian lover, Maud (Lera Abova) as well as two male lovers, Russian Alex Tchenkov (Luke Evans) and American Lenny Miller (Cillian Murphy). Overlooking Anna at all times is KGB chief Olga (Helen Mirren. looking sufficiently 'awful' for the part, glasses and all). The film is unveiled in non chronological order, where more than too often, an incident occurs before the story moves back 3 weeks or 3 months to explain what really happened causing the incident to occur. The tactic is laughable but this could be Besson's intention to mock the spy/mystery genre.
The film lasts a little under 2 hours, which is quite the chore if you hate the film from the start. On the other hand, regardless the fact, there is enough going on in the background, exotic sets and locations, beautiful people, outrageous action set-ups (like the hot sexy closet scene).
Apart from the hours of action nonsense, there is one sad part that stands out - the subplot involving Anna's lesbian girlfriend Maud. Maud is oblivious of Anna's dubbed ice and just loves her regardless. Maud dances in happiness, often whispering sweet nothings to Anna who completely ignores her for other worries. One wishes better for this poor character which somehow stands out in this emotionless flick. Besides Abova, Helen Mirren as Olga and Cillian Murphy as Lenny deliver stand out performances that one wishes would save the movie.
The only thing consistent about the outrageous story is Anna's desire to become free, which she obviously attains at the very last moment in the story. I am sure that there are quite the few in the audience who wish they could be free as well from Besson's movie.
Besson has had a string of flops including VALERIAN which I absolutely adored. One has to give the man credit not for want of trying. ANNA cost $30 million to make but looks as if it cost more than double that. It is expected to have a soft opening at the box-office.
Trailer: https://www.youtube.com/watch?v=7Ku-PkrtyUs
CHILD'S PLAY (USA 2019) ***1/2
Directed by Lars Olevberg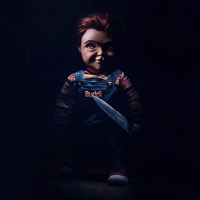 After a number of sequels, the original 1988 horror classic CHILD'S PLAY gets a reboot with the same title following a high tech doll that rejects its programming and becomes self aware.
Director Lars Olevberg and the script by Tyler Burton Smith play it smart by combining the elements of camp and horror in what turns out to be a fast-moving totally entertaining reboot. The film proves tat camp and scares can work extremely well together. CHILD'S PLAY delivers what is expected and more.
The film opens in Kaslan Industry's Vietnam factory that makes these big tech dolls. A Vietnamese worker goofs off and is slapped awake by his supervisor. Angrily, he removes all the doll's control inhibition functions on the chip before inserting it into the doll. It is comical to see see and hear Vietnamese in a horror film done tongue-in-cheek and it works. The doll is eventually sold in the States but the customer returns this defective doll to a Zed-Mart worker, who is a single mother (Aubrey Plaza). Instead of returning the doll to the factory gives, she gives it as a birthday person to her son, Andy. This is when the trouble starts. Chucky, the doll starts having a life of his own and in his desperation of keeping Andy as a friend, does away with those that annoy Andy beginning with the family cat.
Director Olevberg does not skimp on the blood and gore as in the lawnmower scene. But the segment can be taken tongue-in-cheek as in the one whee the kids are laughing out loud as bodies are being dismembered, while watching THE TEXAS CHAINSAW MASSACRE on the television. There is a hidden message here in how Americans, typically American kids have been dis-sanitized from violence in films.
More camp comes in the form of the excellent 'Buddi' theme song, which is also played for laughs during the film's closing credits. Chucky also has dialogue "Are we having fun yet?" or "Is it time to play again?" to creep audiences out.
Aubrey Plaza is one of the funniest actresses around who frequently inhabits roles of loose women as evident in THE NUNS and BAD GRANDPA. In CHILD'S PLAY, she plays a young single mother (who in he own words had a fertile sweet sixteen) has a kid who also catches her making out when entering the apartment one day. Gabriel Bateman is also excellent as Andy Barclay the son, but one would think they would have got a younger actor to play the part. This Andy looks too old to be receiving a toy doll for his birthday, though it may be argued that this one has all the modern controls to turn on the stereo etc.
It is coincidental that TOY STORY 4 also opens this week both with the boy also called Andy. These are two films about toys - one for family and the other for horror fans, which make the perfect counter-programming market strategy.
Trailer: https://www.youtube.com/watch?v=PeHNLikDiVw
DOGMAN (France/Italy 2018) ***1/2
Directed by Matteo Garrone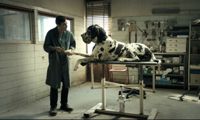 Director Matteo Garrone's (GOMORRA) latest film DOGMAN begins with an angry dog growling his teeth in closeup, a very appropriate beginning of a very angry film that tells a tale of vengeance by a mild-mannered DOGMAN pushed to the limit. The dogman is Marcello who owns a dog care shop. He knows and loves his dogs, just as he loves his daughter who he occasionally sees. The film does not delve into his family affairs and the audience assumes Marcello is separated from his wife. He snorts coke and hangs around a big hulk and uncontrollable bully, Simone. The neighbourhood wants to bring Simone down as he is nothing but trouble but ends up leaving him alone When Simone fucks Marcello up in a series of events, Marcello eventually gives the bully in comeuppance, Garrone's film is attain a difficult watch. He is a good storyteller that connects the audience to his characters. He even makes the bully sympathetic, loving his helpless mother and not being too bright.
Trailer: https://www.youtube.com/watch?v=eum93mpzpE0
ISABELLE (UK/Canada 2018) ***
Directed by Rob Heydon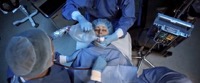 ISABELLE is a psychological thriller that treads on the successes of past horror classics like ROSEMARY'S BABY and THE EXORCIST. The lead character is a pregnant mother and the character is being possessed by some demon who wants to live in the human world.
Director Rob Heydon sets the stage at the film's start with several audience anticipation moves. An all-American couple (though the film was shot in Hamilton and Toronto, Canada) moves into a New England neighbourhood. First comes a scream from the pregnant mother, Larissa (Amanda Crew). "The baby kicked me. She is strong." "You don't want this baby." These are words that propose that things are going to get nasty.
True to expectations, things do not get better. Larissa meets the odd next door neighbour, Ann (nicely played by Sheila McCarthy) and her wheelchair bound daughter, Isabel (Zoe Belkin), who spends all the time staring at her through her second floor bedroom window.
Larissa loses the baby. She becomes terribly depressed and prescribed depression medication that seems to make her go all weird and paranoid. There is only so much hubby Matt can tolerate. The script introduces a weird looking pastor who actually is normal and tries to help the couple. The music is also greta at creating the mood of a scary atmosphere.
The film contains some great genuinely scary moments. "I want to see my baby," demands Larissa after delivering her stillborn. But they never let the audience see it, well perhaps only a glimpse.
Director Heydon sure is adept at keeping the mood of the film successfully creepy. The dead baby keeps appearing out of nowhere to invade Larissa's dreams to just shock her. The baby's scorching red eyes add to the scares. Red eyes are commonly used, as witnessed too with Chuck's eyes in CHILD'S PLAY, also opening this week. Larissa also acts weird but McCarthy's neighbour is sufficiently creepy all on her own. The camera shot of a newspaper article of a child abuser adds on even more. It is assumed that Isabel is be the daughter of the child abuser, though the spelling of Isabel is different from the title of the film.
The film has a short running length of less than 90 minutes. For this short a running time, too much happens - especially at the end, so that credibility is stretched to the limit. It is not that audiences would believe what transpires on screen anyway, but too much occurring too fast in a hour film tends to come off as silliness.
The best thing about the film is its build up of the couple's paranoia and how it affects both the husband and mother - and how they cope with it together. At times, one wonders whether the film is just a psychological drama with no supernatural element. ISABELLE ends up a satisfactory low budget horror thriller - the typical Canadian flick that stands in as an American one in order to expand its target audience but the film is up for stiff competition opening the same week as CHILD'S PLAY.
Trailer: https://www.youtube.com/watch?v=-Zt23AB3MUU
NIGHTMARE CINEMA (USA 2018) ***
Directed by Various directors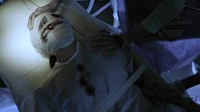 NIGHTMARE CINEMA is a horror anthology, something quite common in horror flicks of the past and re-appearing now again with 5 stories. The common thread is the cinema theatre where several characters converge only to watch their scariest nightmares on screen. The theatre owner is the projectionist (Mickey Rourke) who is as scary as the nightmares.
The first story is THE THING IN THE WOODS directed by Alejandro Brugues. There appears to be a serial killer nicknamed the welder who is doing away with a group of teens. There is a reason the welder is carrying on these violent killings which is revealed later as the thing in the woods. This episode is passable at best and works like a slasher film with lots of blood, gore and flying body parts.
The second entitled MIRARE directed by Joe Dante is the second best of the lot as it involves besides the horror, paranoia. The theme has been done before - where the plastic surgeon is not what he seems. A young bride disfigured from a car accident is convinced by her fiancé to undergo plastic surgery for the wedding. Upon recovery, she discovers other disfigured bodies in the hospital besides hers.
The third of the anthology MASHIT (the name of a spirit) has the most promise but unfortunately is the most muddled of the lot. Perhaps Japanese director Ryūhei Kitamur is working in unfamiliar territory here. A priest and a nun has a sexual relationship amidst some possession that is taking place with the children under their care. One suicide leads to another. A young girl is currently under prey but tuns out that it is her mother who is possessed.
The next one, THIS WAY TO EGRESS, directed by David Slade where everyone speaks with a British accent involves a woman visiting a doctor after things get weirder and weirder with her. She wonders if she is crazy but is ushered out the door by the doctor without the answer. This one has the best cinematography and excellent disgusting looking production sets, black and white with interiors all seemingly covered in blood. Everything looks very sinister as the woman keeps asking strangers (with faceless features) if they have seen her children. The ending is a tad of a disappointment given the tense buildup.
The best is reserved for the last and indeed, the last episode DEAD directed by Mick Garris (who also directed the inter-joining projectionist parts) is an excellent horror piece combining a return from the dead and slasher scenarios. After performing his concert piece, a boy and his parents are attacked while in their car in the parking lot. The parents are killed while the boy survives a bullet wound. Things get complicated in hospital recovery where the boy's mother appears and ask him to cross to other side, the side of death.
Though a bit inconsistent, the horror anthology works, bringing back memories of those old anthology classics like TALE FROM THE CRYPT (1972) and DEAD OF NIGHT (1945). The anthology ends up a mixed bag of tricks - some good and some bad segments. For horror fans, NIGHTMARE CINEMA should still satisfy.
Trailer: https://www.youtube.com/watch?v=3STondh5fE0
PARIS IS BURNING (USA 1990) ***1/2
Directed by Jennie Livingston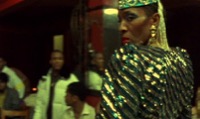 A gay friend of mine told me once. When you have a group of gay males around a whole wardrobe of dresses and make-up, the inevitable happens. They will dress up as women in the dresses, put on the makeup and do drag. This explains the fascination of gays doing drag to the extent that for many, their entire lives as demonstrated in the film, depends on.
PARIS IS BURNING began as Livingston's student film project that involved interviews with key figures in the ball world. Pepper LaBeija, Dorian Corey, Angie Xtravaganza, and Willi Ninja are a few of the interviewees. These figures share experiences on their life stories, on gender roles, gay and ball subcultures.
Ball is explained in the film as the event where drag queens compete. Other terms like house, voguing, shade, reading and legendary are also amusingly explained. Many of the contestants vying for trophies are representatives of houses that serve as their families, social groups and performance teams. Some of those names include Extravaganza, St. Laurent and others.
The doc took 6 years or so in the making due to the difficulty of attaining funds. Though the film is only 78 minutes, it had been cut from over 70 hours of footage material.
Director Livingston does not appear or speak during the film except for a few instances the she can be heard.
The film contains a very touching moment which is exploited for good use at the end of the film. The scene has two kids, barely16 with their arms around each other in love, as if nothing else in the world matters. It brings out what true innocent young love is. And no one can take away that!
PARIS IS BURNING, a film well ahead of its time, got generally excellent reviews from critics when it first opened. It also went on to win many film awards though it failed to get an Academy Award nomination for Best Documentary which implies that certain topics were excluded in the Academy' choice of films nominated.
The film has got a 2K restoration and opens just in time for Pride Toronto. The film is just as timely then as is now.
Trailer: https://www.youtube.com/watch?v=78TAbjx43rk
TOY STORY 4 (USA 2019) ***1/2
Directed by Josh Cooley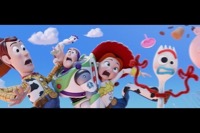 As in all Disney film, reviewers were cautioned not to reveal any spoilers like key plot points or plot twists. Disney has nothing to worry about here as there aren't that many in TOY STORY 4 though the story gets a bit darker that the other films in the franchise. Eve the film's poster is a tad darker. The appearance of multiple "Chucky" looking dolls, the ventriloquist dummies create a scarier animated feature though no less entertaining.
Number 4 already and the TOY STORY franchise is still going strong. John Lasseter still works in TOY STORY 4 (he directed the fist two) here serving as executive producer and one of the writers.
TOY STORY 4 starts where number 3 left off. Andy has given his toys including Woody (Tom Hanks) and Buzz Lightyear (Tim Allen) to Bonnie (Madeleine McGraw). When Bonnie attends kindergarten orientation, she creates a new toy from a plastic fork which she names Forky. This is when the trouble begins. Forky (Tony Hale) suffers from an existential crisis about being a toy, which the others try to help him understand how to be one. As Bonnie and her family go on a road trip, Forky escapes and Woody goes to save him, becoming separated from the group near a small town. As Buzz and the others try to help find Woody, Woody finds Bo Peep (Annie Potts) among other toys in the town's antique shop, and she gives him a new outlook on what being a toy is really about.
The story cleverly avoids any pitfalls like a boring and unnecessary romance. The bond between Woody and Bo Beep is played delivering the message and in offering a different outlook on their arguments, but expect no kisses from the couple.
TOY STORY 4 bungles at the start, with the setting upon the story running in a slow moving rather boring part. It picks up after the first third and confidentially accomplishes what all the other 3 TOY STORIES do best - all the toys rallying together to work for their owner child human masters, serving their purpose as a toy, which even in animation terms is a thankless and tiring job. The film slides in a few messages as well, such as the importance of loyalty.
The film contains an impressive list of voice characterizations including the old school Carol Burnett, Mel Brooks and Carl Reiner with Keanu Reeves stealing the show with his "I Canada" as Canadian motorcycle stunt man Duke Caboom.
The introduction of the ventriloquist dummies that obey the huge villainous doll Gabby Gabby's (Christina Hendricks) every bidding is the film's prize. No wonder they are called dummies. Gabby Gabby looks like Chucky with very sad eyes.
The film's look, at caravan/trailer park and the the dodgy amusement parked does not paint a wealthy and healthy look of America, but a glum one, full or conmen and suckers. Still the film has a happy ending with a message for all. Who can complain?
Trailer: https://www.youtube.com/watch?v=wmiIUN-7qhE
WILD ROSE (UK 2018) ***1/2
Directed by Tom Harper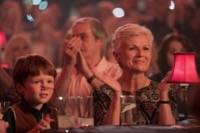 Every decade or so, one film arrives that has the premise of some dreamer travelling to the Grand Ole Opry in Nashville, Tennessee to make it big in country music. Clint Eastwood and his son Kyle starred in his directed HONKYTONK MAN way back in 1982, a flop at the box-office that was actually an excellent film. Also well remembered is the Australian entry, Chris Kennedy's 1997 DOING TIME FOR PATSY CLINE, where an Aussie teen played by Matt Day leaves his Australian farm to travel to the United States for the Opry. The latest has a Glaswegian single mum chasing her singing dreams.
Rose-Lynn Harlan (Jessie Buckley) has always dreamt of becoming a country music star for as long as anyone can remember. But she lives in Glasgow and has two kids. Worst of all she is a convicted criminal, just released from prison and forced to wear an ankle bracelet for whereabouts reasons and curfew.
Jessie Buckley, Sophie Okonedo, and Julie Walters star in this inspiring comedy drama about a would-be country singer who dreams of leaving her dreary, workaday Glasgow life for the bright lights of Nashville. After a tiff at Glasgow's local bar, the Grand Ole Opry, she destroys any chance of returning to her job as the house-band singer. Sporting her white cowboy hat and white leather cowboy boots, Rose-Lynn lands a new job as a housekeeper for the lovely, and very posh, Susannah (Sophie Okonedo). After catching her singing on the job, Susannah's kids quickly become Rose-Lynn's biggest fans and Susannah her enthusiastic patron, determined to help her get to Nashville. But Rose-Lynn's dreams come at a cost. She has to leave her two kids to her reluctant mother (Julie Walters), who knows all about abandoning dreams.
WILD ROSE also plays as a coming-of-age story of an overgrown kid still chasing her dreams. But what distinguishes WILD ROSE from the ordinary feel-good chasing ones dreams story is its insistence of dealing with reality.
The film is slightly marred by the songs sung with the lyrics that over explain what has happened, plot-wise. For example when Rose-Lynne returns back to Glasgow, the lyrics "There's no place like home" can be heard in the song that she sings.
The drama is aided by two excellent performances, one by Buckley as Rose-Lynne and the other by Julie Walters as her mother who proves that acting can all be done with the eyes. Her character does not have long monologues or speeches and neither does her character need to indulge in cheap theatrics.
The film's greatest pleasure is its rooting in reality. The decision on whether to put family or career (singing in the Opry) first is crucial and the script by Nicole Taylor never fails to remind audiences of the fact. And the obvious message is the one on where it is to find ones dreams. To elaborate more would spoil the film's ending, so it is best to see the film oneself.