19
Sep
2019
Details

Category: Movie Reviews
Written by Gilbert Seah
FILM REVIEWS:
AD ASTRA (USA 2019) ***1/2
Directed by James Gray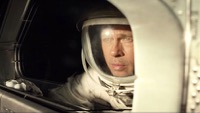 The concept of AD ASTRA began with director James Gray's (THE YARDS, THE LOST CITY OF Z) idea which he announced in 2016 of making a realistic depiction of a space travel movie. The baby of both Gray who co-wrote, produced and directed and star Brad Pitt who also share producing credits, AD ASTRA is a very serious, if not always realistic depiction of a space movie. For example, there is one scene where astronaut Roy McBride (Pitt) closes the hatch of his spaceship in the deeps of outer space and the audience can still hear the latch bang shut when one clearly knows that there is no sound in the vacuum of outer space. But some minor complaints aside, AD ASTRA lives up to Gray's ambition. AD ASTRA has so far been positively reviewed by film critics and is quite a serious and authentically looking space drama. Note that this is not an action movie but a thriller that plays around with other classic space movies.
Astronaut Roy McBride travels to the outer edges of the Solar System to find his missing father (Tommy Lee Jones) and unravel a mystery that threatens the survival of humans on Earth. A surge has been received from the Neptune project near Neptune where the father had worked. The surge might destroy earth and all in it. Roy's journey will uncover secrets that challenge the nature of human existence and its place in the cosmos.
To list a couple of important space moves in the past, Gray's AD ASTRA draws from 2001: A SPACE ODYSSEY and GRAVITY while sharing common traits with APOCALYPSE NOW and his LOST CITY OF Z.
Gray attempts to show the marvels of space technology as in Kubrick's 2001. The modern look of the spaceship including its exterior shots are stunning, thanks to the expensive production design. The rest mishap with the unexpected surge takes place on the exterior of a space antenna is one fo the film's most exciting scenes. There are not that many, but when they arrive, they are a knock-out. The zero-gravity and the re-entering into the spaceship share common thrill elements with Cuaron's GRAVITY. Gray's zero gravity fight with the two battlers tumbling around is a new set-up not seen (or seldom seen) before. The crazy and obsessive father in AD ASTRA reminds one immediately of the Marlon Brando character in Coppola's APOCALYPSE NOW and the traveller IN LOST CITY that lost himself reminds one of the protagonist in AD ASTRA.
The story is somewhat predictable with it set primarily on astronaut Roy McBride and his human condition. For most part of the film, Roy is in acceptable psychological state but when he goes into ager mode, he is in trouble. Director Gary anchors his story on Roy's mental state. There is little information provided on Roys personal life, with his wife played by Liv Tyler showing up for just a brief token moment.
Credit to 20th Century Fox on financing an thinking adult space movie. It is a big gamble and hopefully it will do well at the box-office with Brad Pitt's name to help. Disney that bought Fox have expressed concerns on Fox's slate of movies on making money like this one and Fox's upcoming FORD V FERRARI.
Trailer: https://www.youtube.com/watch?v=ykC_wu6ffOU
BEFORE YOU KNOW IT (USA 2019) ***
Directed by Hannah Pearl Utt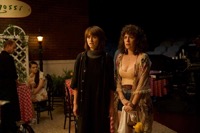 Warning that BEFORE YOU KNOW it is almost totally a feminist movie. When the film opens, two women are seen making small talk as they cross streets before one of them, the protagonist, Rachel Gurner (Hannah Pearl Utt) stops outside her place of residence, an apartment above a theatre. The two women share an intimate kiss. Rachel returns home where the audience sees she lives with her sister Jackie (Jen Tullock) and niece, Dodge (Oona Yaffe). Jackie is complete opposite from rachel, who is the more stable one. The only male in the picture is the father Mel (Mandy Patinkin) who is comically passed on so that the women's world is complete. As if there are not enough females in the story, the sisters learn that their supposed deceased mother is alive. They seek to find her. BEFORE YOU KNOW IT strangely enough has got no director credits just writing credits for both actresses Tullock and Pearl Utt.
Even the dialogue emphasizes 'women'. Example is the only line of dialogue uttered by the mother: "I have a very low tolerance for controlling men. I will run screaming the other way." The daughter's response. "I feel exactly the very same way." There are only controlling women in this movie.
The dialogue is very New York City's as evident from the ladies' small talk at the film's start. The target audience for the film is thus quite narrow. Audiences not in theatre or live in the city would find it difficult to relate and connect with the characters.
The film picks up a little when the sisters finally find and meet their long-lost mother who is a thriving soap-opera star. She is quite the personality. But no one can beat Jackie who is hilariously running around with big bunting boobies.
Director Utt elicits family dysfunction with ease. The trouble is that she does not know what to do with it. Mother and Jackie are both equally weird while Rachel is the more rational one. Utt's film is extremely talky so expect to be listening to dialogue from start to finish, more than what normal people articulate to each other.
It is difficult to sympathize with the three women when they all behave as if the each suffer from PTSD. It one thing in one instant and another the next.
As they say in moviemaking, make films about subjects one is familiar with. Director Utt looks extremely comfortable as her film sails merrily towards its ending. Trouble is that nothing much really happens not to mention the co-out happy ending that has nothing much to do with the street hand except to bookend the activities. If only one could say the film ends BEFORE YOU CAN KNOW IT.
BEFORE YOU KNOW IT caters to a select target audience. So as they say, one man's or woman's meat os another woman's poison. Myself, I am tolerant with these kind of films, though I find the exercise boring and un-affecting. So the rating of 3 stars would apply for the film's target audience - mostly the old term yuppie female.
Trailer: https://www.youtube.com/watch?v=Cj3pOkFWFBI
DOWNTON ABBEY (UK 2019) ***
Directed by Michale Engler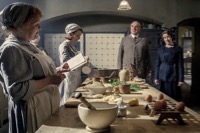 DOWNTON ABBEY is a British historical period drama/comedy written by Julian Fellowes and directed by Michael Engler. It is a continuation of the television series of the same name, created by Fellowes, that ran on ITV from 2010 to 2015. Much of the original cast returns, including Hugh Bonneville, Jim Carter, Michelle Dockery, Elizabeth McGovern, Maggie Smith and Penelope Wilton. If nothing is known of this series, all is not lost. The film stands on its own. However, for those familiar and for those with a keen admiration for the series, a lot of nostalgia will be in place.
DOWNTON ABBEY works as the kind of pompous British fare that common audiences (like myself) like to look up to and to admire the British wealthy and royalty.
The film is set in the fictional Yorkshire country estate of Downton Abbey in 1927, where it depicts the lives of the aristocratic Crawley family and their domestic servants in the post-Edwardian era—with the great events in history having an effect on their lives and on the British social hierarchy.
TV series transitioned to film need a particular special event. For the majority of TV series transitioned to film, a vacation abroad seems the most common excuse to warrant a full length feature film outing, examples being MUNSTER, GO HOME, HOLIDAY ON THE BUSES, KEVIN AND PERRY GO LARGE and most recently, ABSOLUTELY FABULOUS. The excuse here for DOWNTON ABBEY is a royal visit to Downton Abbey by King George V and Queen Mary.
The film is grounded by the main plot of the King's visit and the extensive preparations that go with the visit. This main plot is not sufficient to hold the entire movie and several subplots are quite obviously inserted to support the story. Among them are the gay exploits of the butler as he grows brave enough to eventually find romance in the times when gays were outlawed, the abuse of the Abbey household at the hands of the over-prude royal staff, the attempted assassination of the King, the quarrel of the Smith and Wilton characters and of course, some romance thrown in for good measure. All work quite well just as the cooperation of the DOWTON ABBEY staff.
Academy Award Winner, Maggie Smith (way back when from THE PRIME OF MISS JEAN BRODIE) is given the script's best comical punch lines and thus steals the show. The apt supporting cast do not fare much badly either.
This reviewer who sees more than 350 films annually with no time left for television, has not seen a single episode on TV, so take this review with a grain of salt. However, a fellow film critic who is a total fan of the series was pleasantly pleased with the full length feature. DOWNTON ABBEY is a pleasant enough feature on the TV series and with some luck, should win over a few converts as well.
Trailer: https://www.youtube.com/watch?v=tu3mP0c51hE
HONEY BEE (Canada 2018) ***
Directed by Rama Rau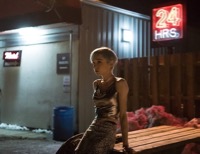 HONEY BEE is teen Natalie's nickname which she is fond of that many of her friends or acquaintances use.
When the film opens Natalie (Julia Sarah Stone) is having a name tattooed on her wrist. The tattoo reads "Ryan" (Stephen Love) a handsome boy who on first appearance acts a little weird sending and vibes to the audience. But Natalie is head over heals in love with Ryan and she plans to go with him to the 'Big Nickel', which is, as many who live in the Province of Ontario, the mining town of Sudbury.
Just when one thinks that this is going to be the run-of-the-mill teen romance story, the story takes a sharp turn. Natalie, who is really skinny and looking sort of emancipated is not what she seems. The next scene shows her giving sexual favours to a trucker before being arrested. But she is minor and put into a farm with foster parents instead. It turns out that Ryan is a pimp who intends to sell her to another pimp in Sudbury. And so the story goes.
It is a solid story. The best thing too is that the audience is not on the side of Natalie as she is shown to be brash, rude and ill-disciplined. The foster home is a farm where she is supposed to work while attending school. But she is a rebellious teen and one can hardly sympathize with her.
Again director Rau slowly turns the tables and evokes the audience's sympathy. She begins to realize through the signs that Ryan is not the decent man of her life and that he was using her, if not intending to sell her off for a large sum of money.
HONEY BEE has an indescribable charm that radiates throughout the story. This is due to the enduring characters, each of of the characters in the film exhibiting charm at some point or other. Cliched ,perhaps but the tactic works. Natalie eventually wins the audience over, thanks to the subtly manipulative script by Bonnie Fairweather and Kathleen Hepburn.
The character of Natalie's plump roommate, Chante (Michelle McLeod, DON'T TALK TO IRENE) always needs mention. This is one person who has trouble fitting into the world. When Natalie shows up, Change pictures her as the perfect saviour. At first the two are at loggerheads, but they eventually bond together.
HONEY BEE works well foremost because director Rau tells the story in a straight forward fashion in chronological order. Many directors would have opted for more style with a non-linear story telling that one becomes annoying hard to follow. Director believes in the material and lets it workouts magic.
HONEY BELL ends up a little predictable coming-of-age story not only of Natalie but also of her roommate. The film, based on solid script transformed into a well directed film, ends up charming the audience because of its endearing characters.
Trailer: https://www.youtube.com/watch?v=mwI_nsDTQMk
KUNG FU LEAGUE (HK 2018) **
Directed by Jeffrey Lau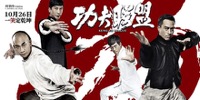 Aptly titled KUNG FU LEAGUE director Jeffrey Lau's Kung Fu comedy action extravaganza hopes to capitalize on the success of the Justice League Hollywood blockbuster. The league in the reviewed film is comprised of 4 well-known martial-arts heroes (at least to the Chinese). They are: Wong Fei Hung (Vincent Zhao), Wing Chun champion Ip Man (Dennis To), martial artist Huo Yuan Jia (Andy On) and fictional character Chen Zhen, who was played by Bruce Lee in Fist Of Fury (Danny Chan). Western audiences will recognize Bruce Lee and maybe IP Man, from the IP Man films, a total 4 in all.
The story centres on super geek Fei Yingxiong (Ashin Shu), a comic artist who is in love with his colleague, Bao Er (Madina Mamet.) This love is the catalyst of the troubles that bring into his present time the 4 Kung Fu experts. Bao Er is also fancied by silly acting Zhang Peng (Steven Zhang), the President of the company that Yingxiong works at. Frustrated, Yingxiong makes a wish, summoning the masters on his birthday.
So the four masters are summoned. The film takes a while for the 4 to figure out what is going on and that they have 'time travelled'. The film takes even more time for the 4 to meet with Yingxiong, which is the purpose of the summonin g. So Yingxiong trains with the 4 with the sincere hope of winning over the girl of his dreams. Whether he does so or how he actually does will not be revealed in this review.
The trouble with this plot is that the silly romance is insufficient a reason for the film to have any urgency. There is romance betrayal and a kung fu competition at the end. The fight scenes are well choreographed, most notable being the one at the film's start in the pouring rain.
Lau's film is action slapstick but do not expect the madcap antics found in Stephen Chow's classic 2004 KUNGFU HUSTLE. The comedy and laughs all nowhere close. At best, KUNG FU LEAGUE is good for a few chuckles. Though the premise of the film is superior, Lao lacks Chow's madcap sense of humour and fast camerawork, though Lau has made comedic hits like ALL FOR THE WINNER and ANOTHER PANDORA'S BOX.
So with the most well-known characters of Chinese martial arts saga, each portrayed by a promising young action star, and putting them on screen together in a comedy-action blockbuster looks like a good idea but here proves that good ideas do not always workout. The film will still entertain Kung Fu fans and the not so demanding viewer.
The film is available on digital, VOD, DVD and Blu-Ray September 17th, 2019. The video and film are released by Well Go USA Home Entertainment that specializes in a lot of commercial Chinese and Hong Kong movies. They have a lot of other titles that are worth a look at.
Trailer: Trailer: https://www.youtube.com/watch?v=ny72LxO_oKA
PREY (Canada 2019) ***1/2
Directed by Matt Gallagher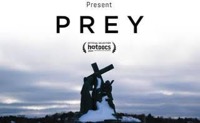 Hot and as widespread as today's disturbing headlines: sexual abuse within the Catholic Church that has traumatized thousands. The worse are the cover ups the church is responsible for in order to protect their own and their institution. Many docs and fiction films have been made on this sensitive topic and PREY is yet another, and powerful one of them.
PREY opens with a shot of a man dressed up in a tie and suit. He is Rob Tallach, a Civil Lawyer. He is nicknamed the priest hunter as he hunts down these priests perpetuators that prey on young boys. And he has quite a number of cases to his credit. Many have only recently come forward to speak publicly, while others have been silenced through settlements. One of the perpetrators, Father Rod Marshall, (interviewed in the movie when he was still alive) pled guilty to 17 assault charges; a colleague, Father David Katulski, called him a "very good pedophile." One of his victims, seeking closure for this traumatic part of his childhood, filed suit against the Basilian Fathers of Toronto for its role in enabling Marshall's depravity. As the case moves through the courts—led by "the priest hunter," lawyer Rob Tallach—the silence the Catholic Church fought so vigorously to maintain is broken.
Director Matt Gallagher opens a channel for those brave survivors who are willing to provide testimony, culminating in a powerful damnation of an institution that must be exposed and held to account."
PRAY OR PREY? The purpose of the film is to open the window, to check the record straight and to give the punitive damages back to the victims. The church allows children to continually be abused, as the doc attests.
There are actually three films that could have been made. A film could be made with the subject of Rob Tallach, maybe titled THE PRIEST HUNTER, where he discuses all his cases. Another could be the examination of the Catholic Church at how many cases they have covered up, or settled out of court. And the third of the various victims. In the case of PREY, director Gallagher tackles all there - quite a feat. While touching the surface of these three topics, he could have created more anger in his film against the Catholic Church of the abuse done over the century. But he lets the facts tell the story.
PREY follows one survivor and his lawyer as they pursue justice through a public trial in the hopes of forcing the dark and hidden story of clergy sexual abuse to light. Being a local story set in Toronto, it still fills with global resonance.
The film is partly courtroom drama. Everyone loves a solid courtroom drama and PREY provides one of the best. The abuser, Father Hod Marshall, makes his presence known at the civil trial in the form of a haunting video deposition taken before his death. The video had been sealed from public view until now. But this trial was not about guilt or innocence, but about how much money the church should pay in compensation for the devastating fallout from the abuse. The climax of the film is the verdict. The film (not revealed this review) gos one more disturbing step after this.
Special One Night Screening Presented by TVO
September 25 – Hot Docs Ted Rogers Cinema
Panel Discussion | Q+A will follow with Subjects and Director
Trailer: https://vimeo.com/323986619Prey
ZEROVILLE (USA 2018) **
Directed by James Franco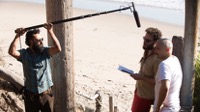 James Franco has made a name for himself in pictures primarily as an actor. He received an Oscar nomination for 127 HOURS and acted in hits like PINEAPPLE EXPRESS and FREAKS AND GEEKS. Though credited with 39 directorial credits, the films he has directed have been mediocre at best.
In ZEROVILLE, made a few years back and only just released, James Franco stars and directs himself as Vikar a wannabe Hollywood celebrity. He more than meets his match in the form of outrageous characters such as Seth Rogen's APOLCALYPSE-type director, Will Farrell's producer, Megan Fox's starlet and Jacki Weaver's editor. But it is though Dotty, the editor that Vikar learns the game. "Fuck continuity. It is the passion that is the editing." is what Vikar believes after watching how the kissing scene between Elizabeth Tylor and Montgomery Clift was edited in A PLACE IN THE SUN.
ZEROVILLE requires one to have sufficient knowledge of old movies to fully appreciate what director James Franco intends. One such movie is the 1951 George Steven's film A PLACE IN THE SUN that starred Montgomery Cliff and Elizabeth Taylor. Vikar (Vikar with a K is what he called himself) has a shaved head and ridiculous moustache. He loves Montgomery Cliff and Elizabeth Taylor so much that he has both Taylor and Clift tattooed on his shaved head.
Franco must totally believe the spill on continuity as his film does not pay much attention to continuity. One scene had him break a car widow. No blood shown, nothing and another has his hand in a bandage. Though his film aims high, it is a mess without much direction with the characters shouting all over the place a lot of the time. The Vikar character in contrast just broods along with a sullen look. But the film contains isolated hilarious bits.
The film funniest segment has what is supposed to be the filming of the Arthur Hiller 1970 film LOVE STORY based on the Erich Segal novel. Ali McGraw cannot distinguish between the lines "Love means never having to say you're sorry" and "Love means never ever having to say you're sorry" which requires so many takes that she storms out in frustration. Another one that matches is the one where Vikar is interrogated by the cops, being a suspect in the Sharon Tate murders. The film has shades of ONCE UPON A TIME IN HOLLYWOOD. Both films are set in 1969, Hollywood.
Of the classics, these must be Franco's favourites, as their names keeping popping up. They are A PLACE IN THE SUN, THE SHOP AROUND THE CORNER, SUNSET BOULEVARD, CASABLANCA, JOAN OF ARC and THE SEARCHERS, even though Vikar considers John Wayne as a hontytonk racist pig. The film has clips from John Ford's MY DARLING CLEMENTINE, JOAN OF ARC and a 3 Stooges clip.
ZEROVILLE ends up a pretty bad movie. It just wanders around just as its protagonist Vikar with a little aim but loses purpose on its way. At least it is good for a few laughs.
Trailer: https://www.youtube.com/watch?v=7fw72WrOrlA