10
Oct
2019
Details

Category: Movie Reviews
Written by Gilbert Seah
GEMINI MAN the new Will Smith action movie also opens this week. No press screening means that it will likely suck. THE ADDAMS FAMILY animated feature also opens with a review embargo for Thursday which means that it will likley also suck. Nothing exceptional opens this week - check the reviews of new films opening this week below…..
FILM REVIEWS:
THE ADDAMS FAMILY ( USA 2019) **
Directed by Conrad Vernon and Greg Tiernan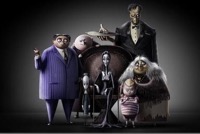 This 3D computer animated film began in 2010 as a Tim Burton stop motion animation feature project. After several revisions, it was decided and finalized in 2017 to have directors Conrad Vernon and Greg Tiernan direct a new film with a revised screenplay. As everyone already knows, this is not the first adaptation of the ADDAMS FAMILY since the beloved TV series. At present, I cannot remember all the previous film adaptations, they being released quite some time back.
The best of the ADDAMS FAMILY's is as most people will agree, the TV series with John Astin as Gomez and Carolyn Jones as Morticia. This latest version clearly attempt to re-create the atmosphere and feel of the TV series, which it succeeds, but only to a point.
The premise of the film is The Addams family's move to New Jersey. Their lives begin to unravel when they move to New Jersey and face-off against the 21st century and its greedy, arrogant and sly reality TV host Margaux Needler while also preparing for their extended family to arrive for a major celebration.
The film begins with the wedding of of Gomez (Oscar Isaac) and Moritica (Charlze Theron). Their celebration is interrupted by angry town folk who want to get rid of monsters from their town, a scene familiar to the classic FRANKENSTEIN story. So there is the move to New Jersey - never mind the explanation how come the two children Pugsley (Finn Wolfhard) and Wednesday (Chloë Grace Moretz) are suddenly grown up.
The film springs to life once the catchy theme song of the TV Series ADDAMS FAMILY is heard on the soundtrack. So much for beloved nostalgia. Even the new songs Christina Aguilera released "Haunted Heart" and "My Family" sung by Migos, rapper Snoop Dogg and Colombian Reggaeton superstar Karol G cannot match that.
The film suffers from a weak narrative made worse by weak story-telling. The ilm is punctuated or interrupted by un-connected humour. The lack of a sufficiently menacing villain does not help either. The TV host Needler and the mean girl at school Bethany do not really qualify as the usual destroy the whole planet-type villains.
In the TV series, a lot of the humour is derived by innocent ordinary humans stumbling across the Addams Family and being shocked by their strangeness. These were funny and worked well. In this film, it is the other way around here the human beings are the monsters that taunt the otherwise innocent Addams Family.
The humour of the film will escape the little ones in the audience as there are quite a few dialogue jokes. The monsters should be harmless enough not to scare the children.
When the film ends with the full lyrics of the TV series song sung out, as if forming the film's climax, one feels certain that the filmmakers have run out of ideas. THE ADDAMS FAMILY is harmless fun but it could have been more fun.
Trailer: https://www.youtube.com/watch?v=F7Ug863S8dQ
BRITT-MARIE WAS HERE (Sweden 2019) ***
Directed by Tuva Novotny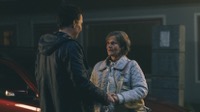 BRITT-MARIE WAS HERE, the second feature by Swedish actress and director Tuva Novotny is a feel-good film from Sweden that serves as the perfect 'foreign film for beginners'. Unlike other notable Swedish films from Masters like Ingmar Bergman, there is no contemplation on death or the evil one or complicated love affairs. It is about living. BRITT-MARIE WAS HERE is a film that intends to show that it is never too late to start living. The film is the second adaptation to the big screen of a novel by Fredrik Backman (A Man called Ove).
Britt-Marie, 63 years old (Pernilla August), has just left a 40-year-old marriage when she finds out that her husband has been cheating with a younger woman. She has lived too long a life as a housewife. Being told she is a nagging passive aggressive aunt, the new, only job, in small town Borg will be quite challenging. The small town of Borg has no pride left except the young soccer team, and Britt-Marie's new job is to coach them.
Britt-Marie knows nothing about football. All she knows is order and tidiness as in house cleaning. When her husband leaves her, she is forced to take the job in Borg to coach football when she knows nothing about football. "One day at a time," Britt-Marie tells herself, "One day at a time."
Britt-Marie's journey that is filled with struggles, challenges but also warmth and love makes director's Novotny's endearing story.
A bit too eager to please, the film tends up to be a bit too predictable towards the end. The set-up, however is fresh and full of little surprises like the ones that pop up to change Britt-Maries life. The film also contains quite a few emotional moments that might require one to brig some Kleenex.
The small film that it is, it has a (small) limited release at the local Regent Thetare, that might be out of the way for some folks. But if one wants to fee good and perhaps shed a tear or two, BRITT-MARIE is the one to see. Filmed in Swedish and German.
Trailer: https://www.youtube.com/watch?v=GD4rT3GDlEI
DOLCE FINE GIORMATA (Poland 2018) ***
Directed by Jacek Borcuch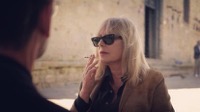 This is the rarer Polish film in that it is more light-hearted than the usual depressing Polish films. Director Jacek Borcuch sets his film in the beautiful Tuscany, Italy.
One wishes director Borcuch would not have tackled so many issues as he did in this movie resulting in no clear direction on where he wishes to go with his material. Or perhaps he wishes to keep an open mind and let the audience decide for themselves.
The film centres on semi-retired Nobel literature winner Maria Linde who is living out her golden years in casual luxury. The celebrated Jewish-Polish poet (Krystyna Janda) enjoys a life filled with late-night dinners, wine-infused conversation with friends, and quality time spent with her adult daughter and grandchildren. The free-spirited matriarch's privileged existence mostly keeps her at a remove from the escalating xenophobia engulfing Italy. But a secret dalliance with a handsome (and much younger) Egyptian immigrant sets off a chain of events that will eventually lead to Maria's life coming apart at the seams.
Director Borcuch makes one controversial statement in his script In Maria's acceptance speech. Maria says: "I don't have to give an acceptance speech and that is why I will." This spells trouble. In her disturbing speech she talks about the power of terrorists in using death. Maria talks about the suicide bomber and asked what can be done by the celebrated artist. Then comes the whopper statement is what has been done is the setting up of refugee camps by the Government set up by the Mafia. And she describes the incident where people have died as a work of art. She denounces her Nobel Prize in protest for the unsympathetic Europe she is living in.
The character of Maria is that of a famous spoilt bitch. She has a younger lover, cares not for the law (she deliberately fails to stop at roadside checkpoint) and is rude to the Police Commissioner who was so good to drop everything bare to search fr her missing grandson. She thinks she is doing the world a whole lot of good while from what transpires is the compete opposite. One wonders the reason director Borcuch made her character so as it destroys all the messages the film tries to put forward. But what happens to her at the end (details not revealed here in the review) is what she deserves
Borcuch provides no answers to Europe's current crisis of morality and identity. One can hardly praise actress Jandaone for her performance in a conflicting role, who infuses her protagonist with both the wilful selfishness of a child and the complicated desires of a woman finding her way in life's later stages.
The use of the Frank Sinatra song lifts up spirits and puts the film into perspective.
Maria claims to be just a poet who is amoral. She also says that she is made famous by a small group of intellectuals. This does not explain the reason for her to make a moral speech.
DOLCE FINE GIORMATA makes its debut at the TIFF Bell Lightbox for a limited engagement.
Trailer: https://vimeo.com/356027770
LUCY IN THE SKY (USA 2019) **
Directed by Noah Hawley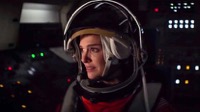 In short, LUCY IN THE SKY is the story of a crazy woman. But how the journey gets to this point is quite the intrigue.
The film begins with a stunning look of an astronaut in outer space. Lucy Cola (Natalie Portman) is told: "Warp it up, you are going home." To which she answers "Just give me a few more minutes." The film also flashes on the screen 'Based on real events.' The term real instead of true indicates events that are likely disturbing.
After returning to earth, an obsessive astronaut (Natalie Portman) begins to question her place in the universe — including her relationships with her gentle husband (Dan Stevens) and her alluring crewmate (Jon Hamm. When she returns, all Lucy wants is to go back to space, at all costs. er modest family life loses its allure and the comforting support of her gentle husband Drew (Dan Stevens) is suddenly less appealing than the masculine charisma of a fellow astronaut, Mark (Jon Hamm), a divorcee disconcertingly eager to encourage an affair. As she determinedly trains for her next mission, her growing dissociation threatens to dismantle both her personal and professional lives. Hawley shows all the ugliness of Lucy's obsession. The sympathy goes to the poor husband. The only reason Lucy can give her husband for her erratic behaviour is: "Can't you see I have changed."
Director Hawley cannot resists using the Beatles song "Lucy in the Sky with Diamonds". In fact the title is probably taken from the song as well. That sequence is artistically done in a surreal sequence Lucy in the foreground and images of her past changing in the background.
LUCY IN THE SKY is not a very good film. Director Hawley takes too much time to set up the film's premise resulting in a very slow and ponderous first half. It does not help that the character Lucy is an extremely annoying and unlikable one. But Hawley pulls a good twist in the last third of the film when the audience finally realizes that the story is about a crazy lady that they are not supposed to sympathize with.
The cinematography of outer space, courtesy of cinematographer Polly Morgan is nothing short of stunning, especially at the start of the film.
The film includes a few ridiculous bits like one part where Lucy picks up a wig for disguise. Since when do they ell wigs in a hardware store? The ending with the bees also makes little sense to the story.
Ellen Burstyn has a small role as Lucy's mother. Burstyn steals every scene she is in, with her bitter and somewhat sarcastic dialogue on life, something more of what the film needs.
There event that film is 'inspired' by is the story of Lisa Nowak, an astronaut who tried to kidnap another NASA colleague at the Orlando airport.
LUCY IN THE SKY is a dull disappointing drama disguised as a space movie. It might have worked if the material were given a twisted twist with some black humour. LUCY had its world premiere at the Toronto International Film Festival but to general lacklustre reviews.
Trailer: https://www.youtube.com/watch?v=vQP-L2pJzmk
MS SLAVIC 7 (Canada 2019) **
Directed by Sofia Bohdanowicz and Deragh Campbell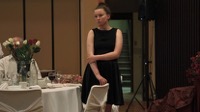 MS SLAVIC 7 opens with the protagonist settling into her room placing her things on the table in a room with the camera revealing her neat bed. One can argue whether these images are necessary to tell the story in the movie. Well, if one dispenses these images the story will not change, but the images do reflect the atmosphere that the director or directors wish to create for their movie. MS SLAVIV 7 is very slow moving and directors Sofia Bohdanowicz and Deragh Campbell do make an impression with their film.
The latest collaboration between Sofia Bohdanowicz and Deragh Campbell continues the delicate thread begun with the feature Never Eat Alone and the short Veslemøy's Song, as Campbell's Audrey Benac (a barely veiled stand-in for Bohdanowicz) attempts to access and analyze the correspondence between Polish-Canadian poet Zofia Bohdanowiczowa — Bohdanonowicz's great-grandmother, who, in the film's slightly modified reality, is Audrey's great-grandmother — and another real-life poet, Józef Wittlin, which is archived at the Harvard library. Structurally, the film unfolds as a kind of triptych, with each section broken down into repetitive (but gradually mutating) patterns of time and activity as Audrey pores over the poets' back-and-forth, in which they discuss their poetry and their shared impressions of lives lived in different parts of the globe after World War II. In the process, Bohdanowicz and Campbell not only go further than any of their previous collaborations in developing Audrey as a character — transforming here from a reactive, watchful presence in Never Eat Alone into a terse, driven, occasionally exasperating (and exasperated) heroine — but also foreground the question of what it means to make art.
The most exciting part of the film involves a group of supposedly deaf youth asking for donations from a seemingly naive woman. After donating a substantial amount of Euros, one steals her cellphone. She realizes she has been 'gipped'. But the incident is revealed in a dialogue with the protagonist. The film does not get more exciting than this.
One can hardly fault the film. If the purpose of a film is to film a blank white wall and the film does that, then the goal is achieved. MS SLAVIC runs only around 60 minutes but to may it will seem to run around 4 hours. Directors Sofia Bohdanowicz and Deragh Campbell make no attempt to compromise their film for a commercial audience.
MS SLAVIC 7 opens and is accompanied by a short film preceding it. Local Torontonian filmmaker Lina Rodriguez will have her short film presented before MS SLAVIC 7. Rodriguez has made several short features and two full length features. Her films are slow moving as well.
The film opens on Friday October 11th, at the TIFF Bell Lightbox. The filmmakers including Lina Rodriguez will be present.
Trailer: https://www.youtube.com/watch?v=R6PTClPl4Z8
PARASITE (South Korea 2019) ****
Directed bu Bong Joon-ho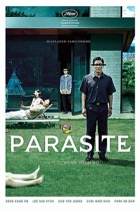 From the director of OKJA and SNOWPIERCER, PARASITE has already garnished praise from critics and filmgoers all over the world. The Winner o the roestgious Palme d'Or at thisnyear's Cannes Film Festival. PARASITE is already abbot-office success in Korea and the wold over.
PARASITE is also a Netflix original movie. It has a limited run before being going on to Netflix, which means that the ilm will stream for free for Netflix subscribers. Netflix has made excellent films such as ROMA last year. There is a slew of excellent Netlfix films coming soon after PARASITE like THE KING and THE IRISHMAN with THE LAUNDROMAT, DOLEMITE just opening.
Half way through the movie, the effectiveness of a plan is discussed. If one has no plan, then chaplain cannot go wrong and things will work out. This weird logic is subtle applied to the story of PARASITE where anything can happen and chaos rules. The result is a sort of 'wtf' foreign art film that is as energetic and it is unpredictable.
PARASITE tells the story of two families, one rich and one poor. The poor one slowly but surely takes over the rich none just as a parasite, hence the film's title. This is a vertical story of class struggle — punctuated by staircase scenes going from mouldy basements to top floors, from darkness to breezy spaces designed by star architects. — Parasite observes and dissects with surgical precision the life of two families of different social backgrounds.
The poor family: Ki-taek (Song Kang-ho) is a good-for-nothing, unemployed family man, patriarch of a family of derelicts — his wife Chung-sook (Chang Hyae-jin), his clever twenty-something daughter Ki-jung (Park So-dam), and his son Ki-woo (Choi Woo-shik) — who live in an overcrowded, sordid basement.
The rich family: Parks, on the other hand, live in a fabulous house with their teenage daughter Da-hye and terribly spoiled son Da-song, who has suffered a childhood trauma that occasionally causes him seizures and strange behaviour. When, due to an unexpected stroke of luck, Ki-woo is hired by the Parks to be the private English tutor of Da-hye, the destinies of the two families cross. Ki-woo gets his mother to be employed as the new housekeeper, not letting the Parks know of their mother/son relationship. Then he gets the father and sister employed as well, again not disclaim the family relationship. The parasitic family ate over but not with dire consequences.
The film takes a third of tis running time for the predictable series of events before director Bong pulls a super punch in his film. The story takes a wild totally unpredictable twist where the class struggle story turns into a wicked farce. All the events take place amidst a huge flood take wreck the poor family's dwelling.
The ending is a little marred by slow preaching but Bong's film has at this point already accomplished what he had intended in what is supposed to be an 'unplanned' film.
Trailer: https://www.youtube.com/watch?v=isOGD_7hNIY