24
Oct
2019
Details

Category: Movie Reviews
Written by Gilbert Seah
Two solid films open this week. One is the new Pedro Almodovar's latest PAIN & GLORY which shows the veteran director at his best. The TIFF Popular Film Winner JOJO RABBIT also opens.
FILM REVIEWS:
BLACK AND BLUE (USA 2019) ***
Directed by Deon Taylor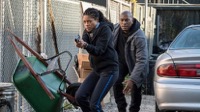 Black female rookie cop is wounded while witnessing a killing performed by corrupt cops in the police force. Singularly, she escapes from being killed while exposing all the corruption in the process with the help of an unlikely helper. Everyone in the story is corrupted including her partner.
This is familiar action thriller territory done before, most notably in the acclaimed Anthony Fuqua's TRAINING DAY.
BLACK AND BLUE is the kind of film critics, when reading of the plot shudder with an 'ugh' for having to go see the film and then review this re-cycled story. The film has already got seriously mediocre reviews on the internet. (Rotten Tomatoes awarded 60% approval at the time of writing.)
But wait. The promo screening that I attended had the audience not only applauding at the end but a fellow critic sitting next to me clapping at one scene during the climax. Though the film is far from perfect, BLACK AND BLUE is not all bad, and in fact quite enjoyable - all things considered.
NOPD (New Orleans) rookie Alicia West (Naomie Harris) captures the murder of a drug dealer on her camcorder she wears on her police vest. What is more disturbing is that the murder has been committed by her partner and a squad of dirty police officers (Frank Frillo as Malone, Reid Scott and Beau Knapp). Unable to get help from her former community or the police department she is sworn to, West allies herself with a stranger named Milo aka Mouse (Tyrese Gibson) in an attempt to expose the murder while a local gang puts out a bounty on West's life.
BLACK AND BLUE suffers from many of the pitfalls of similar themed action thrillers. These include overlong chases (West is chased for the longest time through backyards), continuity (Harris looks better even as the day goes on as her character set is supposed to be fatigued and terribly wounded), familiar situations (West solo against everyone else corrupt), typical Rap soundtrack among others. West also cannot die - the excuse given being that she had served in Iraq.
Despite the film's flaws, one has to credit the filmmakers for really trying to differentiate their work despite treading on familiar territory. This is obvious from the very first scenes wth cop conflict. The good and bad characters are also not black and white cardboard written figures. Though West's partner is corrupt, he has some heart as evident during the film's final moments. Naomie Harris is convincing enough in her role though the role requires her to show a bit of skin - as she has to patch up a gunshot would with (yes, believe it or not) glue. Apparently, that is what they do in Iraq, the audience is told.
BLACK AND BLUE costs $12 million to make. There are not a whole lot of African American films out there and BLACK AND BLUE is a welcome entry. It has been projected to gross between $8- $11 million opening weekend which means BLACK AND BLUE will be at least a moderate box-office hit.
Trailer: https://www.youtube.com/watch?v=ywKWQs3os3M

JOJO RABBIT (USA 2019) ***1/2
Directed by Taika Waititi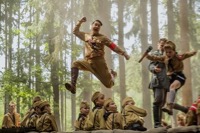 As wild as its title, JOJO RABBIT follows the protagonist, a German boy, a Nazi fanatic given the nickname of JoJo Rabbit (Roman Griffin Davis) during a Nazi training camp for failure to kill a rabbit in order to prove his loyalty to the Führer.
It is not an easy task to make a tasteful film with Nazi Germany in the setting and a fanatic Führer young boy as the lead. But it has been done successfully - ie. Germany Nazi comedy in TV series like HOGAN'S HEROES and ALLO ALLO.
The boy also has an imaginary friend giving him advice throughout the story, as Humphrey Bogart advised the meek Wood Allen character in PLAY IT AGAIN, SAM. It is Adolf Hitler himself (played with gust by director Waititi) who gives the boy advice right to the very last frame of the film.
JOJO RABBIT, while being a satire of the german machinery during WWII is a coming-of-age story of JoJo, a boy who aims at serving the Führer the best he can while discovering love in the form of a Jewish girl his mother (Scarlett Johansson) is hiding in the family house from the Germans.
Jojo Betzler is a precocious kid in World War II Germany with an egregious blind spot. Socially awkward, but a proud member of the Hitler Youth, Jojo passes much of his time with his imaginary friend Adolf, a cuddly, energetic, pep-talking version of the Führer. Having completely bought into Nazi hate, Jojo is incensed when he discovers that his mother has been working for the resistance, helping to keep safe the Jewish people he's been taught to hate. With Germany on the brink of collapse, he is faced with the choice of clinging to his hateful beliefs or embracing his humanity.
The film contains many laugh-out loud moments demonstrating director Waititi's keen sense of humour. His comedy timing is immaculate.
Roman Griffin Davis is a real find as the 10-year old boy. Oscar Winner Sam Rockwell relishes his role as the sympathetic Nazi with a fondness for same-sex flirtations while Australian comedienne Rebel Wilson keeps popping up multiple points in the film as different characters ranging from Nazi trainer to Nazi secretary to Nazi masseuse providing additional laughs. All the actors appear to speak english with the perfect German accent.
JOJO RABBIT turns out to be a harmless really funny comedy with a message to boot.
Spoiler alert: I have to include this priceless moment in the review as it made the movie, but it concludes a spoiler of a key plot point. Skip this paragraph (in italics) if it needs be. In a key moment near the film's end after the Germans have lost the war, Jojo's nemesis , his imaginary Hitler appears to still give him nasty advice. Jojo screams; "Fuck off!" and kicks him out the window of his room. The scene elicited loud laughs and the guy next to me the screening happened to turn to me, where he, clearly a Jew, who had suffered anti-Semitism shared the laughs with me.
The film went on to win the Toronto International Film Festival Audience (Popular) Film Award.
Trailer: https://www.youtube.com/watch?v=tL4McUzXfFI
NEVER AGAIN IS NOW (USA 2019) ***1/2
(No director is named in the closing credits)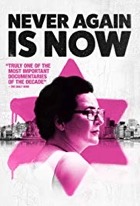 Evelyn Markus is a psychologist. She is not a filmmaker by profession. But Evelyn has a story to tell. This documentary is her story of doing her part to prevent NEVER AGAIN being now.
Markus is a Jew born and raised in the Netherlands where her family history goes back more than 400 years. She grew up in the 60s and 70s in the world's most liberal city, Amsterdam, virtually without any antisemitism where she enjoyed life with her long-time partner, Rosa. But that all suddenly changed in 2000 when a pink Star of David was graffitied on her front door. With calls for "Jews to the gas!" shouted in soccer stadiums and shocking and violent attacks in the streets…as a child of Holocaust survivors, her world was taken apart.
Markus found a letter detailing her mother's Holocaust experience. When approached by producers who were planning to make a documentary about antisemitism in Europe, she decided to take action. Markus' personal story therefore packs quite the punch.
NEVER AGAIN IS NOW succeeds in two main ways. The first is educating the audience on antisemitism. Most of the world are aware of the hatred towards Jews during the holocaust of WWII. But some are unaware of the widespread and deepful hatred still going on today. Incidents like the Charlie Hebro killings in France and the synagogue killing the U.S. illustrate the point. The second is how the hate is manifested and spread. The film emphasizes the need for governments to do more to prevent hate crimes.
The doc reveals the difference between religious tolerance between the U.S. and Europe something that myself and many would not be that aware of. Markus praises American as the Land of the Free compared than intolerant Europe where incidents like the holocaust, in WWII, and other terrors attacks have occurred. The film also points out that American is not immune to the attacks. The film blames not only the right but also the left which has increasing become a problem. The film contains disturbing scenes of hate speeches delivered by many an Islamic Imam in the name of faith.
Those interviewed in the film include globally renowned experts, Parliamentarians, religious leaders, authors, activists, playwrights and political commentators including Ben Shapiro, Ayaan Hirsi Ali and devout Muslim physician Qanta Ahmed.
While many films and docs display the good of mankind, this one shows the amount of hate and evil present in man particularly the religious leaders of Islam.
The one important message that Markus's movie wishes to make is: "Silence in the face of evil is evil itself." The entire films serves to prove and verify the fact. To remain silent should not be an option. The time to speak up is now. Though a bit over preachy, NEVER AGAIN IS NOW gets the message across loud and clear.
The doc also details the three different groups of people that should speak out. One is the oppressed Jew. Markus initially left the Netherlands when persecuted but now speaks out. She speaks out in the form of making this documentary. The other is the Muslim who speak out against the hated Islamic persecutors of antisemitism hate, spoiling the name of Islam. The third is everyone else who should do what is right. The film lists the website where one can speak out.
The film ends appropriately with an epilogue describing the anti-semitism in the U.S. Back in 1940 human beings could have stopped the evil threat but they didn't. Now this evil has to be stopped, while human beings still have the chance.
Trailer: https://www.youtube.com/watch?v=f64VhhRm6Hs
PAIN AND GLORY (Dolor y Gloria) (Spain 2019) ***** Top 10
Directed by Pedro Almodovar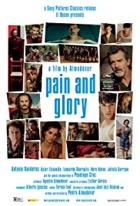 PAIN AND GLORY sees director Pedro Almodovar still in peak form in this highly personal film about a successful filmmaker, Salvador (Antonio Banderas) in his autumn years. A revival screening of an old movie, "Sabor" with the invitation for him and his main actor to attend a Q &A awakens skeletons in the closet. The film intercuts his life as a child with his loving mother (Penelope Cruz) and his first male desire in the form of an older teen, Eduardo (César Vicente) he educates in reading, writing and in mathematics.
PAIN AND GLORY is most similar to Almodovar's best film LA MALA EDUCACION (BAD EDUCATION) with similar scenes like young boys bathing in the river and the influence on cinema on the protagonist as well as first love. The young boys were under the watch of Catholic priests, one of which is a pedophile. In PAIN AND GLORY, the river scene has Penelope Cruz, looking as beautiful as ever, washing her sheets in the river with other women and her son. She is singing what could be a traditional country Spanish song in a scene that the protagonist, Salvador reminisces of.
PAIN AND GLORY draws from the work and life of director Almodovar and could be describe as an autobiographical film. It can be described as several vignettes put together to form a story.
What is most inspirational about Almodovar movies, are that most of his movies are about the love of cinema. In LA MALA EDUCACION, the two male lovers first met as kids in a cinema. In PAIN AND GLORY, it is all about Salvador and his films. At the film's start, Salvador confesses he has just watched and was moved by his second watching of his film "Sabor". That is so true that watching a film a second viewing brings forth much more that was miss the first time. Salvador also confesses that his lead actor's performance seems much better than it was 30 years ago.
The film's best parts are those involving Salvador's sexual awakening - when as a boy he places his hand over Eduardo's, the one he is teaching how to write, or how the Eduardo trips don to wash, totally nude.
Director Almodovar splashes his colours again in this film. He transforms the dull cave Salvador lived in as a kid into whitewashed walls with colours in the curtains and tiles.
What is most marvellous is the way Almodovar shows the beauty in life and how life dishes it out. Being poor, he had to go to a seminary on a scholarship to earn his A Levels diploma. But there, he is pulled out to sing in the choir because of his beautiful voice and given passing grades in his subjects without learning anything. Yet, when he became a filmmaker, his knowledge came from other means. But now as an ageing filmmaker with physical and emotional ailments, Salvador must find himself again.
Salvador is constantly sick with ailments like migraines (Almodovar has them too), back pain and others. Almodovar's deeply personal work is extremely moving and he is able to arouse the audience to feel the pain suffered by Salvador. Banderas won the Best Actor prize at Cannes for his portrayal of Salvador and the actor playing Salvador's first desire is the hottest thing seen this year at TIFF.
PAIN AND GLORY has the best joke that would not be noticed by the majority of the audience. I would call it Almodovar's personal joke. Which is really funny. When the boy faints in the middle of the film, his mother and Eduardo think it is due to the sun and possibly a minor heat stroke. But the reality is that the boy fainted after seeing Eduardo's big penis.
I first viewed PAIN AND GLORY at TIFF and now a second time. The film survives a viewing proving that it is layered, brilliantly and an overall excellent film.
Trailer: https://www.youtube.com/watch?v=pEjFOkCKb3g
WESTERN STARS (USA 2019) **
Directed by Thom Zimny and Bruce Springsteen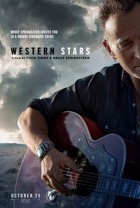 The Boss himself, Bruce Springsteen performs his critically acclaimed latest album and muses on life, rock, and the American dream, in this intimate and personal live-concert film co-directed by himself. Being his first full-length film to carry his name as director, the fact must have affected the Boss getting to his head. Springsteen offers his advice on love, loss, change and other assorted matters prior to each song he performs and there are quite a few of his performances on screen so that it the films become over preachy. Springsteen is no great sage either. No one wants to keep hearing him expel his personal demons. The choice of the Glen Campbell song "Rhinestone Cowboy" he performs is an odd choice to end the movie. The only good thing about the film is watching him perform his live album concert songs with his orchestra.
Trailer: https://www.youtube.com/watch?v=nGqjav-KbDU