Cinefranco 2019
Cinefranco 2019 runs from November 22 to the 30th 2019. Programmed and run by the tireless and ever-cheerful Marcelle Lean (who I am proud to say is a good acquaintance of mine) since the fete first started.
The Festival's Main Program is the most important international francophone film festivals in English Canada. It is comprised of up to 40 francophone films and brings together thousands of fans. The films reflect the richness and diversity of filmmakers from Canada, France, Belgium, Switzerland, Algeria, Morocco. Tunisia, Senegal and other countries. The goal of this program is to showcase films rarely seen or not distributed in Toronto cinemas. Considering that fewer and fewer French films are being released (such a pity) in theatres, Cinéfranco provides an essential platform to foster the appreciation of francophone films. Therefore, Cinéfranco gives the unique opportunity for francophone film lovers to experience the films on a big screen, and for filmmakers to meet their audiences. Cinéfranco provides popular yet quality programming, from hilarious comedies to social dramas, through moving documentaries or captivating thrillers. The viewers get to vote for their favourite film which is awarded "The Audience Prize" at the end of the festival.
For complete information of the festival including descriptions of the films, please click the Link:
https://www.cinefranco.com/fall-festival
Capsule Reviews of Selected Films:
AN AMOUR IMPOSSIBLE (AN IMPOSSIBLE LOVE)(France 2019) ****
Directed by Catherine Corsini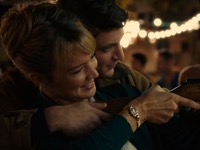 Don't let the title put you off. This is no cheap riff-off of a ROMEO AND JULIET story. UN AMOUR IMPOSSIBLE is an incredible emotional and intelligent romance so dark yet beautiful that will surely affect many couples for the fact that the story can be or might be more common than expected.
The story follows a couple very much into each other. The girl, Rachel (Virginia Efira) is very much head over heals in love with utterly handsome Philippe (Neils Schneider). The romance is shown from Rachel's POV as love at first sight, perfect love, with a totally handsome beau with excellent sex. Until he unloads the bomb on her, that he does not want to be wed. Worst still, when she reveals her pregnancy, he travels to Italy. The narrator of the story is the daughter of the couple. Nothing more should be revealed of the story but this is one remarkable romantic drama that will affect both sexes and the daughter. How often than not that we have (myself included) fallen in love with someone who is so attractive that he or she can attract anyone else at any time. What can one do? The most emotional part occurs in one scene where she stares at him: He is so abusive to her, but she is so much in love with him that she does nothing. The film runs more than 2 hours, but every minute is worth its time.
Trailerhttps://ca.video.search.yahoo.com/yhs/search?fr=yhs-dcola-005&hsimp=yhs-005&hspart=dcola&p=allocine+un+amour+impossible#id=51&vid=287300ffc47760d54dea41402d815079&action=view
LE MYSTERE HENRI PICK (The Mystery of Henri Pick) (France 2019) ***1/2
Directed by Remi Bezancon
A bold inventive comedy that is ripe for Hollywood to remake. While conducting a television interview with the widow of pizza restaurateur Henri Pick, who is the posthumous author of a bestseller, talk show host Jean-Michel Rouche (Fabrice Luchini) attracts the wrath of his employer and the spectators by suggesting the book could be a sham. The same evening, his wife leaves him and he is fired from his job at the network. This double disgrace reinforces his desire to prove that he is right. As Rouche acts not only like a know-it-all proud peacock but an asshole, the audience is only too glad to witness his downfall. But Rouche is not without charm.
He is joined in his investigation by the late author's bookworm daughter, Josephine (Camille Cottin), after convincing her the book couldn't have been written by her father. Echoing Agatha Christie, false leads and literary fun abound in this charming French affair. There is no romance here not even a little hint, but the story works as both a clever whodunit or rather whowroteit as well as a study of characters in a French literary setting. Luchini exhibits charm as the disgraced host who eventually redeems himself. A mysterious pleasure of a film.
Trailer: https://www.youtube.com/watch?v=kbyBzbTYw5s
PUPILLE (IN SAFE HANDS) (France 2019) *****Top 10
Directed by Jeanne Herry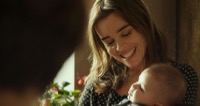 Marcelle Lean picked a real winner for her Cinefranco 2019 with this film about France's adoption process. The adoption process is shown here in all its complications and complexity with a whole lot of people involved in finding an adopted baby a good home. PUPILLE unfolds non-chronologically as fiction though one can be sure that director Herry has done lots of research. The story follows Theo, abandoned by his biological mother (Leila Muse) as Social Service strives through many applicants to find him a suitable and loving home. The film reveals the various emotional states of everyone involved in the process from the mother, to the accepted new adoptive mother (Elodie Bouchez), to the social workers (3 of them) to the man (Gilles Lellouche) who looks after Theo before delivered to his final home. Director has created both a heart warming and heart wrenching drama that will tug at ones emotions. So, bring lots of Kleenex. A few of the film's parts are out of place like the emotional drama between two of the workers. But given the film's content, good intentions and research, PUPILLE deserves full marks. (It has also 100% rating on Rotten Tomatoes at time of writing.) PUPILLE is the term given to the ward while under the care of France's Social Services. The film returns ones faith in the human race.
Trailer: https://www.youtube.com/watch?v=9bx3DnPLI6U (ver francais)
VENICE N'EST PAS EN ITALIE (France 2018) ***1/2
Directed by Ivan Calbérac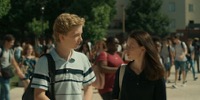 Based on the 2015 novel 'Venice is not in Italy' by Ivan Calbérac, VENICE N'EST PAS EN ITALIE (English title VENICE CALLING) follows the coming-of-age adventures of teen math geek Emile who lives with his struggling but over-loving parents in a caravan falls for ultra wealthy girl in his class. When she invites him to her orchestra performance in Venice, he promises to attend, if his parents can afford it. They agree to let him attend but decide to come along as well, together with caravan in tow and his elder cool brother who suddenly shows up. VENICE has all the charm and nuance of a French comedy that is both funny and entertaining with a message to boot. The film's best part has the mother giving Emile a smack across the face for being ashamed of her. The truth is almost every child is ashamed of their parents for some reason or other, for being not rich enough, for dressing odd, for showing affection in public etc. At the same time, the boy grows up learning more about life (including sex, courtesy of his elder brother) and what counts in life. The film is a total delight!
Trailer: http://www.allocine.fr/video/player_gen_cmedia=19583589&cfilm=241649.html (ver Fr)