BITS 2019
BITS stands for Blood in the Snow. Blood in the Snow is a relatively new local Toronto film festival that combines blood in a white or wintry setting.
For 6 days at the Royal Cinema from November 21 to 26, 2019 screenings of premieres of Canadian genre (horror, sci-fi, action and thriller) features, shorts and web series.
A complete list and schedule of films can be found by clicking the link below:
https://www.bloodinthesnow.ca/
Capsule Reviews of Selected Films
DEAD DICKS (Canada 2019) ***1/2
Directed by Chris Bavota and Lee Paula Springer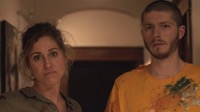 One wonders the reason that this film got selected for the Blood in the Snow film festival as there is no blood in the snow in this film. But thank heavens the film got picked, as this film shows lots of promise. And there are lots of blood to compensate, as bodies get chopped up and disposed in garbage bags.
The story defies logic but it works. Suicidal Richie (Heston Horwin) cannot die - a sort of horror GROUNDHOG DAY. Whenever Richie kills himself, he re-emerges from a vagina on the wall in the next room. Sister Becca (Jillan Harris) helps her brother though no help can save the day. Downstairs apartment neighbour Matt (Matt Keyes) sees the dead bodies of Richie's past deaths and the film gets weirder. Written and directed by the Montreal-based duo, the film keeps audience's interest piqued by the creation of lots of audience anticipation segments. The micro-budget film showcases the budding talent of both cast and crew in this weird horror fest flick.
Trailer: https://vimeo.com/346229040
SHE NEVER DIED (Canada 2019) **
Directed by Audrey Cummings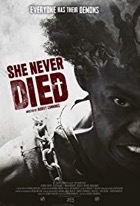 SHE NEVER DIED is the female companion piece to the 2015 similar horror feature HE NEVER DIED that was written and directed by Jason Krawczyk. It follows an immortal, cannibalistic loner who has withdrawn from society to protect both himself and other innocents from bad people. In SHE NEVER DIED, the loner is now a girl. Lacey (Olunike Adeliyi), a socially detached loner is cursed with immortality and a never-ending tedium of existence. In her attempts to keep her compulsions in check, she seeks out the darkest souls humanity has to offer. Lacey must now face her own inner demons while simultaneously finding her next meal. But Lacey is not the film's most interesting character. This honour belongs to the middle-age detective who uncovers her path and learns of her 'powers'. Nothing is explained in the film as to how the girl obtained her powers. The film is a blood fest with lots of torn body parts, if you like this sort of thing.
Trailer: https://www.youtube.com/watch?v=fHq9o5BGSys
PUPPET KILLER (USA 2019) **
Directed by Lisa Ovies
The premise: While celebrating Christmas at a cabin in the woods, a group of high school students are stalked by a psychotic killer obsessed with horror movie icons. There might be serious continuity problems with this film that surprisingly have won quite the few award at various horror festivals around the world. For one, the titles go '10 years later' which shows Jamie clearly in his late forties while 10 years back was a mere kid with a puppet. (But this could be deliberately done, as all the actors playing the high school students are in their forties or thirties!) But for sheer cheesiness and violent gore and bloodletting, director Ovies knows how to dish out the goods. As a child, Jamie is given a puppet by his mother that he adores. When mother dies of cancer, the evil new father's girlfriend (termed stepmother again, continuity problems) tears down all the posters and things Jamie loves. She is mysteriously bludgeoned tp death, horror-movie style which means it is likely a PUPPET KILLER is on the loose. The best way to enjoy this horror flick is to ignore all logic and enjoy the cheesiness - which there is plenty of. Director Ovies shows promise but her film is all over the place. This film opens the festival.