If you liked VISAGES, VILLAGES by Agnes Varda in 2017, VARDA PAR AGNES, the director's swan song makes its debut this week. The hilarious KNIVES OUT alos opens.
FILM REVIEWS:
KNIVES OUT (USA 2019) ***1/2
Directed by Rian Johnson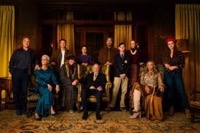 Director Rian Johnson (Star Wars: The Last Jedi, Looper) assembles an all-star cast (Toni Collette, Jamie Lee Curtis, Ana de Armas, Chris Evans, Don Johnson, Michael Shannon, and LaKeith Stanfield) in a brilliantly conceived whodunit Agatha Christie style that brings back good memories of films like CLUE, MURDER BY DEATH and THE LAST OF SHEILA. A wealthy author, Harlan Thrombrey (Christopher Plummer) is apparently murdered and detective Benoit Blanc (Daniel Craig) is being paid a stack of cash by an unknown family member to solve the case. Every member of the family household is suspect as each one has been denied the inheritance and has a motive for killing. The maid/nurse is also suspect as she is the last one to see Harlan. The film moves fast just as these kind of whodunits go and one can never figure out who did it, though good guesses could be made. Craig is great speaking in what a family member calls a ridiculous southern Texan leghorn accent. Johnson directs in good fun and his film is totally entertaining as a super whodunit with a few unexpected plot twists in the end.
Trailer: https://www.youtube.com/watch?v=xi-1NchUqMA
STAND! (Canada 2019) ***
Directed by Robert Adetuyi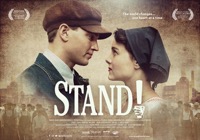 STAND! is a new film based on the stage musical of the same name. I admit that I have not heard of the Canadian musical and neither have many of my friends. So, the film arrives with a challenge to attract audiences to see this relatively unknown musical that is slotted in between 2 big musicals, the already box-office champ FROZEN 2 and the upcoming CATS at Christmas. Director Robert Adetuyi (STOMP THE YARD and TROUBLE SLEEPING) has done a decent job.
STAND! is set 100 years ago against a backdrop of civil unrest and a violent general strike that changed Canada's history. The story follows an immigrant Romeo & Juliet in 1919 as they battle for love and a better life on the streets of Winnipeg, amid political and social turmoil. Stefan (Marshall Williams from GLEE and HOW TO BUILD A BETTER BOY) and his father Mike (Gregg Henry) fled Ukraine for the New World, where they struggle to earn enough to reunite the family. Stefan is instantly smitten with the Jewish suffragette neighbour, Rebecca (Laura Wiggins), but Rebecca's brother Moishe and Mike oppose the would-be couple. Meanwhile, soldiers returning from WWI are angry at the lack of jobs after the war and violently threaten the city's immigrants, including Emma (Lisa Bell), a refugee from racial strife in Oklahoma. When a movement develops for workers to leave their jobs in protest, a wealthy lawyer (the villain of the piece) pits all against each other in a dramatic and inspirational final stand.
Though set a century back many of the issues depicted in the film are still relevant today. Racial tension and fear of losing jobs to foreigners are always relevant issues and so is the concept of evil and power. The script by Juno-winner Danny Schur and Rick Chafe often falls into cliched territory but the actors perform their duties with such conviction that the flaws can often be overlooked. For example, Stefan's obstinate father Mike refuses to join in the strike and even works as a scab but on knows that he will eventually end up in the protest march, which he does in the end. For a period piece, the art direction, wardrobe and atmosphere are impressive.
STAND! can stand (pardon the pun) very much as a drama on its own without being classified as a musical. The actors do not breakout into song or dance that often, so that the film does not really feel like a musical. A few of the songs are also pretty good, tune and lyrics as well. Despite being small budget, the film looks grand. The climatic march at the end of the film requires a march of ten thousand people. This is quite hefty logistics.
STAND! the Juno-award-winning musical hit set against the Winnipeg General Strike by composer Danny Schur & Rick Chafe's hit musical opens across Canada on November the 29th. A small but effective musical, STAND! is worth look.
Trailer: (unavailable)
THE TWO POPES (UK/USA/Italy/Argentina 2019) ***1/2
Directed by Fernando Meirelles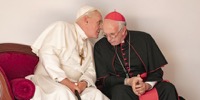 Films about popes have already been interesting, regardless if one is Roman Catholic or not. The Roam Catholic institution has survived ages. News and headlines about priest abuse and the selection process of a new pope have always fascinated the world. In THE TWO POPES, director Fernando Meirelles's (the director of the Academy Award Nominee for Best Foreign Language film, CITY OF GOD), THE TWO POPES tells the stories of not one but two popes as they interact with each other, both with different ideals for the church and basically two highly different people. Yet, they are good people, as they should be, with great ambitions for the Catholic Church. They are played by two of filmdom's finest actors, Sir Anthony Hopkins and Jonathan Pryce, both now old enough to play the two pontiffs.
The film opens with Cardinal Jorge Mario Bergoglio (Pryce) preaching in the streets in Argentina while also cheering his favourite soccer team. The film quickly established Cardinal Jorge as a decent man with ordinary pleasures like the love for soccer. The film effectively closes with both popes watching the World cup final each cheering for their home teams, while making 'human' jokes while getting extremely excited.
Of the two popes, Bergoglio is the more interesting, only because director Meirelles devotes more time in him. Bergoglio prefers walking or biking to limousines. He likes to tango and watch soccer with ordinary people. In an amusing early scene, we hear him whistling "Dancing Queen" in the Vatican men's room. He is clearly shown to be against sexual abuse, believing that offenders should be defrocked. He is also against homosexuality, which clearly will anger the majority of people, but that is his belief. No reasons are given for this belief.
Director Meirelles spends time on the process of selecting Bergoglio that went behind closed doors in the Vatican when white smoke from the chimney would indicate the decision that a new pope has been selected.
In contrast is the opposite nature of Pope Benedict (Hopkins), who regards any change as a perilous compromise to the Church's integrity. Nevertheless, Benedict realizes that momentum is building for Bergoglio to succeed him, so the two men meet, break bread, and engage in a debate that reveals much about their respective pasts and divergent visions for the future. This is perhaps the most interesting part of the film, analogous to climatic confrontation in a film drama. The only difference here is that there is no right or wrong but differences in opinion and beliefs. Except for the fact that homosexuality should not be condemned in the Catholic Church, an issue neglected in the film.
THE TWO POPES should be seen primarily for the performances of its two leads, Hopkins and Pryce. Director Meirelles has also achieved the formidable task of making a film on the Catholic Church more interesting that it should be.
THE TWO POPES premiered this year at the Toronto International Film Festival. It has a limited screening engagement at the Bell Lightbox before being streamed on Netflix.
Trailer: https://www.youtube.com/watch?v=TpUd9SoP-l8
VARDA PAR AGNES (France 2019) ****
Directed by Agnes Varda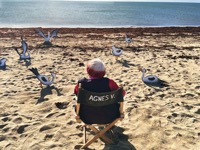 Agnes Varda talks about film and about her films to an audience in a grand cinema auditorium. This is the documentary - a doc about film, life and inspirations.
Agnes Varda mentions the three words that are all-important to filming: inspiration, creation, and sharing. Without inspiration, there is no film. Varda, obviously gives examples from her past work, mentioning how she immediately wants to film her uncle Varda the second she met him. She started visualizing colours, camera angles, shots and all. The film the shows segments of that encounter. Varda also mentions the difficult part of creation, getting the finance needed to make a film. She confesses that she often had to work with small budgets. She came up with her film CLEO IN THE AFTERNOON filmed in real time of 90 minutes, to cut cost. CLEO turns out to be one of her most successful ones. The third element of sharing, she is currently doing, communicating to her audience in the auditorium.
Directors have their niche. Some directors make action films, some comedies and some documentaries. It is the latter category for Agnes Varda. In her film, JANE B. PAR AGNES V., there is one exquisite scene she captures while Birkin is walking with her son on the beach. A woman is lying flat on the beach with a Bible on her chest while two men stoop each by her side. The boy questions the mother for the reason, and she replies that she does not know. The film does not indicate any reason for the image either. Varda sees images like these, captivating and occasionally without reason, but to Varda, this image needed to be captured. It is these little intricacies that make Varda the artist that she is, as well as gives this doc its great pleasures. Varda's segment on her potato exhibition is nothing short of extraordinary.
Though at the age of 90 at the time of filming this doc, Varda still emanates her characteristic vibrant energy. She offers a wide-ranging journey through her world: her filming process, her feminism, her fine-art photography, her long-time relationship with director Jacques Demy. There are signature flourishes of animation, and formal detours into the dreams that form the integral basis of her reality.
Varda died only a month after Varda by Agnès premiered at Berlin, and with this in mind, it's hard not to see it as a eulogy. Yet, like all of Varda's work, it brims with life. And its takeaway is not a past-tense legacy, but a sense of how Varda lived through her films, of what she brought to the art form, and — the greatest gift — of finding the extraordinary in the ordinary. "Nothing is banal if you film people with empathy and love," Varda once said. This is the inspiration she has left us with. Many of her best films are on display here, from CLEO DE 5 A 7, SANS TOIT NI LOIT (English title VAGABOND), THE GLEANERS to VISAGES, VILLAGES, her last and BEST film in 2017. Sandrine Bonnaire from SANS TOIT NI LOIT appears as a guest talking to Varda.
For those who grew up with Varda and her husband Jacques Demy, VARDA PAR AGNES is a pleasure.
AGNES PAR VARDA is a true film on how life imitates art (in this case, film) and how art imitates life. Varda passed away with this doc marking this film her swan song. There are too many pleasures in the film to be mentioned, so best to see this film for oneself.
Trailer: http://www.filmswelike.com/films/varda-by-agnes